Ultiworld's 2020 College Awards are presented by Spin Ultimate; all opinions are those of the author(s). Find out how Spin can get you, and your team, looking your best this season.
Each spring, Ultiworld presents our annual D-I College Awards. While the 2020 college season certainly didn't play out as we all hoped and was not allowed to reach its natural conclusion, we still want to celebrate and honor the tremendous performances we saw already this spring.
Our selections are based on sanctioned play as if the season ended today. Given the uncertainty that the coronavirus crisis hangs over the rest of 2020, we may or may not see any postseason events that traditionally have heavily influenced our award selections. With what season has taken place, we have reviewed the tape, talked to players, coaches, and onlookers, and discussed with our reporting team. While the amount of data is limited — and we recognize that not every player and team got equal opportunity to perform — we felt we had enough to offer our opinions on the players who had the greatest effect on this season as it was.
The next of our awards to present is the Rookie of the Year, recognizing the top contributing first-year players in the college division. As the talent produced by the youth scene continues to push the bar higher and higher, the impressive rookies keep piling up. Even in just a couple of tournaments, these new names made their mark with standout play.
Player of the Year Award
Defensive Player of the Year Award
Offensive Player of the Year Award
Breakout Player of the Year Award
Coach of the Year Award
All-American First Team
All-American Second Team
---
D-I Women's 2020 Rookie Of The Year
Hazel Ostrowski (Tufts)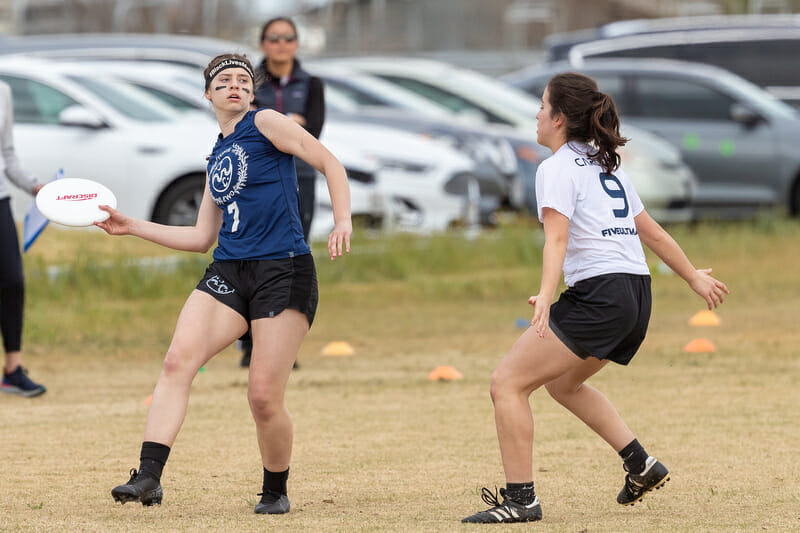 Like many previous ROTY winners, Hazel Ostrowski was a major contributor on one of the best teams in the country. As is often the case with youth stars from her hometown, the Seattle product owns an impressive resume from before college, winning gold at WJUC with USA and playing with club titans Mixtape.1 The Tufts newcomer was pivotal to Ewo's success amidst a very strong group of veteran players. She was an important member of the Tufts D-line but was also crossed over to O in high-pressure situations, such as their two close matches late in bracket play versus the #1 ranked Carleton squad.
Ostrowski is a dynamic offensive threat. She's athletic with a knack for finding the end zone. The Ewo freshman's tall frame makes her a popular deep target for her teammates, but she can also send the disc long herself. She is a powerful cutter with good field sense, reacting well to how her teammates and defenders are positioned on the field, and understanding where to go to demand the disc.
On defense, Ostrowski has an excellent mark and effectively slows down the opposing team's handlers, often playing up front in the team's junks and zones. Additionally, in matchup defense, she plays with her head up, constantly aware of where the disc and her person are. With an intelligent reading of the field well beyond her years, she communicates with her teammates about making smart switches to contain the offensive flow as much as possible.
Ostrowski's high-level experience and impressive composure and execution throughout the regular season with Tufts makes her the choice for the 2020 ROTY, even amongst another very strong class of contenders.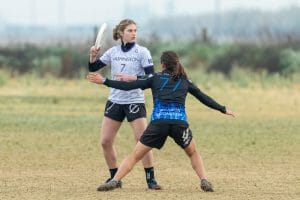 First Runner-up: Abby Hecko (Washington)
The most hyped recruit coming into the season lived up to the billing, showing off a multi-tool skillset wielded with a decisiveness that was expected after her impressive 2019 at the youth and club level set the stage for her freshman bow in college. Hecko is a total-package player, who can initiate or control an offense, comfortable as a cog or the engine. It's rare to find a defender this young with this much on-field intelligence. Already she might be one of the best 25 players in the division.
The only thing that held Hecko back was opportunity. In the shortened season, her team spent about half of it in open early spring rotations, still iterating on their plans. While her role seemed expanded by March, we still hadn't quite seen her given the same carte blanche often afforded to players of her ability. Expect a continued trajectory to stardom.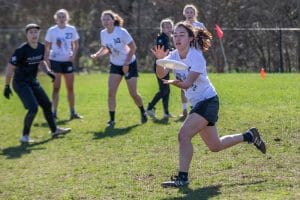 Second Runner-up: Alyssa Ehrhardt (Carleton)
I don't know what's in the water in Minnesota, but Syzygy has an impressive track record of generating calm, cool, and collected players who can play incredible ultimate without seemingly expending any effort at all. Alyssa Ehrhardt is the lastest Carleton product of that mold, following an impressive class from 2019 that included the likes of Kate Lanier and Carly Campana. Together, they form the scariest core of underclassmen anywhere in the country and, if this spring was any indication, look set to rule the division for years to come.
Despite her first-year status, Ehrhardt was one of the leaders of Carleton's attack this year and displayed veteran ultimate IQ. She was an enormous asset in the backfield for Syzygy and helped the team maintain patience in their reset patterns, able to throw 100 completions before she hit the end zone, usually with a beautiful, sweeping OI backhand break. Her quiet intensity was vital for the team to get big wins and maintain their undefeated 2020 season. Syzygy will lose some senior talent in 2021, but with young players like Ehrhardt already in place to fill central roles, it may be quite some time before we see Carleton lose again.
---
Alongside our first runner-up for this award. ↩