Ultiworld's 2020 College Awards are presented by Spin Ultimate; all opinions are those of the author(s). Find out how Spin can get you, and your team, looking your best this season.
Each spring, Ultiworld presents our annual D-I College Awards. While the 2020 college season certainly didn't play out as we all hoped and was not allowed to reach its natural conclusion, we still want to celebrate and honor the tremendous performances we saw already this spring.
Our selections are based on sanctioned play as if the season ended today. Given the uncertainty that the coronavirus crisis hangs over the rest of 2020, we may or may not see any postseason events that traditionally have heavily influenced our award selections. With what season has taken place, we have reviewed the tape, talked to players, coaches, and onlookers, and discussed with our reporting team. While the amount of data is limited — and we recognize that not every player and team got equal opportunity to perform — we felt we had enough to offer our opinions on the players who had the greatest effect on this season as it was.
Our final D-I award podium is for the Coach of the Year, which has grown more into "Coaching Staff of the Year" as so many teams have added more and more sideline-savvy consultants to their roster. Coaches can impact the game in so many ways — tactics, motivation, communication, personnel management, program development, skill-building, etc. — and it can be hard to divine what exactly each has contributed to their team. But good coaching is something that we feel that 'we know it when we see it.'
Player of the Year Award
Defensive Player of the Year Award
Offensive Player of the Year Award
Rookie of the Year Award
Breakout Player of the Year Award
All-American First Team
All-American Second Team
---
D-I Women's 2020 Coach Of The Year
Robin Davis, Jamie Nuwer, Jennie Lummis, Amel Awadelkarim (Stanford)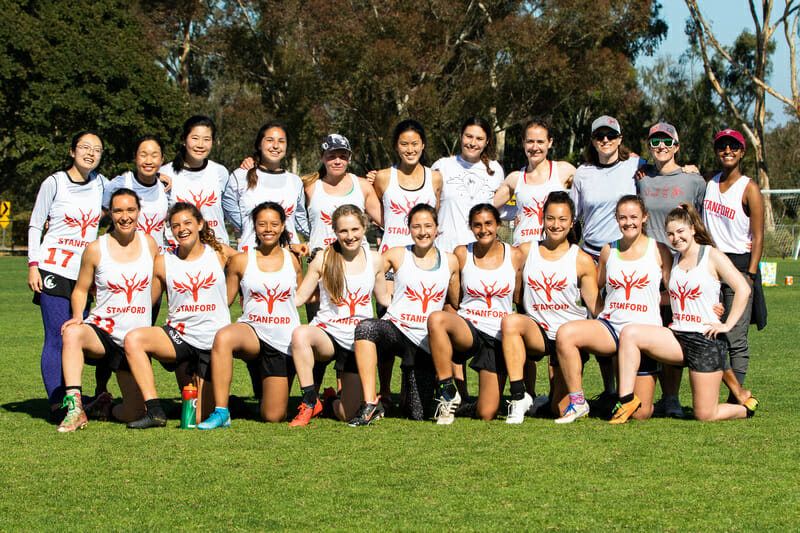 Has there ever been a coaching staff in ultimate that has remained so relevant for so long? After a down year in 2019, we were all ready for Stanford to take a back seat in the narrative of the women's division for the foreseeable future. The Superfly leadership had other plans. Without any heralded rookies or notable grad student pickups, Stanford somehow transformed their 2020 roster into one of the most cohesive and disciplined units in the country, with only one nationally acknowledged player in Hallie Dunham. Perhaps even more importantly, they saw such improvement despite the majority of their roster largely ignoring the 2019 club season!
Thanks to the efforts of Robin Davis, Jamie Nuwer, Jennie Lummis, and Amel Awadelkarim, Stanford returned to prominence in the women's division and ended the regular season ranked fourth in the nation. If a reminder is necessary, they entered the season ranked 19th. Respect should be given to the players for putting in the work to get there, but it's an undeniable fact that it's Stanford coaching staff that has been their secret recipe from the start. This season, Stanford swarmed opponents on defense with four carefully refined variations on their zone set that they had drilled down by February, helping them win Presidents' Day. Many competitors at the same tournament admitted they hadn't even gotten to practicing zone offense, nor defense, for that matter. Somehow the timeline that Stanford's coaches establish always finds itself miles ahead of their competition, which is exactly where they want to be.
Much like the Geno Auriemmas and Dawn Staleys of the world, Stanford's coaching staff could make the COTY list every year. Sometimes, though, a season like this is a helpful reminder of what makes them so great. After not making Nationals in 2019, Superfly stood a very real chance of winning it in 2020. Players may come and go in college, but as long as Stanford retains the same coaching nucleus, the program isn't going anywhere.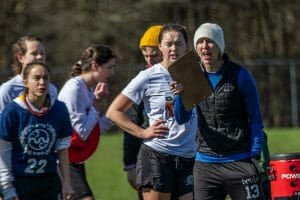 First Runner-up: Sangwha Hong, Meriden Estes, and Becky Malinowski (Tufts)
Tufts' strong 2020 has felt like the culmination of a years-long plan. Tufts doesn't get left out of the recruiting pool by any means — Hazel Ostrowski did win ROTY, after all — but they don't consistently rake in elite recruits like some of their contemporaries do either. Their successes this season have come more on the backs of dedicated player development and commitment to team systems.
The architects of the program — Sangwha Hong, Meriden Estes, and Becky Malinowski — deserve a ton of credit for the growth the team has shown over the last few seasons, to the point of being semifinals contenders in 2020. They never looked intimidated or unprepared, were adept at making the minor adjustments needed to win games, and their junky, amorphous zone gave opponents plenty of problems. Tufts passed all of the eye tests of being a well-coached side while finishing the regular season as a top three team.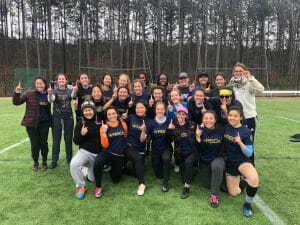 Second Runner-up: Lizzie Jones and Jin-Mi Matsunaga (Georgia Tech)
Georgia Tech has been balancing tantalizingly on the cusp of contention in the Southeast since 2016. They've had some stars come through the program in the five-year stretch but have never quite been able to clear that hurdle into Nationals, despite the region being wide open for many of those seasons.
But second-year head coach Lizzie Jones along with first-year coach Jin-Mi Matsunaga have unlocked the best version of Georgia Tech in a long time. They've led a team comprised of very few notable recruits to being the most impressive team in the Southeast during the regular season, with their only loss on the year to #2 North Carolina. With a balance of player development, system implementation, and culture-building, they've helped take the budding program they inherited closer to the next level than perhaps ever before.