Our top player from the 2020 D-I women's season.
Ultiworld's 2020 College Awards are presented by Spin Ultimate; all opinions are those of the author(s). Find out how Spin can get you, and your team, looking your best this season.
Each spring, Ultiworld presents our annual D-I College Awards. While the 2020 college season certainly didn't play out as we all hoped and was not allowed to reach its natural conclusion, we still want to celebrate and honor the tremendous performances we saw already this spring.
Our selections are based on sanctioned play as if the season ended today. Given the uncertainty that the coronavirus crisis hangs over the rest of 2020, we may or may not see any postseason events that traditionally have heavily influenced our award selections. With what season has taken place, we have reviewed the tape, talked to players, coaches, and onlookers, and discussed with our reporting team. While the amount of data is limited — and we recognize that not every player and team got equal opportunity to perform — we felt we had enough to offer our opinions on the players who had the greatest effect on this season.
We begin our awards presentation with Player of the Year, our most prestigious award. In past years, we have awarded a winner and some number of runners-up that we have then considered ineligible for other individual awards. We have always felt that the spots on our POTY podium are our highest honors, but it has become clear that our audience consistently viewed winning another award to be more valuable than finishing top three in the Player of the Year. We hear you, and we're trying this out, instead — one Player of the Year winner, with all other players remaining eligible to win other honors. Given that this award shares the same criteria as our All-American honors, the POTY podium will still be reflected as the top members of our AA First Team.
Defensive Player of the Year Award
Offensive Player of the Year Award
Rookie of the Year Award
Breakout Player of the Year Award
Coach of the Year Award
All-American First Team
All-American Second Team
---
D-I Women's 2020 Player Of The Year
Margo Urheim (Tufts)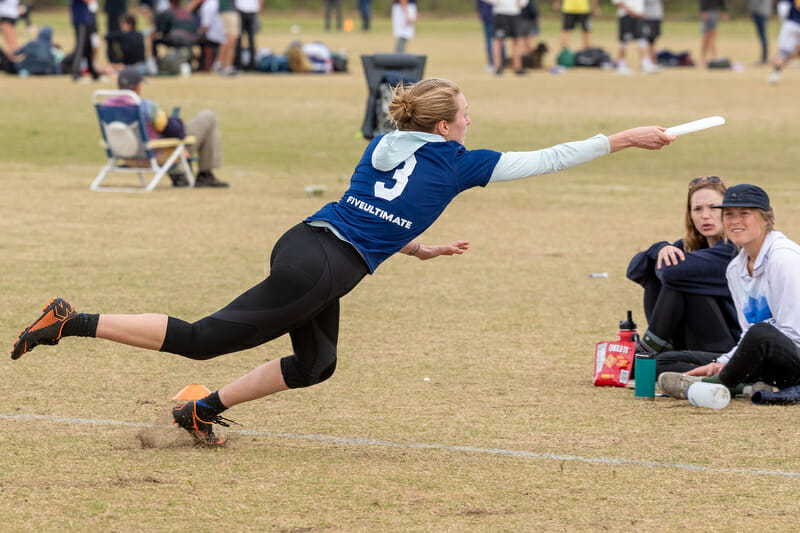 While the shortened season may have put an asterisk on the performance of some players this year, it put an exclamation point on Margo Urheim. What she accomplished in only two tournaments all but dwarfed much of her competition. Together with the rest of her Tufts teammates, Urheim finished the 2020 season losing only to Carleton, and helped Ewo amass a 9-2 record against one of the toughest strengths of schedule in the division. Tufts proved they were among the best teams in the country with how they played this year, but Urheim proved a whole lot more beyond that.
Despite being a crucial piece for Tufts for years now, the breadth of Urheim's abilities is what helped elevate her above the competition this year. While she's always been an outstanding finisher and defender, her throwing prowess and decision-making took a front seat with her gameplay in 2020. As the team's initiating cutter, Urheim was given the green light to take control in the center of the field and immediately look for her shot upon receiving the disc. Even when defenses knew the game plan, the most they could do was try to shorten the gains Urheim earned. She would turn inches of separation into yards when given any room to run, and frequently exposed undisciplined defenses by accelerating into any open space and striding up the field with ease. Perhaps just as importantly, by attracting so much of the defense's attention, Urheim created countless opportunities for the rest of her teammates. It's not just that Urheim was an exceptional player this year — she was an exceptional team player.
This season, Tufts was a strong team that could swallow most opponents whole thanks to their depth, but Urheim was their trump card, the one player who had the experience and physical talents to take over a game when necessary. As her team's best individual defender and downfield threat, it's Urheim that's the first name called whenever Tufts needs a secure hold or a crucial break chance. It'll surprise no one that Urheim's usage rate is extremely high thanks to her talents, but she doesn't wear down easily and is both their first option on offense and a fast-break specialist. There's no good solution for marking her, as she'll take on the best defenders and tire them out with decisive cuts, purposeful on both deep routes and in the backfield. On top of all that, she's also got a cannon of an arm, and was one of the premier pullers in the women's division this season.
What Urheim showed over the course of eleven games was enough to earn her the POTY title. As a team, Tufts was primed to take a real shot at a title, and seeing Urheim on the big stage was one storyline we were all excited to follow. Without a postseason, we're left to speculate what could have been. What requires no speculation is just how dominant Urheim looked in the tournaments she played.