Some tremendous talents on this year's podium.
Ultiworld's 2020 College Awards are presented by Spin Ultimate; all opinions are those of the author(s). Find out how Spin can get you, and your team, looking your best this season.
Each spring, Ultiworld presents our annual D-I College Awards. While the 2020 college season certainly didn't play out as we all hoped and was not allowed to reach its natural conclusion, we still want to celebrate and honor the tremendous performances we saw already this spring.
Our selections are based on sanctioned play as if the season ended today. Given the uncertainty that the coronavirus crisis hangs over the rest of 2020, we may or may not see any postseason events that traditionally have heavily influenced our award selections. With what season has taken place, we have reviewed the tape, talked to players, coaches, and onlookers, and discussed with our reporting team. While the amount of data is limited — and we recognize that not every player and team got equal opportunity to perform — we felt we had enough to offer our opinions on the players who had the greatest effect on this season as it was.
The next of our awards is the Offensive Player of the Year, highlighting the elite offensive threats the division has to offer. This winner, as well as each of their runners-up, was a consistent and overwhelming offensive presence that dominated the season.
Player of the Year Award
Defensive Player of the Year Award
Rookie of the Year Award
Breakout Player of the Year Award
Coach of the Year Award
All-American First Team
All-American Second Team
---
D-I Women's 2020 Offensive Player Of The Year
Hallie Dunham (Stanford)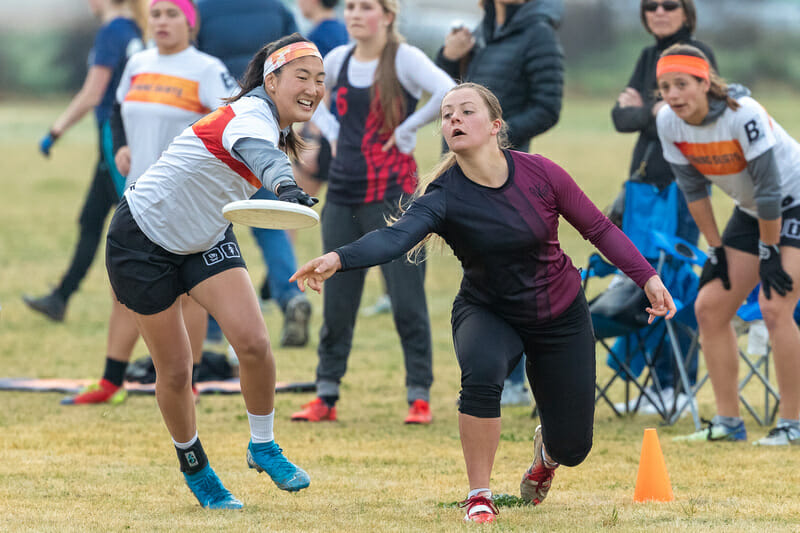 Dunham has been one of the college division's elite handlers for years. It feels like a lifetime ago that she entered college as a prized recruit out of Seattle, stepping into a key handling role for a title-winning Stanford side and capturing Rookie of the Year honors over her high school and youth club teammate, some player named — checks notes — Jack Verzuh. The expansion of Dunham's skillset and leadership on her team have not let up since, and her impact this season transcended its previous reaches to bookend her college career by earning another major Ultiworld award.
To watch the Stanford offense is to watch an O-line handler clinic put on by Dunham. She commands the backfield with all the assuredness of a fifth-year senior who also happened to be one of the top performers on a Nationals-level club team over the summer. Dunham's volume of touches this season was extremely high, holding down the backfield to get resets and keep the offense moving toward the endzone. Her hucks were better than ever, too, capable of hitting a receiver in the endzone from anywhere on the field at any stall count.
Seemingly no defender could minimize Dunham's potency and certainly no one could take it out of the game entirely. Even DPOTY runner up Jasmine Childress could not hang with Dunham down the stretch of their matchup in the Presidents' Day Invite final. And that's why Dunham's performances this season will last in the memory. Her maestro-like play was a joy to watch, for sure, but it also led Stanford to tremendous success this season when they were expected to fade away from the nation's elite. But instead, with no other star names alongside her, Dunham's offensive mastery led Stanford to the win at Pres Day and a semifinals appearance at Stanford Invite. A truly unique offensive weapon who was more responsible for her team's overperformance than any other player in the country, Dunham was a no brainer for Offensive Player of the Year for the 2020 season.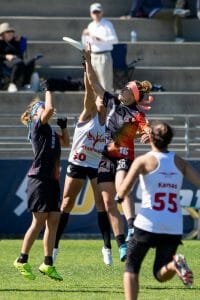 First Runner-up: Kaitlyn Weaver (UC Santa Barbara)
The latest in the honored lineage of high-volume, do-it-all offensive stars for UC Santa Barbara, Weaver ably filled the challenging but vital position. As the central figure in the Skirts' offense, Weaver was asked to fill a wide variety of roles. While she was often the one releasing hucks, it was not infrequent to see her receiving them in the deep space, or creating room for them as a downfield cutter. And given her clear alpha status on the field, she was nearly always either facing a wall of defenders in zone or the toughest matchup the defense could muster.
Like her predecessors, Weaver isn't exactly a possession-oriented player, taking plenty of risks. However, that is what was asked of her, and her turnovers came within the flow and structure of the UCSB offense. Also like the Burning Skirts stars that came before her, Weaver's size and athleticism made her a threatening defender capable of winning her fair share of those turnovers back. With her toughness and stamina, giving Weaver too many bites at the apple was a recipe for disaster.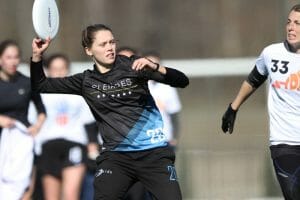 Second Runner-up: Bridget Mizener (North Carolina)
Mizener is the go-go-gadget, do-everything player on North Carolina's offense that coaches everywhere dream of having on their roster. Dangerous at every layer of the offense, Mizener didn't just do a little bit of everything for the Pleiades' offense — she did a lot of it. Her teammate Tyler Smith deserves an honorable mention here as one of the best handlers in the country, but Mizener's versatility is what gave her the slight edge to claim this spot.
Mizener's as well-rounded a playmaker as you'll find in the division. As a cutter, she is dangerous in both deep spaces and small ones; as a thrower, she's capable of hitting all of the throws needed to beat top-tier defenses. Mizener excelled in her expansive role in the Pleiades offense while also being a go-to outlet when the offense broke down. Her complete skillset allowed her to rise to every challenge and lead the way as the most important offensive player on one of the top teams in the country.