Washington solidifies their case as the best team in the West, while Cal continues strong spring season.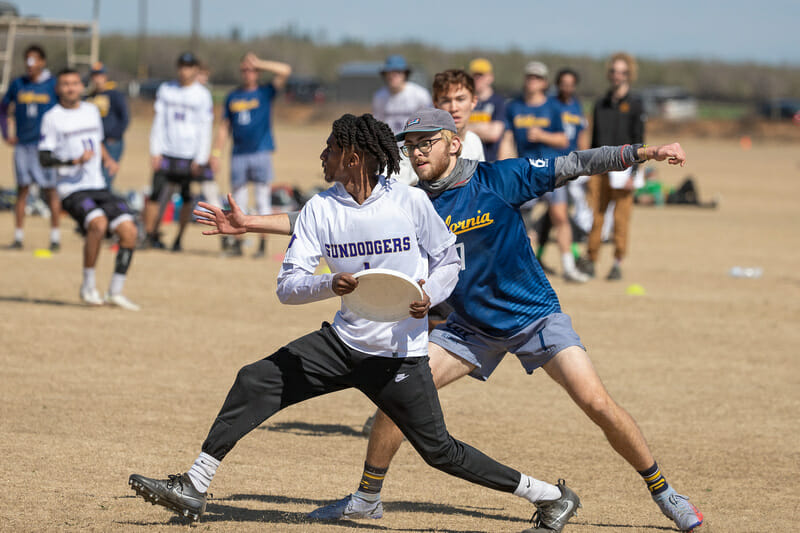 Our coverage of the 2022 college season is presented by Spin Ultimate. You can get 15% off all college uniforms and swag right now at Spin Ultimate!
STEVINSON, CA — At the end of a dominant weekend, the #4 Washington Sundodgers took down #10 California Ursa Major 13-8 in a game in which UW was in full control from start to finish. There were lots of exciting games along the way across the division, as a gusty wind that built during the day challenged both throws and catches.
Final Results


Smooth Offense, Intense Defense Make for Comfortable Win For Washington
The Washington O-line, led by the "Twin Towers" © of Manny Eckert and Jasper Dean behind the disc, threw a no-hitter (er, no-turner) and didn't give Ursa Major even a whiff at a break in the final. With able assistance behind the disc from Gabe Port and Assaf Golan, they sliced easily through a Cal zone that had given the rest of the division fits all weekend. On the other side of the disc, tight handler defense led by Tony Venneri, Jacob Cohen, and Isaac Woldemariam pressured the usually unperturbable Cal backfield, making for some tough resets.
On the first point, Washington's Stanley Birdsong skied a pile in the end zone on defense, then grabbed another block after a Venneri huck was just out of reach. This time, Venneri's crossfield scoober found a wide-open Martin Le for an opening break. Washington broke again on the next point after a Cal handler miscommunication. Cal floated an offhand backhand and just like that, they were down 3-0.
The Ursa Major offense finally settled down and the teams traded holds until 6-3, when Eckert crossed over to help try to break for half. Washington got their chance, converting after a deep hammer from Eckert to Chackgarin Brown got them within range of the end zone, where Dean dished to a hopping Eckert, closing out half 7-4.
It was more of the same in the second half, as the teams held until 9-5, when a harried Andrew Roy couldn't hold onto an upline dish. Venneri immediately put up a high floater to Le all alone at the goal line. A couple swings later, Souma Yabuki lasered against the grain for a break, 11-5 Sundodgers. Holds the rest of the way gave us the 13-8 final score.
Much has been made of the Sundodgers experience. A seventh-year himself, Eckert called out the addition of sixth-year CUT-alum Birdsong as providing a calming veteran presence as well as great versatility on both sides of the disc. Expect him to have a bigger impact as he ramps fully up to speed in the Sundodger system. Washington is looking forward to getting even stronger with the anticipated return of 2020 OPOTY runner-up Lucas Chen, former SLO mainstay Justin Ting, and big target Peter Johnson. It's hard to criticize much after such a dominant weekend, but Eckert noted that sometimes they made it too easy for their opponents with open side unders.
For Cal's part, head coach Daniel Silverstein's response to the game was brief and to the point: "They're good. No turns."
Oregon Provided Biggest Challenge to Washington, while Tufts Stalled by Cal
The one team to get up a break on the Sundodgers all weekend was #15 Oregon Ego. Washington made it easy for them right off, with a turf by Eckert following the centering throw on the opening point of the semifinal. Two around break throws later, Oregon were up 1-0. They had plenty more chances the rest of the way, including three throws later when Marco Muralles got a block on an underthrown crossfield look from Brown. Oregon got lucky as they picked up a deflection off the first throw, but a dead drop gave it right back to Washington. Another turnover made it three turns in six throws for UW. A nice upwind huck got Oregon close, but Golan picked off a stab for the end zone and hucked to Michael Buyco for an easy goal after getting it back from Eckert. The chaos continued, as Oregon popped up a swing, and Woldemariam threw into a poach. Ke'ali McCarter skied a pile on a Max Arquilevich floater to make it 2-1 Oregon. At last, a one-throw hold from Eckert to Brown provided the first clean point of the game, and Oregon returned the favor with a nice toe-in by Arquilevich at the back corner.
The next few points were much the same, with turns aplenty on both sides, but no breaks. Finally, after a couple of clean holds, Washington crossed over Eckert, Brown, Buyco, and Golan at 6-6, and a drop by Oregon provided the payoff. A laser from Eckert to Buyco, then a little blade to Brown sealed the break and half for Washington, 7-6.
Washington cleaned things up a bit in the second half. On the first point, McCarter put too much edge on a swing, and a nice OI backhand from Brown to Le made it 8-6. After trades to 10-8, a layout block by Dana Cameron Baker started the break train for Washington, as he gathered in the bookends from Golan. A one-throw huck from Venneri to Le got the next, and Washington closed it out 13-9.
Despite dropping the third-place game to Tufts, Oregon made the point they most needed to make: that they could hang with regional rival Washington. This youthful team continues to build skills and cohesion. As a young team, their goal is to build trust and love in developing over the course of the season. One key strength for the team is the versatile O-line cutter corps – McCarter, Adam McNichols, and Chander Boyd-Fliegel — who can all dominate deep or cut under and huck for the score. On the other side of the disc, the bodies were flying to get blocks, and Itay Chang running the show is what makes it all happen on a turn. In Stevinson, Ego really missed having Cylas Schooley to run the offense; in his absence, the rest of the team will have to make better decisions and sharpen their execution if they want to compete with teams like Washington when the Sundodgers are not feeling as generous.
From the beginning of the other semifinal, the Cal zone bogged down the offense of #14 Tufts. The E-Men remained patient, but progress was often slow, and they gave up a few early turns. However, the Cal D-line offense was not so patient and squandered their first few chances. Tufts actually got the first break to go up 2-1. At four all, Cal stacked a D-line to get back on serve. Evan Magsig got big for a layout block, and Andrew Roy found Trevor Aquino who did a nice break dance celebration. The next point was pivotal. Reminiscent (to me at least) of that infamous Stanford Superfly – Dartmouth Daybreak semifinal at 2018 Nationals, Tufts possessed the disc for what seemed like 100 throws, sometimes moving forward, sometimes back, only to eventually give up the disc. However, after the first few Tufts turns, a much less patient Cal D-line offense gave it back, starting the process over again. Finally, more than 20 minutes later on their fourth chance, Cal punched in a break. Another stacked D-line confidently converted their upwind break opportunity to take half 7-4, and from there, Cal closed it out 10-7.
The key to Ursa Major's success was the reliable backfield play of Andrew Roy and Evan Magsig. They've made tremendous progress as a team with 14 rookies that fell well short of qualifying for 2021 Fall nationals, losing to UCSB in pool play and getting knocked out in backdoor quarters by UCLA. An important part of that development is the addition of freshman Dexter Clyburn. He was particularly impressive as an intimidating deep in Cal's zone, making up huge ground horizontally or vertically for blocks, then captaining the D-line offense with sharp throws and slashing cuts. With the experience and patience to pass up narrow windows and make the extra pass instead, he'll be a force for years to come.
Subscribe to read more about Stanford Invite, including thoughts on the quarterfinalists, a note about the new halftime cap rule, and the All-Tournament line.
Bonus Content for Stanford Invite 2022: Tournament Recap (Men's) is only available to Ultiworld Subscribers
Already have a subscription? Log in
Whether you visit Ultiworld for our reporting, our podcasts, or our video coverage, you can help us continue to provide high quality content with a subscription. By becoming a subscriber, not only do you receive benefits like bonus content and full article RSS feeds, you also help fund all of Ultiworld's coverage in general. We appreciate your support!