Carleton shines while Washington falters.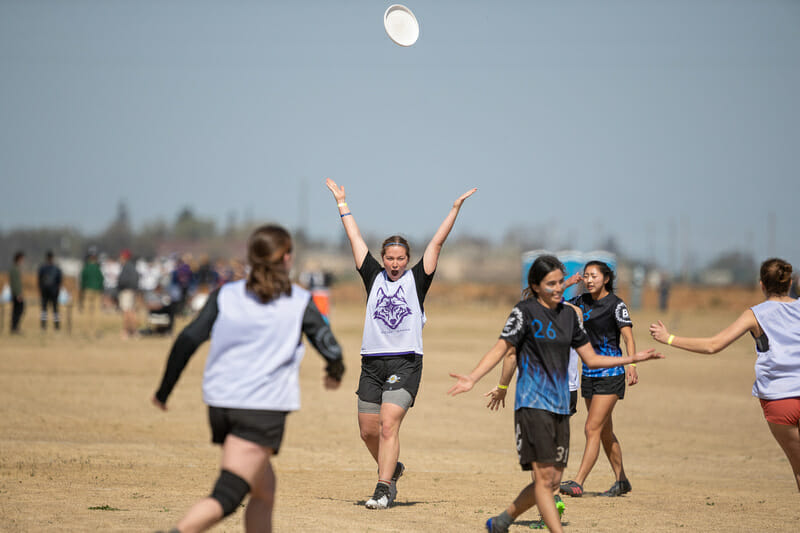 Our coverage of the 2022 college season is presented by Spin Ultimate. You can get 15% off all college uniforms and swag right now at Spin Ultimate!
STEVINSON, Cal. — With less wind but more shocking upsets and the same spectacular level of play, Sunday at Stanford Invite 2022 was one to behold. Carleton Syzygy took home the title, going one for one so far this season, while UC San Diego Dragon Coalition upset favorites Washington Element on their way to the final. Across the fields of Stevinson, teams enjoyed calmer conditions and put up inspiring performances. Those watching got to enjoy the highest level of ultimate we've seen so far this season. It sets up what is sure to be an exhilarating second half of the regular season as we build toward the Series and continue to see teams jockeying for position across the country.
Final Pool Play and Championship Bracket Results


Carleton Superb, Then Survive
After dominating their competition all day Saturday and then dispatching two talented teams in Tufts EWO and UC Santa Barbara Burning Skirts, it seemed as if nothing and no one could stop #4 Carleton's roll at Stanford Invite 2022. Then the first half against #7 UC San Diego DCo happened.
With the wind picking up more than it had all day, UCSD were content to simply huck deep and then play suffocating zone defense. That was good enough to earn them a quick second point break, courtesy of superstar-in-the-making Abbi Shilts going deep and snagging a deep throw after Syzygy couldn't connect on their own. That gave DCo a 2-0 lead that they maintained largely due to the efforts of sharpshooting handler Ava Hanna and Shilts.
While both are already known quantities from their exploits at 2021 fall Nationals, Hanna continues to demonstrate her pure throwing prowess with point-perfect hucks and even an offhand backhand to take UCSD's lead to 6-4 in the first half. Shilts, a 2021 Rookie of the Year runner-up, backed up that recognition all weekend and showed why she'll be a menace to the women's division for years to come. The Edina High School product was nigh unguardable in the air, explosive in the cutting space, whether deep or under, and even dropped back into the handler space just to mix it up and give opposing defenses yet another threat to worry about.
Supported by their tight-knit squad, Hanna and Shilts led Dragon Coalition to that three-goal halftime advantage, and Syzygy's stable of veterans knew they had to bring the team together to make a run in the second half. "We recentered in a big way, like 'this is our last half of this tournament, we flew across the country to do this, what do we have to lose?'" shared Carleton captain Carly Campana after the final. "We had lots of people motivational speaking in our halftime huddle…and I'm just so proud of this team for coming back."
Come back they did, as Campana, alongside co-captain Kate Lanier, 2021 ROTY Tori Gray, and California locals Lauren Yamasaki-Liske and Mia Beeman-Weber led Syzygy back from the brink. On the first point out of half, Carleton started on offense having to work upwind, and Yamasaki-Liske converted the hold to open up the half, maintaining her concentration as the disc bobbled out of and then into her hands for the score. Beeman-Weber stepped up on the next point to help force a San Diego turnover and then they threw the assist for the downwind break. Suddenly it was 7-6, advantage still with DCo, but Syzygy with all of the momentum.
The teams exchanged quick short-field holds on the ensuing points, with Ava Hanna and Maggie Pierce connecting for UCSD and Campana finishing off the hold for Carleton to maintain that one-point connection on the scoreboard. Syzygy returned to the upwind side of the field down 8-7 and managed a break to force a frenetic final: once through Yamasaki-Liske finding Gray for the score and then twice as Beeman-Weber stuffed the DCo offense with a point block and then bounced the disc between themselves and Campana for the double break. Carleton was back in the upwind end zone, but this time leading UCSD 9-8, with the best still yet to come.
Shilts helped the Southwest side stop the bleeding by dropping back into the handler space on UCSD's subsequent possession and throwing a clean assist for the hold, which tied it up at 9-9, but still left Carleton with the offensive advantage. Syzygy got the following hold with sharp, incisive throws against DCo's zone to take a 10-9 lead; UCSD needed points and quick. They wouldn't get it on the next point, however, as Carleton applied immense defensive pressure to force a turn to give them another crucial break opportunity. A few throws later, and Gray unleashed an incredible upwind outside-in backhand huck to Yamasaki-Liske for a stunning break to take the 11-9 lead. From three points down at half to two points up in the second half, Syzygy had made up the deficit and then some, and an emphatic spike from Yamasaki-Liske put a closing exclamation point on the score.
Still, DCo's Ava Hanna wasn't quite done yet, as she got a huge layout block to earn the disc back for UCSD after Campana had skied a pile of players for a Carleton block. Syzygy came right back, though, as Lanier got a run-through block of her own in nearly the exact same spot as Hanna's, and called timeout as Carleton looked to put the game away. Out of the break, the teams seesawed back and forth before UCSD were finally able to get the score downwind to take it to 11-10. With the hard cap horn sounding during that point, all Syzygy needed to do was score upwind to win, while DCo needed to break to force universe point. Carleton worked patiently against UCSD's zone, and then found Yamasaki-Liske on a forehand away throw for the win. The comeback was complete, from 7-4 down at halftime to 12-10 winners, and Carleton were the 2022 Stanford Invite champions.
Favorites Fall Short
Although the loss in the final stung for UCSD after they had established that halftime lead, the small squad of 18 had just stunned top seed #2 Washington Element in the semifinal round 11-8, closing with back-to-back breaks to upset the favorites. It was a fantastic game that saw five lead changes and more breaks than holds in a back-and-forth first half as UCSD took a 6-5 halftime lead. In spite of their relative lack of numbers, DCo still had plenty of fire and energy as they consistently looked to huck deep and lock down on Element with their ferocious zone defense. "Sideline energy was a big part [of the win]," shared UCSD senior Charlotte Sue after the final, "We played really tight lines so there were a lot of people who were helping us stay alive while we were playing, honestly."
In the second half Washington were able to add another break and lead change to the tally, as Abby Hecko, who was her usual incredible self all weekend, put up an assist for an Element hold and the team followed it up with a key break to take a 7-6 lead. UCSD and Washington then exchanged a series of holds downwind, taking advantage of the generally short fields that the upwind pulls provided, to take the game to 8-8, Element with the wind at their backs. But Abbi Shilts still had a few things to say about how the game would finish.
DCo brought out their zone defense despite Element going downwind, but the look added just enough hesitation to Washington's throws that Shilts was able to get a run-through block and then took off deep for the score. Just like that it was now 9-8 to UCSD, and they could play defense downwind. Although Element were at times able to generate some momentum up the field, Shilts snuffed out possessions on two separate occasions by skying a pile of players for blocks, and DCo were able to eventually get the downwind goal for the very first two goal lead of the game at 10-8. With the clock running down, Washington had one more chance to score on offense going downwind, but yet again UCSD denied them, forcing a turn at the goal line and then working it the length of the field for the improbable upset 11-8.
In the windy conditions, UCSD's huck and play zone defense strategy worked wonders against Washington, powered by the throwing ability of Ava Hanna and the big play presence of Shilts. But it's not like Element looked like they had taken a big step back from fall Nationals. They had notably crushed regional rivals Oregon Fugue in the earlier quarterfinal 13-3, and were largely comfortable on day one outside of a universe point win over BYU CHI and some early jitters in round one against UCLA BLU. The letdown we saw from Element likely simply came from it being their first tournament of the year and missing some key pieces to injury. Those included Stephanie Phillips, a 2021 All-American, who was out with an ankle injury and did not play all weekend, and Ikran Elmi, who played in the early rounds but was on the sideline sans cleats on day two.
This is almost surely not the best that we'll see from Element all season as they get Phillips back and continue to work on their zone offense, which served as a key weakness out at Stevinson. As put by coach Amanda Kostic after the semifinal loss: "They just converted on defense when it counted and we did not and that's I think where they ran away with it. We had opportunities, which is the disappointing and frustrating part as a coach, but it's also an opportunity looking forward. We can get [blocks] on this team and once we convert, I think it's gonna be a different result."
As for the other semifinal, in which Carleton took down formerly undefeated UCSB 12-8, Syzygy mostly cruised, up 7-3 at halftime before largely trading points with the Burning Skirts in the second half. The wind was up and down throughout the weekend, but especially low in the morning on day two, and as it started to pick up throughout the semifinal round, Carleton looked more and more comfortable while UCSB gave away too easy opportunities. On the weekend, Syzygy's throwers looked the most polished and consistent across the board, and that gave them a distinct advantage against UCSB that the Burning Skirts were never able to fully combat. "I think that at the beginning of the game we were trying our zone, the wind hadn't really picked up yet and they kind of just shredded it," said UCSB alumni and current coach Kaitlyn Weaver about the Carleton game, "Overall, I think that our zone it's up there, it's getting up there, but it's not at it's complete and final phase yet, so there's still some kinks to work out and Carleton really just exposed those early."
Subscribe to read more about Stanford Invite, including thoughts on other squads in the field and the Team of the Tournament.
Bonus Content for Stanford Invite 2022: Tournament Recap (Women's) is only available to Ultiworld Subscribers
Already have a subscription? Log in
Whether you visit Ultiworld for our reporting, our podcasts, or our video coverage, you can help us continue to provide high quality content with a subscription. By becoming a subscriber, not only do you receive benefits like bonus content and full article RSS feeds, you also help fund all of Ultiworld's coverage in general. We appreciate your support!