Three programs with huge ambitions top Pool D.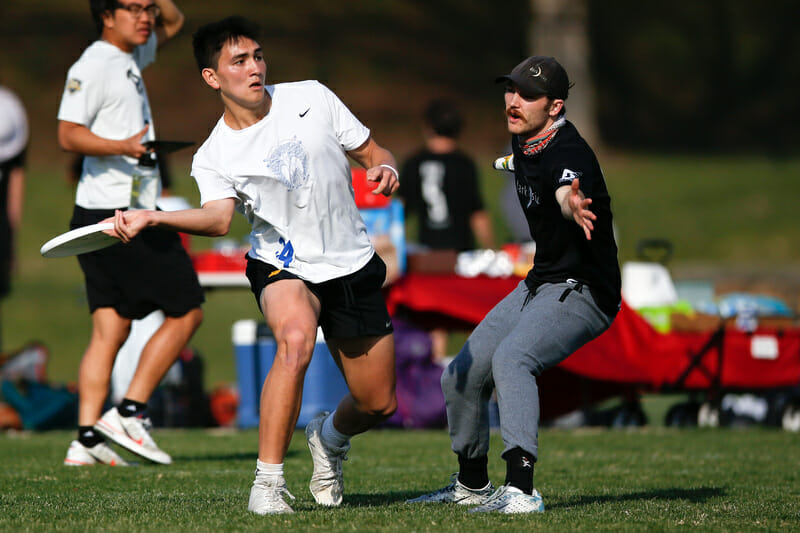 Our coverage of the 2022 College Series is presented by Spin Ultimate. You can get 15% off all college uniforms and swag right now at Spin Ultimate!
The 2022 D-I College Championships return to Milwaukee, though they are partially back to a traditional Nationals. While the Fall championships felt wholly unique, this turn has some oddities — namely, the lack of a rankings-based regular season — but in many other ways is business as usual. Once teams hit the field, expect a lot of what you've come to know and love about Nationals: drama, surprises, and the memorable moments that make legends. From John Stubbs to Dena Elimelech, the legacy of college stars is built around what happens over these four days.
We will be there to bring you all of the action, with cameras pointed at more games than ever and a reporting team that will take you inside the huddle. In these previews, we'll offer a snapshot of each team and the competition they'll face when play begins on Friday, May 26. Watch ultiworld.com/live then for updates in both college divisions!
Pool A  |  Pool B  |  Pool C  |  Pool D

Seeding: D1, no.4 overall
Power Ranking: #5
Path to Nationals: Def. Ohio State 13-7 in Ohio Valley final
Roster & Schedule
When you play for Pittsburgh En Sabah Nur, the expectations are always high. "We're always competing for a title," said captain Will Helenski. "Anything short of that would not be a success for an individual tournament." So you can imagine how the team's unceremonious exit from pool play at December Nationals sits with them. "The fall was kind of a punch for us," said captain Henry Ing.
The 2022 season, then, has been a sort of redemption tour for a program looking to get back to its historical standards. That process has involved identifying what didn't work for them in the fall ( "we folded when things didn't go our way," in Helenski's words) and focusing on what matters: putting in the work to peak at the right time. The early returns have looked good, as Pittsburgh notched a strong fourth place finish at Easterns and completely dominated Ohio Valley regionals. But Nationals is the true test for them. Will Pitt once more perform like a team who can challenge for a title?
They have everything they need to do it, starting with the division's deepest stable of athletes. Ing has been one of the division's brightest stars in 2022 – he completely takes control of five or so offensive points every game – but Pitt's resources stretch far beyond him. There are the names you know, like Helenski, Myles Cooper, and Will Hoffenkamp on the D-line, or Marcel Oliart and Harry McNamara on offense. And then there are the players who, because underclassmen are just now getting through a full real spring season, have been out of the spotlight but are poised to make big contributions, players like Peter Kotz, Nicky Troilo, and Will McGlynn.
Even with all that talent, the competition will be stiff. That's the case in Pool D where two (or perhaps three) teams will try hard for an upset. And it will be even more true in the bracket, when they may have to face a Brown or UNC team who have already beaten them twice this spring. Knowing Pitt coach Nick Kaczmarek, they will have scouted all of those matchups intensely. But En Sabah Nur have made it a point this season to create the kind of strong team culture and connections to help them weather whatever challenges come their way.
As Oliart explained, "Three or four weekends every year we get to be Pitt Ultimate in public. All the other days, though, we're brothers together, working out together, studying, getting food." He went on to explain that after the trials of the pandemic, ultimate has become even more valuable to the team. "It's been a really bright light," he said. With luck and renewed focus, there's a good chance that the bright light widens to include another very strong Nationals performance from one of the sport's premier programs.
Seeding: D2, no.6 overall
Power Ranking: #6
Path to Nationals: Def. Auburn 13-8 in Southeast final
Roster & Schedule
"Win the game on Monday," said Jojah captain Hayden Austin-Knab when asked about the team's goals for Nationals. Just in case anybody was wondering whether they want to follow-up their appearance in the 2021 final with a National Championship. That goal seems well within reach – even more so than it was in December – for a team bursting with talent who, by all indications, appear to be peaking at the right time.
The defense has been firing all year. Blocks are coming in heaps from captain Jared Bennett and 2021 DPOTY runner-up Drew Di Francesco, as well as potential breakout star Cole Chanler. And while they had some issues converting those blocks to scores back in March at a rough Smoky Mountain Invite, they have become much more efficient since then as handlers Adam Miller and Ryan Hill have picked up their game.
The O-line might be even better. Like the D-line, they have put their early season problems behind them. Austin-Knab has been playing the long game as well as he did during his PotY-winning campaign just a few months ago, and Aidan Downey has been his equal. Crucially, they have also led the team to stronger play against zone and poach schemes toward the end of the season. You could see it on display in an Easterns win over UNC and a very tight final against Brown. With the last games of the year coming up fast, they are trying to hone in on the best versions of themselves.
And that's really it as far as team focus is concerned. Asked about what they needed to do in pool play against Pittsburgh, who have beaten them twice this season, Austin-Knab said, "We don't really care about how many times we have played a team or who we are playing…We are making it about us and what we can control." It's the kind of sentiment you hear from a lot of teams in a lot of sports, but right now it feels like Jojah are actually putting it into practice.
One final nugget that could have an effect on whether or not they pass the test they have set for themselves: Matt Cook, who was a key part of their December run but has been out with an injury since February, could possibly see the field again in Milwaukee. With a tough slate ahead, Jojah would love to see him healthy again and winning the deep space.
Seeding: D3, no.9 overall
Power Ranking: #12
Path to Nationals: Def. Indiana 15-7 in Great Lakes final
Roster & Schedule
Michigan MagnUM feel very good about themselves heading into Nationals. For starters, they finally have a full roster of healthy players. Major pieces like Ashwin Pothukuchi, James Baker Jr., and Cian Johnson have missed significant chunks of time, and all of them will be back on the field in Milwaukee.
Just as importantly, they feel as though they have hit their benchmarks for how they should look as a team. The defensive intensity hit its mark back in March at Missouri Loves Company, when they put the screws to a very disciplined Vermont O-line to force turnovers where other teams couldn't. At the time, the offense was a little huck-heavy, but they have diversified their attack in months since. "It's a completely different game at this point," said captain Ashwin Pothukuchi. "We've been adding tools to our toolbox."
The upshot is that December's surprise semifinalists might surprise everyone again. They have one of the division's strongest all-around players in Theo Shapinsky, a premier thrower in Eli Weaver, and James Hill, one of the frontrunners for 2022 Defensive Player of the Year honors. Like poolmates Pittsburgh and Georgia, this is a roster with a lot of individual matchup problems.
And we haven't mentioned Magnum's x-factor yet: freshman sensation Aaron Bartlett. His growth is still in the phase of fast development, and he could catch opponents off-guard this weekend. "There has not been a challenge that he's shied away from," gushed Pothukhuchi. His backhand hucks match Weaver's forehands, he has found strong footing on defense, and, perhaps most importantly, he has become Magnum's "central point in breaking through tough zones in the wind," according to Pothukuchi. Not too shabby for a first-year player.
Of course, talent alone is no guarantee in a thorny Pool D. Georgia and Pittsburgh equal (or perhaps even exceed) them on that front, and Auburn could be bubbling up behind. The messaging and mentality are going to play a key role in taking on those challenges. The team have been trying to stress internally that the way they perform throughout pool play, even in their opener against bottom-seed Connecticut, has an effect on how far they go. "[It's about] getting everybody into the mindset that each game to three is the last three points in a pre-quarter or quarter or semis," said Pothukuchi.
Where they will end up by the end of the weekend is up in the air. They might find themselves in a dogfight in semis or lose at the wrong time in pool play. But, as they proved in December, don't even think about counting them out.
Seeding: D4, no.16 overall
Power Ranking: #25
Path to Nationals: Lost to Georgia 13-8 in Southeast final; def. Georgia Tech 13-6 in second-place final
Roster & Schedule
Because grad student Brett Hulsmeyer lives in Huntsville, more than three hours north of Auburn, he only got to see the rest of Aetos at tournaments this spring. He would think about team goals and things to say in huddles to help them grow together, all about a planned level for them to reach by season's end. "And at Tally Classic, I think it was after the Wilmington game [in the final], I realized we had hit the end of the limit…we were as good as I thought we could get to," said Hulsmeyer. That was when he realized how much greater the team's potential was than he had thought (and when he started having to scramble to come up with new goals and talking points on the fly).
2022 hasn't always been a dream season for Auburn Aetos. Just before the spring started, they learned that one of their captains would not be eligible to compete with them. Then, two of their starters went down with season-ending knee injuries. And to top it all off? "We've had some really bad games," said Luke Thomas. They point to almost all of their first tournament, T-Town Throwdown, a dreadful game against Pittsburgh during which they don't think they strung together more than two passes on offense most points, and a loss to rivals Alabama at conferences. It has only made them stronger. "Through all of the adversity, we've come together," reasoned Thomas.
"We have this kind of silly thing that we say: 'We're not sad,'" said Hulsmeyer. It's what they say to each other to keep the mood light if they get scored on or somebody makes a bad play. "And that's going to be us at Nationals, even if we lose every game 15-0, because for me, I never thought I'd be here," said Hulsmeyer. There is no doubt that this team – prepared, apparently, with plenty of skits and inflatables – will keep the culture positive even if things start going against them.
But let's not get ahead of ourselves. Behind the feel-good story is an actually good team with some actually good players. "Our O-line is really solid in that we have seven guys who can be comfortable in a handler or cutter set," said captain Nick Smith. That kind of flexibility, paired with the athleticism of veterans like Hulsmeyer, Thomas, and Will Bianca will be hard to contain. On the defensive side of the disc, Smith highlighted Scott Evans, whose closing speed will give them regular chances for breaks.
They feel like they can steal one from one of the pool's top three teams. "We need to win just one of three games to screw somebody up," said Hulsmeyer with relish. That would put them into the bracket – just one more bit of uncharted territory for a team who have made a pushing beyond their known limits in 2022.
Seeding: D5, no.20 overall
Power Ranking: Unranked
Path to Nationals: Def. Cornell 14-12 in Metro East final
Roster & Schedule
And at long last we arrive at Connecticut Huskies, the lone representative of the Metro East, the region without an on-field Nationals win since 2018 in the men's division1. That win came from the preceding generation of Huskies (née Grind) ; it was the last time they made the tournament.
This year's team will have a steep hill to climb to notch more victories in a very competitive pool. But if any Metro East team can do it, they can. The Huskies have had their backs against the wall throughout the 2022 post-season and emerged from the fray. "It was truly incredible to watch how our team was able to step up and deliver with their backs to the wall multiple times in the postseason," said coach Matt Kearney (who was a member of the 2018 Nationals squad). Scheduling issues left the team with only 12 players at conferences, and they worried they wouldn't even make Regionals. Then they dug out consecutive universe point wins in elimination rounds before knocking off favorites Cornell. "Throughout Sectionals and Regionals, it seemed like every time we were presented with a challenge we met it head-on with full conviction and trust in each other," said Kearney.
Outside of team-wide determination, they also bring a good set of skill players to the table. Callahan nominee Jeremy Bernier turned heads throughout the regional tournament for his splashy takeover ability, and his chemistry with fellow veterans Seth Fortin and Danny Manger has proved invaluable.
The real story of the Huskies, however, is the team's future, embodied in their captains, all of whom are rookies this season. One of them, James Tibolla, is the team's premier backfield defender. Austin Rey, another captain-rookie, has been one of the team's most consistent downfield threats. That is only the tip of the iceberg, as the team uses the good fortune of their present to set themselves up for the long-run. "This is just the start of a journey to build back a UConn Ultimate program that sees sustained success year-after-year," said Kearney. Win or lose on the field this year, the experience that core of ten (non-senior) rookies will gain at Nationals will be the building block for a new era for Connecticut.
---
Cornell earned a win on a Carleton forfeit in December ↩