Recognizing the top seven performers of the 2022 season.
Ultiworld's 2022 College Awards are presented by the National Ultimate Training Camp; all opinions are those of the author(s). NUTC helps young players become better athletes and community members.
Each year, Ultiworld presents our annual College Awards. Our staff evaluates the individual performances of players from throughout the season, talking to folks around college ultimate, watching film, and look at statistics, voting upon the awards to decide those to be honored. The regular season and the college Series are both considered, with extra emphasis for performances in the competitive and high-stakes environment at Nationals.
Our All-American teams recognize the top performers across the division. While in the past we have closed our Awards with our First Team and Second Team, displaying the top seven and next seven players who had the best seasons, they have been moved up in the schedule. As our voting process is ordered, the top two vote-getters for All-American honors, excluding the Player of the Year, will be recognized as our Player of the Year runner-ups. As such, those three players are listed in order, with the runners-up identified; the other four players are listed in alphabetical order.
---
D-I Women's All-American First Team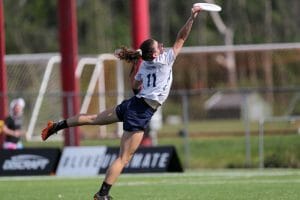 Dawn Culton (North Carolina) Player of the Year
The division's most dominant defender, Culton earned Player of the Year honors with a potent blend of powerful offensive and defensive play. A counter-attack maestro, Culton's knowledge of how to stress her physical advantages to excel within the Pleiades system took her game to another level. Perhaps most terrifying is that this is potentially the beginning of an unparalleled reign, as the Carolinian has two more years of college eligibility remaining.
For more on Dawn Culton, check out her Player of the Year writeup.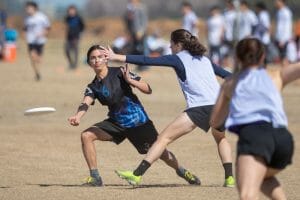 Ava Hanna (UC San Diego) Player of the Year 1st Runner-up
There's an archetype in the collegiate game: a star player who fills a team's most important roles, picks up nearly every stopped disc, rest sparingly, slings a wide measure of their team's assists, and sprinkles in a few goals on top. Questions of origin are of the chicken-and-egg variety: are their tentpole talents a product of their role, given both the opportunity for growth and surrounded by a system that caters to their fortes? Or do their gifts beg any responsible leader to construct a high speed vehicle around their engine?
In this case, Hanna is the latter, a player whose outsized ability coaxed adjustments out of one of the most system-oriented teams in the country. No player showed more ability to dig out of disadvantageous positions, ignoring the odds and carrying on in a seemingly-unsustainable fashion that Hanna made her baseline.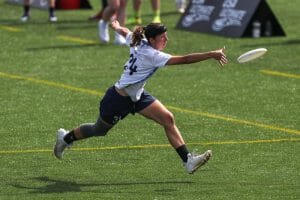 Alex Barnett (North Carolina) Player of the Year 2nd Runner-up
Moving over from her D-line driving role, Barnett stepped into the Mizener-shaped hole in the Pleiades offense. Her ability to fill that misshapen fissure speaks to the veteran's superpower: adaptability. The more things change, the more she stays the same, with the constant being her quality.
And constant it was, in a way no other player could match, not even those whose standing landed them on the First Team with her. Barnett isn't the most explosive athlete or powerful thrower, but she is perhaps the most precise on both counts. Nobody in the division looked more at home charging towards in the end zone in the dominator set du jour than Barnett, despite being one of the newer members of the offensive unit. Her catching the title winning goal was hardly a coincidence, just one of the 14 she managed at Nationals (top 10 in the division) to go with a top-five assist performance.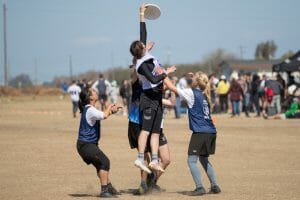 Carly Campana (Carleton)
A tempestuous offensive force, Campana's ability to generate yardage in a multitude of ways made her one of the division's most compelling cutters. She was perhaps the most dangerous isolation threat a defense could come across, with size and speed to put pressure on the deep space, and the powerful hucks and sharp decision-making necessary to shred with the disc in hand and separation achieved.
What's grown over her career is her ability to facilitate for her allies, to set them up with cooperative thoughtful play rather than just eat on her own. Seamless continue cuts, clears that left craterous vacuums for Syzygy cutters to attack, wide arcing swings or threaded inside pokes were all integrated in her high-powered game. From the beginning of Campana's season to its too-short conclusion, it was clear how big of an impact she had.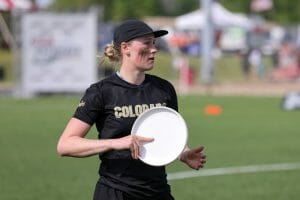 Stacy Gaskill (Colorado)
For an athlete who has reached the pinnacle of sports achievements in the snow, Gaskill sure looked comfortable on an ultimate field this season. Despite being more universally known for dominating in another athletic pursuit, it was clear to anyone watching the college division that Gaskill was among the best players in ultimate this year. Gaskill embodied the best of Quandary this year in how she played: a rock on offense for her team to rely on, and an insurmountable cliff-face on defense that her opponents struggled to get past.
Getting to see a healthy Gaskill was a blessing to watch, but aside from her raw athleticism, it was clear that Gaskill had worked a lot on her game to provide as much as she could for her team. Her pulls were unmatched, especially upwind, which proved to be a critical factor in setting up Colorado's defense to succeed. For a team that has been known for their offense for years, Gaskill's position on the defense seemed to be an inspired choice, rebranding Colorado as one of the scariest defenses to face this season. That's the power of Gaskill.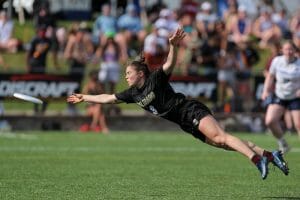 Clil Phillips (Colorado)
Trying to pick the 'best' player on Quandary is an exercise in futility, but if one were to identify which player consistently made one jaw-dropping play after another, that was Phillips. Plenty of players had the green light on Colorado to take risks, only for Phillips to be the one to make those risks pay off with huge bids and unnatural reflexes. It didn't hurt that she was equally as threatening with the disc in hand, too.
Colorado's offense was far from perfect with the disc, but they weren't afraid to make the tough shots that could end a point quickly, something Phillips excelled at.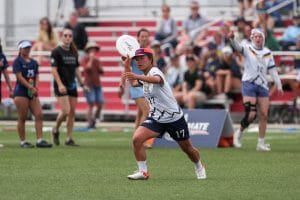 Madison Ong (British Columbia)
No team offered a greater mystery than UBC, an outfit we hadn't seen in multiple seasons with a well-established base built on an outstanding history. What was known was that Madison Ong would be a player to watch. The mystery's ending delivered positively to an unforeseen degree, as much parallel and caused by the pleasant surprise of Madison Ong's growth.
The Canadian handler looks destined to follow the line of top level British Columbia throwers who carve out a career at Canada's top levels. Her game is insistent, not willing to take no for an answer as she probes the defense's front line from the handler set. Topping it all off, she's a feisty and opportunistic turn-forcer, smartly snaring possession by reading the play and attacking.