The next seven players who had the best 2022 seasons.
Ultiworld's 2022 College Awards are presented by the National Ultimate Training Camp; all opinions are those of the author(s). NUTC helps young players become better athletes and community members.
Each year, Ultiworld presents our annual College Awards. Our staff evaluates the individual performances of players from throughout the season, talking to folks around college ultimate, watching film, and look at statistics, voting upon the awards to decide those to be honored. The regular season and the college Series are both considered, with extra emphasis for performances in the competitive and high-stakes environment at Nationals.
Our All-American teams recognize the top performers across the division. While we typically close our Awards with our First Team and Second Team, displaying the top seven and next seven players who had the best seasons, they have been moved up this year. As our voting process is ordered, the top two vote-getters for All-American honors, excluding the Player of the Year, will be recognized as our Player of the Year runner-ups. As such, those three players are listed in order, with the runners-up identified; the other four players are listed in alphabetical order.
---
D-I Women's All-American Second Team

Julia Hasbrook (UC Santa Barbara)
UCSB's had a lot of capable throwers over their recent string of Nationals appearances, but when Hasbrook showed up, they finally got a gunner. She's more than just her cannon of an arm, too. Hasbrook has the need… the need to achieve. There's no contentment with just winning, she wants to trounce her opponents, and has all the skills necessary to dismantle any team crazy enough to get in her way.
Hasbrook, after only a year with the team, was given the keys to the offense and rewarded her team by bringing them to their second semifinals in the last two seasons. She led her team in assists and blocks, which is no small feat on a team known for their defense. UCSB has had a prototypical play style that they've molded over the past few years, Hasbrook is the one that they've allowed to break past that mold, and she made them all the better for it.

Abby Hecko (Washington)
Hecko unsurprisingly remained one of the division's most intractable on-field assets, the competition cohort's finest pairing of polished and pizzazz. That combination of physical ferocity and well-trained formality made her both incredibly productive and undeniably thrilling when taking the field. Her play will inspire onlookers to want to grab a disc, some friends, and get to running down some long ones.
After her 2021 Player of the Year turn, there was something of a target on her, but she wore it like a badge of honor, an intimidating accessory she could wield to enhance her presence rather than detract from it. Hardly afraid of making a play, Hecko was more apt to let her teammates shines while letting her reputation suck up the attention of Element's opponents.

Ella Juengst (North Carolina)
The Empress of the End Zone, the Countess of the Front Cone, the Regent of the Red Zone: at this point, Juengst can select her title the same way she seemingly just chooses to rend the defense for a score. Whatever you heard about her first step is true.
Yet, coming into the season, there was some curiosity to how her role would change without the brilliant offensive supporting cast she had been so successful with, as well as how she would adapt. Juengst showed no discomfort with a more facilitating role — and her teammates showed their readiness — and impressed with defensive growth that made the UNC O-line one of the best defensive units in the division.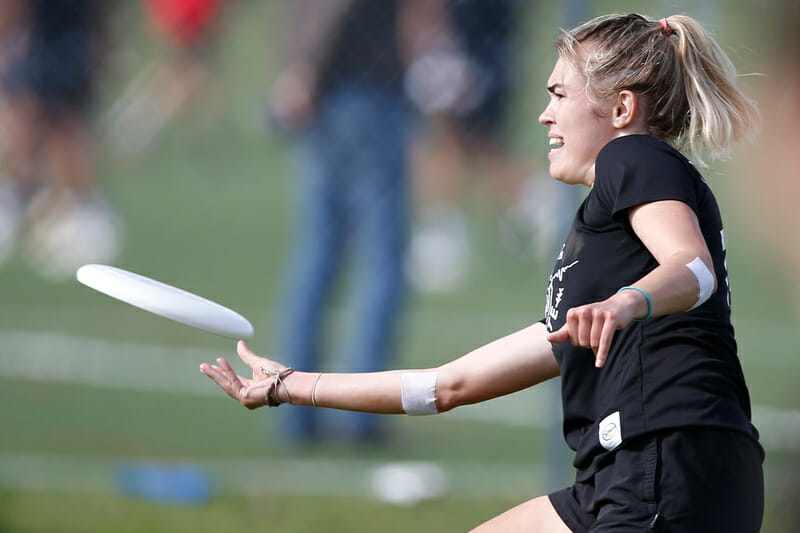 Kennedy McCarthy (Vermont)
Is it just us or have we been writing about McCarthy so long that we are running out of things to say? Every generation has those players, whose high-impact status spans their entire college career, and McCarthy is in the midst of such a run, pandemic-altered though it may be.
Fortunately for poor writers, her development has not stagnated, as her offensive game rounds into full form. This season felt like a bit of a defensive experiment, a chance to toy around with how to play the whole field to better make use of her considerable athleticism. But let's be honest: the fans are here for the takeover games. A hot McCarthy was a blazing fireball leaving only scorched earth in her wake, and maybe a few posters for the kids along the way.

Hazel Ostrowski (Tufts)
There's an argument to be made that no team at Nationals outperformed expectations like Tufts. Not only did they beat an underseeded UCSD team, they also gave UCSB the tightest game of the quarterfinals round. None of that would have been possible without Ostrowski. Her size and skill opened up the downfield space for her team, and she was the outlet the offense needed when the going got tough. We don't have a stat for 'possessions saved by a single player', but Ostrowski might very well lead the division.
It's not just Ostrowski's physical talents that helped her team; she was incredibly level-headed with the disc, and could reignite a stagnant offense with a carefully timed throw. Ostrowski was also commonly called over to the defensive line to make a difference with the game's outcome directly at stake, and she delivered. Tufts' coaches trusted her implicitly, and that's the mark of an All-American.

Marie Perivier (Georgia)
We don't often get to see players in the college division who feel as if they're pushing at the boundaries of our sport, but that's exactly what Perivier was doing all season. On an ultimate field, "can't" isn't a word in her lexicon. She did everything and more for Georgia, willing the team through injuries and errors to earn a spot at Nationals. We've seen other players be swiss army knives for their teams, but Perivier was a full-on MacGyver.
Arguments can be made as to whether or not Perivier is a better thrower, cutter, or defender, but all of those arguments circle around the actual point being made: Perivier is in the 99th percentile of any college player at all of them. It's a shame that Georgia had an early exit before bracket play at Nationals, as it lessened the amount of people who would have been able to see Perivier play, but as she's assuredly going to have an impact on the women's division for years to come, we can channel that disappointment to anticipation in a heartbeat.

Kristen Reed (Colorado)
It should have very obvious Kristen Reed was ready to be a collegiate star. She had already torched the nets at the Club Championships with a mixed division-leading goal total, so the floor for her in college was one of the division's most terrifying point producers. Not bad for a grad student rookie. Add in that she was on a team poised for a breakout, and that's a perfect environment to create an All-American campaign, right?
With her competitive fire, the floor was about as unlikely as lining up the timeline to defeat Thanos. Instead of a pure endzone threat, Quandary ended up with an unshakeable defender who could hound the division's most impactful cutters. She shadowed her targets with a hunger that might make you think she had never scored a goal before. Hard to imagine anyone aside from the Player of the Year inspired more disappointment in cutters when they charged down on the pull and revealed their assignment.