Celebrating the best signal-callers of the season.
Ultiworld's 2022 College Awards are presented by the National Ultimate Training Camp; all opinions are those of the author(s). NUTC helps young players become better athletes and community members.
Each year, Ultiworld presents our annual College Awards. Our staff evaluates the individual performances of players from throughout the season, talking to folks around college ultimate, watching film, and look at statistics, voting upon the awards to decide those to be honored. The regular season and the college Series are both considered, with extra emphasis for performances in the competitive and high-stakes environment at Nationals.
Our final D-I award podium is for the Coach of the Year. As so many teams have added more and more sideline-savvy consultants to their roster with less asked of a single head coach, this has essentially morphed into "Coaching Staff of the Year." Coaches can impact the game in so many ways — tactics, motivation, communication, personnel management, program development, skill-building, etc. — and it can be hard to divine what exactly each has contributed to their team. But good coaching is something that we feel that 'we know it when we see it.'
---
D-I Women's 2022 Coaches Of The Year
Winner: Robin Davis, Jamie Nuwer, Jennie Lummis, Amel Awadelkarim, & Shayla Harris (Stanford)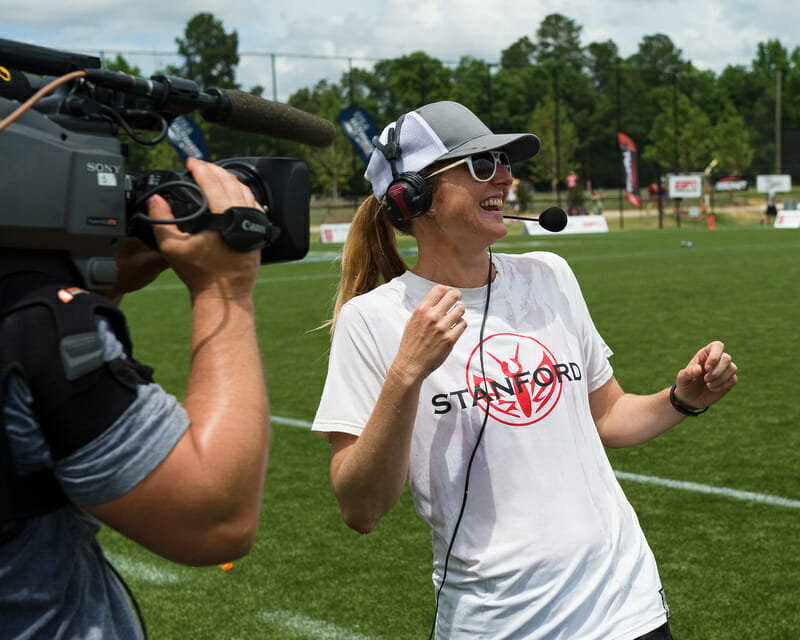 For such a historic and successful program like Stanford Superfly, missing out on Nationals in 2019 might have seemed liked a blip, but when that gap extends another three years due to a combination of COVID and an as-strong-as-ever Southwest region, the time away from the biggest stage started to loom large. Add in the fact that this Superfly program was in a rebuilding phase arguably larger than they'd ever faced before, and it would have been easy enough to count them out in 2022. Thanks to one of the best coaching staffs in the country in Robin Davis, Jamie Nuwer, and Shayla Harris, though, Stanford made the climb back to Nationals, making their way out of the always-tough Southwest region once again.
The first signs of Superfly's re-ascendancy came at the eponymous Stanford Invite, where they pulled off a stunning upset over eventual national finalists Colorado Quandary in pool play largely on the back of several suffocating zone looks. With a team as inexperienced as this Stanford squad was, Davis, Nuwer, and Harris focused on a defense-first approach, anticipating that their offensive structure and chemistry would come later in the season.
Although that ethos didn't always function to its fullest against the top teams, the array of zone looks that the Superfly coaching staff were able to instill allowed their team to stay in nearly every game they played throughout the season. Come the Series, however, and the work that the Stanford coaches had put in to build a cohesive team that could take better advantage of the turnovers they were bound to generate paid dividends. Superfly won NorCal conferences and sealed their return to Nationals with a dominant 13-3 win over rivals UC Davis Rogue at Southwest Regionals. It was a return to form for this Stanford program, held up further by a more than respectable prequarters performance in Milwaukee, and as long as their outstanding coaching staff remains in place, we should plan to see Superfly back at the top of the division for years to come.
First Runner-Up
Claire Chastain, Cassie Swafford, Christina Mickle, & Hilary Egan (Colorado)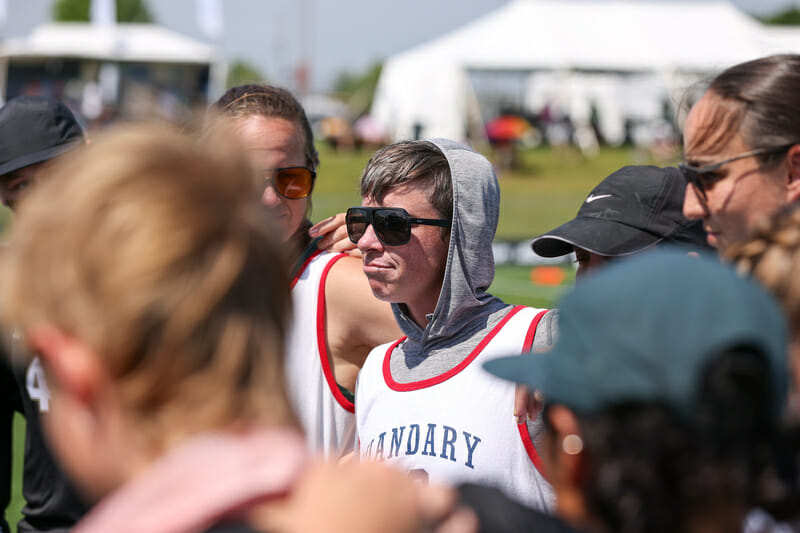 The persistent question for Colorado Quandary since their 2018 championship final run has been when would this team that has such a clear abundance of talent be able to put it together again? With star players such as Clil Philips, Kristen Reed, and Stacy Gaskill among others, the answer might have seemed to be whenever they wanted to, but this season demonstrated that great coaching is often needed to get the best out of great players. In 2022, Claire Chastain, Christina Mickle, and Cassie Swafford led Quandary on a season-long upward trajectory from disappointing performances out at President's Day Invite and Stanford Invite to nearly taking down the program's first ever national championship.
While it's simple to assume that having an Olympian on your team makes any coach's life easier, reintegrating even a player of Gaskill's quality still took work on the part of the Colorado coaching staff. That they made it look so seamless and that Gaskill was able to come back to Quandary seemingly without much disruption speaks highly of the ability of Chastain, Mickle, and Swafford to balance the needs of their stars with the chemistry they had already been cultivating. In the end, the growth of this Colorado team from early season quarterfinalists to national runners-up came down to the adjustments that the Quandary coaches were able to make throughout the season that optimized the potential of their stellar players up and down the roster.
Second Runner-Up
Hani Pajela, Sam Fontaine, & Kaitlyn Weaver (UC Santa Barbara)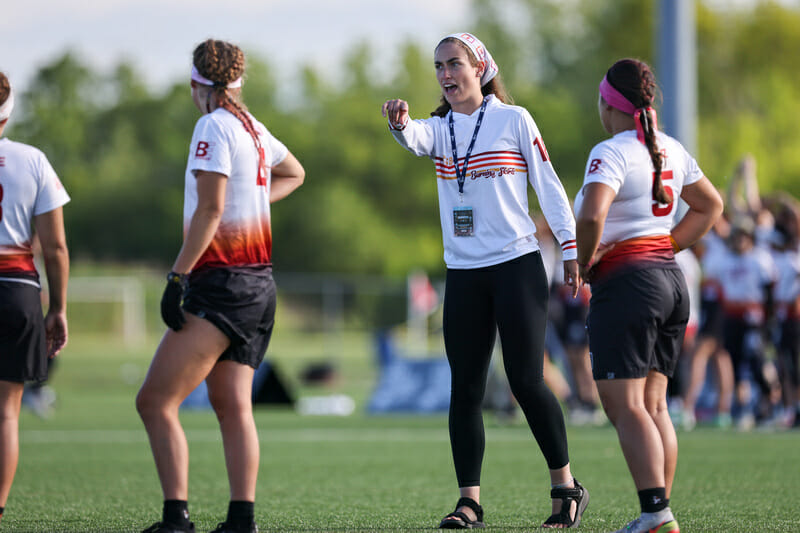 When looking at a team like the UCSB Burning Skirts, who followed their 2021 semifinal appearance with a second in 2022, their preeminence out of the Southwest could very well be taken for granted. However, after losing two of their best players from 2021 in Jasmine Childress and Kaitlyn Weaver, who joined the Burning Skirts coaching staff this season, that was by no means assured. Still, guided by the steady hands of Hani Pajela and Sam Fontaine, UCSB nearly pulled off another Southwest Triple Crown and cemented themselves back at the top of the division as they battled past a tough Pool D at Nationals.
The Burning Skirts had one of the most consistent seasons in the division, only taking three losses in total, even as they were often led by one of the youngest cohorts of standout players in the division. Their even performances throughout their first full regular season in three years is a testament to fantastic coaching from Pajela, Fontaine, and Weaver that enabled UCSB to maintain their trademark defensive matchup pressure while building their offensive execution over the course of the season. In other similar situations, a team's steadiness from year to year might have concealed the excellent coaching going on behind the scenes; in this case that impressive coaching was highlighted as the Burning Skirts sustained their place at the top of the division.