You could join an ultimate adventure in Colombia.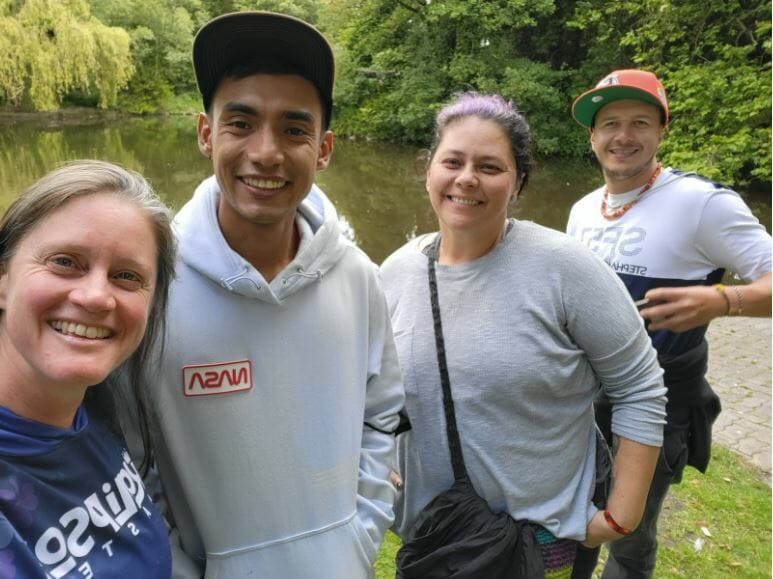 This post is sponsored by The Ultimate Athlete Project. See how the UAP can help you become a better, healthier, smarter ultimate athlete at theuap.com.
Nights are getting longer in the Northern Hemisphere. Wintertime is closing in. What if you had something to look forward to in the middle of February? Right at about the time you can't take it anymore, instead of losing your mind, you can hop on a flight to visit the land of eternal spring and world class ultimate!
Where are we going? To Medellín, Colombia for a week of ultimate and culture!
Here is what we have in mind.
The Ultimate – Experience Life as a Teammate
The main draw of this experience is that you will be embedded with a team for practices in the evenings. Each of you will spend a minimum of  two evenings of the week at these trainings, and likely up to four evenings with two different teams.
Yes, you can go to a Revolution practice if you're a woman-matching player who is ready to play at that level! We are stoked to have Revolution as a participant in this project. In addition to one of the most famous teams in the world, Medellín boasts a large number of teams (Evolution, Kie, Kalipso, and many more) at all levels of play.
Part of the goal of this project is for you to get to know Colombian ultimate in the city of Medellín at a deeper level. And this means knowing not only the famous players and coaches, but also getting to know the broader Medellin ultimate community and match-up against players of your own level.
With the cooperation of many clubs in Medellín, We will be sure that you get matchups appropriate to your current level of play.
You'll be able to experience different practice styles and also meet lots of players! Translation from Spanish to English will be provided for you during practices.
New Perspectives, Tailored to Your Game
Additionally we will be doing 2-3 training sessions covering a combination of ultimate skill development, physical preparation, and mental preparation.
I will be providing some mental training instruction. We'll cover concepts that you'll immediately be able to put to use during the week to optimize your learning. Many of these concepts have only been shared with my Premium clients, but you'll get to practice them with me in person all week long.
We'll be partnering with the talented physical therapist Jimmy Ochoa, an expert with loads of experience working with ultimate players. He is extraordinarily skilled at working with chronic injury issues and specifically with the types of physical problems most common in ultimate players. He will be available to share his philosophy of physical preparation for ultimate and to a fresh look at any chronic injury issues you may have.
Plus, coach Daniel Moreno (Kie and Kalipso coach, and UAP Coaching Conference speaker) and I will be working together to design extra games and activities tailored to the needs of the group and to you as an individual.
We will consult with each player before the camp to ensure that you are getting instruction and activities appropriate to your level and goals.
We will likely have a small hat tournament on the last Saturday of the week – one last chance for you to play with all of the new friends you will make during the week.
The Tourism
Learn local frisbee vocabulary! We'll give you a crash course in some Spanish ultimate lingo so that you'll at least recognize the important words at practices.
We will either visit Comuna 13 or Moravia (or possibly both if we have time). These communities contain stories of resilience and transformation. From histories of violence and poverty, they are now important cultural touchpoints for the city of Medellín.
Food! Fruit Tasting! There are so many different kinds of fruit available in Colombia. We'll try to help you enjoy as many as possible! And it's not all about the exotic ones. You will love an unlimited supply of tasty mangoes, papayas, and bananas. If you're a meat eater, you'll also enjoy the breakfast option of bandeja paisa. (Don't worry, we will have plenty of vegetarian options too! Avocado anyone? You'll have an unlimited supply.)
Salsa! A trip to Colombia can't be complete without dancing at least once. We will either do salsa lessons or visit a salsa club – possibly both.
Day trip to Guatape: This will allow you to see a place outside the city. We'll have lunch in a nearby small town full of colorful houses.
And we'll likely throw in some other surprises too as we think of them!
Why are We Doing This?
This is the second time I've been inspired to create an ultimate and tourism experience for players like you, with the first event traveling in Egypt.
I've been fortunate enough to play or coach ultimate in over 40 countries. I love to see what the world looks like through the eyes of ultimate players. And I love seeing how the sport of ultimate expresses itself in different cultures, climates, and people.
Creating these events is a way for me to share a bit of my experience with you.
I'm Interested. What's Next?
You can pay here to reserve your spot (max 12 spots).
Note: this payment is non-refundable so be sure the dates work for you before you complete your payment. This experience is all inclusive except for your flights to Medellín.
To have a chat first before making this decision, you can schedule a time to talk on my calendar here.
Deadline is November 30th!
We're looking forward to seeing you soon!