Previewing the final TCT event before the Series!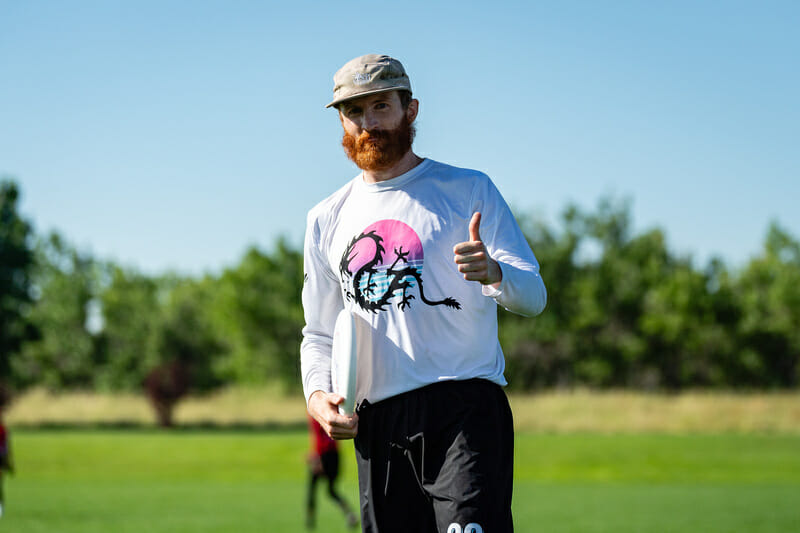 Ultiworld's coverage of the 2023 club ultimate season is presented by Spin Ultimate; all opinions are those of the author(s). Find out how Spin can get you, and your team, looking your best this season.
With the Series around the corner, you should be excited for the culmination of the club season. And if you've been paying attention, you are, because you already know this has been one of the most engaging club regular seasons in years. If you're just checking in though and need a reason to start tuning in over Labor Day Weekend: don't worry. Pro Champs is set to be a fantastic demonstration of the top talent in the sport, and we're happy to help guide you toward what to watch for. Read on for 15 reasons you should get fired up for best pre-Nationals club action of the year, and follow along all weekend on our Pro Champs event page.
Men's
PoNY v Truck: Round 3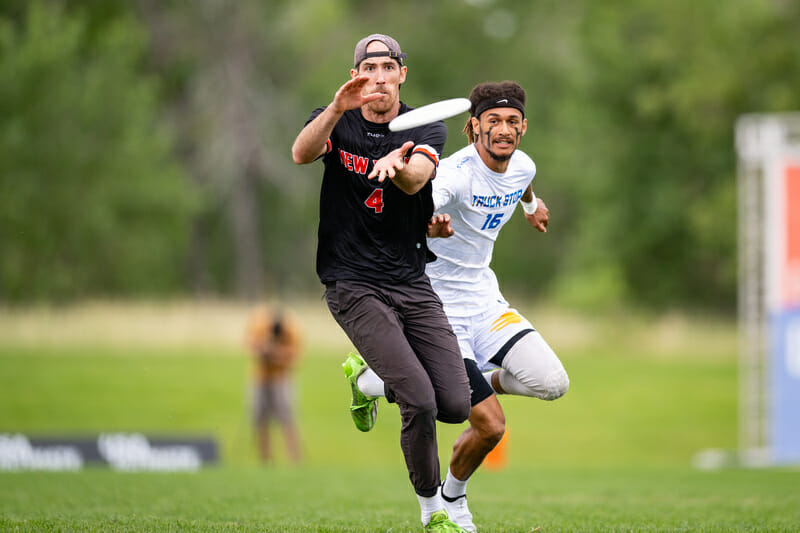 Because who doesn't love a great heavyweight rivalry? This is, at least for now, the men's division version of Celtics-Lakers, Red Sox-Yankees, Boca Juniors-River Plate. The last two games played between #1 New York PoNY and #2 Washington DC Truck Stop were electric: a 15-13 Truck statement in last year's national semifinal and a thumping come-from-behind 15-13 demonstration of PoNY's power in the US Open final. The possibility of another rematch in the Pro Champs bracket is real, and it's thrilling. Seeing these co-favorites for the 2023 title stack up against each other is exactly the kind of spectacle that makes Pro Champs an essential event on the calendar.
Pool B Revenge Games
What if I told you a single point from bracket play decided the entire shape of the men's division at Nationals last year? It's true. Everything shook out the way it did in the bracket because of an unlikely block at 14-14 in the Pool B battle between #5 Raleigh Ring of Fire and #8 Portland Rhino Slam! Rhino's David Sealand laid out for a masterful block in the red zone against Ring's Jack Williams to set up the game-winning break. If Ring had scored, Rhino would have been out of the tournament. Rhino's inconceivable break, though, both gave them a prequarters bye and dumped a baffled #6 San Francisco Revolver – who had just suffered a demoralizing (and, with Rhino's win a few minutes later, monumental) loss to a resurgent #13 Virginia Vault – from the competition. Well… good news for all you revenge freaks and schadenfreude sickos out there! Both of those crucial Pool B matchups will see rematches on Saturday at Pro Champs. Get your Twizzlers and settle in for the action.
Mystery Teams: Unmasked
It's no great shakes to point out that teams evolve over the course of the season, and the visions of them we see in July often don't correspond to what we'll get in October. But two teams have taken that to an extreme in recent seasons, waiting until Pro Champs to showcase anything even resembling a full-strength effort: Ring of Fire and #10 Austin Doublewide. Both played at PEC-East and looked, basically, strong. Still, it's hard to get a sense of who they are or where they fit in with the rest of the pack. Key questions we'll answer as soon as Saturday: what does Ring's offense really look like without Ryan Osgar and Jack Williams? Will Doublewide have enough consistency and playmaking behind Chase Cunningham and (a returning) Abe Coffin1 to challenge the established top teams?
Fit Check
No, this isn't a UniWatch crossover.2 It's a look to see how some very interesting new additions making their debut at Pro Champs will get on with their new squads. Top of the list? A pair of European imports. Sam Murphy, playing the North American Series for Doublewide, anchored the Dublin Ranelagh side that defeated Clapham in European competition last year – and he won Offensive Player of the Year honors for his trouble. Speaking of Clapham, their sparkplug lefty D-line quarterback Connor McHale is set to join #3 Chicago Machine. What role will he play for them? Additionally, a trio of domestic acquisitions, Joe Merrill (Virginia Vault '23, Utah Pando '22), Matt Rehder (Ring '23, Seattle Sockeye… since forever), and Hunter Taylor (Chain '23, hasn't played USAU club since Doublewide '19) are rostered for the weekend and could have a big impact.
Raise High the Roof Beams … or Not
The ultimate question pre-Nationals is about each team's ceiling. It's easy to feel like PoNY and Truck have championship potential, but what about the rest of the division? Do Bravo have what they need to challenge for a repeat? Can Machine pull themselves back to their 2019 peak? Will the talent on Rhino coalesce beyond the hot-and-cold we saw at the US Open? How high can the new generation of young triangle-area stars propel Ring? How far are we from another dominant Revolver team? Are Chain and Vault significantly – and consistently – better than their worst games? Perhaps any of them can hit a new level, or perhaps they've already maxed out their potential.
Women's Division
Molly Brown Limit Testing or Limited?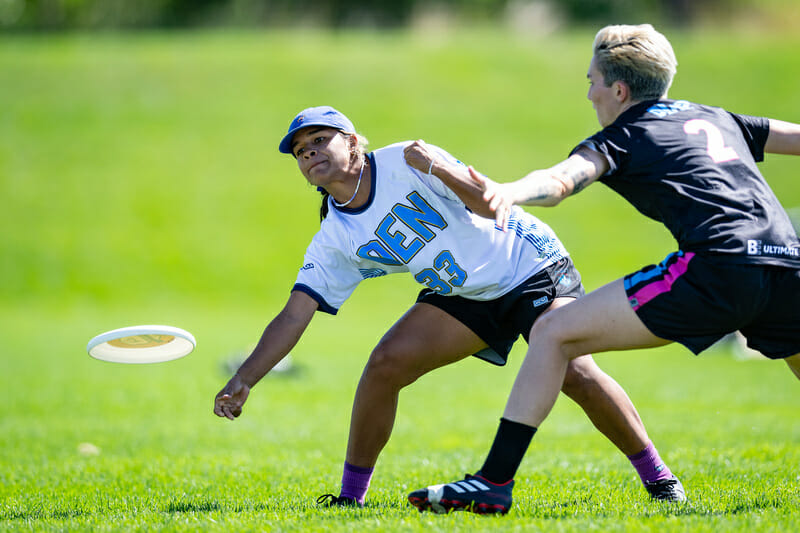 #4 Denver Molly Brown, the defending national champions, have had an interesting season thus far. They won PEC-West, but dropped their quarters game at US Open. From the looks of things, Molly Brown have been limit testing, seeing what works and how far they can push their system. To that effect it seems as if they're more interested in winning individual points than winning games. It'll be worth watching to see if Molly are ready to turn on the gas in their last tournament ahead of the post season or if what we've seen is all we're gonna get until they try to flip a switch for Nationals.
Scandal Domination Continued?
#1 Washington DC Scandal have been all gas no breaks this season, dropping a grand total of zero games through two tournaments. It's always exciting when a team goes on a hot streak, but even more so when it comes from a corner of the division we weren't expecting to bring quite so much heat. Scandal haven't had a cake walk of a schedule. They have wins over Fury (x2), Traffic, Phoenix, and Parcha (all four of whom will be in attendance in Milwaukee). Simply put, they've been the class of club ultimate this season, and all eyes will be looking to see how long they can keep it up. An additional sweetener to watching Scandal play ultimate is Claire Trop, who has been absolutely lighting up the field this season.
Phoenix Around and Find Out
#6 Raleigh Phoenix haven't given us much to go on this season, but what little they have given us has been promising. Raleigh haven't played since mid-July, but have only lost one game, and that was to the aforementioned undefeated Scandal. It'll be interesting to see what the Southeastern front runners have been cooking up in the interim as well as how well they'll fare against some of the best teams in the nation. There's a big question mark next to the seventh seeded team and a huge potential for upsets. This weekend will be a big opportunity for the Phoenix to make it known that they're a threat to make a deep run in the postseason.
Bids are Mid (Atlantic)
If the Nationals bids were given out ahead of this tournament, #14 Pittsburgh Parcha and #15 Washington DC Grit would be awarded the final two spots. The Mid-Atlantic currently has three bids, but that isn't a guarantee. A major collapse from either of these teams could lose a bid strength bid and make for a nail-biting contest for second at Regionals. With this being the last major tournament ahead of the post-season and against the some of the stiffest competition in the nation, it's worth keeping your eyes on these two squads as they'll be playing for a much easier route to Nationals. If either of them stumble, the Northeast (with #20 Northampton Starling perched on the bubble) might just waltz its way into a fourth (!) bid.
The Tale of Two Traffics
#9 Vancouver Traffic came out strong at PEC-West, upsetting Molly Brown in pools and then marching to the final to face off against the reigning champs again. While they couldn't quite put the finishing touches on the tournament, they did put the whole division on notice: new Traffic pattern ahead. Then at the US Open they struggled, losing to Scandal in pools and then dropping in prequarters to Brute Squad. Traffic have shown they can hang with anyone in the league, but they haven't shown the ability to do so consistently. They'll need to be living in their best of times if they want to make a run this weekend.
Mixed
AMP the Champ
#1 Philadelphia AMP have made the final at both tournaments they've played in this season, winning the US Open. With a cadre of WMP stars lighting it up per usual (AMP veterans Lindsay McKenna, Linda Morse, Raha Mozaffari, Rachel Alfano, and Sumi Onoe in particular have looked excellent this season), the MMP side is experiencing a breakout. Paul Owens has grown from a nice sideline presence into a legit QB. Henry Ing is the team's leading goal scorer and most challenging-to-stop weapon. Eric Witmer had a breakout US Open with 10 goals, six assists, and two blocks against zero turnovers. The ingredients are there for AMP to reach the chAMPionship game once again.
BFG is Being Freakin' Good
Like AMP, #3 Seattle BFG have made the final at both tournaments they've played in this season, losing the US Open final to AMP but winning PEC-West. One point wins over #11 Minneapolis Drag'n Thrust and #5 New York XIST back at the US Open portend a difficult pool play for the 2021 national champions; BFG will face both of them before the bracket. Cheryl Hsu is once again popping off in the backfield as the shot taker for BFG. Conor Belfield is providing excellent continuation play while minimizing turnovers. With both returning and new pieces coming into place, BFG are gearing up for a return to postseason success.
Situation Normal All Mixed Up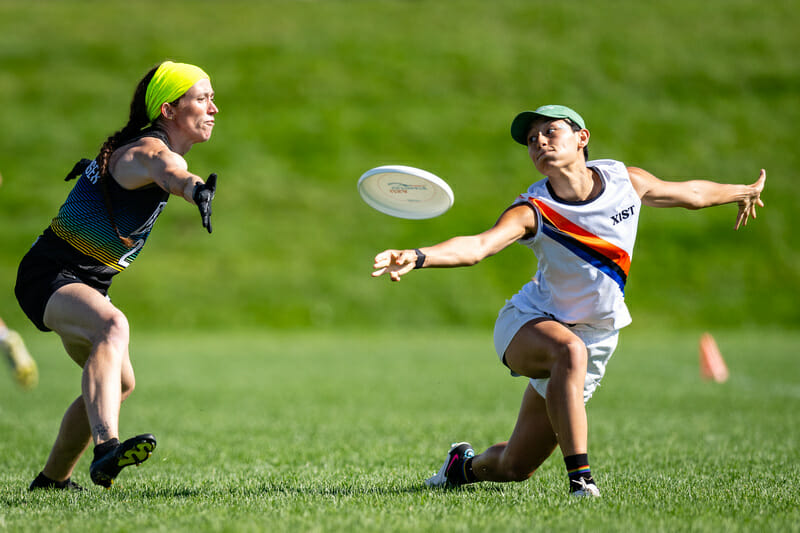 Only fools bet the chalk in mixed. So – aside from our three-letter favorites, which teams could reasonably compete for the title? #16 Boston Slow feel a bit high as the three seed; their talent is Nationals-worthy, but with just one tournament worth of non-blowout games in the books their ranking is inflated. It'll be interesting to see how they compete against the field after losing to Crocs and Public Enemy two weeks ago at the Elite-Select Challenge. Their regional rival XIST may be the team best positioned to break into the final. Two US Open losses are their only blemishes on the season and veteran playmakers like Josue Alorro, Matt Lemar, Genny De Jesus, and Cara Sieber have all looked at or near the top of their games. Lastly, #4 Madison NOISE are obviously talented, but they haven't scored a top level win yet this year. Is this the tournament where they make a statement, or might they be holding their cards back with a plan to score upsets at Nationals…again?
Which Challengers Rise Up?
Both #12 Ann Arbor Hybrid and #10 San Francisco Polar Bears have a wide range of outcomes at this tournament. Both have the top end talent to sneak into the late bracket rounds, and both have enough question marks around their depth and newer players to miss the bracket entirely. Hybrid once again have a shaky offense and a stout defense led by Nathan Champoux. Mark Whitton has emerged as the new face of the O-line and will need to continue to find ways to get the disc to star cutters Kat McGuire and Maddy Simko. For Polar Bears, Mac Taylor continues to be the main threat with the disc. The continued development of younger players like Margo Donahue will go a long way to pushing the team farther than their seed.
Bid Stealers Beware
#23 Denver Love Tractor and #24 Durham Toro are just outside of bid-earning range. Drag'n Thrust are sitting in 34th and will need a big rankings boost this weekend to get into the picture (unless they want to fight with NOISE for one bid to the party).3 With much of their season's stakes to play for, expect these teams to be fighting for wins in a way that better positioned teams like AMP or Polar Bears do not have to. One or two upsets could make a significant difference in the postseason landscape.
---
Correction: An earlier version of this article mentioned Kyle Henke. Henke is not playing for Doublewide this season. ↩

We'll save the kit takes for Nationals. ↩

This may seem like a tall ask, but with many of their early season blowouts set to be ignored as they get more games on the record, they are certain to make a huge rankings gain. Check out Cody Mills' excellent explainer on the blowout rule ↩