The week in college ultimate.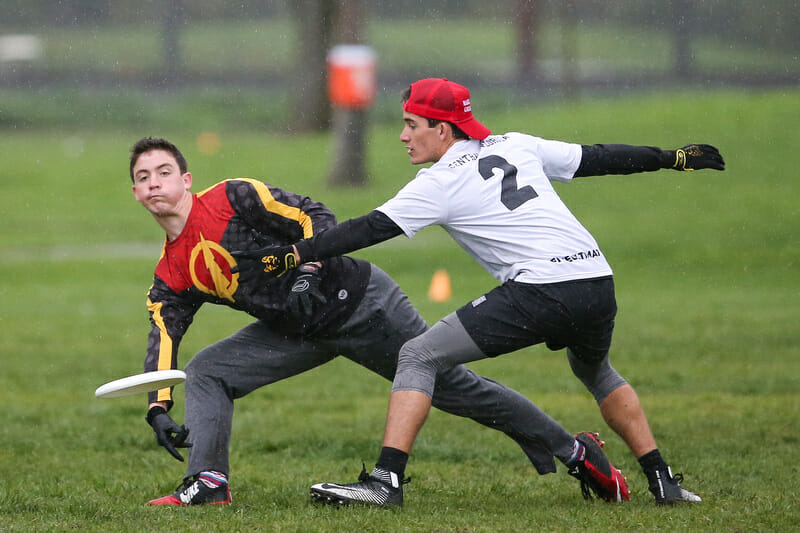 During the spring season, we will publish a bite-sized weekly recap of the action across the College Division. This will serve as a supplement to our standard tournament reporting and will offer a high-level look at the latest happenings and the biggest stories of the week.
Want your tournament listed here? Submit a recap of what happened right here.
Men's
Stanford Undefeated & Western Washington Breaks Out At Santa Barbara Invite
If there were doubts about who is the favorite in the Southwest, #11 Stanford Bloodthirsty put those to bed with a 7-0 run through the field at the Santa Barbara Invite. It was their second straight year winning the tournament. They took down Western Washington 9-6 in the final, having to go through the likes of BYU, British Columbia, and Arizona State on their path to zero losses.
They applied a lot of defensive pressure and were strong in the deep space with a pretty sparse group of vets — an 8-10 split between returners and rookies — and had a number of standouts. Elliott Chartock, Cyrus Ready-Campbell, and Nolan Walsh all had big weekends for Bloodthirsty.
Meanwhile, Western Washington Dirt opened up the season with an impressive weekend, finishing second. Aside from their loss in the final to Stanford, their only other loss was to Cincinnati. WWU played in a lot of close games, riding the talents of Dennis Casio and Adam Choi, but simply ran out of steam. Close victories over Washington and Oregon State in the bracket took their toll. Dirt's been a consistent team on the Northwest bubble over the past few years, but may have a bit more substance in the deep region this season.
For more coverage on Santa Barbara invite, check out the final recap, full tournament recap, and scores; game video will be available in Ultiworld's video store for subscribers soon.
Quick Hits
Women's
Stanford Strong, While Whitman Falters, In Debuts
It was a stark contrast of a weekend for #1 Stanford Superfly and former #2 Whitman Sweets.
Stanford went untouched in pool play, not giving up a single point! They got some challenges in Sunday play, but their 13-8 quarterfinal win over Whitman — a rematch of last year's National Championship game — was never really in doubt. They did trail Southern California at half, but pulled that one out and cruised to a 13-4 win over Cal in the final. A deep roster, strong zone defense, and balanced play ruled the day for Superfly.
It was much the opposite for Whitman, who struggled through their first two games. They narrowly defeated Cal Poly SLO before getting upset by an athletic and gunning UC San Diego team. After being eliminated by Stanford, they added a loss to UCLA in their last game of the weekend. With a 3-3 record for the tournament, the Sweets really fell short of expectations. While they were giving their rookies and role players a lot of run, there was a lack of sharpness that affected them throughout both days of play.
Meanwhile, Southern California was the tournament's second best team despite a third place finish. They beat Cal in pool play, and had the misfortune of running into Stanford in the semifinal, though they were the only team to really push the reigning champion. UC Berkeley did stand out on the run to the final, but UCLA, UC San Diego, UC Davis, and Victoria all showed flashes.
For more coverage on Santa Barbara invite, check out the final recap, full tournament recap, and scores; game video will be available in Ultiworld's video store for subscribers soon.
Oregon Demolishes Competition At Flat Tail Women's
No surprises here: Oregon blew away an unranked field at Flat Tail Women's. Pretty typical for them, as they won every game by nine or more. They defeated Oregon State in the final, 13-4.
Quick Hits
D-III John Brown went undefeated at Turf Wars over four other Texas squads.
Looking Ahead
Queen City Tune-Up (M/W) in Charlotte, NC is the weekend's major event, marking the first elite tournament for many east coast squads in both divisions.
Mid-Atlantic Warm-Up (M) features solid regional competition from the AC, OV, and NE such as Ohio State, Penn State, and Virginia.
Big D in Little D (M) has a solid lineup of South Central faces, and has three top DIII Men's teams: Colorado College, John Brown, and Rice.
---
The tournament's 35th iteration!! ↩