Stanford, Oregon, Ohio State, NC State, Cornell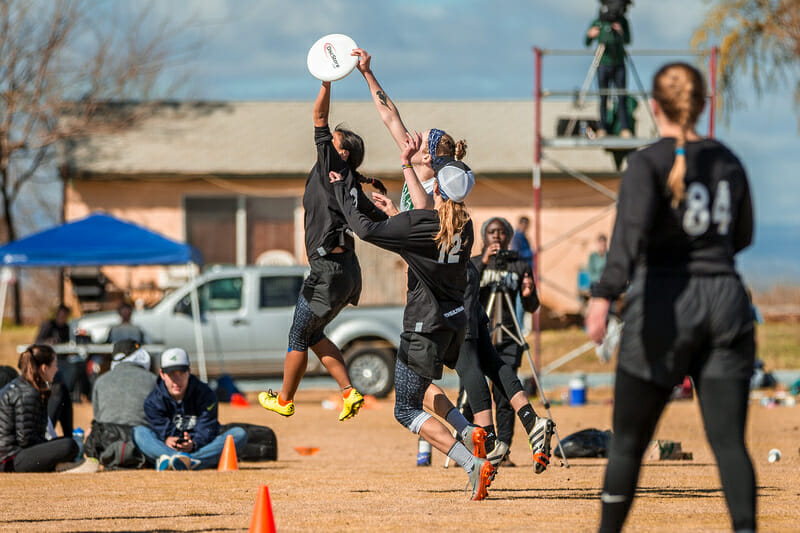 Coverage of the Women's Division of the 2018 D-I College Championships is presented by VC Ultimate as part of their season-long support of our women's coverage. All opinions are those of the authors. Please support the brands that make Ultiworld possible and shop at VC Ultimate!
There's a lot of history in the program's of Pool D. The last time the tournament was in Milwaukee, Oregon and Stanford reached the final. Four the division's last five National Titles rest in the trophy cases of teams from the pool. The top three teams have all faced off this year, to build familiarity and extend that history closer to the present. With all that history between them, pool play should be dramatic.
Pool A Preview
Pool B Preview
Pool C Preview
Stanford Superfly
Seeding: D1, Overall No. 4
Power Ranking: #3
Overall Record: 35-4
Against the Nationals Field: 11-4
Against the Pool: 0-2 vs. Oregon, 1-0 vs. Ohio State
Watch: On USA Ultimate, Friday 4:30 PM vs. Oregon
Stanford is no stranger to being a first seed at Nationals. In fact, most of their roster has never been to a Nationals where Stanford was not the highest seed in their pool. But Pool D offers the team a new challenge this year. Being the team atop in the aptly titled "Pool of Death" is very much a blessing and a curse. It will take incredible discipline and endurance for Stanford to remain on top of this pool. Luckily, those are two traits that Superfly has shown all season.
From the very start of the year, Stanford was playing with the confidence of a Nationals-caliber team. Superfly went undefeated for their first 15 games, and convincingly won both Presidents' Day and the Santa Barbara Invite. In all of their early season tournaments, their discipline was on full display. No team was as prepared for the regular season as Stanford, and they continued to gain momentum with every win.
But momentum is a cruel mistress. Just when Stanford hit that point where a perfect regular season seemed possible, they met a veteran Oregon squad in the quarterfinals of the Stanford Invite. While this double game point loss may have ended their chances at a perfect season, no one considers it a bad loss. That match was easily the game of the tournament and Stanford dispatched the rest of the teams at the tournament with ease.
Even Stanford's two losses at the Northwest Challenge were hardly an indictment of their game. One double game point loss to Dartmouth, the 2017 Nationals champions and 2018 title favorites, and a two point loss to Oregon can hardly be held against them. Stanford has still never suffered a loss in pool play this year and there's no reason to think that will change.
Well, maybe one reason.
While Stanford may retain their confidence facing Ohio State, NC State, and Cornell, Pool D has also served them a rematch against the one team who has had their number all season. One loss to Oregon may not have meant anything, but two is a more damning indicator. Fugue has a savvy, experienced squad to match Stanford's own, and has had two chances to test themselves against the legendary Superfly zone. By now both squads are overly familiar with each other, and it will likely come down to which team can force the other out of their rhythm.
Outside of Fugue, Stanford has not had much experience against the pool. OSU managed to stay tight with Stanford for most of their pool play game at the Stanford Invite, but Superfly seemed in control once they went up a break, and Fever struggled to generate a break against the Stanford offense.
The big question mark for Stanford at Nationals will be their depth. While they were able to roll past teams during the regular season, a gritty, windy game against UCSD at Regionals showed that Stanford was ultimately reliant on a small core of players. Against elite competition, Stanford depends on key players like Hallie Dunham, Julia Butterfield, Caitlin Go, Shayla Harris, and Michelle McGhee to make big plays. They may still boast some of the sharpest utility players in the nation, but UCSD's dominance in the Regional final exposed how Stanford's level drops when their stars are fatigued.
For now, they're not focusing on their losses, wins or opponents. Heading into the tournament, the Stanford captains said the team was locked in our three principles: "Focus on us, love the battle, throw well in the wind."
As we all know, Stanford's floor is still higher than most teams could ever dream of, and their ceiling is nothing short of a National title. After all, they still have a full line of players that have won it before.
Oregon Fugue
Seeding: D2, Overall No. 6
Power Ranking: #4
Overall Record: 29-7
Against the Nationals Field: 11-7
Against the Pool: 2-0 vs. Stanford, 1-0 vs. Ohio State
Watch: On USA Ultimate, Friday 4:30 PM vs. Stanford; On USA Ultimate, Saturday at 12:30 PM vs. Oregon
2018 Oregon plays a very similar style of previous iterations of the Fugue squad. That's not just because they have a particular brand of ultimate; they almost have the exact same squad as their 2017 team. The additional year of team development has clearly paid off. Oregon has traded blows with the top teams in the nation and earned their spot as the No. 5, though even that may be too low.
No other team has defeated Stanford twice, and Oregon also claimed solid victories over Colorado and UBC. Each victory helps reinforce the notion that Oregon belongs in the same tier as Dartmouth, UCSD, UNC, and Stanford. They have just as much of a chance at making the final as any of the top four seeds.
Unfortunately, their losses this season tell another story. While Oregon has clearly stepped up in big games against elite competition, they have also suffered some questionable defeats. While most of their early season losses were within a point or two, Oregon never stood a chance against Dartmouth at the Northwest Challenge, losing 15-6. They didn't fare much better against UCSD, either.
Oregon seems to be on the mend though. An initial loss to UBC at Conferences was paid back in full with a voracious display of talent in the Northwest Regional final. The Fugue women rallied around Ella Hansen1 and Hayley Wahlroos to steal the title from the Thunderbirds. While their two star players had incredible performances, Oregon's entire season has been punctuated by elite performances from the entirety of their roster. Players like Rachel Hess, Emily Fagan, Maddy Boyle, and Kaiyana Petrus have all shown themselves to be capable of taking on tough matchups and making stellar offensive plays, too.
If Oregon's roster is firing on all cylinders at Nationals, they could take it all the way. They couldn't have asked for a better pool, either. Fugue hasn't dropped a game to anyone in Pool D and boast victories over the teams seeded directly above and below them. Pool D has always been known for its upset potential, but given their season and talent, it might not be much of an upset if Oregon emerges as the pool winner when the dust settles.
Ohio State Fever
Seeding: D3, Overall No. 10
Power Ranking: #9
Overall Record: 28-8
Against the Nationals Field: 7-7
Against the Pool: 0-1 vs. Stanford, 0-1 vs. Oregon
Watch: On USA Ultimate, Saturday at 12:30 PM vs. Oregon
At a glance, Ohio State Fever's resume does not inspire much hope that they can pull off an upset. They've already lost to both Stanford and Oregon, and have a number of other losses to teams seeded lower than them at Nationals.
But leaving it at a glance would be the first mistake. Almost every loss OSU has suffered was within two points of their opponents. Fever has a knack for holding tight in tough games and finding breaks when they need it most. The team used 2018 to focus on matchup defense and it has made them one of the most respected defensive units in the division.
In the games they played against Stanford and Oregon, Ohio State had opportunities to draw ahead of the their opponents and could have swung either game if a few points had played out differently. Their match against Oregon stands out in particular, as the Fever women were up for most of the game before letting it slip away. The OSU captains are looking forward to the rematch. "We're just looking to show that it wasn't a fluke and that we can hang with some of the best programs in the country," said the Ohio State captains.
OSU also has one thing that all the teams seeded above them do not: a victory over Dartmouth. The loss to Fever was the only game standing between Princess Layout and a perfect regular season. While the weather conditions weren't ideal for ultimate, it was still technically a level playing field and OSU won the game fairly, even if it was cut short at about halftime. While everyone else is putting an asterisk next to the win, no other team at Nationals knows what it takes to beat the tournament favorites, and it is proof enough that Ohio State can pull off an upset. Against Stanford and Oregon, they'll have the opportunity to prove it again.
Fever is led by their core of Sadie Jezierski, Corinn Pruitt, and Cara Sieber, but have had impressive contributions from many different players throughout the season. Emily Barrett has been quietly making a case as one of the best deep cutters in the women's division, and she's joined by Maddie Fleming, who happens to also be a true rookie and a standout defender. Tiffany Lim and Funing Zhang have been a strong handler combination in the backfield and can stabilize an otherwise overly energetic Fever offense. Don't sleep on Kat Sandstrom, either. She personifies the gritty person defense that OSU has stuck to all year.
Ohio State does not see themselves as a tier below the teams seeded above them, and is ready to have their chance at upsetting two of the best programs in the nation. "At this point it's much less about momentum as it is player confidence – that we have competed well all season and that on this next, big stage we have a lot we can do," said Ohio State coach DeAnna Ball. "Pool D has a chance be being very exciting, and it would be great for Fever to make it exciting."
NC State Jaga Monsta
Seeding: D4, Overall No. 16
Power Ranking: #17
Overall Record: 28-8
Against the Nationals Field: 3-7
Against the Pool: 1-0 vs. Cornell
While many of their competitors went west at least once, NC State earned their bid to Nationals by gritting out wins over the best teams in the East exclusively. The closest they came to a game against a team in the west was Wisconsin.2 By sticking to tournaments that were closer to home, NC State has had very little experience against Nationals qualifying teams, and even has limited exposure to teams outside of the Atlantic Coast. A whopping 23 of their 36 games were played against in-region teams, and NC State played their rivals from UNC a full four times throughout the season. Because of their limited competition outside of the Atlantic Coast, NC State is still very much an anomaly to many of their opponents, as their opponents will be to them.
"We're trying to focus on preparing our own team systems and are less focused on the teams we will play," said their captains.
The one team in their pool that has had a chance to play Jaga is the bottom team, Cornell. The two teams met during pool play at Easterns and NC State managed to run away with the game early on. NC State powered past most of the teams that weekend and Cornell was not the only team to struggle against their disciplined squad. NC State was on a warpath at Easterns, needing to sweep their competition in order to earn a bid to Nationals. Not only did they earn their bid, they proved that they had the personnel to compete at the highest level.
NC State's team is anchored by the formidable Ashley Powell. While capable of explosive performances, Powell thrives off playing smart, conservative offense. She shares some of the offensive load with Cat Nansalo downfield. Nansalo is not one of NC State's most flashy players but has incredible timing and is frequently an open target for Powell. On the defensive end, Alix Robbins and Emma Bartlett run the show for Jaga. Bartlett is a fantastic handler in her own right, but really shines on the defensive end.
They'll need strong performances from these top players to match the talent of OSU, Oregon, and Stanford, but the team thinks they're up to the challenge. "When we really buy into the offensive system, we look very fundamentally solid," said the captains.
This is the first trip to Nationals for NC State's entire roster, and they're under no illusions that they have an easy path to bracket play. Instead of focusing on the experience of their opponents, the team has really tried to keep their focus on what they can control. As an unknown in the field, they provide a bit of variance that only adds to the challenge of Pool D.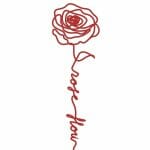 Cornell Wild Roses
Seeding: D5, Overall No. 20
Power Ranking: Unranked
Overall Record: 18-14
Against the Nationals Field: 0-2
Against the Pool: 0-1 vs. NC State
Another year, another Metro East team sitting as the 20th seed at Nationals. But while past Metro East teams have struggled to win a game at Nationals, Cornell is looking to flip the script this year. It's not as if they're without precedent, either. The Wild Roses were not the favorite heading into Regionals, and were No. 4 when it began. It required beating the No. 2 seed twice and the No. 3 seed once to make it to Nationals, but now they're here, and ready to prove that their postseason success is no fluke.
Cornell's first challenge will be overcoming NC State. The Jaga squad was one of the two Nationals qualifying teams that they met during the regular season3. Unfortunately for Cornell, NC State was utterly dominant in that game and the Wild Roses did not seem to have many answers to the depth NC State displayed. But Cornell seems to have banished the ghosts of Easterns and is 12-1 since April. If they can ride out this hot streak, it could be enough to earn them a victory or two in Milwaukee.
Cornell relies heavily on players like Lilly Mendoza, Mei Zhang, and Jessica Wan to make big plays for them in close games. There's a good reason for this. "Two-thirds of our roster is comprised of fresh(wo)men and sophomores, and only eight returners," said the captains. The competition in Milwaukee will be the highest they've faced all year. In order to overcome the odds, Cornell's younger players will have to rise to the occasion. Luckily, that's what they've been preparing for all season.
"Development is a humbling process," said the captains. "In 2017 we won 26 regular season games, this year we won four. But it pays to build experience through the entire roster. The regional final was the testament to our process as we ended the game with even playing time."
Regardless of how things turn out for Cornell in Milwaukee, they should be proud to have made it this far and the experience they'll gain from it will undoubtedly help the program develop. With such a young team, there's a high chance that this could be the start of a dynasty program in the Metro East.
---
"One Throw Ella" ↩

Yes, amongst NC State's competition, Wisconsin is considered "West" ↩

the other being Dartmouth ↩