Will the champions in every division hail from the United States?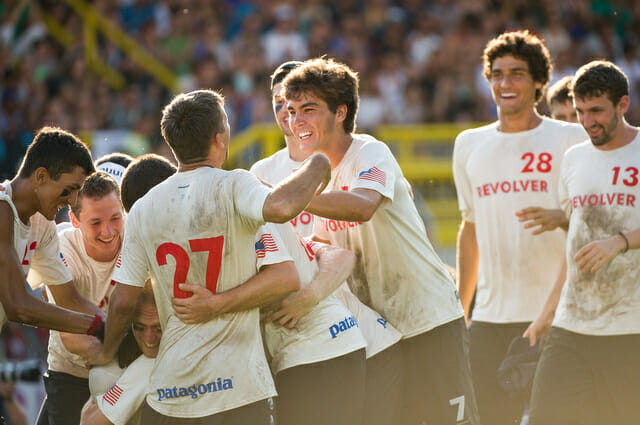 Ultiworld's coverage of the WFDF 2018 World Ultimate Club Championships is presented by VC Ultimate; all opinions are those of the authors. Please support the brands that make Ultiworld possible and shop at VC Ultimate!
It would be an understatement to say that the American teams are heavily favored going into the WFDF 2018 World Ultimate Club Championships. Of the top four seeds in each division, 10 of the 12 are from the United States. While their stiffest competition may be mostly against each other, there's plenty at stake for each club. And nobody is overlooking an opportunity to win a world championship on home soil.
Women's Division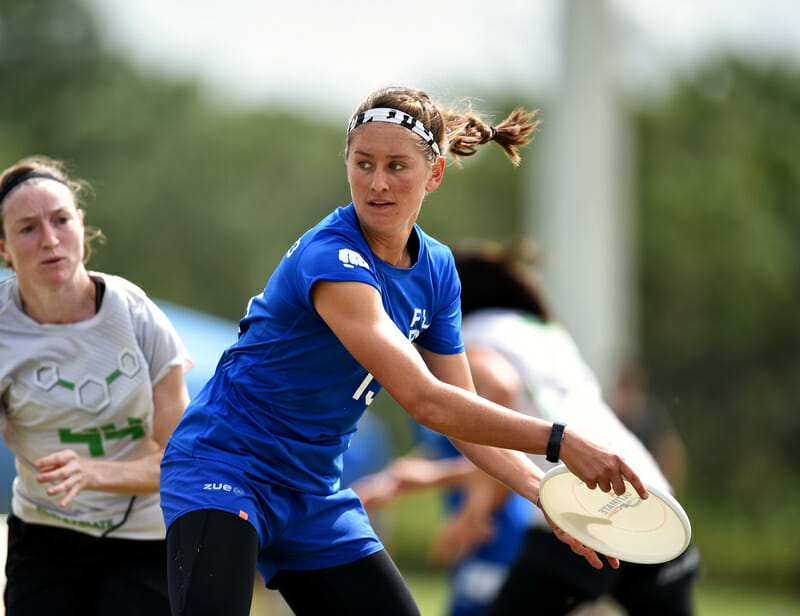 Ever since Colombia Revolution rode into town at the US Open last year and left as champs, the entire women's division has had this summer's WUCC circled. Last year's games were dramatic, but it was an early season tournament for the US teams. This year, we get to see if Revolution can unseat the American teams on the biggest stage. After licking their wounds for a year, America's best women's teams are ready to show that they are still the gold standard.
Fury Sets Sights On World Domination
In some ways, WUCC 2014 signified a mini-swoon for Fury, arguably the greatest program in the history of club ultimate. A year after their seven year National Championship streak was snapped by Scandal, Fury fell just short of the finish line again at Club Worlds. They lost their first significant game to Riot in almost a decade and had to watch their fiercest rivals get gold medals around their necks. Fury wouldn't win a major trophy again until 2017, when they reclaimed their place atop American ultimate at US Nationals.
But now, Fury has a chance to atone for their miss in 2014. Doing so would cement their spot as the best team in women's ultimate right now. After a four year absence from being able to make that claim, Fury has the opportunity to begin a new dynasty.
They'll rely on a collection of important players from their last run of dominance. Alex Snyder was a revelation at Club Nationals in 2017, and others — like Anna Nazarov, Carolyn Finney, and Cree Howard — all produced at a championship level. But Fury has also been bolstered by a new wave. Opi Payne added an extra level of dynamism last year, and an exciting crop of first year players could do more of the same, though probably not quite to the same level as Payne.
So if Fury is to win, it'll be a result of their continued blending of the old guard and the new. It would be the second time they've won Club Worlds in the last three chances the tournament has been held. But unlike the last time they won in 2010, Fury isn't the unquestioned top team in the world. Instead, they'll be looking to use Club Worlds to reassert that dominance.
Molly Brown & Brute Squad Out For Revenge
Denver Molly Brown and Boston Brute Squad will surely have payback in mind, for both domestic and international foes. Revolution hung losses on both teams at the US Open last year, and Fury ended each team's season at Nationals in the semifinals and championship game, respectively.
While Brute Squad elected to skip Colorado Cup, Molly Brown had a solid if not spectacular first showing of the season. Newcomers Alika Johnston and Alex Hardesty seem to be fitting in well, adding more teeth to Colorado's already vicious bite. That loss to Riot in the CoCup final won't sting too much, especially if they can get the better of them in a second meeting at Club Worlds. Given the tournament format, Molly will likely be the first American team to get a crack at Revolution in a power pool game that could have major implications on the champion's bracket path.1
Brute Squad missed out on Club Worlds last time around but have become omnipresent in American ultimate since then, reaching three straight National finals starting in 2015. The most successful women's team over the past few years, Brute now has the chance to push their dominance globally. The same holds for some individual players from Boston, as Club Worlds will give Kami Groom, a captain on Brute and 2016 Player of the Year,2 a chance at exacting a little revenge on the international stage after she was surprisingly cut from the US World Games squad last summer.
Ozone Looks To Keep The Magic Alive
It's all gravy for Ozone at this point. Their seismic upset of Riot at Nationals in October unexpectedly catapulted them into the Club Worlds field. A "nothing to lose" attitude pushed them to success last year, and they will likely come to WUCC with a similar swagger. They are a high variance team that can absolutely sling the disc. The combination of a devil-may-care attitude and the ability to keep up with anyone in a shootout will make them one of the most exciting teams at the tournament — and incentivize them to play that way against teams that might look better on paper.
Their roster also has some key changes as they head to Cincinnati. Maddy Frey, one of their top additions this season, will be cleating up for Revolution. Two of their top handlers, Sophie Darch and Paula Seville, are also out for the weekend. Hall of Famer Angela Lin is coming in to counterbalance those losses, but Ozone will also be short former US National Team cutter Mira Walker, down with a torn ACL.
If you want a safe bet, Ozone might not be your team. But if you want a wild ride, there is still some room left on the bandwagon.
Riot Look To Prove A Point
Let's overlook the fact that Riot backdooring their way into WUCC when the US was awarded an extra bid retroactively ruins some of the drama of their upset at Nationals last year and focus on the positives.
While Riot are the defending world club champions, the composition of the team is quite different than it was in 2014. Gone are the Gwen Amblers and Rohre Titcombs of the world, and, in their place, the Verzuh and Trop generation will have their chance to make their first big deposit in Riot's trophy vault.
Riot has extra incentive to guard their turf. A good performance at Club Worlds would show that they are back on top of their game and that crashing out at Nationals last year was an anomaly. They have already won Colorado Cup this season, and a win in Cincinnati would put to rest any rumblings that they aren't the team they used to be.
Club Worlds will also likely be our last ever chance to see Sarah Griffith play in a Riot jersey. Surge, as synonymous with Riot as virtually any player over their recent history, is heading to San Francisco to play with Fury after this tournament. So often in life, we don't get to say goodbye on our own terms, and it's hard to imagine a better way for Surge to leave Riot than by helping claim gold again.
Mixed Division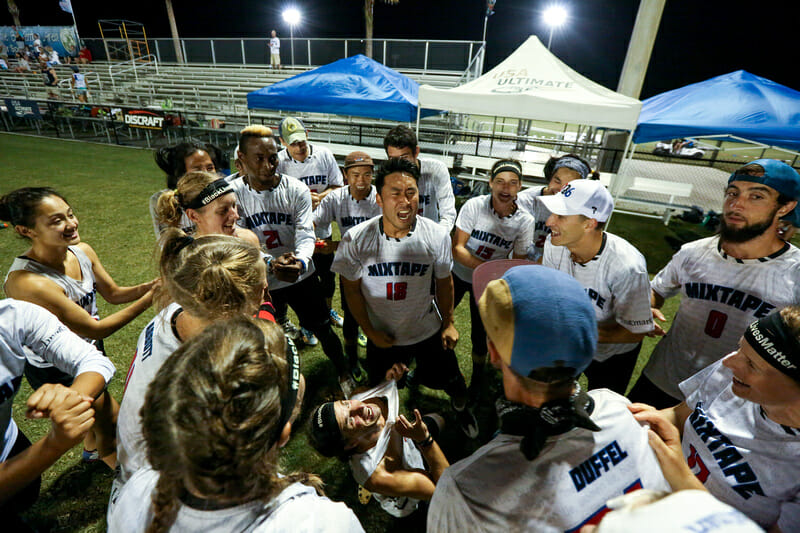 The mixed division has some extra juice this year for the US teams. It might be the best chance to win a major championship this year, since, well…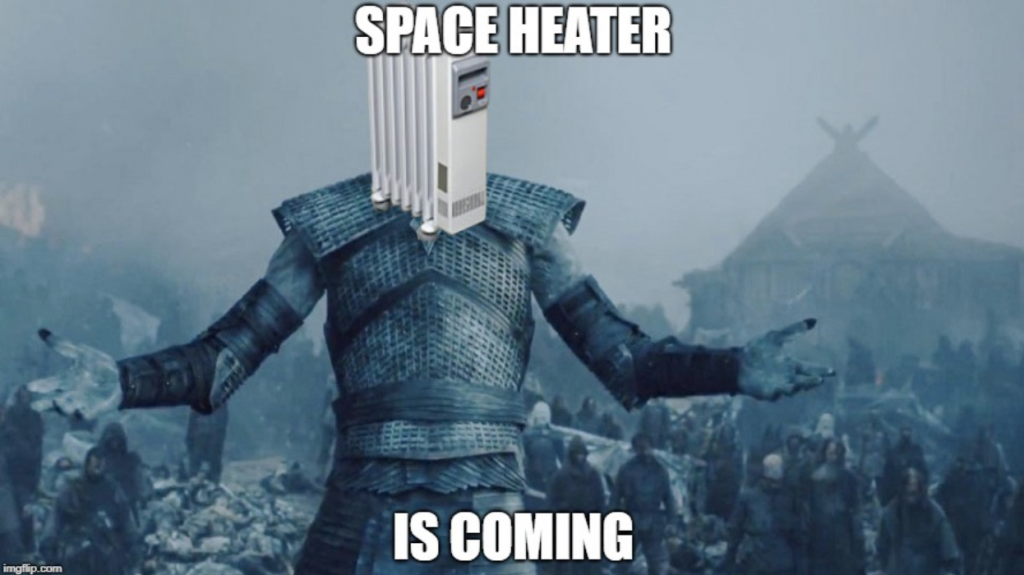 Mixtape and AMP to Faceoff Again?
One Mike Ing drop is all that separated Philadelphia AMP and Seattle Mixtape last year in the National Championship game. The No. 2 and No. 1 seeds at the tournament, respectively, Philly and Seattle are on course for another gold medal showdown after last season's instant classic. In a division known for its turnover, these teams are developing real cohesion and laying the roots for a classic rivalry that gets better with every year.
Of course, to get the rematch that has been brewing since last October, both teams will have the make the final. Mixtape will kick off their season at Club Worlds by taking on Pool A, which features mostly teams from North or South America and Colorado from Germany, named for the Haribo gummy variety pack. The Seattle squad was still called Ghettobirds in the qualifying season for the previous WUCC and fell well short of Nationals, so this will be their first shot as a team at international gold. Most of their championship-winning roster is back, and they've added Reed Hendrickson, whose size and speed could make him a tough cover for many teams.
Many of their individual players, however, already have experience on the global stage. Khalif El-Salaam has multiple gold medals representing the US, and several of the team's younger players, such as Abbie Abramovich and Ari Lozano, are coming off of playing U24s early this year.
AMP has already seen action this year, giving them the opportunity to fit in their big pickup Nicky Spiva. They won the Boston Invite but fell to Space Heater at the AMP Invite. Of course, Space Heater is a challenge for another day, and AMP will be focused on getting even with Mixtape in Cincinnati. It's worth noting that they played that tournament without Ing, Nick Purifico, and Allysha Dixon, who are all on other club teams this season, but will be back on AMP's side for WUCC.
Carolyn Normile was a primary contributor for AMP last season, and this year she could have an even bigger impact. Normile has been absolutely rampaging through 2018, with a U24 gold medal and a college POTY award already under her belt. Adding a World Championship to the trophy case would put her in position for one of the most successful calendar years in memory. She's just one of the talented women on AMP, who also feature rising star Anna Thompson and Raha Mozaffari.
BFG: They're Not Playing Masters Quite Yet
Another Seattle team, BFG, rode a veteran crew to the semifinals at Nationals last year and a bid to Club Worlds. They doubled down on the whole "experience" thing this year, bringing on Mario O'Brien and Rena Kawabata, two decorated winners who will bring even more bona fides to the table. BFG might not have the horses to beat Mixtape or AMP in a shootout, but they should have the guile to stay in the game and pounce when an opportunity presents itself. Additions of Andrew Hagen and Leah Bar-On Simmons should add some athleticism to take down the teams between here and there.
If your ideal team fits the description of "most likely to unironically play in visors," then BFG is for you. They have one of the tougher roads to gold of the top US teams, but peaking in July shouldn't be a problem for a team with so many Masters-eligible players.
Boston Teams Bringing the Band Back Togher
There are significant changes for both Boston Slow White and Boston Wild Card's rosters for this the 2018 club season, but they head to Cincinnati with nearly identical personnel to their 2017 iterations that got them through qualifiers in the first place. Tannor Johnson and Lexi Zalk are back in uniform for Slow White, while Robin Meyers returns to Wild Card.
Both teams were in action at the Boston Invite with their new rosters. Slow White looked competitive with AMP, but Wild Card failed to make the championship bracket. The two even butted heads for an early claim to Boston supremacy.
Wild Card failed to make the championship bracket at Boston Invite, falling to Slow White 15-11. Of course, that may all just be in preparation for a great Cinderella story, as Wild Card only made it to Club Worlds after the US was allocated extra bids following international dropouts. That's a glass half full take on a team that not much will be expected from, as they are not even the top seed in their pool, coming in behind GRUT from the Netherlands. The two will square off in perhaps the most anticipated pool play match in the division in a Saturday night showcase game to kick off the tournament.
Men's Division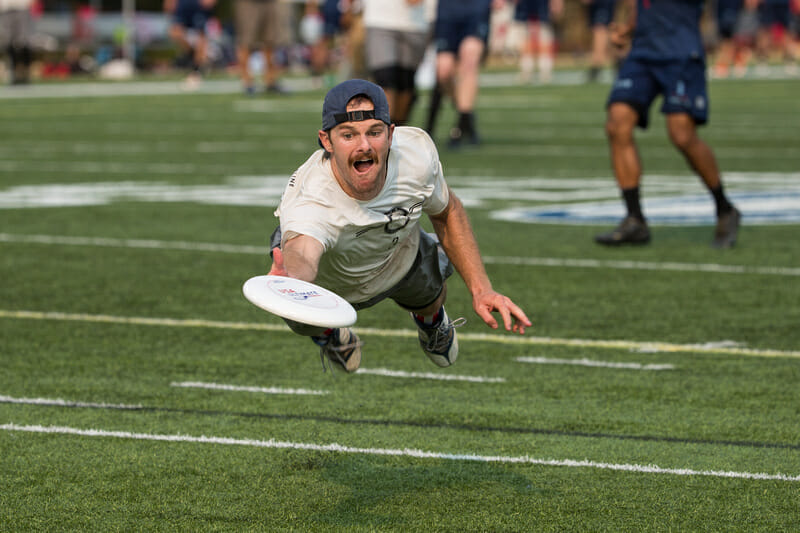 The US is only sending three men's teams to Worlds this year, which is a little surprising given that dropouts have historically swung the stars and stripes a fourth bid.
Breaking News: Revolver Still the Favorite
It's not the hottest take to crown Revolver a likely champion. It could be their pair of gold medals from the 2010 and 2014 World Ultimate Club Championships. It could be the four National titles they've won since 2010. Perhaps it's their nearly spotless record throughout the past few seasons. Or maybe it's their All Star collection of talent.
You know the names already: Ashlin Joye, Grant Lindsley, George Stubbs, Simon Higgins, Cassidy Rasmussen, Nick Stuart, et al. Beau Kittredge completed his exit from the team, but he played all of last season in a heavily reduced role. But Mike Payne went to the elite ultimate dealership and traded in the old model to acquire a sleeker and more modern option: John Stubbs. The wunderkind is part of a small rookie class joining a roster of accomplished stars. What could go wrong?
Admittedly, sports are a relatively high variance activity, and it's not impossible that in a single game Revolver could lose. Of course, Revolver has lost only two significant games3 over the past five years, and they keep getting better. Variance may have met its match.
Ring of Fire and Doublewide: A Puncher's Chance or Just Punch Drunk?
You've got to give it to Raleigh Ring of Fire and Austin Doublewide: they are going to get their swings in this year. Both teams made big pickups in the offseason that will help them take their best shots against Revolver in Cincinnati. Of course, it's still unclear whether they are loading stones into a slingshot or just endlessly pushing one up a hill.
After skipping out on Colorado Cup, WUCC will give us the first real glimpse of Ring this year. The addition of Mischa Freystaetter is notable, especially after the target man put up some insane stats at Nationals in 2017. Probably equipped with the most physically imposing offensive cutting core in the world, Ring can throw out a full line of legitimate athletic marvels. They have Freystaetter's height creating gravity, Jack Williams and Jonathan "Goose" Helton running off the space created, and Henry Fisher doing just about whatever he pleases. There aren't any easy answers to stopping that cadre, especially when they have one of the world's best throwers, Jon Nethercutt, lining them up.
Last season, Ring put the D-line largely in the hands of some of their younger stars, like Matt Gouchoe-Hans, Sol Yanuck, and Eric Taylor. There will be a real burden on those guys to carry the load with many of the team's biggest names on the O-line. If Ring wants to keep pace with Revolver, their defense is going to need to keep that O-line fresh and get breaks on their own.
Austin Doublewide took a more targeted approach to taking down Revolver: they got the guy who has done it before. Kurt Gibson, like a mythological gunslinger roaming the American West, is back in Austin. He has returned to Doublewide just for Club Worlds, and, really, to get another chance to stick it to Revolver. He engineered their owly losses in championship games this decade and should provide some steel to an exciting but malleable core for Doublewide.
Austin got crushed in the final of club Nationals last season, but it was apparent that a lack of experience and some nerves had a lot to do with it. Nerves aren't really a problem for the indomitable Gibson.4 With Gibson's experience as a big game hunter and a dynamic roster stocked with stellar athletes like Jay Froude and Kai Marshall hitting their primes, Doublewide have the potential to be a real problem for teams in any given game.
---