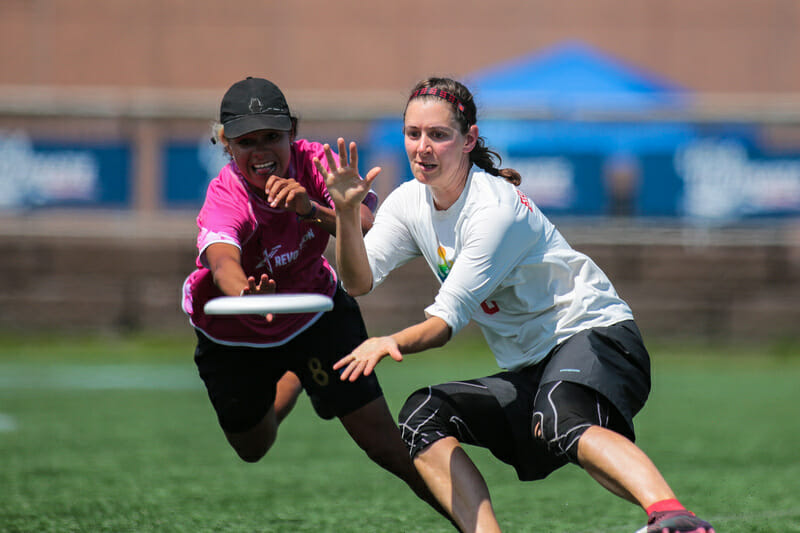 During the 2019 summer and fall season, we will publish a bite-sized weekly recap of the action across the Club Division. This will serve as a supplement to our standard tournament reporting and will offer a high-level look at the latest happenings and the biggest stories of the week. We go through the annals of score reporter so you don't have to!
Want your tournament listed here? Submit a recap of what happened right here. 
—
This past weekend was one of the best of the summer with most of the top squads in all divisions making the trek to Minnesota for the U.S. Open. We got to see seven Top 10 teams in each division, some for the first time in an elite tournament this season. The action did not disappoint with tight battles and surprising upsets across the board — no divisions finished with a top three that mirrored the original seedings.
With one leg of the Triple Crown now behind us and opening salvos volleyed from contending teams in each division, the stage is set for an exciting second half to the 2019 regular season.
Mixed Division
Philadelphia AMP Suffers First Loss of the Season, Minneapolis Drag'N Thrust Clinches Title
The fireworks started early in the mixed division at the U.S. Open, as two pool top seeds — #6 Washington DC Space Heater and #5 Boston Snake Country — suffered upsets and failed to earn their quarterfinals bye on Friday. This led to two somewhat unexpected crossover games, where #1 Philadelphia AMP squeaked by Melbourne Ellipsis, while #8 Minneapolis Drag'n Thrust crushed #2 Seattle Mixtape, foreshadowing what was to come later in the weekend.
The upsets continued on Saturday, with AMP losing their first game of the 2019 season in their quarterfinal to #10 San Francisco Mischief in a match that wasn't even close, and Drag'n Thrust knocking out Space Heater to continue their uncontested run to the final. It was there that the home team met Mixtape for their second matchup of the weekend. In a somewhat sloppy back-and-forth game of runs, Minneapolis claimed an exciting double game point victory and asserted themselves squarely into this season's title race. The three-time national champs are the hottest team in the country after beating both the finalist and third-place finisher twice on the weekend.
Elsewhere, Snake Country looked strong against every opponent save the champs, claiming bronze by soundly defeating all challengers outside of Drag'n. Mischief also impressed with perhaps the biggest win of the weekend, their five-point drubbing of AMP. Their Bay Area counterparts #9 San Francisco Blackbird will be most disappointed with their weekend, finishing their regular season slate as the only North American team that failed to reach quarterfinals in Blaine and getting only two games against domestic opposition. Currently sitting inside the bid window, they'll have to hope their ranking holds up over the next month as they sit idle before the Series.
Overall, the results on the weekend do little to clarify the list of true national title contenders vs pretenders this season, as the division looks to have as much parity at the top as it ever has.
Check out our daily U.S. Open recaps from Friday, Saturday, and Sunday's final.
Quick hits:
Women's Division
Defending Champs Drop in Quarterfinals, Colombians Take Second at US Open
The women's division of the US Open saw fewer upsets than the other gender divisions, but that doesn't mean it was without intrigue. #4 Washington DC Scandal threw a wrench into the expected proceedings by knocking off two-time defending national champs #2 San Francisco Fury in the quarterfinals and pushing Brute Squad to the brink in the semis. Though it would be foolish to assume that a fifth-place finish means much in terms of Fury's season prospects right now — they haven't won a regular season TCT tournament since 2015 but have still taken home two national titles in that time — what we can conclude from this matchup, and from their recent performance at Pro-Elite Challenge, is that Scandal is a real contender for the first time since their back-to-back titles in 2013 and 2014.
As has become expected, Medellín Revolution disrupted the hegemony of American teams at this event by holding their original seed and finishing second. Their road to the final included wins over #5 Denver Molly Brown and #3 Seattle Riot, who once again endured a late-game collapse against the Colombians, conceding six of the game's final seven goals to lose on double game point. Revo simply could not solve #1 Boston Brute Squad, who were firing on all cylinders throughout the weekend and bested the South Americans twice, though by a total of just three points.
Check out our daily U.S. Open recaps from Friday, Saturday, and Sunday's final.
Quick hits:
The only ranked team in action outside of Blaine, #16 Oakland LOL disappointed by dropping a pool play game to Seattle Soul at the Seattle Round Robin 2019, but avenged the loss by beating Soul in the tournament final. Still, the result won't do the Southwest region any favors in terms of securing another strength bid.
In a tune-up for the upcoming Canadian Ultimate Championships, Winnipeg Fusion looked fantastic in stomping all comers at Heavyweights 2019. They knocked off both St. Louis Stellar and Chicago Helix in the bracket, who held seed to finish second and third respectively in Aurora, IL.
In the smallest of the divisions at Philly Open 2019, new team Albany Rebel Rebel dominated pool and bracket play, finishing the weekend undefeated without ever giving up double digits along the way. Hartford Ignite held seed and placed second, while Washington DC Suffrage improved on their no.5 seed by securing third.
Men's Division
Seattle Sockeye Holds onto Top Spot with Lots of Shuffling Below
After the Pro-Elite Challenge upended expectations for the top tier of the men's division this season, all of the major contenders met again at the U.S. Open for another opportunity to bend the season narrative. For the second straight tournament, it was #1 Seattle Sockeye who came out on top, this time going impressively undefeated through the weekend with their tightest game coming against Machine in pool play, winning by just a single point. Between the pair of tournament victories and a break-free offensive performance in the showcase final game, Seattle have provided plenty of reason to believe they deserve favorite status at this point in the season.
#3 New York PoNY made up some for their disappointing PEC performance with a second-place finish this weekend, still playing without several key pieces who will join the team following the conclusion of the AUDL playoffs. In addition to coming up short in the final against Seattle, PoNY also dropped a game to #6 Raleigh Ring of Fire, before lighting up #2 Washington DC Truck Stop in the semifinals. Raleigh, for their part, put in a decent showing for their sanctioned season debut, pairing their upset of PoNY with a quarterfinal win over #4 San Francisco Revolver, though they were waxed twice by Truck Stop. It's tough to know what to make of Revolver's weekend, going 1-1 against U.S. competition and 2-2 against the international teams, including splitting a pair of games with Tokyo Bunka Shutter Buzz Bullets.
The Huntsville Freaks, who many expected to be wildly outmatched by the level of play at the event, impressively jumped up from their original bottom seed to finish ninth, thanks to wins over Bogota pair MAKAWUA and Commundad el Oso as well as #5 Chicago Machine. While the latter win was enough to earn Freaks a spot in this week's Power Rankings, it was a brutal loss for a Machine squad who has the talent to be competing for a title if only they could find some consistency.
Check out our daily U.S. Open recaps from Friday, Saturday, and Sunday's final.
Quick Hits
At Heavyweights 2019, #22 Madison Yogosbo added six more wins to their resume, bringing them to a season record of 19-1 and keeping alive hopes of securing a bid for the North Central. Indianapolis Brickyard couldn't keep the final with Madison close, though they did manage to stomp regional foe Chicago Haymaker in the semis. Haymaker secured third over Saint Paul Swans in yet another uneven match, as all three teams on the podium came out of the 1-4 power pool.
Philly Open 2019 brought together twelve Classic Flight men's teams in Allentown, PA. Top seeds Connecticut Colt and Tennessee Tanasai clearly separated themselves from the pack, with the Southeast squad earning a double game point victory in the tournament final.
Vancouver's second team, Blackfish, emerged as the victors at CBR 2019, beating up on a slew of Northwest competition, including a 15-10 win over Seattle Ghost Train in the tournament final.
Youth Division
While not a normal feature of our Club Update, we want to give a little love to the programs that earned national titles at the Youth Club Championships, held concurrently with the US Open in Blaine this past weekend. The finals on Monday were unfortunately marred by brutal weather, leaving each of the five divisions with co-champions.
Check out our coverage from the first round of bracket play in the U20 divisions and stay tuned for more coverage from the semifinals coming soon!
Looking Ahead
Following the excitement of the U.S. Open, this upcoming weekend will be much quieter across all three divisions with no named TCT events.
Chesapeake Open in Boyd, MD gets top billing this weekend, as the tournament hosts ranked squads in all three division. In mixed, #20 Washington DC Rally, #22 Atlanta Bucket, #23 Pittsburgh Alloy, and #24 Charlotte Storm will compete in a deep field, as teams jockey for valuable rankings points. In the women's bracket, #25 Virginia Rebellion will be looking to lock in a second tournament title of the season to go along with their impressive performance at Select Flight East in July that saw them crack our Power Rankings. The men's division sees Columbia Lost Boys coming in as the top seed and attempting to continue their undefeated season, though they'll be pushed by #24 Virginia Vault, along with Durham Brickyard and Houston H.I.P. squads that have been hanging around the back end of our Top 25 for much of the season.
Elsewhere:
Hodown ShowDown 23 G.O.A.T will gather mixed and women's teams for competition in Asheville, NC.  Hometown team Asheville Superlame is coming in as the top seed of the 20 teams in mixed division, and three teams will compete in a double round robin in the women's division.
Nucci's Cup 2019 will bring together ten men's teams and four mixed teams from the Classic Flight to match up in Mercerville, NJ.
CUDA Round Robin 2019 hosts four mixed teams from central Ohio in a round robin on Sunday in Hilliard, OH.
Correction: This article previously stated that the men's and women's divisions of the Canadian Ultimate Championships 2019 would be held the weekend of August 10-11; the tournament actually runs August 15-18.