Rivalry day!
It's time to unwrap some presents as we introduce the 12 Days of College Ultimate. Over the next few weeks of December, we will be releasing one gift per day, though don't count on getting any partridges in pear trees: it's all college ultimate. From top players to strength bid predictions to highlights, we've got a little something for everyone.
Today's topic: 11 teams with some of the best rivalries in college ultimate for day 11. Rivalries are one of the great narratives of sports, and ultimate has a few gems throughout the college division.
Carleton CUT vs. Wisconsin Hodags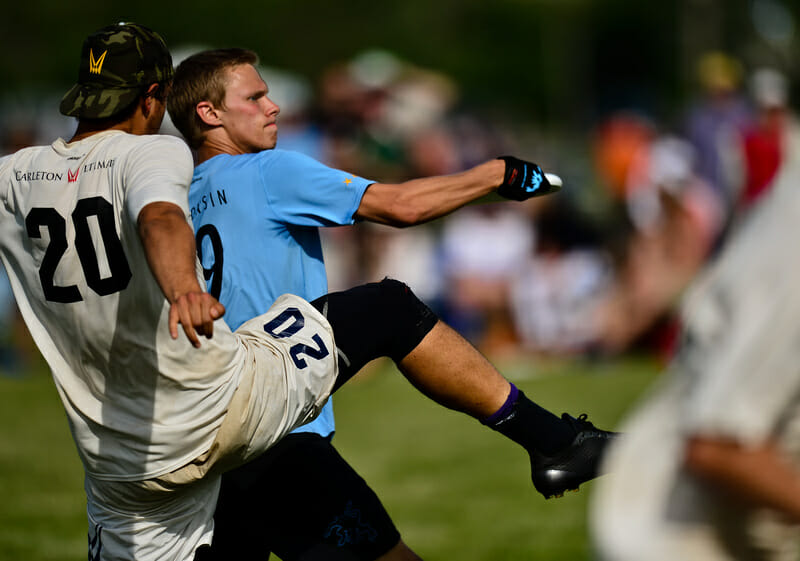 We had to lead off with what might be the most storied rivalry in ultimate. The first half of the decade favored the Hodags, who defeated Carleton in the final of North Central Regionals three times from 2011 to 2014. And lest you think this is merely history, the team on the other end of Carleton's infamous Regionals ouster last year? None other than Wisconsin. It actually injects some adrenaline back into the matchup after seven straight Carleton victories, dating back to 2015, many by large margins and two of which were in the North Central final. Instead of adding to that streak, the Hodags beat Carleton in a contentious game, including four Wisconsin blue cards headlined by a Sam Hebert backpack bid that took out CUT's Ethan Bloodworth. And as a cherry on top, the upset tied the two programs for the division lead with 27 Nationals appearances.
But the rich history and culture of competition that surrounds this rivalry transcends the scoreboard. Three years of CUT wins did little to douse the flames borne out of years of North Central slugfests and a wealth of alumni chatter. Their relationship flourished through the 2000's, when both teams became fixtures in the Nationals bracket, with one usually making a deep run. They combined for 12 title match appearances from 2000 to 2012, with five championships between them during that period, including Carleton's 2011 win over Wisconsin in their only championship bout. There was some brief fear the rivalry might dissipate when it looked like the two would be split up in two different regions, but fortunately, that never came to pass. We expect to reap the rewards come NC Regionals once again.
Colorado Quandary vs. Texas Melee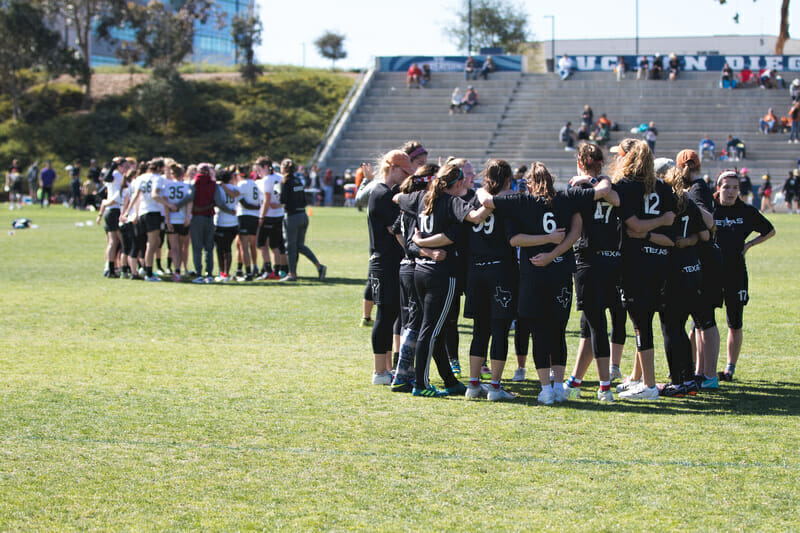 Our women's coverage staff has beaten this drum fairly loudly: this is the best rivalry in college ultimate right now. It hits every note you want from a great rivalry. The teams are very familiar with one another and compete with regularity, playing each other multiple times in six of the last seven seasons. Then many graduate and compete against one another at the club level, deepening their relationship. There are often high stakes as they compete for the throne of the South Central, which they've done in three of the past four years. One also eliminated the other at Nationals in 2016, 2017, and 2018. That all adds up to 11 postseason meetings across the past nine seasons, 10 of which occurred during bracket play.
What's more, it's been a competitive matchup, with Colorado holding a narrow 10-8 edge in wins in the series since 2011, when the pair was united by the regional redraw. Seven of their last ten meetings have been decided by either one or two goals. This peaked in 2017, when Colorado notched a double game point win over Melee to win the South Central, but found themselves on the less desirable end of a 14-12 loss in their National semifinal.
Because of all of this, there is great atmosphere whenever the two clash. With so many huge games against one another, there's a residual energy that's seeped into two clubs who so closely orbit one another in the national ultimate scene. They've managed to cultivate an intense and hard fought, but still clean, rivalry that should be treasured in the division. We were unlucky to not get a postseason matchup between them last year, and we hope to see another chapter in their compelling story in 2020.
Oregon Ego vs. Washington Sundodgers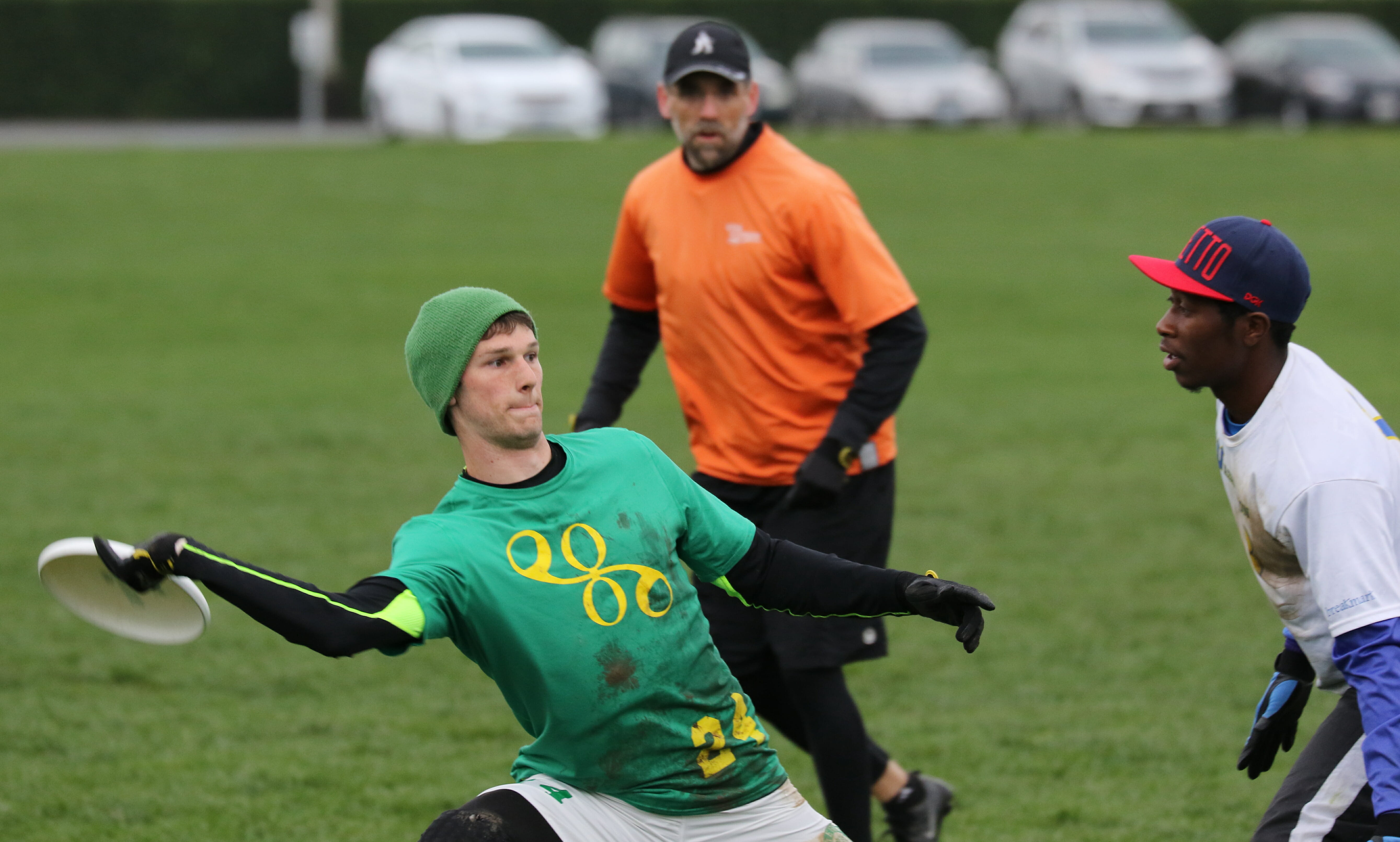 While some may argue that this isn't a rivalry, the heat is turned all the way up in the battle for the Northwest, even as recent stars like Khalif El-Salaam and Dylan Freechild moved to the Seattle club scene. While the rivalry lives on without those two, and realistically started before they got to school, the sub-rivalry between each school's most recent star was unmatched in college ultimate. During their overlapping years, Freechild's Oregon teams owned the matchup. At one point, El-Salaam had won more World titles than games against Ego.
Since 2017, though, these teams are 4-4 against each other, have each beaten each other for regional titles, and now reflect a closer relationship in terms of talent and the ability to win big games.
Oregon Ego is a legacy program, with sixteen College Championships appearances including a championship in 1992. Washington burst onto the scene more recently, boasting seven College Championships appearances, six of which came this decade (including each of the past three seasons). UW has been infused with youth talent, which had previously escaped to Carleton or Brown, deciding to stay closer to home.The Sundodgers have built a program through local players like Manny Eckert and Tony Venneri and a new coach; Mark Burton's leadership has pushed the Sundodgers to improve and brought out the fun side of the team. While Ego had for years been known for their goofy sideline presence and break bucket shenanigans, Washington is now matching them in energy and spirit, as well as wins on the field.
This season, both teams could realistically finish in the top five of our power rankings, and their presumed regional final meeting should be appointment watching. Washington brings back skilled offensive players like Eckert and Jake Steen, and adds 2019 Southwest Player of the Region Sam Cook for his fifth year. Ego, meanwhile, loses 2019 Club Breakout Player of the Year Leandro Marx, but brings back the rest of the gang who would have been a stronger contender at Nationals had it not been for an untimely Will Lohre ACL. Ego's defense should improve this season; Lukas Ambrose has already been pegged as a potential breakout player, and I'd also point to Duncan Fitzgerald as a player who can take on big matchups and might be able to contain some of the Sundodger's star power.
Of course, Ego also has Freechild on the sidelines as an assistant coach and we know how much Dylan will do everything possible to avoid losing again to UW. Hopefully we'll get more than one meeting between these two powerhouses, because there are sure to be fireworks each time they take the field.
Ohio State Fever vs. Pittsburgh Danger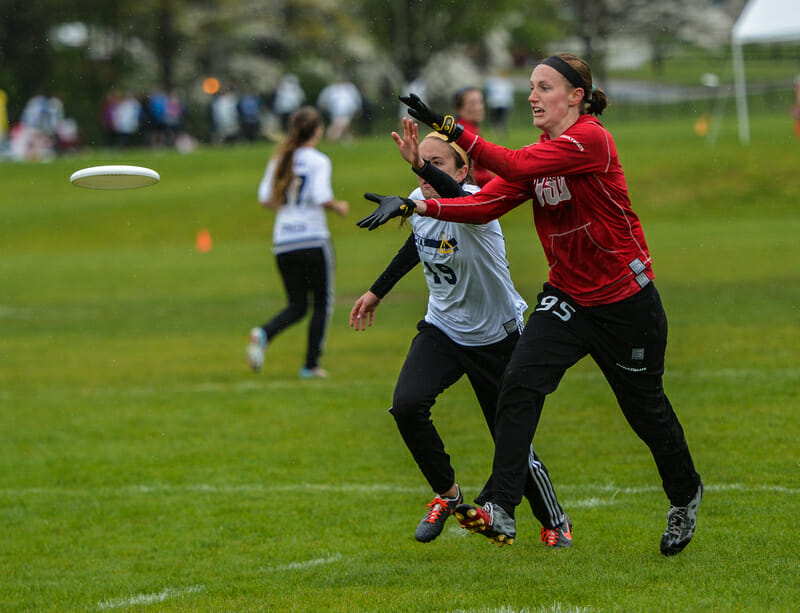 Pitt and Ohio State haven't brought their rivalry to Nationals in the same way that Texas and Colorado have, but six showdowns in the Ohio Valley final in the last eight seasons means they aren't far behind the top rivalry in the women's division. The two have also been at the top level of the game for years, both having made Nationals five years running, with one semifinals appearance apiece.
Ohio State owned the rivalry in the early years, but things have been far more balanced between the two sides over the last few seasons. Both have similar ceilings this season as likely quarterfinal contenders in 2020, so the regional final — and any other times the teams matchup — should be as exciting as any in the rivalry. Their universe point finish Blue Ridge Finale this fall indicates they're as closely matched as ever.
There's a bit of extra spice in the rivalry this year as well, with Ohio State grad transfer Annelise Peters now suiting up for Pittsburgh. Peters adds a veteran handler presence that Pitt lacked last season and could potentially tip the scales in the outcome of the rivalry in the spring.
With plenty of other big names and potential breakout stars on each side of the matchup, and the potential for nationally important showdowns throughout the season, set up for one of the best rivalries in the division to have its most exciting years yet.
Michigan Flywheel vs. Northwestern Gungho and Notre Dame WOMB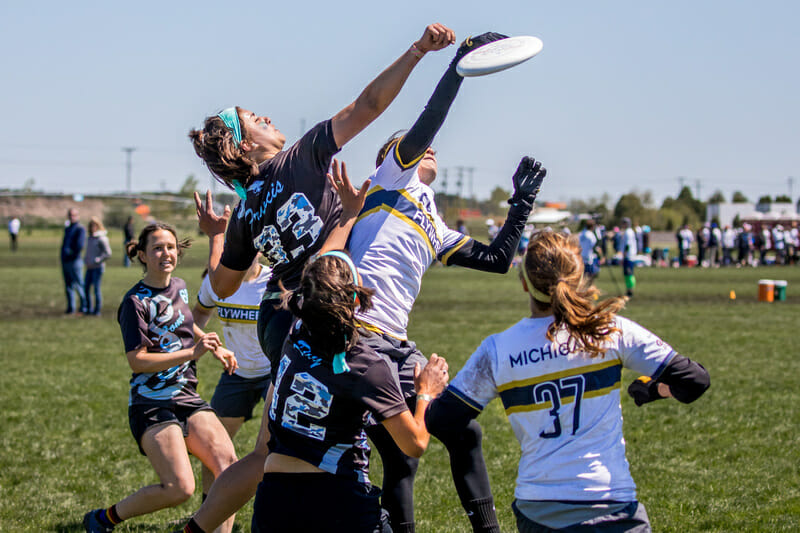 11 separate teams have represented the Great Lakes at Nationals in the women's division since 2011. All of those teams have been from either Michigan, Northwestern, or Notre Dame. While this might have felt like a traditional pairing between Flywheel and Gungho earlier in the decade, Notre Dame fought their way into the conversation with two finals appearances that they converted into their only two Great Lakes titles. That means a lot of contested games between the trio, often with a lot on the line. In fact, in the redraw era, Michigan has only lined up across from these two in critical postseason matchups.
While the women's side of the Great Lakes hasn't been as nationally prominent lately, no regional favorite feels safe given the recent history between these clubs. While Michigan holds a 13-4 edge over the duo of regional upstarts, both rivals topped Michigan at Regionals last year to send their season to a disappointing conclusion. While Michigan controlled the matchup in 2018, Notre Dame's 12-11 victory in the 2017 regional final ended Flywheel's season.
Keep an eye on this one moving forward. Last year's Regionals results add some spice, setting up the first Flywheel-less Great Lakes final since 2005. They came with very close margins. There have been some chippy moments throughout the past few seasons, but the teams seemed mostly united behind #GreatLakesGreatTimes when it comes down to it. This season could be defining in how these Michigan rivalries evolve.
UNC Wilmington vs. The World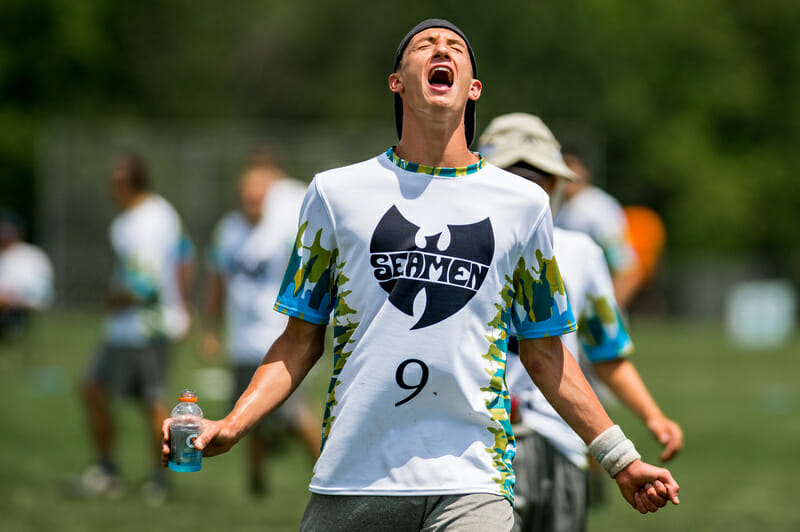 In this (strangely moving?) hype reel that Wilmington released in advance of the season, the Seamen make clear who their true rivals are: it's you. And me. And every team in the men's division. And everyone else too, just for good measure.
Over the years, Wilmington has gotten into some heated rivalries because of their, well, rivalry-prone disposition. Their clashes (both literal and figurative) with Pittsburgh over the past decade are legendary, with the polar opposite programs producing some of the best games and rich drama in recent memory. They have also managed to drum up some old fashioned intrastate rivalries with UNC and NC State, lest anyone believe their ire was directed solely at elitist yankees.
But it's reductive to label any one team as UNCW's lone rival. They don't just try to beat teams, they actively exist in opposition to their opponents. Their entire raison d'etre is to infuriate teams beyond the threshold of reason. Rivalries are just a natural outcome.
In recent years, Wilmington's ethic had seemingly moved away from such a confrontational state of being, and absent the transcendental nature of Jack Williams, their postseason results went down the tubes. But by all indications, the Wilmington of old is back. And so are the preseason results, with an appearance in the Classic City Classic final. They are instigating altercations, sending games screaming off the cliffs of reason, donning the cape of villainy that is their birthright. I'm so scared. I'm so excited.