Your guide to the biggest players, teams, and stories of the 2020 D-I college season.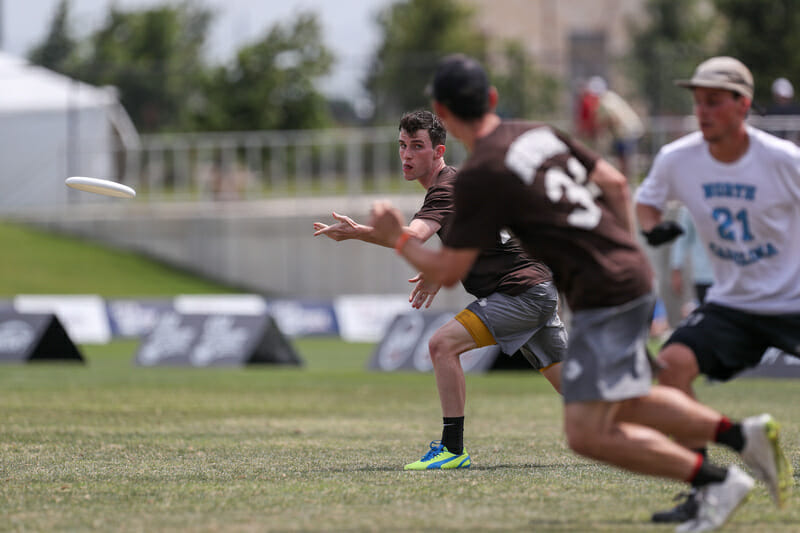 Ultiworld's 2020 college coverage is presented by Spin Ultimate; all opinions are those of the author(s). Find out how Spin can get you, and your team, looking your best this season.
After a couple of months of quiet, it is time to make some noise. College season is back, and it brings with it all the things that make these next few months so fun. Whether it is title chases, regional rivalries, new stars, unbelievable rookies, or unexpected storylines, each year we find college ultimate delivers entertainment and plenty to talk about. We've gathered up the stories and names you need to know before the college season kicks off.
Major Storylines
Written by Charlie Enders, Keith Raynor, Alex Rubin, Hugo Sowder, Patrick Stegemoeller, and Edward Stephens.
Who Is The National Championship Favorite?
After two years of somewhat lethargic inevitability, we've finally come to a point where it's a bit unclear who the men's division champion will be. We haven't had a field of potential finalists this deep since 2017 and, while it seems clear who the top 3-5 teams in the country are, there is vast disagreement on the pecking order at the top and it's not entirely inconceivable that a program outside of those five could end up playing on Memorial Day.
Brown and North Carolina have both lost their best handlers. BYU could finish number one in the Power Rankings but with no path to playing in Milwaukee in 2020. Carleton is, well, Carleton — they have the best player in the country in Joe White, a great hybrid thrower in Dillon Lanier, and a now two-season history of underperforming when their season is on the line. Pitt is a terminator, incapable of being knocked down or killed; even if it's not a true peak year, they still carry the potential of a national championship. All five of these teams have potential Player of the Year candidates, excellent coaching, well-developed systems, and strong depth.
Still, there are plenty of wildcard teams this season who could also pick off any one of these programs in the bracket at Nationals and plenty of programs already telling themselves they can do that. At CCC, where four of the top five teams were competing in November, every program threw at least one punch at another top five team. The team that was left standing at the end? #1 Brown.
Winning back-to-back titles is really hard. As we saw with UNC last year, title fatigue is very real for programs that are consistently back at the top of the division every year. But this generation of B-Mo wasn't at the top of men's college ultimate until really last year. The novelty of being a top program is very attractive to teams that have not been there before (see Pitt 2012 and 2013). Every one of the preseason top five has excellent personnel, but there are some legitimate questions about the versatility of UNC, Carleton, and Pitt's returners — and maybe even their potential POTY candidates.
There are no questions about the versatility of John Randolph. He went from being the primary handler on his high school team to elite downfield cutter and defender through three years at Brown. Now he's back in the handler role, picking up some of the slack left by Mac Hecht's departure. Is he going to replace exactly what the POTY was for Brown last year? Probably not. But handling is something that Randolph has been doing for a long time and you can't discount that he's going to be in familiar territory this year. He's a force multiplier on and off the field and his presence has been making Brown a better team.
But The Best Team Might Not Be At Nationals
People would be talking about this #2 Brigham Young team as one of the great ultimate programs in the country — on par with UNC, Carleton, Pitt, and the like — had they been able to play at Nationals the past few years. The team has so much talent, plays with incredible consistency, and has a strong youth pipeline to continue to grow.
Speaking specifically about 2020, BYU has a real case to be the top team in our preseason rankings and should remain in that conversation all season long. CHI returns all their major contributors from last season, including Jordan Kerr, who should be on everybody's shortlist for Player of the Year. BYU has one of the most creative offenses in the country, opening its playbook to isolate dangerous athletes in space and to take advantage of Kerr's strong left-handed flick, which seemingly bends physics at times, while getting break side resets at will.
Add to that a no-nonsense, physical defense and this team is competitive in every game it plays. Last year, BYU beat nationally ranked teams like Cal Poly SLO, Pitt, Carleton, Oregon, Texas, and Washington at every tournament it went to. This year CHI already has a convincing — well, as convincing as a fall win can be — 13-9 win over UNC that did not look as close as the scoreline indicated. Other top teams lost generational talents this offseason (Brown, UNC) or are still reeling from a stunning postseason fall (Carleton). BYU comes into this season without any of that baggage, but with a clear vision of how to be the best team it can in every game.
While we likely will not see BYU play beyond the first day of the postseason, CHI travels to major tournaments around the country and isn't afraid to challenge the top teams in the division. It stands to say that if they go undefeated, BYU can pull a '2017 UCF Football' and claim the title without appearing at the National Championship game. Doing so might put even more pressure on USA Ultimate and the Northwest regional and sectional coordinators to find a way for BYU to participate in the postseason.
A loss or two won't disqualify BYU from the top spot, but given how much emphasis we (both as American sports fans and as an Ultiworld staff) put on postseason performance when determining end-of-year awards, BYU would probably need convincing (5+ point) and dominating wins over multiple top five teams to overcome a bad loss and still end the season ranked number one. It's possible, but we'll have to play the games to find out.
Fierce Competition For Strongest Region
For the past few seasons, this was an easy answer. The Atlantic Coast was hauling down three or four bids to Nationals, putting multiple teams into the semifinals once there, and contained enough depth that teams like Maryland or William & Mary could swipe bids from the favorites. But the AC has dipped just a hair this year, with North Carolina taking a slight step back and the depth in the region thinning out.
Meanwhile, the Northwest and New England have loaded up for the new decade. The #7 Washington Sundodgers look as strong as they have ever been, with a host of Voodoo and Sockeye players as well as Southwest Player of the Year Sam Cook arriving as a grad student from USC. With Will Lohre returning from injury, #8 Oregon have a devastating cutting core and #19 Victoria's several Canadian U24 National Team players will make them a serious threat. And don't forget about BYU!
In New England, Brown is back with almost all (albeit with one notable Hechtception) of its championship squad, while UMass, Tufts, and Northeastern make up an excellent second tier that should all challenge to earn a strength bid.
Of the three regions, the Atlantic Coast and New England likely have the edge on the Northwest in terms of likely strength bids. Each has four teams who have a clear path to being top 20 teams, with the upside seemingly a bit higher for #15 UNC Wilmington and #22 William & Mary in the Atlantic Coast, but more consistency and Nationals experience coming from #14 Tufts and #20 Northeastern. But in terms of which region has the most teams that could place in the semifinals, the Northwest is the only region with two teams in Washington and Oregon who appear ready to challenge for a championship. And if you're counting BYU, then the Northwest has three top ten teams in the region.
Answering which region is best will come down to your own criteria over what 'best' means, but each of these three has a viable claim. The Northwest has the greatest collection of talent-rich programs, New England has the thickest middle of the bell curve, and the Atlantic Coast has the highest ceiling on bids.
The Next Generation of Darkside
For the first time in years, #2 North Carolina enters the season as a bit of a mystery. Okay, okay, not too much of a mystery — you can basically ink 'UNC' into Sunday's schedule at Nationals.1 But while there is little doubt Darkside will be among the division's best teams once more in 2020, the way this year's iteration will operate now that they've graduated all-around force Matt Gouchoe-Hanas is up in the air. Like Jonathan Nethercutt earlier in the decade, Gooch drove Darkside's success according to a vision particular to him. So who sets the tone for 2020?
There's an argument to be made that senior Anders Juengst's game most recognizably bears the stamp of the former captain. He showed off the makings of superb defensive play last summer for Ring of Fire, and he, Alex Davis, and John McDonnell all seem to have internalized Gouchoe-Hanas's trademark tika-taka stylings in the backfield. But as good as Juengst is now, to anoint him the successor would be to overlook two of the brightest stars in the college game: Elijah Long and Liam Searles-Bohs.
Both Long (2018) and Searles-Bohs (2019) are recent First Team All-Americans.2 Both have multiple semifinal appearances at the club level with Ring of Fire, too. Both are overwhelming talents. And yet they approach the game differently. Long, in addition to being one of the handfull of true shutdown matchup defenders in the country, thrives best on offense as a table setter. With pinpoint flat throws from any distance, he's the ideal starting point for an option play off of the pull. In the red zone, he glides like a ballroom dancer.
Searles-Bohs, on the other hand, follows the example of other well-rounded power players: think Dylan Tunnell or Jimmy Mickle, to name two of the very best in that mold. Once in motion, he seems to have first right of refusal to the lane or the airspace around him. He has a good eye for the big throw, too, a weapon he has been honing over the last year or so.
It doesn't have to be an either-or proposition for UNC's aces this year. The two of them worked spectacularly well together in the late part of last season until an inopportune stumble in the national final. But how they share or exchange moments of control on the field will tell the story of Darkside 2020.
The Potential Of The North Central
The North Central has consistently been one of the best regions in the men's division. For seven of the past nine years, they've sent three or more teams to Nationals. They often produce contenders, adding three titles to the trophy case during that period, and three more appearances in the championship game. But in 2020, the region could remain elite or might finally begin to give way.
A best-case scenario, which is also the one that has happened the last four years, is that each of the big three stays healthy and plays to their potential. Let's examine what that best-case could look like.
#4 Carleton's ridiculous class of seniors exert their will at every tournament they go to, in no small part to a finally healthy Joe White. He, Dillon Lanier, Stan Birdsong, Harry Wolff Landau, and Andrew Roy are the bedrock of a nigh-unstoppable offense, while Luke Webb, Chris Padilla, and Ethan Bloodworth cement themselves as some of the best defenders in the country. CUT's younger players play meaningful minutes in important games, developing the team's depth for the postseason. Carleton stay in the top five throughout the regular season and easily earn a bid.
#18 Minnesota has a bottom-roster boom, with a number of unknowns stepping into prominent roles with gusto. First-year AJ Larson has an immediate impact on defense as a big man, taking on many of the tough matchups normally assigned to Cole Jurek. This allows Jurek to focus on Grey Duck's offense, where he forms one of the best handler/cutter duos in the country with co-captain Wysten Duhn. Senior Jonah Malenfant, after a year hiatus, and captain Trevor Graham help make Grey Duck's defense one of the best in the country. Grey Duck finishes the season just within the top ten.
Despite losing Nick Vogt, the #21 Wisconsin Hodags don't miss a beat on offense due to the development of lanky junior Ted Schewe. He and Rami Paust stay healthy all season, while some previously unknown player steps up and jams themselves into the BPOTY conversation. Wisconsin's defense wears down opponents with fantastic athleticism and superior defensive schemes, courtesy of coaches Hector Valdivia, Becky LeDonne, and Andrew Brown. Player development goes according to plan, and the team peaks come Regionals. The Dags enter the postseason ranked 12th in the country.
Regionals has beautiful weather, sunny and 60 degrees with just a hint of a crosswind.
Of course, things rarely go according to plan, especially in ultimate and especially at North Central Regionals. Should the North Central be cursed by the ultimate gods this spring, we could see something closer to the worst case. Joe White injures himself on his first point of the season; due to his absence, the other veterans take on a much larger load, sacrificing player development in the interest of earning a strength bid for the region. Top-heavy Minnesota sees Jurek and/or Duhn miss a tournament through injury, and Grey Duck lacks the offensive dynamism beyond that pair to prevent an unrecoverable tumble down the rankings. Wisconsin continues their habit of slow starts to the spring, then don't have enough time to find a groove or develop the depth of talent to finish inside the bid cutoff, thanks to a weather-shortened regular-season slate.
All of a sudden, the North Central is staring at a two- or even one-bid Regionals. A CUT squad decimated by injuries and uneven, inexperienced Hodag and Grey Duck rosters jostle for positioning, but fans of all three power programs go home unhappy when Iowa State shocks the world again.
In all likelihood, we land somewhere in between these extremes. But the potential is certainly there for either scenario.
Ready For The Rookies
The women's division experienced a tidal wave of talent in the form of the 2019 rookie class, much to our glee. First-year players scattered throughout the division had a significant impact, with many contributing to bracket runs at Nationals, including those on the field for each of the four women's semifinalists. Now the boys want to play, too.
Many of our top-ranked teams entering this season are earning preseason plaudits in part due to the presence of their top recruits. Leo Gordon and Jacques Nissen look primed to help Brown defend their title. Danny Landesman and Aylen Learned restock Colorado's coffers. North Carolina brings in Ben Dameron, Matthew McKnight, and Kevin Pignone. Pittsburgh adds Tristan Yarter, Washington acquires Tony Venneri, Minnesota's got AJ Larson, and Aidan Downey adds pop to the Georgia offense. These are just at the top of standings — and most of the clubs mentioned have other strong recruits whose names would simply make this list overbearing — and don't account for those who could push regional clubs to become Nationals contenders.
The question becomes just how good they will all be this year. Last year's ROTY podium compiled a combined 20 goals and 28 assists at Nationals; that's about 13% of their teams' scores. That's up from the 11% that John Randolph and Liam Searles-Bohs3 put together in 2018. This year's class could push the numbers higher, given the talent, skills, and potential roles these freshmen could hold on title contenders.
Players To Watch
Written by Charlie Eisenhood, Charlie Enders, Keith Raynor, Hugo Sowder, Patrick Stegemoeller, and Edward Stephens.
Some of the players we think will define the 2020 college season.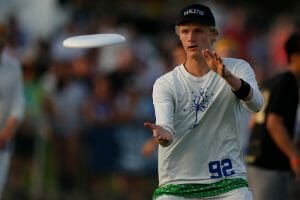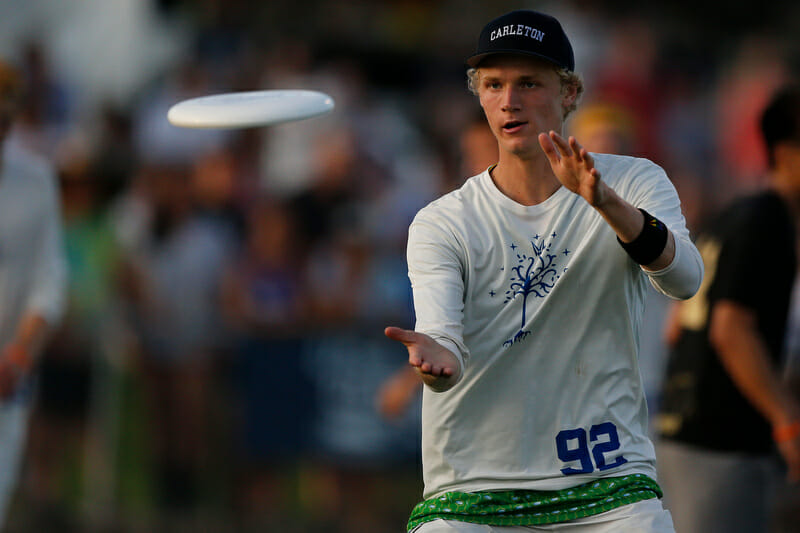 Joe White (Carleton)
Joe White has been the most promising player in the college division who hasn't quite lived up to expectations the last two seasons. Since earning a national title in his freshman year, White's spent much of his college career battling lingering injuries. He was off the field with a concussion at North Central Regionals in 2019 and it was very clear how much Carleton missed their star. He turned right around during the summer and led the U24 mixed U.S. national team to a world championship and finished the club season as the men's division Offensive Player of the Year. In every way, White's banner year in the club division is more instructive of who he as a player than his previous seasons on Carleton.
As a receiver, White is incredibly dangerous downfield with a snappy first step that made a lot of elite club defenders look silly. It's in his role as a thrower that White's adaptability really shines, though. He can power a disc upfield as well as any pure thrower in college right now and uses his length to break around the mark with smooth backhands. White will be a tremendous test for any defender sent against him in 2020 and he will be the player that every elite program will have to find a way to contain.
He's got the potential to be one of the best players Carleton's ever had4 and their ability to overcome the demons of the last two seasons will depend on his impact in the games that matter.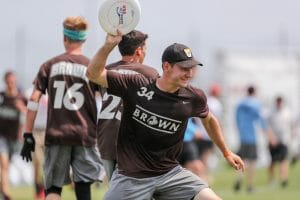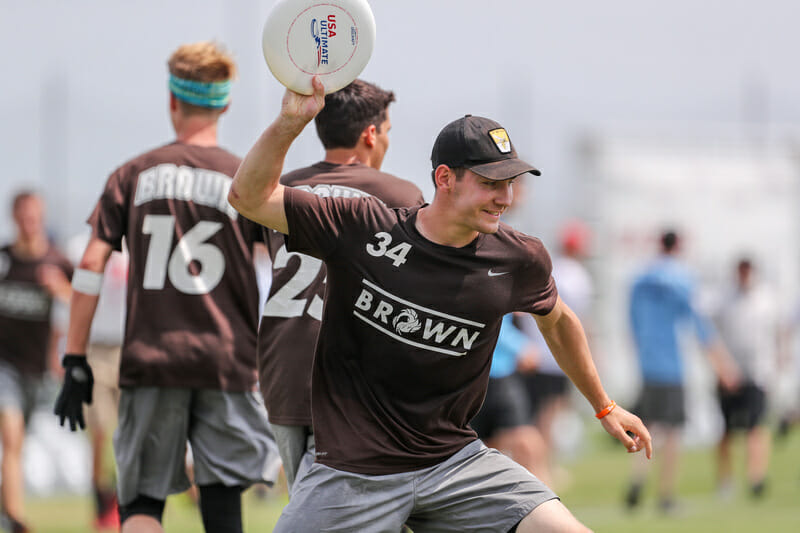 John Randolph (Brown)
Brown junior John Randolph returns to pad his growing legacy as one of the sport's most dominant performers. In 2019, he led the men's division at D-I Nationals in goals — including a sensational 10-goal performance against Colorado in semis — en route to a championship. For good measure, he tacked on a gold medal at U24 worlds and a club championship with Seattle Sockeye. And as the year wound down, he led Brown to a gritty win at Classic City Classic while spending most of the tournament in a new role: primary handler.
But that was last year. In 2020, with Mac Hecht gone, Brownian Motion is in Randolph's hands. The preternatural receiver does not have the luxury of merely excelling as a role player anymore. Oh, he'll still catch his share of goals — his jab-step is simply too strong for most college players to defend in isolation. But it's the promise, foretold by his high school career, of Randolph as a thrower and leader that has us so excited to see what heights he can reach now that the field belongs to him.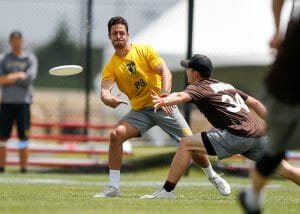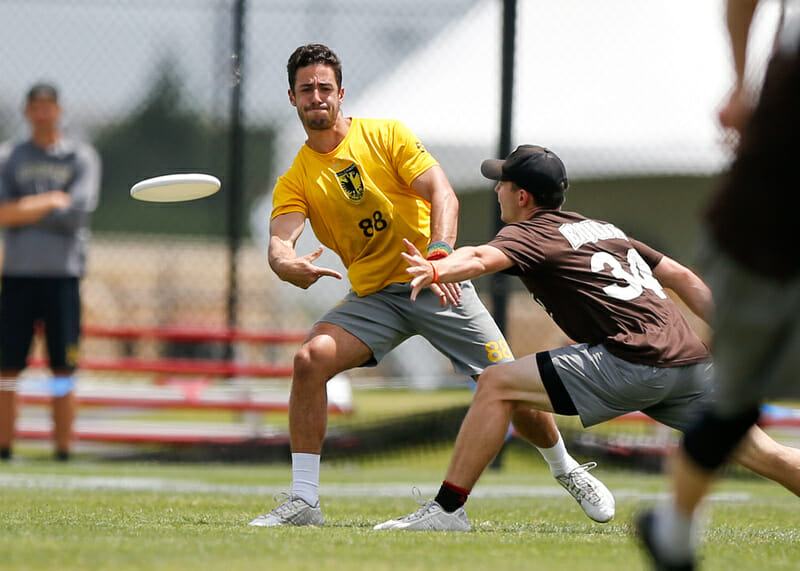 Quinn Finer (Colorado)
Graduating a heart-and-soul leader like Alex Tatum is a tough transition for any unit, though perhaps a little less so for Colorado, who have his (even more talented) understudy ready for the spotlight in 2020. Ambitious, persistent, even-keeled, and solid as a fire hydrant, Quinn Finer leads the way for a Mamabird team with enormous potential.
The conversation about Finer begins on defense — he is perhaps one of the top five matchup players in the country.5 Finer's masterful footwork affords him an uncanny ability for continual intricate readjustment — which leaves him in excellent position to explode when the block is at hand.
That same footwork and explosiveness translate to Finer's being, despite his average size, one of the finest players in the division at high-pointing a catch — which comes in handy when tracking down teammate Alex Atkins' skyscraping OI hucks. As well-rounded a player as you'll find this season, the Finer has already established himself as a complete package. In 2020, he may exceed that standard by an order of magnitude.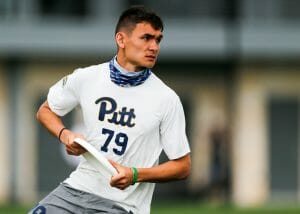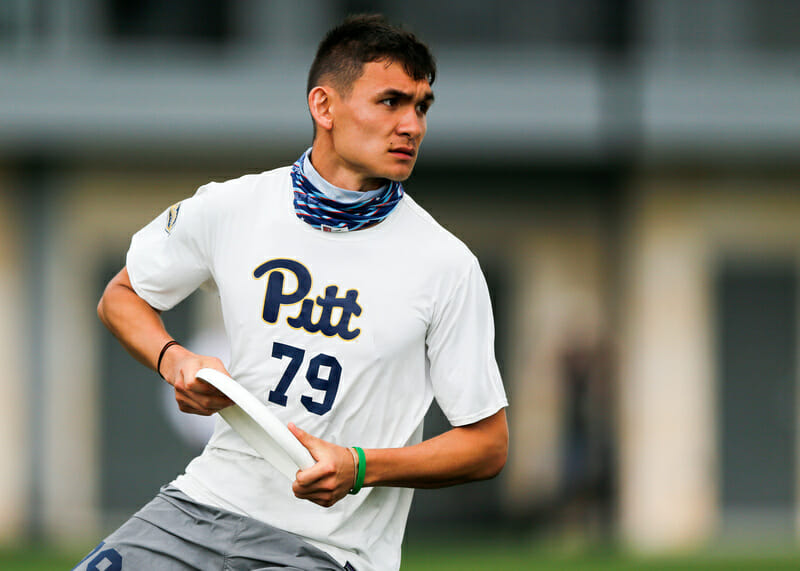 Michael Ing (Pittsburgh)
In his fifth and final college season, Michael Ing will be intensely focused on helping Pittsburgh reach the promised land. It is unlikely they'll do so without him leading the way, one of the division's most accomplished stars. In fact, few can equal Ing's resume: back-to-back First Team All-American selections in the past two years, POTY second runner-up in 2018, DPOTY runner-up in 2017, a club title, an All-Club second-team nod in 2017, along with numerous club and international competition accolades.
Ing has done a bit of everything for Pitt, who has been happy to take advantage of his versatility. He has the size to be a potent deep threat or defender, the agility to initiate the offense or stymie it, and the throws to create scoring chances from the backfield. His 10 goals, 7 assists, and 4 blocks last May in Round Rock offer a glimpse into his well-rounded impact. He spent much of last season in the backfield, but if Pitt's personnel allows, he could be deployed on a matchup-by-matchup basis, able to drive a widening wedge into whatever opening the opposition presents.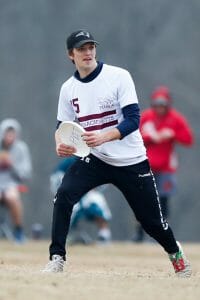 Tannor Johnson (Massachusetts)
There is a lot on the line for Tannor Johnson in this, his fifth and final college season. Go back to 2016, when the precocious freshman was stomping all over the division en route to one of the most dominant rookie seasons ever. The sky was the limit, and level heads were discussing the possibility that he could be the greatest men's college player of all time.
And while he has had good stretches since then, there has been a real feeling of a plateau, matching the UMass program as a whole. After reaching semifinals in 2017, they have succumbed to defeats at lower and lower levels each year — with Tannor as their lodestone each season. The world-beater from his early college days and first Slow White stint couldn't lead ZooDisc past a Northeastern program that had never before qualified for Nationals last spring at New England Regionals.
2020 is the last chance for Johnson to make good on the promise and potential he has brought to the division and to his team and propel them to the heights we all envisioned his freshman year.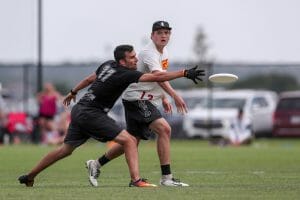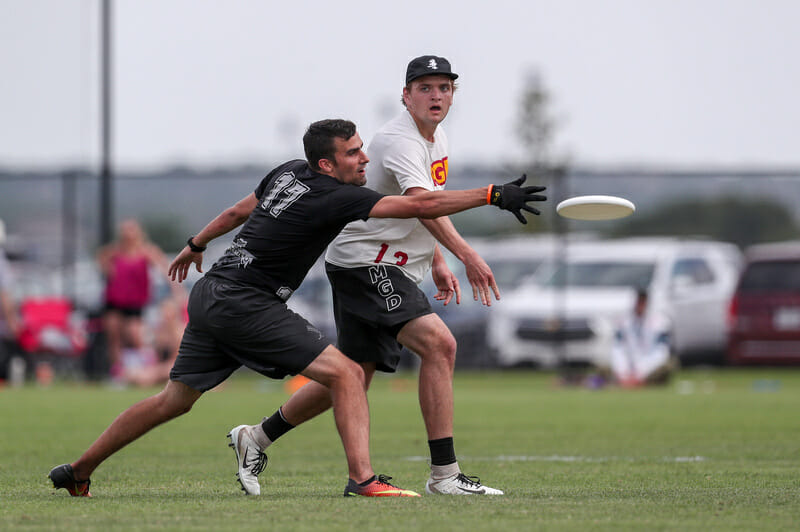 Cole Jurek (Minnesota)
Grey Duck's star is one of the premier defenders in the country. We know this. We've seen it time and time again, at all levels of play, producing highlight-reel blocks for Minnesota and Sub Zero. Opponents would be smart not to challenge him this spring, giving Minnesota's brightest light chances to take games by the scruff of their neck in his beefy grip.
But lesser-known is Jurek's budding offensive prowess. Although he has historically been Grey Duck's top deep cutter, Jurek is now more than capable of receiving an under, turning, and launching a pinpoint huck to one of Grey Duck's speedy receivers. Expect to see a lot more of Jurek behind the disk this season, as he takes advantage of opposing defenses (smartly) backing him.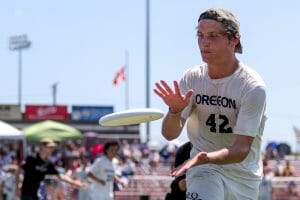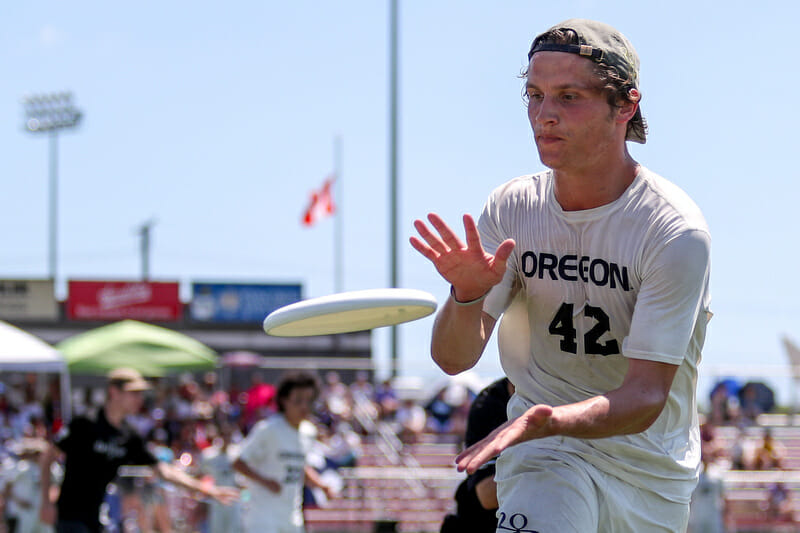 Will Lohre (Oregon)
Will Lohre was the undisputed best player in the Northwest region last year before an ACL tear ended his season just before the Stanford Invite. But after a quick recovery, he's been back playing since November and is poised to return to his status as one of the country's most lethal cutters.
Lohre's combination of size, speed, and impeccable timing makes him a downfield terror. Before his injury last year, he was pouring in goals for Oregon's offense. Assuming he returns to his 2019 form, he will be an easy top 10 player in the country and in the conversation for Player of the Year.
Can he carry Oregon to a deep Nationals run and maybe even a Championship?
Rising Stars
They might not be leading the charge to a championship or carving out space in the Player of the Year conversation yet, but these players are geared up for big seasons, either through growth in talent, context, role, or some combination therein.
Trevor Lynch (NC State)
Sion Agami (Ohio State)
Ryan Dinger (Vermont)
Duncan Fitzgerald (Oregon)
Ted Schewe (Wisconsin)
Tyler French (Georgia Tech)
Harry Wolff Landau (Carleton)
John McDonnell (North Carolina)
Cole Feltman (UNC Wilmington)
Joey Kennedy (Illinois)
Bold Predictions
A team that has never made Nationals before will qualify in 2020. – Charlie Enders
Two Northwest teams will play in semifinal games at Nationals. – Alex Rubin
Carleton will miss Nationals again despite being #1 overall heading into Regionals. – Patrick Stegemoeller
The 2020 National Champion will not be one of the 2020 regional champions. – Edward Stephens
BYU's continued excellence will push USA Ultimate to lay out a plan to accommodate them in the postseason. – Charlie Eisenhood
---