The college season is off and rolling!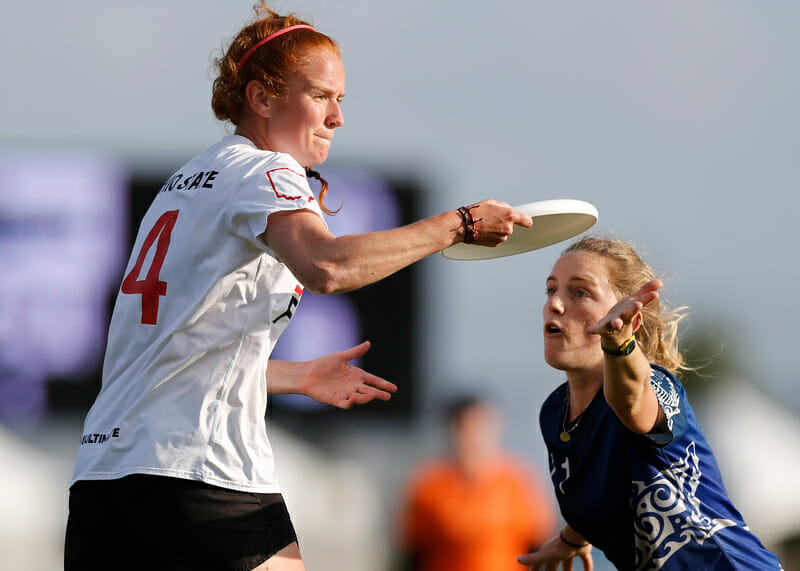 College Update is presented by Spin Ultimate. Please support the brands that make Ultiworld possible and shop at Spin Ultimate!
During the spring season, we will publish a bite-sized weekly recap of the action across the college division. This will serve as a supplement to our standard tournament reporting and will offer a high-level look at the latest happenings and the biggest stories of the week.
Want your tournament listed here? Submit a recap of what happened right here.
D-I Women's
Ohio State Opens Strong At Florida Winter Classic
The annual kickoff of the college women's season wasn't a big tournament, but hosted three top 25 teams, with all three in the top 11, making it a great way to learn about some of the division's contenders. Among them, #3 Ohio State reigned supreme, taking home the Florida Winter Classic crown with a hard capped and hard fought 9-8 win over #7 Dartmouth.
The other ranked team, #11 Georgia, was forced to play without star Marie Perivier after she twisted an ankle. They rallied to battle into the semifinals, but fell to Dartmouth 13-10. Meanwhile, Florida was busy making Southeast waves behind fifth year Gabby Krajniak, reaching semifinals and beating Georgia in the third place game by a score of 11-7. Perhaps the Southeast isn't a done deal after all.
For more on Florida Winter Classic, check out our tournament recap.
Looking Ahead
One major tournament highlights a more widespread opening to the spring.
That major is the Santa Barbara Invite, where 11 of the 16 teams in attendance are ranked in our top 25. #6 UCLA and the reigning national champions #8 UC San Diego are the top ranked teams at the Southwest-laden event. But teams like Wisconsin, Northeastern, Vermont, and Northwestern will form the early season connections that will be key in the first future rankings.
Other Events: Winta Binta Vinta Fest (VA), Clutch Classic (GA), Pacific Confrontational Invite (OR), New Year Fest (AZ)
D-I Men's
Illinois Conquers T-Town Throwdown
Some inclement weather may have attempted to throw off the men's teams headed to Tuscaloosa for their first tournament of the season, but eager teams began their spring campaigns anyway. An invader took down the T-Town Throwdown field, mostly populated by Southeast clubs: Illinois Rise claimed the their first tournament title of 2020. The no. 3 seed earned one-point victories against Alabama-Huntsville on Saturday and Alabama in the final on Sunday; they also took care of #24 LSU 15-12. Illinois was one of the strongest regular season teams in the Great Lakes last year and looks like the early top challenger to Michigan in the region.
Our first look at some of the other teams in attendance offered some views into what their seasons could look like. LSU fumbled their way to 4-3, while fellow Southeast hopeful and no. 1 seed, Central Florida, earned just a single victory while being pummeled to close out the tournament. Meanwhile, Georgia Tech went 5-1, only losing to Illinois in their semifinal, 14-11. Visiting Illinois State compiled the same record, taking a loss against Alabama.
Montana State Strong At Pacific Confrontational Open
A collection of Northwest clubs — some with regionals aspirations and some as developmental teams — gathered in Corvallis to start their year at Pacific Confrontational Open. The teams competed in traditional pools on Saturday and then reformatted to power pools on Sunday. No. 1 seed Montana State went undefeated, winning the event with multiple wins over Gonzaga, including an impressive 13-6 win on Saturday. Gonzaga GURU, who only lost to Montana State, can ostensibly be considered the second place finisher after their 5-2 weekend. Perhaps if they compete in the series this season, they can do reasonably well. With the Pacific Confrontational Invite this coming weekend, we'll see who joins from this crop.
Looking Ahead
Elite competition kicks off on both coasts!
California hosts the Santa Barbara Invite, where the likes of #2 BYU and #7 Washington will be in attendance. Northwest and Southwest teams will be jockeying for position, but pay attention to the teams traveling from the rest of the country. Northwestern, UConn, Case Western, and Tulane will all be key early season connectivity points, as will BYU, who will travel to Florida Warm Up.
Meanwhile, Carolina Kickoff will, as noted in the name, act as the launching point for many of the Atlantic Coast's top teams. The top four seeds hail from the Carolinas – #3 UNC, #10 NC State, #15 UNC Wilmington, and #25 South Carolina – and have plenty to play for in such a competitive region. Visiting teams like Florida State, Indiana, and D-III power programs Air Force and Carleton GoP make for interesting competition.
Other Events: New Year Fest (AZ), Clutch Classic (GA), Pacific Confrontational Invite (OR), Mid-Atlantic Warmup (VA)
D-III Women's
Southeast Teams Debut At Florida Winter Classic
The reigning Southeast champions, North Georgia, kicked off their season in Gainesville at FWC. While their record included fewer wins than their 2019 effort, this year, they matched up primarily with strong D-I programs, rather than developmental and D-III competition. They split with UNC Wilmington, with both their win and loss coming by large margins; while Seaweed had a short roster and could be in a down year, they are also a respected program, making it an impressive early season win. Meanwhile, Ave Maria, who didn't field a team for D-III Confregionals last year, played in three Saturday games, earning a win over Miami while taking losses against Florida B and Florida State B. It's difficult to tell, but might this be the program's first sanctioned win?
Looking Ahead
Two of the other D-III Southeast teams, Georgia College and Belmont, are in the field at Clutch Classic; the region will be the first to take shape.
D-III Men's
There wasn't anything going on during the first weekend, but there are some storylines on the horizon.
Looking Ahead
Three of 2019's most competitive teams — Richmond, Carleton GoP, and national finalist Air Force — are all headed to Carolina Kickoff to test their mettle against a very challenging D-I field. Not a lot of easy wins to be had, but a great test to start their season. Meanwhile, half of the teams are Clutch Classic are D-III teams, so the Southeast pecking order will get established very quickly.