From title contenders to regional spoilers, Santa Barbara plays host to a variety of teams looking to kick off their spring seasons with a bang.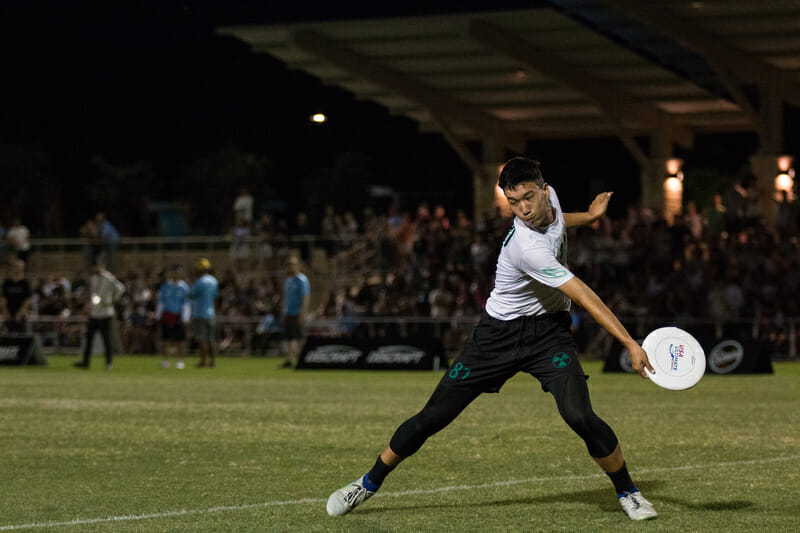 Ultiworld's 2020 college coverage is presented by Spin Ultimate; all opinions are those of the author(s). Find out how Spin can get you, and your team, looking your best this season.
The men's college season kicks off in earnest this weekend as a host of West Coast teams — along with a handful of snow-dwellers flying to California — gather in Santa Barbara for their first competition of the spring.
Each team at SBI has the chance to set the tone for their seasons. Some teams have national championship aspirations; others are plotting to make runs at Regionals upsets. Some teams are happy to be outdoors for the first time since early fall, while some will come prepared with polished plays and short rotations. The college regular season is upon us, and it's time for the fun to begin.
Tournament Profile
Date: January 24-26
Location: Santa Barbara, CA
Weather Forecast: mid to high 60s, mostly sunny
Top 25 Teams: 5
Filming Schedule
These games will be available online next week for Ultiworld Full and Plus subscribers.
Friday
7:30 PM: BYU v. Cal Poly SLO
Saturday
9:45 AM: Colorado State v. Western Washington
1:15 PM: Dartmouth v. Tulane
3:00 PM: California v. Victoria
Sunday
9:45 AM: Quarterfinal
1:15 PM: Final
Stories To Watch
Should BYU Be Ranked #1?
There was serious debate in the Ultiworld Slack1 about putting #2 Brigham Young at the top of our preseason Power Rankings. This team has the tools to compete with the best in the nation and proved it with a dominant fall win over North Carolina at CCC. BYU doesn't lose any major contributors from last year's squad, which was consistently ranked among the best teams in the nation. They proved it with the eye test too — coach Bryce Merrill has installed an isolation offense that gets its star players the disc and lets them go to work in space in creative ways. BYU takes advantage of Player of the Year candidate Jordan Kerr's ability to break even the best marks and always brings a tough, athletic defense.
BYU will get an early-season test with a Friday night showcase game against Cal Poly SLO — a rematch of a classic game from one year ago. Their Saturday pool does not look too challenging, but a strong weekend in Santa Barbara could propel BYU to an unprecedented season. Their inability to meaningfully play in the college postseason as it is currently arranged hangs over the team, but their skill level and team chemistry could potentially leave them as the nation's top-ranked team at the end of the regular season. An undefeated spring is not out of the question, but it will require focus and commitment from day one. That starts this weekend.
Washington Continues Upward Trend
I recently made the prediction that two Northwest teams will play in the semifinal round at the 2020 College Championships. Seeing as BYU doesn't play on Sundays, #7 Washington needs to be one of those teams. The Sundodgers bring back 1st team All-Region players in Lucas Chen and Derek Mourad. Manny Eckert returns as a fifth-year and the fulcrum of the Washington offense. 2019 Southwest Player of the Year Sam Cook joins the crew as a graduate transfer from Southern California, and UW brought in one of the best recruiting classes in the nation featuring the likes of Tony Venneri, Jack Brown, and Jasper Dean. Mark Burton has coached this team to increasingly strong results each of the past two seasons and shouldn't stop now.
Captain Derek Mourad was honest in describing the team's excitement. "It's very rainy and cold in Seattle," he said, "so playing in sunny and warm weather is something that everybody is looking forward to."
"SBI is a great tournament for us because we get to see a similar range of teams as we will see at Regionals," he added. "We get to see teams in the 40-70 rank range and also Nationals-caliber teams. We're looking to really handle our business against teams in that 40-70 range, instead of coasting in the second half and even letting teams back into games late so that we're primed and ready for the big-time matchups."
Washington will get their first chance to fulfill those goals this weekend. How they perform in Santa Barbara could set the tone for the season and show if they're primed for a title run.
Cal Poly SLO "Rebuilds"
Losing the talent that led SLO to a national semifinal appearance in 2019 will hurt. #17 Cal Poly SLO graduated a number of key players — including Defensive Player of the Year Sean Liston, 2nd Team All-American Ian Sweeney, stat leader Dillon Whited, mercurial playmaker Nate Pettyjohn, and emotional leader Caleb Merriam — who led the team to its best finish in team history last season.
Thankfully, a key offensive handler is back! Calvin Brown may have been snubbed from the U20 team, but he should be one of the best players at this tournament. Additionally, two top-tier downfield threats remain on the team! KJ Koo and Conor Schofield each have the ability to dominate weaker opponents; both were important players for their club teams this summer and should be able to jumpstart the SLO offense. There's more: someone from Revolver will be starting on their D line! Get ready for a Jake Thorne breakout year after a summer competing with some of the best players in the country.
In short, SLO may have lost a lot, but this team is fine. While the early storylines have been about the talent that graduated, there is still plenty left on this team — and room to grow — to cement Cal Poly SLO as the regional favorite. This weekend is their first chance to prove that last year wasn't a flash-in-a-pan kind of season and that they have built a program with staying power. Coach Cody Mills will have the team ready to compete, and there is no reason that SLO can't defend last season's SBI title.
Who is the Best of the Rest?
If BYU, Washington, and SLO make up the top tier of this tournament, who can challenge them?
#19 Victoria is actually seeded behind #23 Cal, but both are in the same pool and their matchup should be one of the more competitive and exciting games of Saturday. After somewhat surprising Nationals appearances in 2019, both teams will be looking to jumpstart their spring seasons on the road to a return to the Big Show.
UVic is a high-energy team with a high ceiling. Dawson Pasin, Sean Bennett, and Justin Pettenuzzo are all Canadian U24 players who will take the reins for the Vikes. They probably need another player or two to step up if they want to challenge the best teams at SBI, but pulling off an upset against one of the top three seeds certainly isn't out of the question.
Cal brings back Tommy Lin, Munis Thahir, and Rafael Castro as leaders, along with a host of underclassmen who have experience winning important games. After winning Sean Ryan — the West Coast's premier fall tournament — UGMO will enter SBI high on confidence. Last season, Cal had a knack for pulling out surprising results and grinding out tough wins. If UGMO is going to have success this year, it will likely have to look similar.
Lingering behind Victoria and Cal in Pool D — perhaps the best pool in any early season tournament — is Stanford. Bloodthirsty underperformed last spring but bring back seasoned fifth-year handler Nick Hirning for one last shot at making Nationals. Kevin Tien returns as a downfield threat, and reliable players like David Mondry, Philip Cathers, and Sam Masling give Stanford a high floor. Without any notable player losses, Stanford should be competitive in the Southwest again this year and could linger around the bid picture with a strong performance.
UC Santa Barbara might be a step behind Stanford, but their outlook is similar and I expect a big year from the hometown team. Black Tide loses Max de Visser but brings back all other major contributors, many of whom earned valuable playing experience with the local club team Santa Barbara Sundowners over the summer. Robby Odum, Brice Redmond, and Xavier Prochaska are all juniors ready to take a step up. A well-coached team, Santa Barbara should hang in there with a relatively easy pool and could surprise a few teams along the way.
Do Cold Weather Teams Make Any Impact?
Like Washington, plenty of teams are looking forward to getting some outdoor practice time. Teams like Northwestern, Dartmouth, and Connecticut are all making the trek to Santa Barbara to escape cold weather locales. While nobody can expect much polish from teams that are stuck practicing in wind-less, climate-controlled gymnasiums, the extended practice they'll get against real competition this weekend could pay dividends later in the season. Those who are playing will have a head start on the rest of their regions.
With a lot of connectivity available at this tournament — eight out of ten regions are represented! — results from this weekend could have major implications for the bid picture later in the season, especially since the Stanford Invite will be primarily West Coast teams this year. If any of these out of the East Coast teams are able to steal a big win in Santa Barbara, we might still be talking about it in April.
Pool Play Preview
Pool A
Cal Poly SLO
Dartmouth
Southern California
Utah
Tulane
SLO should win out easily on Saturday, but the matchups between the other four teams will be interesting. Dartmouth seems a bit overseeded in the two spot, but Southern California lost its top four players from last season and may have some growing pains to look forward to. Utah and Tulane have fielded competitive teams in seasons past; neither should give the top teams too much trouble, but Tulane notably adds high-impact rookies Jacob Greenhill (Atlanta ATLiens) and Kai Durvasula (U20 National Team) and could be one of the surprise teams of this tournament.
Pool B
Brigham Young
UCLA
British Colombia
UC San Diego
Case Western
BYU shouldn't have a close game in this pool, but, like Pool A, the rest of the games should be competitive. British Colombia is sneakily good: high-end talent like Ty Barbieri and Jonah Lee-Ash (both Canadian U24 players) will keep them in games. Last year, they made the SBI final — could we see a repeat performance? Locals are high on this UCLA team, which could explain their high seeding. Case Western had three players named to the Ohio Valley All-Rookie team last year and projects as a team on the rise.
Pool C
Washington
Colorado State
UC Santa Barbara
Western Washington
Santa Clara
Washington could win this whole tournament. While they have some new pieces to integrate, the Sundodgers are the closest to being a complete team among all teams likely to make the bracket. It would be fun to see them play BYU, though it looks like the schedule won't allow it. Colorado State tends to focus early in the season on improvement rather than wins, but they are always a competitive bunch. Western Washington has some firepower (namely Daniel Mah) and played a lot of tight games last season. They're never an easy out. UCSB is my super sleeper pick and could make noise in the bracket.
Pool D
Cal
Victoria
Northwestern
Stanford
Connecticut
This is the most exciting pool we'll see in the early season tournaments. Cal used this tournament last season as a launching pad to shock the country and earn a trip to Nationals. Last year, they beat Washington at SBI — will another top team overlook UGMO in 2020? UVic is a fun team to watch and has top-end talent that can match even the highest-ranked teams at this tournament. Stanford could win this pool if they can get enough contributions from the depth of their roster. Northwestern is not that far removed from a Nationals appearance themselves (where they beat Stanford) and is looking to get back on track as a nationally relevant team. UConn will likely play the season slow, building to a competitive Metro East Regionals likely to only have one bid once again. Despite the variety of talent in this pool, there is a world in which each of these teams at least play in a game-to-go to Nationals this season.
---
You can join us there with a Plus Subscription! ↩