Surprising results reigned during one of the biggest weekends of the spring.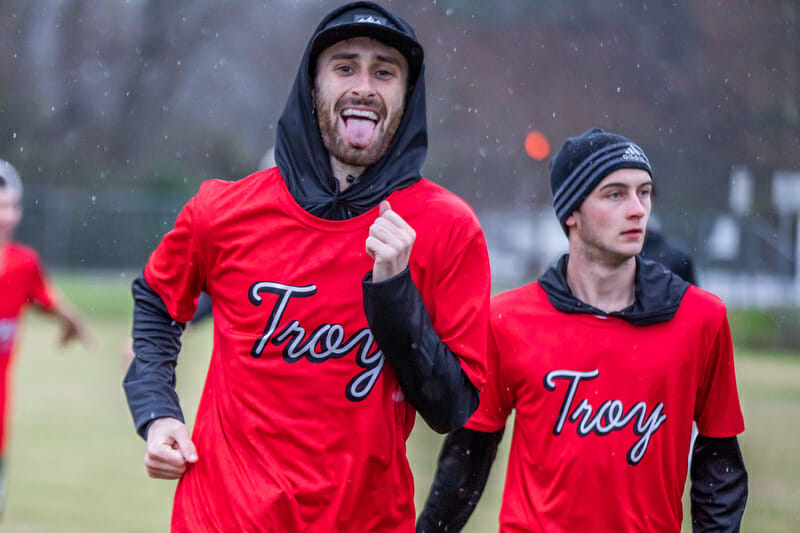 College Update is presented by Spin Ultimate. Please support the brands that make Ultiworld possible and shop at Spin Ultimate!
Throughout the spring season, we will publish a bite-sized weekly recap of all the action across the college division. This will serve as a supplement to our standard tournament reporting and will offer a high-level look at the latest happenings and the biggest stories of the week.
Want your tournament listed here? Submit a recap of what happened right here.
D-I Women's
Shocking Stanford Prevails At Presidents' Day Invite
In what was the most surprising result of the women's season thus far, #17 Stanford Superfly registered a stunning tournament victory, winning Presidents' Day Invite. The no. 8 seed showed grit and growth on the way to their win, exemplified by splitting their matchups with #11 UC Santa Barbara; UCSB took the win 9-8 in power pools, but Stanford claimed an 11-10 victory in the final. Stanford slammed #6 Western Washington 11-6 in the semifinals and also notched a win over #9 UCLA, though they took a loss to #16 Texas.
UC Santa Barbara's loss in the final was their only slip up of the tournament. Perhaps most meaningfully, they got the better of Southwest dominator, #7 UC San Diego, by a count of 10-9 in their semifinal. The Southwest is up for grabs, and UCSB is as good a pick as anyone to win what looks like the division's strongest region.
For more on Presidents' Day Invite, check out our Day One Takeaways and Tournament Recap (forthcoming).
Around The Division
Ohio started their season with a 5-1 weekend at Commonwealth Cup Weekend 1, closing with a 9-7 victory over fellow Ohio-based club, Case Western, in the final. Their zone gave teams trouble much of the weekend, despite relatively calm conditions.
After beginning Are We In Love (Or Just…) with a 6-5 loss to Alabama, Vanderbilt turned things around, winning their next five games comfortably. Their rematch with Alabama in the final went very differently, to the tune of a 13-3 Vanderbilt W.
While day one of Royal Crown Classic did get finished, much of day two was canceled due to weather complications. Both LSU and South Florida finished undefeated, but never got the chance to meet in the bracket. Shout out to USF's captains, who drove up for day two only to get the bad news.
D-I Men's
Michigan Wins Florida Warm Up, BYU Impresses
The size and scope of Florida Warm Up can make it challenging to sum up, and the lack of an undefeated or dominant outfit only adds to the required nuance to understand the implications. #14 Michigan emerged the tournament's victor, fighting their way past touted — albeit Randolph-less — #1 Brown in quarterfinals, vaunted #4 Carleton in semifinals, and surprising #13 Texas in the final, 14-11. Their lone loss?
#2 Brigham Young. Despite not playing in Sunday's bracket, BYU was the event's most impressive side, going 7-1 with a very difficult schedule, with their only loss coming to Brown when BYU was similarly hobbled after losing star Jordan Kerr to injury. CHI wiped the floor with Michigan 13-4 during their match play contest, giving them serious claim to FWU supremacy. Should they be #1?
For more on Florida Warm Up, check out this week's Tournament Talk, Florida Warm Up Saturday Recap, and the Tournament Recap (forthcoming).
Washington Rules West Coast With Presidents' Day Invite Victory
While Presidents' Day Invite hosted the debut of #6 Colorado and the first major competitive event for #8 Oregon, it was #7 Washington who proved the tournament's strongest team, building on their early-season success in Santa Barbara. The Sundodgers cruised through most of the pool and power pool sections, tested exclusively by Colorado, before knocking off #12 Cal Poly SLO and wrecking rival Oregon 15-7 in the final. Oregon couldn't keep up with Washingon's deep roster, and are the latest green box in the Seattle club's 16-0 record. We hope to get a showdown between Washington and BYU to decide who the best in the West is.
For more on Presidents' Day Invite, check out our Day One Takeaways and Tournament Recap (forthcoming).
Around The Division
D-III Women's
Southeast Squads Get Quality Reps
The Southeast region was out in full force, enjoying (somewhat) nicer weather at a few southern tournaments.
At the Nashville-based tournament Are We In Love (or Just…), Belmont URSA left with a 1-6 record, notching their lone win over Wisconsin-Milwaukee in pool play by a score of 8-7.
Further south in Columbus, Georgia, a large collection of the D-III Women's Southeast region was in action at Royal Crown Classic. In pool play, 2019 Nationals representatives #12 North Georgia Aurea finished 4-1, including an 11-0 win over new program Berry College Discie Chicks. Aurea also trounced Florida B in the quarterfinal round on Sunday morning, before the remaining rounds were canceled due to wet field conditions exacerbated by overnight Saturday rain.
While the game against North Georgia was rough, Berry did admirably for themselves as a brand-new team, going home with a record of 3-3 on the weekend thanks to several wins over B teams.
In the other pool, Georgia College Lynx Rufus ended Saturday with a 3-1 record, before falling to Tennessee-Chattanooga in quarters on Sunday, 7-4. Georgia College's Saturday wins also include a solid 11-4 victory over Florida Tech Flux, another recent program addition to the region. Florida Tech went home from the soggy weekend with a win on their stat sheet against Emory B.
Mary Washington Leads The Way At Connective Commonwealth Cup
To the north and east, three D-III teams from the Atlantic Coast and Ohio Valley regions played Commonwealth Cup Weekend 1 in Axton, Virginia.
Catholic Nun Betta and #25 Mary Washington Massacre represented the Atlantic Coast. Last year's National attendees, Mary Washington, performed well on the weekend with a 4-2 record, including wins over Temple and Wake Forest. Catholic nearly matched with a weekend record of 3-3, including their own win over Wake Forest and a victory over George Mason. Notable for Catholic is that their record includes the only intradivision cross-region play, thanks to a match against the #14 Swarthmore Warmothers.
In Sunday play, the Warmothers took the win 9-8, a feather in the cap of their 5-1 record weekend. With their only loss at the hands of Virginia Tech by a margin of 13-7, Swarthmore will be a team to watch at Bring the Huckus this weekend.
D-III Men's
Around The Division
#16 Georgia College started their Royal Crown Classic with a loss to Troy. They ended it with an 11-10 revenge win over that same team, making for four straight victories, and earning them a spot in the final. And they did it without star Jacques Perivier. Unfortunately, that final was canceled due to inclement weather.
Looking Ahead
It's a very busy weekend, with seven events in each of the women's and men's divisions, headlined by Commonwealth Cup Weekend 2 in women's. Over 180 teams are slated to play this weekend across all divisions, from teams appearing in our D-I and D-III Power Rankings to teams just hoping to score some wins at their Conference Championships.