The top overall performers from an abbreviated fall season.
Ultiworld's 2021 College Awards are presented by the National Ultimate Training Camp; all opinions are those of the author(s). NUTC helps young players become better athletes and community members.
Each year, Ultiworld presents our annual College Awards. While the 2021 college season certainly wasn't typical with its abbreviated regular season and the first to host a fall Championship Series, we still want to celebrate and honor the tremendous performances we saw.
We begin our awards presentation with Player of the Year, our most prestigious award. Our Player of the Year winner and runners-up are the three best performers of the 2021 College season and the POTY podium represents our highest individual award. The winner is not eligible for consideration in any of our other individual awards.
---
D-I Women's 2021 Player Of The Year
Abby Hecko (Washington)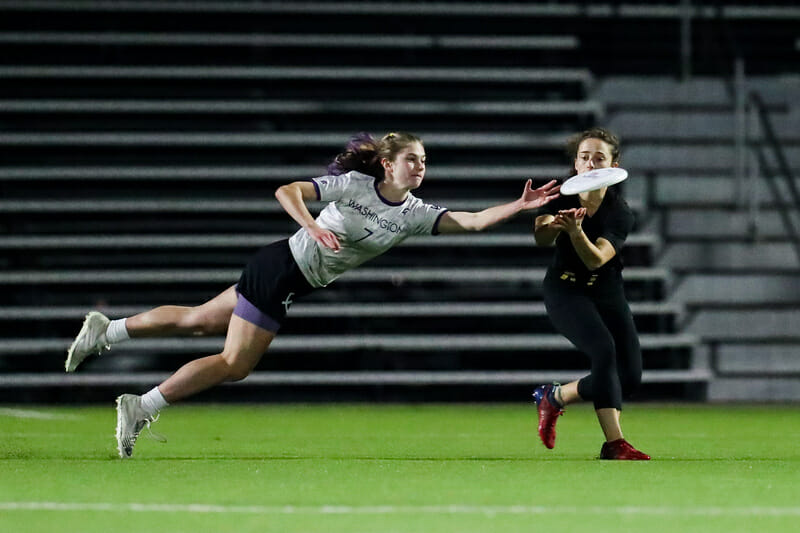 The youngest player on the 2019 Team USA U24 team, the 2020 D-I Women's Rookie of the Year First Runner-Up, and part of the 2021 Ultiworld Second Team All-Club list in mixed. It's an impressive resume, let alone for a player not yet 21 years of age. And now Abby Hecko can add a well-deserved D-I Women's Player of the Year award to her virtual awards shelf.
As the primary option virtually every time she stepped onto the field for Washington Element, Hecko drove the Element offense forward as they pulled out close win after close win on their way to the national final. Despite often drawing the opposition's best defender,1 Hecko simply could not be stopped, getting involved in most every successful Washington offensive possession. On defense, Hecko was no slouch either, at times crossing over to the defensive line and able to come up with big defensive stops when Element needed them most, whether during an offensive point to earn them the disc back, or to give her team a needed break opportunity.
Hecko's two-way excellence stood out in each and every game that Washington played, and was epitomized in the first several points in the tough 4-5 matchup Element had in round two against Colorado Quandary. On Washington's first offensive point, Hecko scored with a leaping grab over her defender, and on their second she threw a pinpoint backhand huck assist despite two defenders in her face. Crossing over to the defensive line on the next point, Hecko cut out a Quandary throw to the endzone, although Element weren't able to convert the break. However, Hecko was unbothered and back out on the field for her third point in a row, and, unsurprisingly, she scored that goal along with the next for Element, directly involved in all of Washington's first four scores.
While Hecko's impact was tempered by injuries throughout the weekend, most notably in the final against North Carolina Pleiades, she was otherwise near unstoppable on offense and a force on defense as well. Time and again, Hecko would leave her defender in the dust to get wide open under or deep, or, in the uncommon cases when her defender could keep up, she'd go up and over them with highlight-reel grabs. At a mere 20 years of age, Hecko has already proven to be a powerhouse player, and in bad news for the rest of the D-I Women's division, she'll be back once again for the 2022 season, looking to propel Element that final step to a championship title.
1st Runner-Up
Dawn Culton (North Carolina)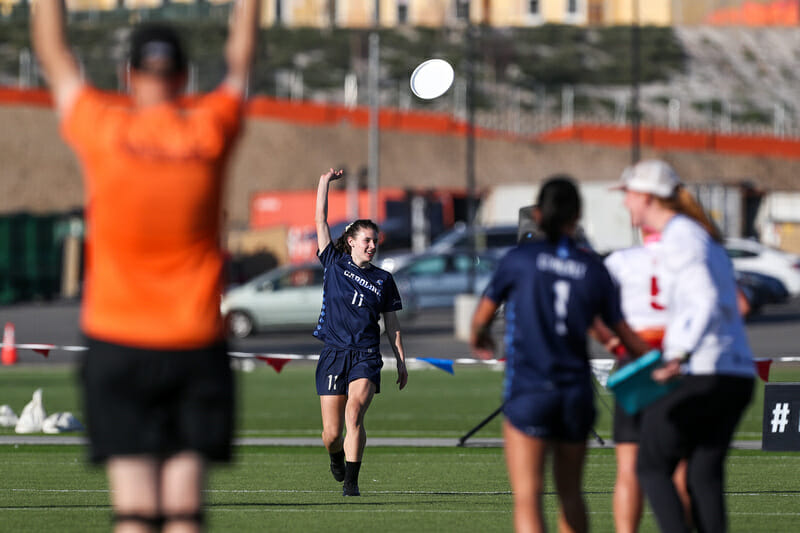 A good defense wins you games, a great defensive line player can win you championships. Given that their unit is naturally reactive, defensive lines rarely yield true Player of the Year contenders, and yet the incredible impact of Dawn Culton for an amazing North Carolina Pleiades team easily earned her a place as one of the top three players in the D-I Women's division. Not only did Culton more than live up to the hype as one of best defenders in the division, but she also produced offensively at a level that any player in any division would be more than happy with.
In the final against Washington, as the UNC defense was on their way to outscoring their offense for the second game in a row, Culton threw four assists along with as good of defense as we saw all weekend on Hecko. The game before saw Culton rack up five goals — a full third of the Pleiades' scores against UCSB Burning Skirts — as the defensive line exploded to three straight breaks to start the semifinal off with a bang. Whether it was two layout blocks and the goal on one point against Georgia Athena or an end-to-end layout block-to-assist sequence against Alex Diaz of UCSD Dragon Coalition, Culton turned defensive opportunities into easy offensive with stunning efficiency.
Prior to this college season, it seemed easy enough to largely overlook Culton. She came up in the talent-rich Triangle area, joined a UNC team that was growing more and more loaded with each rookie class, and played her club seasons with a team in Raleigh Phoenix that included 2021 Club Women's POTY Lindsay Soo and five of Culton's Pleiades teammates. After her tour de force in 2021 though, everyone should know the name of Dawn Culton and how dominant she can be whether she's chasing down the disc for yet another score or chasing down a player for one of her signature layout blocks. It was fun to watch in 2021 and it'll be fun again in 2022, as Culton returns for UNC, ready to wreak havoc on any offense put in front of her.
2nd Runner-Up
Bridget Mizener (North Carolina)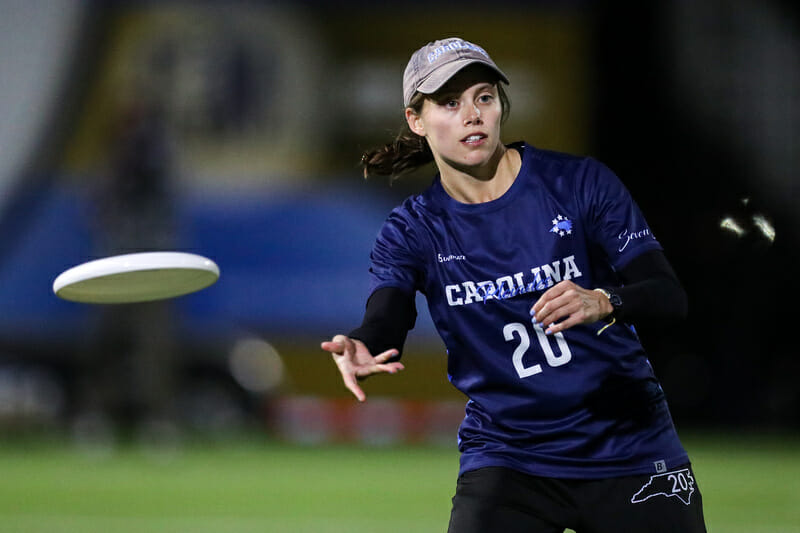 Bridget Mizener's selection as one of the three best players in the D-I Women's division shouldn't come as a surprise at this point. This is a player who, in her second season with North Carolina Pleiades, landed on the 2018 D-I Women's Breakout POTY podium, who followed that up with a place on the 2020 D-I Women's Offensive POTY podium, and then a selection to the 2021 BPOTY podium in the club women's division. Mizener's ascension has followed a very natural progression, and her place at the pinnacle of the D-I women's college division reflects the continuation of her stellar play.
As one of the many graduated players to return for the 2021 fall college season — and as UNC's 2021 Callahan nominee — Mizener's success was by no means unexpected. However, the way that she dictated the Pleiades' offense from a primary handler role demonstrated Mizener's next-level talent and effort. With a whopping 20 assists at Nationals, Mizener showed off her expansive range of throws while distributing to the deep UNC roster, while remaining unperturbed in the face of any defense thrown at her and the Pleiades' offensive line. In one on one matchups, few if any players in the division could slow Mizener's roll and she routinely roasted defenders to generate an easy reset or burst upline for another UNC score.
Through all three games of their bracket games, the Pleiades' offensive line remained unbroken, a testament to not only their clinical execution but also the effort they put into getting the disc back on the few occasions when they did turn the disc over. Mizener was at the heart of that, bringing intense focus and energy to every defensive possession she had to play and routinely earning crucial blocks to ensure that UNC would continue their unbroken streak. Between her outstanding, assertive offensive play and defensive work rate that would easily earn her a starting defensive line spot on most teams, Mizener's status as one of the leading players in 2021 in D-I Women's was all but assured. And while she won't be striking fear into her collegiate opposition anymore as a graduated player, it wouldn't be a surprise to see her rise continue in club in the years to come.
---
Including UNC's Dawn Culton in the final. ↩