Highlighting players who took a leap toward stardom in the division this fall.
Ultiworld's 2021 College Awards are presented by the National Ultimate Training Camp; all opinions are those of the author(s). NUTC helps young players become better athletes and community members.
Each year, Ultiworld presents our annual College Awards. While the 2021 college season certainly wasn't typical with its abbreviated regular season and the first to host a fall Championship Series, we still want to celebrate and honor the tremendous performances we saw.
The Breakout Player of the Year recognizes players who made themselves known in a new light this season. Typically reserved for rising juniors and seniors, we have temporarily expanded the eligibility for this award due to the unusual nature of the fall Series and multi-season pandemic hiatus. While our nebulous definition of "breakout" reflects an evolving set of criteria, rather than celebrating the improvement of those from whom big things were already expected, we aim to use this award to celebrate the emergence of those who previously have not been on the national radar. Whether it be through growth in ability, role, or both, the Breakout Player of the Year and runners-up honor those who rose to the occasion with improved and high-impact performance on a new level this fall — putting them squarely in the spotlight moving forward.
Breakout Player of the Year Award
---
D-I Women's 2021 Breakout Player Of The Year
Rani Shah (UC Davis)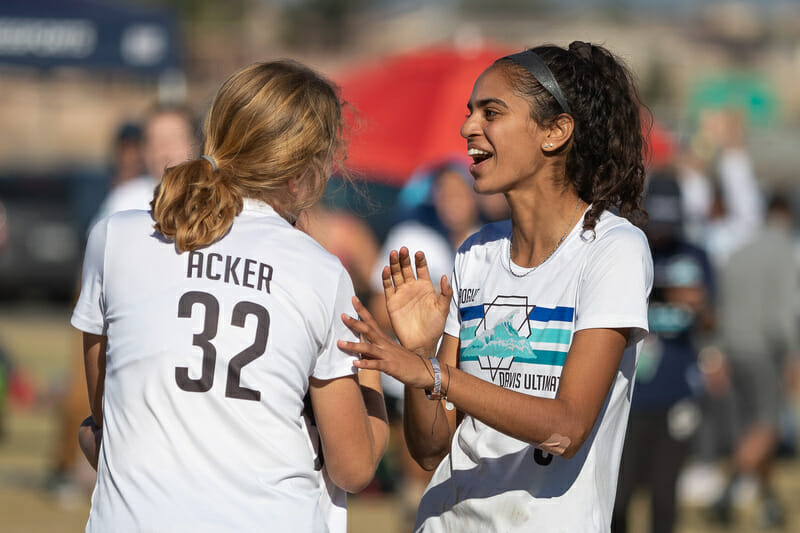 Sometimes ultimate is just that sport where a player finds their calling. Towering Rani Shah — or as her teammates call her, Rani Long Arms — answered ultimate's siren call and quickly found her place with UC Davis Rogue. Now she's found herself among the college division's elite.
As a senior leader for the re-emerging Davis program, Shah helped Rogue to the national quarterfinals, earning fifth place in Norco. But her achievements went well beyond securing UC Davis's spot in the championship bracket. As the expression goes, actions speak louder than words and in Shah's case, her defense spoke — nay, screamed — quite a bit. A rangy aerial presence with an intimidating mark, the Defensive Player of the Year runner-up stymied some of the most skilled offensive players and teams in the country. What's even more impressive is that she's breaking out ahead of the pack with no previous experience at this stage. Shah led her team in blocks — seemingly tallying multiple per game — with a tournament total bettered by no one outside North Carolina's DPOTY Dawn Culton. Shah and her teammate, Julianna Madigan, made it difficult for opponents to build consistent flow up the field without a turn or two caused by the Rogue stars.
Going the other way, Shah was also an offensive asset in the end zone, hauling in the second-most Nationals goals for Rogue.1 For most teams, vocal communication on the field is key, but Shah's connection with her teammates was almost telepathic — handlers and fellow cutters alike seemed to know exactly where Shah would be for a continuation and knew just how capable she is of pulling in the disc into secure points. Public Service Announcement for any opponents this spring: don't leave Shah or let her start creeping into the deep space. If you do, best advice to give would be to hope for the best and try to stay out of the poster.
With a hopefully COVID-free spring season to come, expect Rani Shah to shine brighter as a star for all of the Southwest to fear as she plays her senior year with the team.
1st Runner-Up
Amy Nguyen (Washington)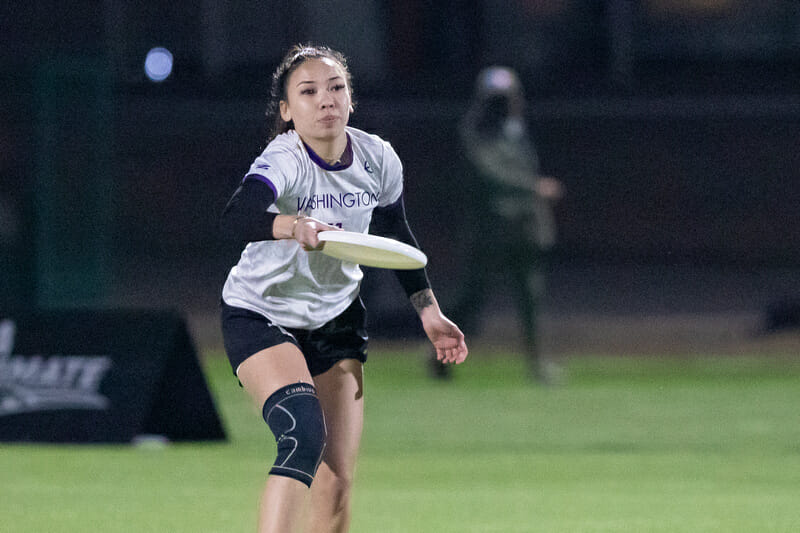 You've seen all the (well-deserved) Hecko-hype, but a major driver for Washington's run to the 2021 D-I final was fellow junior Amy Nguyen.
The Seattle native stepped into and excelled in a much larger role for Element this season, demonstrating tremendous versatility in the shortened fall season. Nguyen led Washington — tied with Steph Phillips — with 7 assists in bracket play and added 4 goals — tied for second with Hecko in that category. Element utilized Nguyen in multiple ways, alongside Phillips on dominant O-lines or as the hub handler anchoring a D-line. She was reliable in small ball, maneuvering versus zones, and breaking the mark, while also aggressively stretching the field with hucks and inverts when the opportunities arose. Few defenders could keep her from blasting past them on an upline or cutting deep to receive a huck. The Washington offense perhaps looked most dynamic with Nguyen pushing the pace, but she was mostly content to reliably fill the roles she was asked to fill.
It is easy to overlook Amy Nguyen's impact on defense, as she was not prone to highlight reel blocks, but her speed and savvy made her a shutdown individual defender. More than that was her impact on team defense where her active mark and head's up defending were instrumental in numerous opponent turnovers.
We can expect even more from Amy Nguyen in 2022 as Element identifies how to most effectively utilize her range of skills.
2nd Runner-Up
Martha Wilber (Georgia)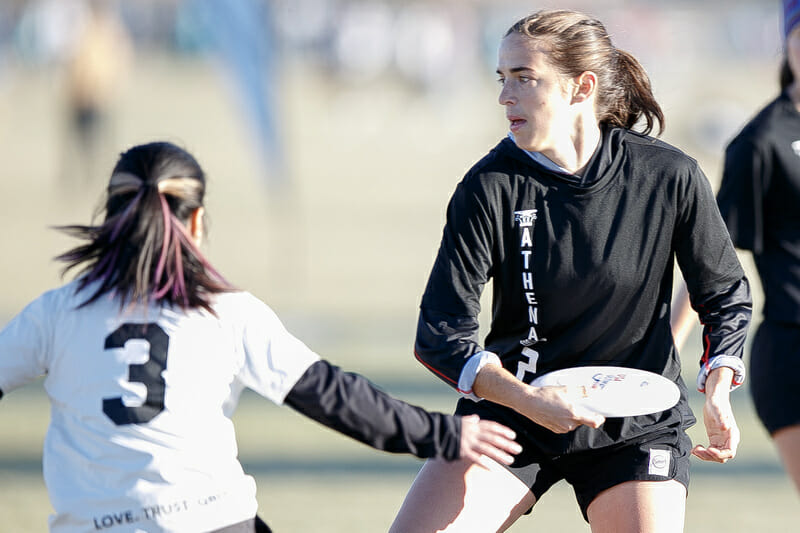 Always fearless and skillful at bodying up and attacking the disc in even the most crowded situations, Georgia's Martha Wilber added a sharp sense of timing and booming hucks. That's the kind of player who's already close-to-impossible to contain, and will only become more so as she smoothes out the few remaining rough edges of her game.
See, the scary thing about Wilber is that her development is still on a rocketship trajectory. The (roughly) 6' Athena senior's throws and field sense are catching up to her off-the-charts instincts, and the result is a perfect power player to complement Marie Perivier downfield, the crucial second half of a pick-your-poison style dilemma.
Wilber's ascendance bore fruit for Georgia during their dominant Southeast Regionals run and throughout the Nationals campaign, but nowhere was it more apparent than during the team's surprise shootout with eventual champion UNC Pleiades. Perivier may have earned the headlines in their opponents' post-tournament kudos – rightfully so. But Athena don't run the score up to 12 on the champs without Wilber's five assists to keep the offensive wheels greased. It was a stunning performance in what may turn out to be the wedge opening out to a brilliant career. It will be fascinating to see what more she can do in the spring.
---
Behind only another breakout candidate, Allyn Suzuki. ↩