The top seven all-around players from the fall season.
Ultiworld's 2021 College Awards are presented by the National Ultimate Training Camp; all opinions are those of the author(s). NUTC helps young players become better athletes and community members.
Each year, Ultiworld presents our annual College Awards. While the 2021 college season certainly wasn't typical with its abbreviated regular season and the first to host a fall Championship Series, we still want to celebrate and honor the tremendous performances we saw.
Ultiworld is pleased to announce our annual D-I All-American Teams. These players were selected for their overall performance in the 2021 college season. Please join us in honoring the best college players of the year.
---
D-I Women's 2021
All-American First Team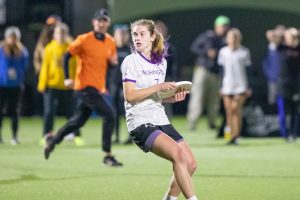 Abby Hecko (Washington)
First up on the All-American list is our Player of the Year. Abby Hecko electrified Norco from the moment the first pull went up until an injury knocked her out of the final. Between her deep understanding of open spaces, technical bids, and poster-worthy skies, no single player in any of the four divisions united the admiration of the ultimate-watching public as much as her. As the bracket progressed, it seemed like every great Hecko moment – and there were many, many great Hecko moments – triggered an eruption of gasps across ultimate's social-mediasphere. Washington Element may have fallen short in the final, but with Hecko only a junior and poised to continue dictating the shape of the field for at least another couple of seasons, her jaw-dropping performance feels more like the tip of the spear than a flash in the pan.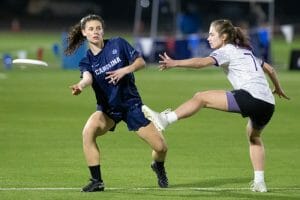 Dawn Culton (North Carolina)
It's a basic truism in ultimate that every player in the world believes the top player on their team is either the best in their particular division, region, or age bracket, or at very least believes that teammate to be wildly underrated by everyone else. Most such inflated praise needs to take about 20% off the top before it approaches even a reasonable assessment of that player's skill or value. But with Dawn Culton, that hyperbole somehow rings true. There's not a teammate or coach that has ever had Culton on their team that doesn't absolutely lose it trying to describe how good she is, whether it's from one of the many equally accomplished stars on the Pleiades and Phoenix, or a Hall of Famer like the late Brian Dobyns who coached Culton in the youth ranks. What they express is a level of respect that goes beyond mere admiration to straight-up reverence. For anyone that hadn't yet heard tell the Gospel of Culton, her performance in 2021 with North Carolina was enough to start opening up the eyes of the wider ultimate community that it's time to pay attention and start believing in her greatness. The senior's overdue christening as an All-American feels downright perfunctory at this point, a unanimous DPOTY and First Team selection that still feels like it undersells her excellence.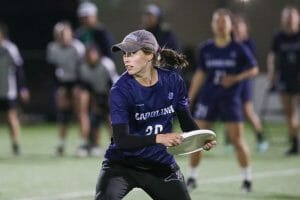 Bridget Mizener (North Carolina)
Have you ever watched someone who is just exponentially better at something than those she is competing with or against? Where every casual execution of a skill others struggle with unintentionally comes off like the apologetic plight of a schoolyard bully with no one of sufficient stature to allow them to "pick on someone their own size." That's what it felt like watching Bridget Mizener handle at the college level this fall. It wasn't malicious, just effortless. Every explosive backfield movement and perfectly executed throwing mechanic looked embarrassingly comfortable for Mizener — and made the rest of the game equally easy for her linemates. In that situation, it can be tempting to start searching for individual challenges to personally dial up the difficulty level in order to keep the game interesting for yourself and any spectators, like when Larry Bird decided to play an entire NBA game left-handed just because he was bored. But Mizener never fell into this trap — or at least ever got caught doing so — instead choosing to just go about her business efficiently carving up opposing defenses all the way to an undeniable national title. A second straight First-Team nod is a fitting send-off for a player no opponent will be sad to see graduate onto bigger things.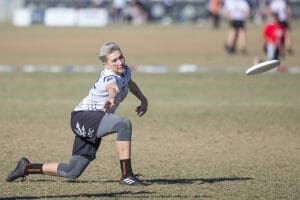 Alex Diaz (UC San Diego)
Two and a half long years since the last college Nationals can leave even reigning champions feeling a bit disconnected from their past success, but with incredible competitors like Alex Diaz, the drive and excellence required to earn that winning feeling never leaves the top of mind. For UCSD Dragon Coalition, Diaz stepped up comfortably into the do-everything superstar hole left by one Dena Elimelech, playing a central role on offense while locking down the opposition on defense. Alongside star handler Ava Hanna, Diaz helped ensure that UCSD's title defense didn't end in pool play, as she ripped down Hanna's huck on universe point against Florida State to secure D.Co's place in prequarters. She then proceeded to put together an all-time 5G/6A performance in UCSD's 15-11 prequarter win over Colorado, before drawing the Dawn Culton matchup in D.Co's quarterfinal against Pleiades, arguably the biggest compliment an offensive player could receive in the division this season. Dominant on offense, resolute on defense, and with those intangible clutch genes, Alex Diaz has it all and did it all for UCSD this season.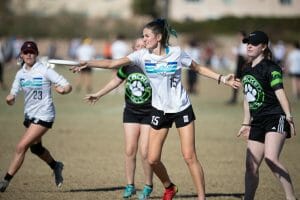 Julianna Madigan (UC Davis)
There's something about the playstyle of Jules Madigan that feels like a throwback to an earlier era in college. Her imposing physicality speaks to her status as an alpha athlete. But her backfield acumen tells the age-old story of an overpowering college athlete whose downfield dominance thrust them into a role with more touches, more involvement, and became an all-around playmaker. Yet Madigan's expansive offensive game isn't even her greatest asset; she had one of the 10 best defensive seasons in the division in 2021. Well, perhaps that just indicates her ability to be a commanding contributor in any phase of the game, wherever UC Davis needed her. Paired with twin tower and 2021 BPOTY Rani Shah, Madigan helped lead UC Davis on their continued ascension up the elite ranks of the division, earning a quarterfinal finish for the first time in 15 years.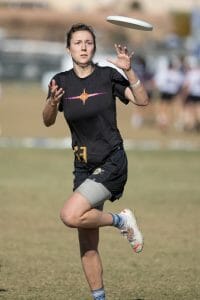 Carly Campana (Carleton)
On a top-seeded team filled to the brim with top-end talent, it can be hard for any one player's contributions to stick out. Such was the case for Carleton Syzygy this season, although Carly Campana's consistent offensive output, defensive intensity, and senior leadership led to her star rising just above the rest for Syzygy in 2021. Most notably an all-around offensive juggernaut, Campana could do everything and more that Carleton asked of her. Be the initiating cutter to get the offense flowing? Campana could get open at will. Put a point-perfect huck deep for a receiver to chase down? Not a problem for the Washington State product. Burst up the line for an all-too-simple score? A mere walk in the park for one Carly Campana. The veteran captain led her team to a largely successful season once more and will be back again to torment her opposition in the 2022 college season.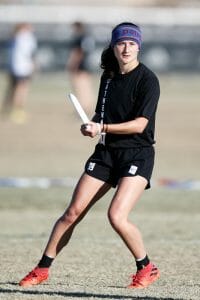 Marie Perivier (Georgia)
Trying to slow down Marie Perivier in matchup coverage in 2021 was like trying to hold on to a torpedo. Always able to give herself room to run or to throw when she needed it, the Georgia senior was an isolation nightmare. But the praise for her best-in-class power game shouldn't take away from her considerable finesse either: against the zone or when her main resets had trouble getting free, she could lollipop flicks and hammers into tight pockets or step inside a forehand mark for low backhand breaks with the best of them. Perivier's head-turning performance at Nationals in 2021 bodes well for Athena's odds to push into the bracket in 2022.