Celebrating the best offensive performances of the fall season.
Ultiworld's 2021 College Awards are presented by the National Ultimate Training Camp; all opinions are those of the author(s). NUTC helps young players become better athletes and community members.
Each year, Ultiworld presents our annual College Awards. While the 2021 college season certainly wasn't typical with its abbreviated regular season and the first to host a fall Championship Series, we still want to celebrate and honor the tremendous performances we saw.
The next of our awards is the Offensive Player of the Year, highlighting the elite offensive threats the division has to offer. This winner, as well as each of their runners-up, was a consistent and overwhelming offensive presence that dominated the season.
Offensive Player of the Year Award
---
D-I Women's 2021 Offensive Player Of The Year
Bridget Mizener (North Carolina)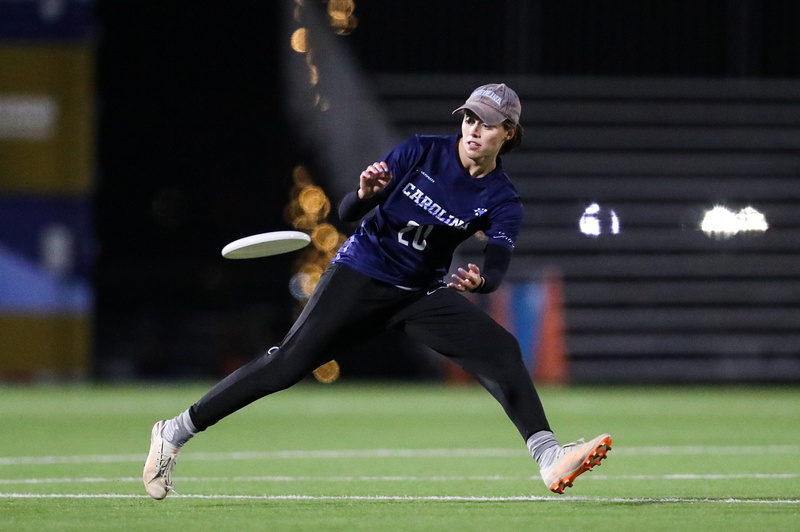 Think about the last time you stepped outside on a clear night and saw Orion or the Big Dipper. You probably just took in the shape of it, because it takes a certain magnitude for any one star to stand out from a bright constellation. And yet that is exactly what we saw this year when we watched the North Carolina Pleiades O-line: Bridget Mizener ablaze amidst that glowing group.
In that context, it's fitting that her name, with its -er ending, could be read as a comparative adjective. Who better controlled the pace of play on every possession? Who charged faster through the blow-by resets to set up devastating uncontested continuation throws? Who was smarter about finding every defense's open seam before angling, rifling, or lofting the disc into it? Who more completely embodied that rare and necessary combination of poise and fire? On offense in 2021, she was simply Mizener than anyone else.1
True, Mizener had a lot of help. Great as she was, she didn't often have to play a must-hold point (thank you, Pleiades D-line) or take a turn at pure heroism (thank you, depth and variety of talent on the Pleiades O-line). None of which dulls the brilliance of her performance in the least. It's quite remarkable in itself to have played the signature role on an offense that did not allow a break throughout bracket play at Nationals.
The hallmark of a truly great player, though, is the ability to rise to the occasion. In sight of the program's first-ever championship, there was no stopping Mizener. She dismantled an otherwise canny and capable Washington defense to the tune of one goal and five assists. Those are big numbers in any contest, but consider this: Pleiades only played seven offensive points in the final. Six out of the seven O-line scores against Washington went through Mizener. Even on a team's team, a light-up like that is impossible to miss.
1st Runner-Up
Annelise Peters (Pittsburgh)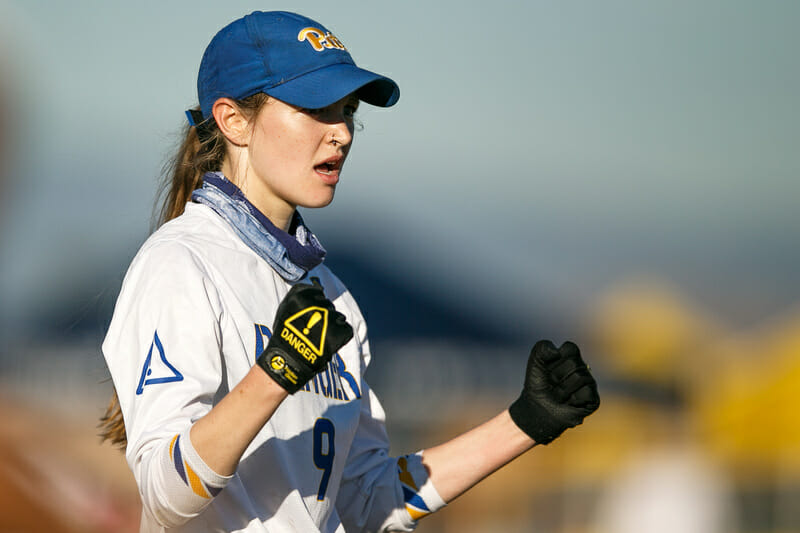 The past few seasons of ultimate have seen a steady climb in the star of Annelise Peters, who has established herself as one of the game's top burgeoning young handlers. Let's talk about what you're probably here for: the hammers. They are arcing lobs with the blend of power and precision that elicits "oohs" and "ahs" from onlookers. And they sure crack a defense open something fierce.
But Peters is more than a signature throw, but rather a signature tentpole thrower. She provides the type of backfield stability for Pittsburgh that legends of the game like Alex Snyder have created for their teammates, a baseline for an offense that simply will keep it from ever veering too far off course. Her stable of upline and reverse moves seems to be in a constant state of growth, freeing her to pick up yards without the disc in her hand, or room to give us one of those highlight-reel dimes we are all clamoring for.
And as much as she is increasingly a fan favorite, her teammates seem to adore her leadership and steadying presence. Everyone else has a little more field to work with when Peters is holding the disc, as her creative blades and release points evade defenders. Come for the highlights, but stay for the throw-to-throw excellence.
2nd Runner-Up
Marie Perivier (Georgia)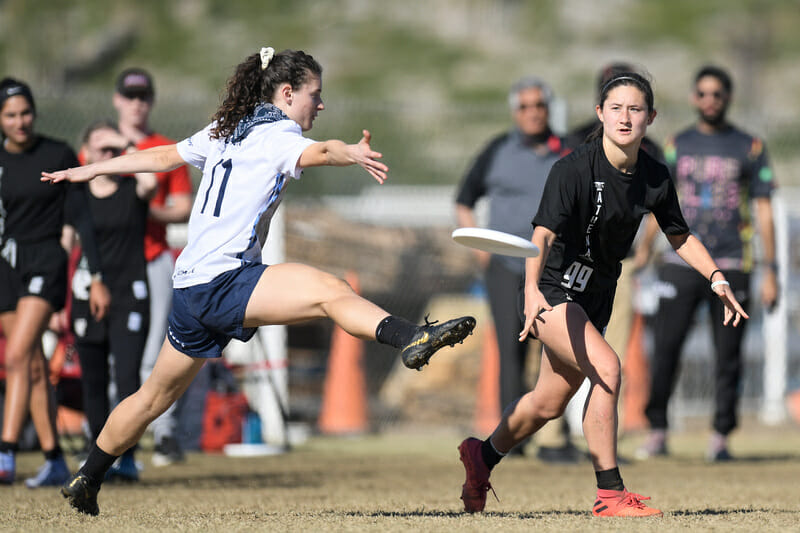 Georgia may have had a lackluster performance at Nationals this year but don't let that fool you — Marie Perivier was a dominant force for Athena despite her team missing the bracket. With poor luck of the draw, Georgia landed in the Pool of Death, losing close to Western Washington, getting "upset" by an underseeded UC Davis squad, and most impressively, playing the otherwise untouchable UNC Pleiades, the eventual national champions, closer than any other team all weekend.
Perivier was the driving force for that achievement as well as throughout the tournament. She has every tool in her arsenal. Much of Athena's offense relied on isolating Perivier in space and letting her drive the motion of the team. Even the most elite defenders in the division could not stop her, even when they knew what she wanted to do. And when she gets the disc, she is just as threatening, either scoring after running down a huck or assisting with creative and powerful throws. Not only can she throw perfectly placed 60+ yard dimes, she also completes visionary crossfield and break looks to keep the Georgia offense flowing if the initial looks are shut down.
Despite her ability to do everything on the field, it is not a descent into chaos; she doesn't simply take over to do everything, she elevates her teammates and makes it easy for them to succeed as well. This season was short and didn't afford much of an opportunity for working out kinks of a long off-season. Look forward to the spring where Perivier will certainly deliver another electric performance and potentially elevate Athena further.
---
The Mizenest? ↩