Celebrating the best defensive performances of the fall season.
Ultiworld's 2021 College Awards are presented by the National Ultimate Training Camp; all opinions are those of the author(s). NUTC helps young players become better athletes and community members.
Each year, Ultiworld presents our annual College Awards. While the 2021 college season certainly wasn't typical with its abbreviated regular season and the first to host a fall Championship Series, we still want to celebrate and honor the tremendous performances we saw.
Our awards continue with the Defensive Player of the Year, recognizing the individual, and two runners-up, who we felt were the top defensive performers this spring. Whether through generating blocks, shutting down options, helping out teammates, or all of the above, these defenders stood out doing the tough work that too often go unrecognized.
Defensive Player of the Year Award
---
D-I Women's 2021 Defensive Player Of The Year
Dawn Culton (North Carolina)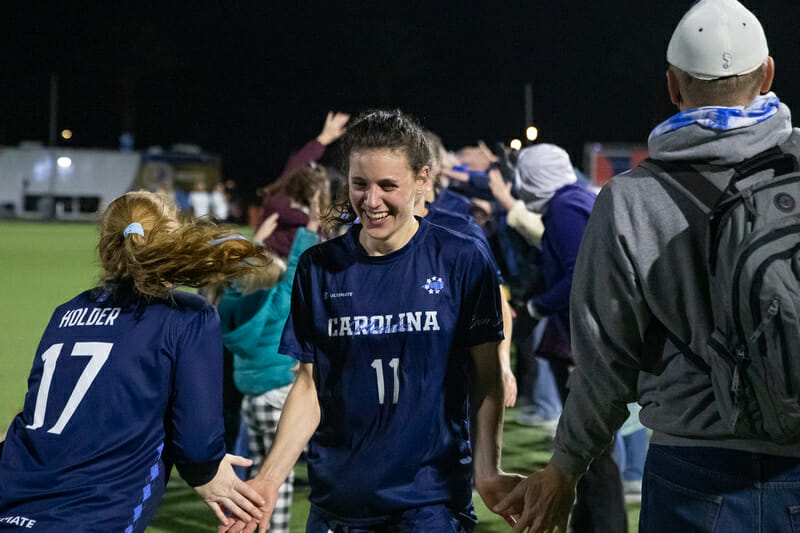 Somehow Dawn Culton made it to her senior year at North Carolina without ending up on a single awards podium or an All-American team.1 Allow me to speak on behalf of the entire Ultiworld team: Whoops. Our bad.
A season for the ages, both for Player of the Year runner-up Culton and for National champions Pleiades, ensured that we did not overlook her in 2021. Culton was simply the best player on the best line in the country. And before you think about @'ing me on that 'best line' line, remember that you don't blow through Nationals with an average margin of victory of almost 8.5 points if the defense isn't absolutely rolling. And even as UNC broke their way to leads of 5…6…7…8 points, she stayed on the line to apply the screws to their opponents' unhappy offenses.
Culton came by most of her tournament-leading eight blocks honestly: grinding away alongside cuts, constricting open throwing windows to mere coin-slots, and then pouncing – lunging, flying, exploding – into the inside track to thwart the attempt. Her layouts deserve a word apart here. They are more powerful, more frequent, and more effective than any other current college player in either division, bar none. Put Culton's face on a Mt. Bidmore with recent college stars Dena Elimelech, Anna Thompson, and Julia Kwasnick – whose output in that respect on defense she may already have exceeded.
Person-to-person, Culton is a foolproof technical marvel, like the priciest item in the clamps and vises section of a hardware store. But that's only half the story of her particular brand of excellence. The other part is how much of the field she is able to take away as the deep in the UNC zone or, in matchup schemes, when her mark drifts out of the play. Her elite combination of field awareness and positioning (either for heads-up help or as a good old-fashioned bait) in these situations to deter or intercept potentially dangerous throws drastically reduced the viable playing area for every offense that came up against Pleiades. That's the kind of play that not only stands out on its own, but raises the tide for the other six players on the line.
1st Runner-Up
Rani Shah (UC Davis)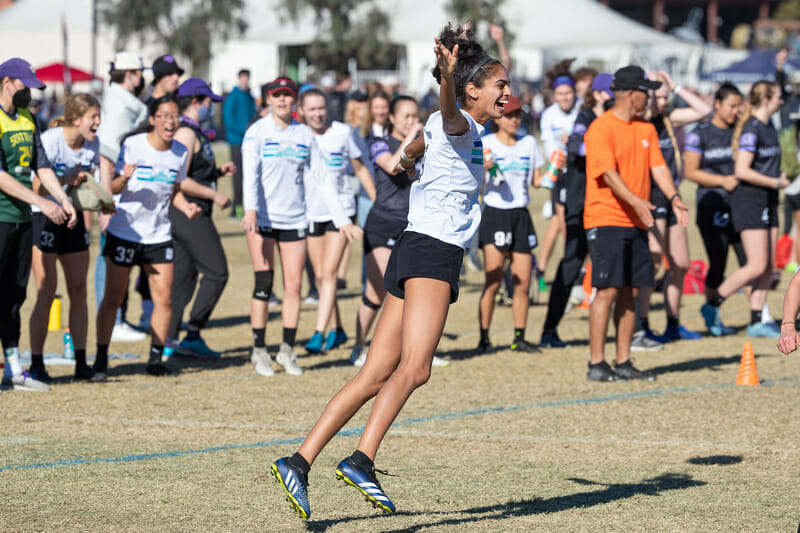 Here's a take that isn't really all that hot: UC Davis Rogue do not make quarters in Norco without Rani Shah's defense. The long-limbed senior earned the key assignment whenever Davis dropped out of zone coverage. It didn't matter so much what kind of matchup she took on – she was tasked with tamping down styles as diverse as Texas' gravitational center handler Caroline O'Connell, Georgia's huck-from-motion star Marie Perivier, and Washington's downfield dynamo Abby Hecko – so long as she was deployed on the opposing team's best hope for a score.
As to how she fared on these missions? Defensive impact is notoriously hard to measure, and was especially so at a tournament strapped for volunteer statkeepers during pool play. But Shah's seven blocks still pop off the Davis team page, especially when you consider that the only player who recorded more blocks in Norco – Dawn Culton, who needs no further introduction – had a four-game advantage in terms of how many of her games featured a stats log. Versatile, rangy, and dogged, Shah put on a block-production clinic.
Oh, and don't test her mark, as the aforementioned O'Connell learned the hard way – twice – in a pre-quarter Davis win that iced Shah's spot on this podium.
2nd Runner-Up
Tori Gray (Carleton)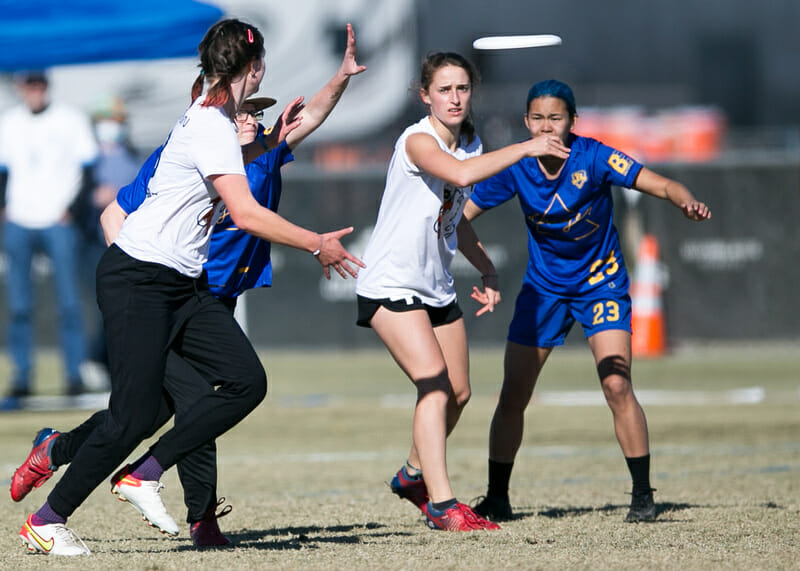 Who do you picture when you imagine someone on the DPOTY podium? Probably a grizzled veteran, utilizing years of hard-won experience to maximize their craft. Well in Tori Gray's case, you'd be wrong. While Gray was Carleton's leader in blocks, and runner-up in goals, she is a newcomer to the college nationals stage. That's right. Gray is another in the storied pipeline of Seattle-to-Carleton players who come out hot in their debut season.
Tori Gray is fast. Her speed not only earned her a spot on the unfortunately defunct 2020 U20 National Team, but also helped her register five blocks in Norco and who knows how many other instances of shutdown defense. When you have someone like Gray on the field, you essentially eliminate a player on the opposing team, either resulting in a block or offensive stagnation.
Syzygy didn't make it to the top spot this year. But if they make a run this spring — or in the many future seasons she has left — Gray will certainly have a hand in the team's success.
---
Well, a two-year competition stoppage in the middle of her college career and a historically deep class of stars may have had something to do with it. ↩