Rounding out the last of our fall college awards.
Ultiworld's 2021 College Awards are presented by the National Ultimate Training Camp; all opinions are those of the author(s). NUTC helps young players become better athletes and community members.
Each year, Ultiworld presents our annual College Awards. While the 2021 college season certainly wasn't typical with its abbreviated regular season and the first to host a fall Championship Series, we still want to celebrate and honor the tremendous performances we saw.
Ultiworld is pleased to announce our annual D-I All-American Teams. These players were selected for their overall performance in the 2021 college season. Please join us in honoring the best college players of the year.
---
D-I Women's 2021
All-American Second Team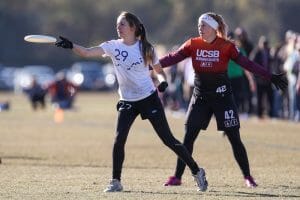 Blaise Sevier (Virginia)
It's easy to get distracted by the considerable number of flashy plays on the part of Virginia's Blaise Sevier, and those might have been enough to earn her All-American honors on their own. The woman lives up to her moniker, a fleet-footed burner on the field with the aggressiveness to assert her athletic advantages. But don't overlook the finesse or grit she showed off in Norco. Whether it was fighting through long hard points, deftly weighted backhands around defenders, or even more impressively, doing things like the latter to the end the former, Sevier's substance was equal to her style. Hydra was one of the bigger surprises of the tournament with their run to quarterfinals, and Sevier was at the heart of everything they did.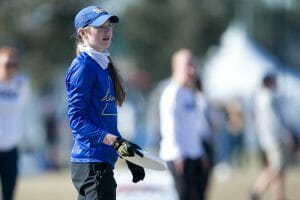 Annelise Peters (Pittsburgh)
Ultimate is sometimes as simple as throwing and catching a plastic disc, and wow is it fun to watch Annelise Peters sling some plastic. Whether it's forty-yard hammers that drop in on a dime or zippy inside break throws that somehow miss three defenders on their way to a receiver, Peters' toolbox is filled to the brim. It's not just the showy throws, though, as she's more than happy to simply impose her will on the field and march the Pittsburgh Danger offense up the field while getting every-other throw. Likewise on defense, Peters has the skills and resolve to do what it takes for her to get the disc back in her and the Danger offense's hands, whether that's a two-handed stuff of an opposition huck or racing to smother an under cut. With an assured fearlessness and willingness to put her team on her back when needed, Peters made this simple game look simple, even as she put on a show.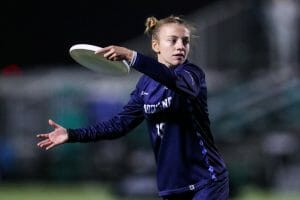 Ella Juengst (North Carolina)
Add 2021 Nationals to Ella Juengst's reliably stellar track record. The North Carolina Pleiades senior has been a virtually unstoppable downfield option in college since her freshman year and perhaps the team's steadiest (if not always flashiest) thrower. Call her Automatic Ella. Her agility in small spaces made her an ideal finisher, while her speed, elite cut timing, and pinpoint midrange throws were perfect for stitching together big yardage connections to break into the red zone. Juengst sparkled in the final: the three goals and two assists she tallied actually understates her impact, as she has a huge hand in every goal the O-line scores. Spare a thought for the poor defenses that will have to contend with her working in tandem with Anne Worth in the spring.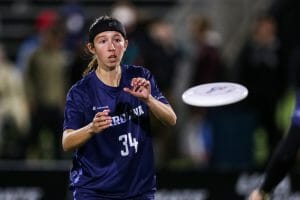 Alex Barnett (North Carolina)
"We have a teammate, who, when she joined the team five years ago, we were at the beginning of the season and we said, 'let's set some goals,' and she said 'I want to win Nationals' and I think four, five years later, we finally did it!" This quote, from UNC veteran Florence Brooks after their title win, was about one Alex Barnett, and epitomized her confidence and determination as the dominant Pleiades claimed that long-awaited title. Barnett never seemed to waver in her defensive commitment, tirelessly tracking down opponents and generating block after block. On offense she was always involved, putting up a 14G/8A line, and scoring and then assisting the final goals in the Pleiades' quarters and semis wins. Playing with ever-evident desire and joy, Barnett's energy and poise helped drive UNC forward and remarkably reach that goal she had set for them all those years ago.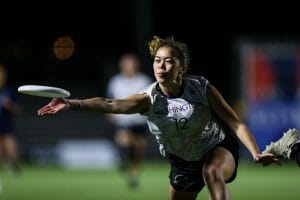 Stephanie Phillips (Washington)
It's been a steady, consistent rise for Steph Phillips over her unfortunately stunted college career. As someone on the ROTY watchlist in 2019,1 freshman Phillips was a key contributor in helping Washington qualify for Nationals after two years of missing out. In the shortened 2020 season, she took on a center handler role for a brutally efficient Element O-line, a role which she reprised to somewhat surprising success last summer for Seattle Riot. By fall, she was putting it all together as a senior captain for Element: running the offense, skying piles, breaking marks like they were inanimate pylons, and even snatching a half-clinching Callahan in the semifinal against Carleton. She was immense in that game, even if her 2G/3A/1D line was somewhat overshadowed by Abby Hecko catching fire. Phillips was even more integral to Element's approach in the final once Hecko went down with an injury. That she was unable to overcome the impossibly deep North Carolina squad takes nothing away from an incredible overall performance in Norco.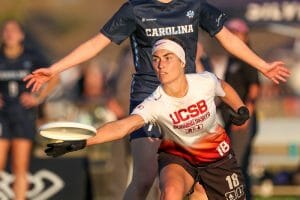 Kaitlyn Weaver (UC Santa Barbara)
The 2020 Offensive Player of the Year runner-up was up to her old tricks in 2021. A tough cover at either the front or the back of a Burning Skirts stack, Kaitlyn Weaver pulled more than her share of the weight to get UC Santa Barbara to semis. Trying to guard Weaver was never less than a devil's bargain. Play for the under, and she would curl crisp forehands around defenders into the end zone with the aplomb of an Olympic slalom skier taking a tight line past the gate. Jump the lane, however, and she would glide into the end zone herself with a powerful step and high-point the disc. The only safe choice with Weaver, really, is to choose her for her second All-American team appearance.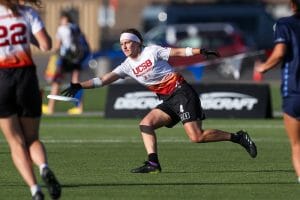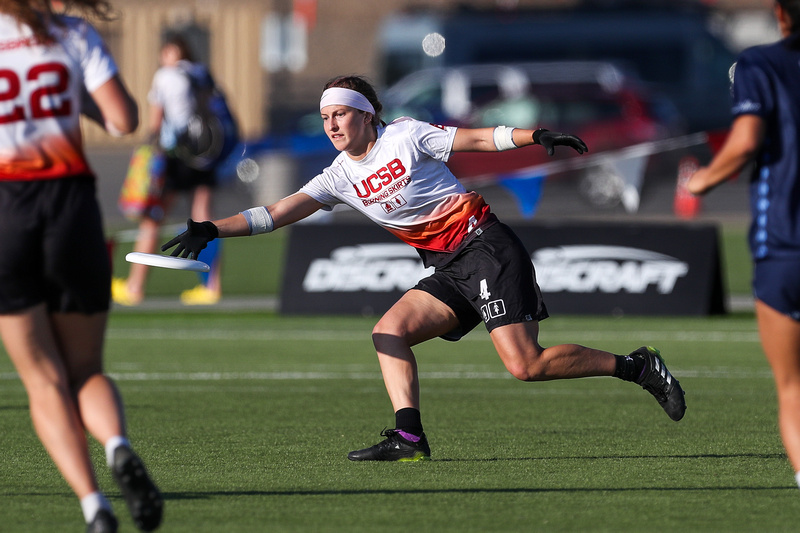 Elsa Winslow (UC Santa Barbara)
Every team needs a spark plug, an all-energy all-the-time player who can put up highlight-reel plays while simultaneously doing the hard work to create space and opportunities for their teammates. That player was Elsa Winslow for the UCSB Burning Skirts, always able to provide a downfield outlet for her handlers and standing strong in the face of even the toughest defensive matchup. In pool play against Pittsburgh Danger, Winslow finished off the first three points, each time finding the easy open space for her teammates to throw to. Skipping forward to UCSB's quarterfinal versus Virginia Hydra, Winslow put up another pair of goals along with an assist, and plenty of gut-busting runs deep on both offense and defense. And then against the eventual champions UNC Pleiades, Winslow faced off against Dawn Culton and, in a rare sight this season, won that matchup several times over. Dynamic, lively, and absolutely electric to watch, Winslow helped drive UCSB to success and will have one more chance to lead the Burning Skirts this spring.
---
In the most stacked class we've yet seen in the division. ↩