Highlighting players who made impressive college ultimate debuts this fall, whether they joined their teams in 2020 or just this academic year.
Ultiworld's 2021 College Awards are presented by the National Ultimate Training Camp; all opinions are those of the author(s). NUTC helps young players become better athletes and community members.
Each year, Ultiworld presents our annual College Awards. While the 2021 college season certainly wasn't typical with its abbreviated regular season and the first to host a fall Championship Series, we still want to celebrate and honor the tremendous performances we saw.
The Rookie of the Year award recognizes players who impressed in their first college ultimate seasons. Typically reserved for freshmen (or the occasional first-year ultimate player who joined the sport later in their college career), we have temporarily expanded the eligibility for this award due to the lack of an intercollegiate competitive season during the 2020-2021 academic year. Consequently, this year's "rookie" class includes players who joined their teams before the fall 2021 semester, but haven't been seen in competition before, as well as players in their first-ever year of college ultimate. As in any year, whether they come to the college game from years of youth experience, a background in other sports, or none of the above, these players made debuts to remember in high-level college play.
---
D-I Women's 2021 Rookie Of The Year
Tori Gray (Carleton)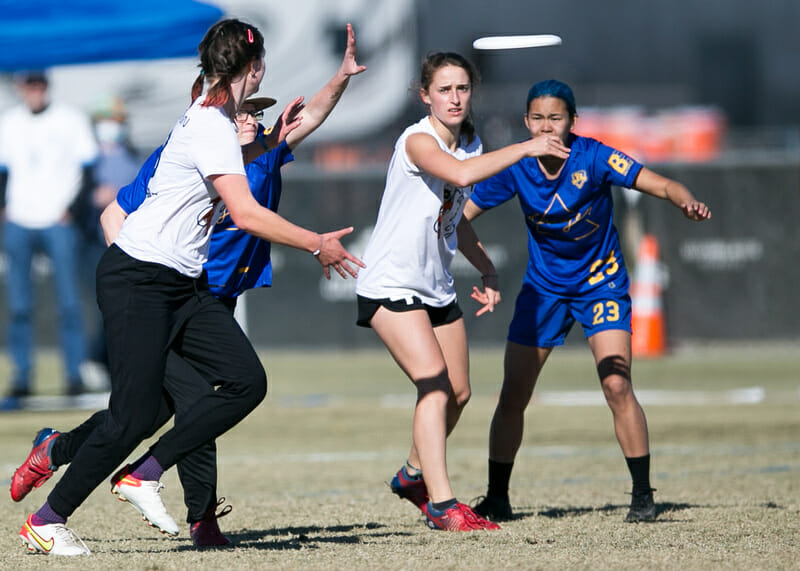 Tori Gray knows how to play the long game of ultimate. Before, during, and after Carleton's semifinal matchup with Washington, Gray made it a point to center her mind and body to prepare. Before stepping out on the field to play, Gray picked a spot on the sideline, focused in, and did some yoga. Then again, before she returned to the field after a scary collision, she flowed through some poses. After the clock wound down and the final score reflected how close the game was, Gray took a seat at midfield to reflect, capping the end to an incredible tournament for her, even if it was somewhat disappointing for her team. That level of focus and calm was evident throughout her play in Norco, harnessing her competitive fire and delivering production far beyond what is typically expected of a rookie.
Throughout the weekend, Tori Gray's suffocating defense gave her team loads of opportunities to tally breaks, earning turns with her tactical positioning rather than simply waiting for the opposition to turf throws into the dirt. She made the most of every possession and worked to ensure they paid off. In every game Carleton played, Gray was one of the fastest players on the field, throwing such perfectly timed cuts that if you'd glance up at the hypnotizing scenery for even just a second, you'd lose sight of her in the dust. Passionate player for sure.
It takes a special player to land on two different awards podiums in one season, let alone for a player in their first real season with their team. That Gray earned that distinction and put up an easy four goals and five blocks in Syzygy's bracket games speaks to her talent and growth potential. At still just 19, expect her continue to grow and become a leader of the reshaping Carleton team in seasons to come.
1st Runner-Up
Abigail Shilts (UC San Diego)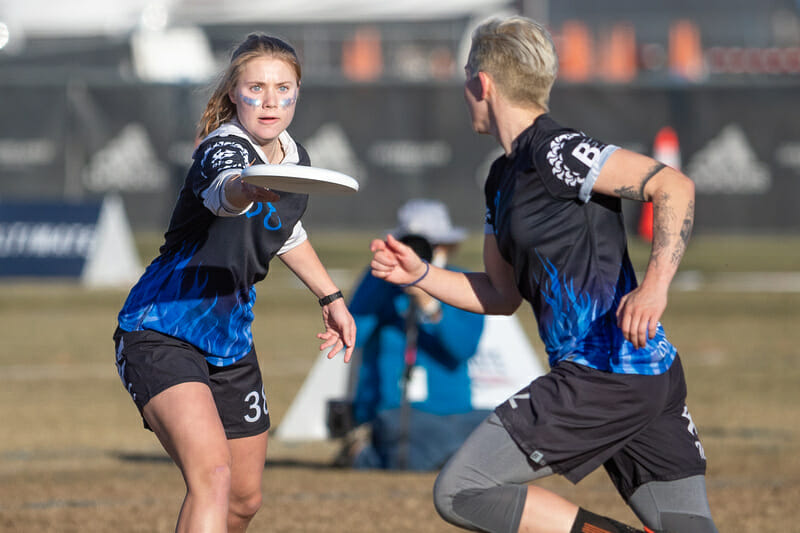 Smooth, consistent play coupled with athletic, creative bursts. Combine sugar and spice, get play twice as nice. This is the formula to create the perfect ultimate player. The icing on this particular cake for UC San Diego: the resulting player is just a freshman. Thus, Abigail Shilts burst into the college division's view this fall. With her neon green cleats and a snappy forehand, Shilts and her team fearlessly took on all-comers and did so to great success.
While Shilts may not be a literal Powerpuff Girl, her youth and outstanding talent certainly make you think of her as one. A lanky stride carrying her swiftly across the field, Shilts stepped easily into any role UCSD asked of her. Whether busting to the end zone from the cutting space, marshaling the D.Co defense as the deep in their zone, or steadily working the disc up the field alongside her fellow handlers, Shilts really did do it all for UCSD.
In pool play, down 2-1 to Shilts' home state team Carleton, she uncorked a massive pull into the opposite end zone and then commanded the UCSD zone from her position in the deep space. On the next point, Shilts took off deep early in the offensive set, skyed her defender on a hanging huck, and flipped an easy assist to Alex Diaz. Back-to-back points, playing both ways against the tournament top seed? Not a problem for this rookie.
More pool play, this time against Vermont, and Shilts closed out the game as D.Co found easy offense by just hucking to her immediately off the centering pass on their last two offensive possessions. On the final point, Ava Hanna blasted a flick to Shilts to slam the door on Vermont in just two throws. For a team to put so much trust into a freshman, her play needs to be superhuman, and Shilts, with sugary throws and spicy deep cuts, more than lived up to that bar.
2nd Runner-Up
Julia Hasbrook (UC Santa Barbara)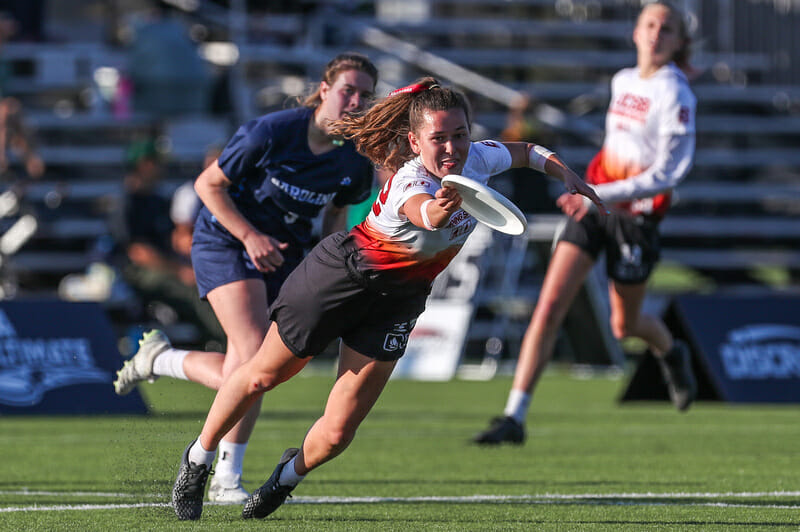 By her state of play, you would have thought Julia Hasbrook was far from a rookie. This scintillating sophomore helped control UC Santa Barbara's tempo on every point she played while looking extremely composed with her downfield hucks. Her confidence was especially exhibited when reliable receivers Kaitlyn Weaver and Elsa Winslow were on the opposite end of her throws. This team trusted each other and it translated through long grinding points throughout the tournament. Hasbrook's offensive work was a major factor in the Burning Skirts' run in Norco, both her smooth handing and her cutting abilities, at least up until she met some drag after a late injury in their semifinal against UNC.
The Skirts covered a lot of ground over the course of their play at Nationals. This program has a history of cultivating promising young players into All-American talents and Hasbrook showed both plenty of potential and plenty of growth already. Having gotten the opportunity to learn some late-bracket lessons so early in her college career, she seems to be in the perfect position to continue to blossom in Santa Barbara. More good things seem sure to come from Hasbrook in the future, and I have a strong inkling she will be back in our awards conversations in the coming years.