The regular season ends with a men's division showdown.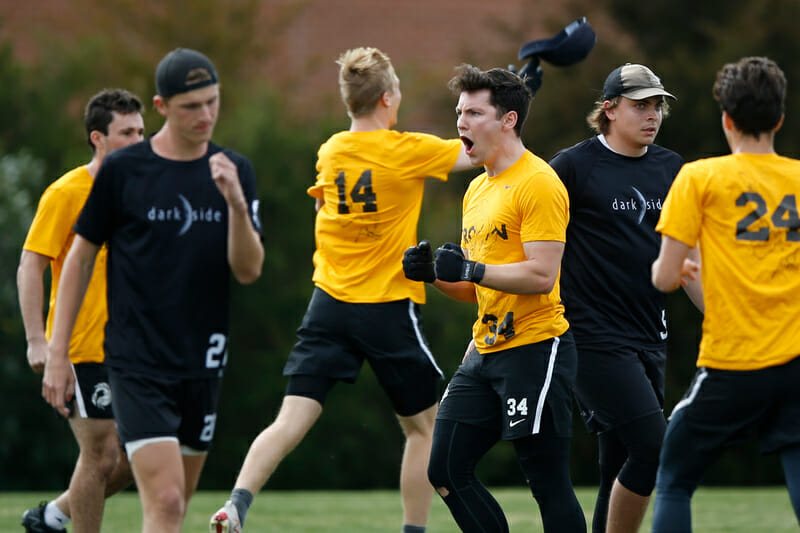 Our coverage of the 2022 college season is presented by Spin Ultimate. You can get 15% off all college uniforms and swag right now at Spin Ultimate!
After two years away, Easterns is back on the calendar. The last weekend of the regular season once more arrives with the premier men's division event before Nationals. The deep field has been thinned by two drops this week (Massachusetts and Vermont), but a number of title contenders remain to get their last reps in before the postseason.
Tournament Profile
Date: April 2-3
Location: Little River, SC
Weather: Sunny, highs in the low to mid 60s, 10 mph wind
Top 25 Teams: 13
Filming Schedule
These games will be available online next week for Ultiworld Full and Plus subscribers. They are being filmed, not livestreamed. Additional games may also be recorded.
Men's Division
NC State vs. Carleton
Michigan vs. Wisconsin
Maryland vs. Temple
Michigan vs. UNC Wilmington
Cal Poly SLO vs. Northeastern
Ohio State vs. Wisconsin
California vs. Georgia
Pittsburgh vs. California
North Carolina vs. Texas
Two quarterfinals
Two semifinals
Final
College Team Packs are on sale now! Get video access and subscriptions for your entire team and coaching staff (including all of our 2021 college fall footage) along with a guaranteed filmed game, download access for highlight/Callahan/Donovan reels, and more.
13 Burning Questions
1. Can Brown go 3-for-3 in regular season tournaments?
Top seed #1 Brown Brownian Motion has won Florida Warm Up 1 and Smoky Mountain Invite already this year in a campaign reminiscent of the run in 2019 that eventually led to a title. But with a deep field and plenty of tape for the opposition to study, it's going to be awfully hard for them to complete the Triple Crown.
But they can do it. Jacques Nissen has been the best handler in the country in 2022, Leo Gordon has looked like one of the best cutters, and they still have All-American John Randolph driving defenses crazy in the end zone. Beyond the star-level power, Jackson de Campos and Talon Johnson have made the transition to feature roles, and a commitment to playing the bench late in tournaments translates to true game-ready depth. The knock on Brown is that in Knoxville they won their four toughest games (Texas, NC State, UNC, and Colorado) by a combined total of just five goals, a true high-wire act. They can't count on teams to keep giving away the disc on universe the way NC State and Colorado did – and can they really keep enduring so many grueling games in a weekend-format tournament? They need to put some games away early on Saturday to stay fresh for the bracket.
2. Was December 2021 just a dream for Jojah?
Short answer: no, it wasn't. #20 Georgia Jojah remain a talented, deep, and assertive squad. But that doesn't mean they don't need to clean up their game after an uninspiring performance at Queen City and a dreadful one at SMI that landed the 2021 finalists a lowly no. 12 seed at Easterns. At their worst, they clogged their own cutting lanes, forced throws to windows more appropriate for goaltimate, and (maddeningly) refused to prioritize the high side of the field in extreme wind.
Odds are, however, we will see more of their best this time around. Look for Drew di Francesco and Jared Bennett to lead a hard-nosed defensive effort and a hybrid-heavy offensive attack. If they make the bracket, consider Jojah officially back on track.
3. Will North Carolina get revenge against Brown?
UNC has had some mixed success when lining up across for Brown in recent seasons. #3 North Carolina Darkside were the better team in the first half of their semifinal against Brownian Motion at SMI but went on to lose the game 15-13 after giving up several late breaks. Setting aside the difficulty in ensuring that a rematch actually happens, UNC are in good shape to try to even the season score.
In the first place, the winds that helped derail their offense in March aren't likely to be nearly as strong in Little River as they were in Knoxville. More importantly, though, they now have the clearest possible picture of Brown's offensive priorities, and they can commit their energy to stopping the Nissen-to-Gordon show. We may even see them deploy more of the poach-matchup scheme they used against Pittsburgh in SMI quarters. And one more thing: superstar fifth-year Liam Searles-Bohs, who played with a cast on his throwing hand during that loss, is back to full health.
4. Will North Carolina get revenge against UMass?
Nope. Not at Easterns, anyway. #6 Massachusetts handled the ferocious winds of SMI better than the defending champs for one game and walked away with a big win last month. But hope for a regular season rematch this weekend has died. Unfortunately, Zoodisc dropped from the tournament early this week. Any potential revenge for Darkside will have to wait until Nationals. Of course, the real power move for UMass would be to withdraw from the Nationals field in May and then claim the championship on the strength of the Smoky Mountain Invite victory if UNC repeats.
5. How good is the west coast?
It is an undeniably excellent development that both #7 Cal Poly SLO SLOCORE and #10 California Ursa Major are making the cross-country trek to South Carolina this year. The two top Southwest teams have put together strong seasons up to now. However, those seasons come with a significant asterisk: they are a combined 0-5 against teams currently in our top 10 (excluding games played against each other). You could attribute that to a lack of opportunity, though, because only one other elite squad showed up at each California tournament: BYU at Santa Barbara Invite, Colorado at Presidents' Day Invite, and Washington at Stanford Invite. They'll have plenty of opportunities to prove themselves this time around, though, with four potential top 10 opponents in the field, as well as the next four teams clamoring to break through. By Sunday, we will know exactly where these to west coast powerhouses stand in the national picture.
6. Are the Missouri Loves Company finalists in for a rough Easterns?
#9 Northeastern and #11 Michigan looked like Nationals-caliber teams two weeks ago at MLC. The competition ratchets up significantly at Easterns, though, and they are both long shots to reach a second consecutive semifinal. Even quarters could be a stretch. But between Northeastern's deep trove of athleticism and Michigan's high-level experience, you have to think that at least one of them will break through to the upper crust of the 2022 season. Of the two, Michigan might be the ones to find their way to a semifinal berth – they have the seemingly easiest path on Saturday and a lot of players who have succeeded in big-game situations before – but the Huskies have the superior resume this season. It will be fascinating to see how both have prepared for this new challenge.
7. Which of the top eight seeds are most at risk of missing the bracket?
The Easterns format – straight to quarters after pool play – is as unforgiving as ever, and there are always one or two teams who slip a little on Saturday to ruin their shot at a bracket run before it gets started. Of those in position, the likeliest team to fall out is no. 5 seed Cal. That isn't as much due to a lack of talent on their part, but a comparatively strong talent pool alongside them. They'll need to survive matchups against Pittsburgh and Georgia, two teams with plenty of ability, and even no. 13 seed Illinois could be the best bottom seed, led by Eli Artemakis.
8. Can Temple actually hang with elite competition?
Everybody (well, at least everybody at Ultiworld) was excited to see what Nate Little and the rest of a promising Temple University team could do against strong competition at Florida Warm Up. To say that they underwhelmed that weekend is an understatement: they lost games to South Florida and Georgia State (respectively ranked 141st and 105th at frisbee-rankings.com) and finished with a 2-6 record. They get another shot at Easterns against an even better field. How will they fare? Opportunity could be present in their region for them to improve upon narrowing missing Nationals in 2021.
9. Will Wisconsin actually play a game this season?
Don't call your bookie and bet your life savings or anything, but as it stands today, the Wisconsin Hodags are going to take the field, making their 2022 debut on the final weekend of the regular season. The perennial Nationals competitors dropped out of both Florida Warm Up and Missouri Loves Company earlier this year. As a result, we have no idea what to expect from them. Realistically, they could finish anywhere from fifth to dead last at Easterns. They didn't even play fall Nationals with a full roster and focused on development in Norco, making any projection for them as murky as could be.
10. UNC Wilmington: are they closer to their ceiling or their floor?
Tournament hosts UNC Wilmington can boast of a major victory this season: a tooth-and-nail upset over Michigan at Queen City Tune Up. That speaks well of their chances to snatch up one of the (likely) three Atlantic Coast tickets to Nationals. On the other side of the scale, however: basically every other QCTU game they played, and a brutal 15-7 loss to Auburn in the Tally Classic final. With two tournaments behind them and a heavy slate of good opponents in their sights, the time is now to demonstrate that they are a team who will consistently hit their highs rather than stumble into their lows. Their deep throwers can spark this team if they have some discipline.
11. Can Texas hold strong through a long weekend?
The question with #14 Texas TUFF isn't whether they have the horses to run with the division's top end, but whether they have the legs. Matt Chambers, Saaketh Palchuru, John Clyde, and the rest of the gang can steal a win from anyone in the division in a one-game scenario. But they are carrying a shorter roster this year than in years past, and their big hurdle as a team has been staying focused all the way through the end of Sunday. They ran out of gas at SMI halfway through a quarterfinal against Colorado and ended up losing out the rest of the way. Even in capping off an undefeated weekend at Centex, TUFF huffed and puffed toward the finish line during their final against McGill. Seven difficult games at Easterns will be a major test for them.
12. Can Pittsburgh or NC State add a marquee win?
Forget December: #8 Pittsburgh En Sabah Nur have the look of a semis team again. Henry Ing, Marcel Oliart, Myles Cooper, Will Hoffenkamp – the squad is stacked. What they don't have this season is the resume of a semis team. Wins over NC State, Minnesota, and Georgia are nice, but they aren't signature victories. So far, they are 0-5 against the top 10 (BYU, Brown, UNC, and twice to UMass). How Pittsburgh perform against the upper crust this weekend is probably what we can expect from them heading into the Series. One way or another, we're going to learn about their true ceiling.
It's the same story in Raleigh, as #13 NC State Alpha have dropped nailbiters to Pitt and Brown and would like to add a big victory to the trophy case. Both the O-line and D-line have been trending upward since the start of their season in January – if they can remain on that trajectory, this will be the weekend they knock off a top 10 team. Thrower Dylan Hawkins has earned a lot of praise for his role next to star Trevor Lynch.
13. Who's more likely to take a step forward: Ohio State or Carleton?
Two teams who appear to have taken a step back in 2022 compared to 2021 are #21 Ohio State and #22 Carleton. Neither are without talent, but both have struggled to earn victories this season. Carleton could really spring into form at Easterns if their best players – Noah Hanson, Eric Wright, Ben Preiss, Eddie Driver, Leo Xiao – keep to the high benchmarks they have only sometimes hit throughout the season to date, and turn a handful of splendid points into a handful of big victories.
Leadbelly, meanwhile, are going to need a rising tide from the bottom of their roster to give more support to their best players. Defenses can really drill down on matchups with players like Eric Coglianese when they have less to worry about. Continued development from Aidan Stevens could help the whole team become a threat again.
---
Both Northeastern and Massachusetts withdrew from the tournament before the final, but Brown beat BYU, so I think it counts, right? ↩