Stanford and Smoky Mountain shook up D-I men's, while FCS Tune Up featured showdowns between D-III men's top teams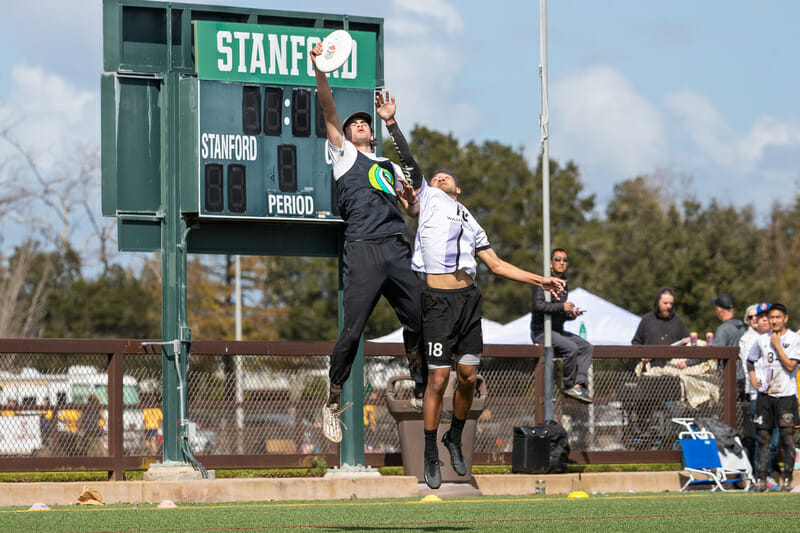 College Update, presented by Spin Ultimate, is back! Throughout the spring season, we will publish a bite-sized weekly recap of all the action across the college division. This will serve as a supplement to our standard tournament reporting and will offer a high-level look at the latest happenings and the biggest stories of the week. Please support the brands that make Ultiworld possible and shop at Spin Ultimate!
Want your tournament listed here? Submit a recap of what happened right here.
D-I Women's
Looking Ahead
Stanford Invite will bring together many of the division's contenders to the Bay this weekend. The Southeast (plus some friends) will head to Florida for Tally Classic.
D-I Men's
Zoodisc Roll in the Smokies
A month after dominating in Florida, UMass Zoodisc scored a second tournament win at the Smoky Mountain Invite, taking down top seed UNC Darkside in the final. Zoodisc remain undefeated and are back in the championship conversation after a five-year hiatus. Vermont have officially broken out after an uneven Warm Up, taking home a bouquet of wins, only losing to UMass, and earning a reputation for high-paced offense and gritty defense. Colorado also a had strong showing for a fourth-place finish. Check out our reporter Edward Stephens' Saturday impressions and stay tuned for a recap later this week.
UC Santa Cruz Notch Unlikely Stanford Invite Win
Across the country, the rest of the West faced off at a wet and muddy Stanford Invite. UC Santa Cruz Banana Slugs took the win over Cal Poly SLO SLOCORE in an abbreviated final, cementing the elite status they hinted at with a solid semifinal win over Oregon Ego. A reloaded Washington looked much sharper than at last month's Presidents' Day Invite. Wisconsin, Cal and Oregon State played well below their ceilings – time is running out to get right if they want to make it out of Regionals. Jake Thorne had his eye on the Day 1 trends – it's a worthwhile read before the full tournament recap comes out.
How the Season is Shaping Up
At the beginning of the season, the general thought was that there would be significant separation at the top, with Colorado and UNC both returning big cores of players with top-level club and pro experience. While both teams are still title contenders, the field has opened up, rewarding cohesive units with deep benches and a stable of playmakers. Vermont and UMass are firmly in the picture, with Oregon, Texas, and Cal Poly SLO not far behind. A slew of other challengers – Pitt, UCLA, Minnesota, Carleton, Brown, Washington, UC Santa Cruz – are just off stage and could take the spotlight before season's end.
Elsewhere in the Division
Looking Ahead
Tally Classic and Huckfest will offer an extended preview of the Southeast regional battle this weekend, while much of the South Central heads to Austin for Centex Tier 2.
There's plenty of tape to keep coaches and captains busy before Centex in two weeks and Easterns in early April. As the bid picture gets clearer, it looks like New England and the Southwest will feast.
D-III Women's
Wellesley blew through the competition at No Sleep Till Brooklyn, with only Williams giving them any contest. The cold weather did not slow down the Whiptail's intensity, with Tess Dolan burning up the endzone to receive the majority of scores in bracket play. Williams Nova played tight and intense defense, forcing their opponents to really want each point lest their offense be broken. Senior handler Lauren Lynch threw steadfast hucks even in the wind and found her downfield receivers' hands for scores that the defense couldn't guard. Ultiworld's D-III editor Fiona Nugent was in attendance for bracket play and will be releasing a recap of her home tournament later this week!
In addition, this weekend saw the second of Vineland tournaments at Philly Special, with the worst weather players (hopefully) have to encounter all season. Games were won on the flip, with scores often separated by one and in the single digits. Conditions did not appear to be much better based off of the low scores reported at the Claremont Classic, where the Claremont Greenshirts beat Occidental WAC on universe point 7-6.
D-III Men's
Four teams went 6-1 at the FCS D-III Tune Up in North Carolina. Those teams were Navy, Middlebury, Kenyon, and Oberlin who, in combination with Richmond, were responsible for the one loss they each experienced. The tournament wasn't without its classic D-III memes and Twitter banter: Brandeis Tron was victorious over Berry with an abbreviated roster on borrowed cleats after their bags were lost by their airline, and a Richmond and Middlebury player literally kissed and made up after an on-field conversation. Keep an eye out for Michael Ball's write up of his home tournament!
Looking Ahead in D-III
Up next? Teams are heading to High Tide for the next few weeks as the season – and weather – really starts to warm up.