A wide open 2016 field will begin to take shape in the Bay.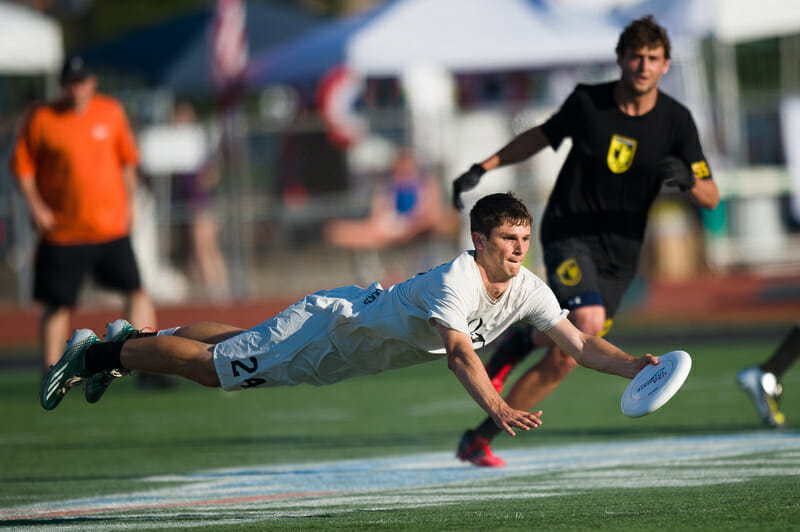 With all the action of the regular season swirled into the spice of semi-pro announcements and club season controversy, it's easy to forget that this weekend's Stanford Invite will only be a second contest for many of the powerhouse teams arriving in the Bay Area.
Of the top 12 teams, only Oregon and Washington arrive with two tournament under their belts.1 The bottom four have logged much more field time, but three are Southwest competitors with the climate (usually) on their side.
Speaking of climate, the excitement around this premier contest, which brings an absurd 13 of the top 25 teams in the country to the Bay Area, will need to be tempered. There's plenty of rain in the forecast, with high winds to make conditions even more difficult on both days. Assuming a winner has field space on which to prevail on Sunday, the description of the winning team will likely include numerous uses of the word grit, and some analysis about how their home climate prepared them for the worst possible conditions.
But let us beseech the weather gods to spare the scheduled action, sideline morale, and our first livestreams of the season, so we can get a good look at some of the best ultimate being played in the country right now. With the field wide open, a full weekend of ultimate should still give some solid hints about the division.
Massachusetts and Oregon — It's Not Boring To Want This Final
Having #1 UNC-Wilmington in the mix would sweeten the stakes, but there's plenty to pull out of a possible finals clash between coastal programs who have both put their unique stamp on two of the top three spots in the country. #3 Oregon has yet to face a truly dominant defense like the fearsome 1-3-3 zone from Massachusetts, nor have they needed to deal with a defensive virtuoso like Jeff Babbitt.
Neither team has had to play a top level game after a weekend filled with nationals-level competition either. Ego rolled through President's Day for the most part, riding a high-octane offense that scored almost at will. #2 UMass may have dropped their finals bout with Wilmington at Queen City Tune Up, but they cruised through the field in Charlotte otherwise, playing at a blistering pace on both sides of the disc.
For the New England monster out of Amherst, Stanford will be a mix of true competition and early-season information gathering, according to head coach Tiina Booth. Zoodisc has eked out a couple frigid and rainy outdoor practices in recent weeks on the UMass football field, but the typical New England winter conditions have kept them indoors. It was no surprise to hear from Booth that the team has used the time to focus on their conditioning.
With Boston Ironside's Russell Wallack as an assistant, Booth's focus on mental toughness, the team's glut of talent, and a comfort playing in ugly weather, Massachusetts is one of only a few teams that may be feeling at home this weekend. High winds should give their defense even more turns to work with, and with Conor Kline healthy, they'll have an offensive weapon back that didn't play much in Charlotte a month ago.
Oregon's offense, on the other hand, will have their work cut out for them against the field. Their speed and experience has made easy work of lower tier teams so far this season, but with rain and gusts, they'll have fewer two or three pass scores finishing on big open side hucks from Adam Rees or Colton Clark to Connor Matthews. This weekend should be an excellent test to see how integrated the newer Ego players have become — Will Lohre and Xander Cuizon Tice may see more underneath touches with top defenses looking to shutdown the well-known Oregon veterans. Additionally, more discs on the ground means more chances for Will Watkins to lead the Ego defense to breaks, but they'll also need to be patient in the conditions.
These two top contenders arrive having shown a clear edge above the competition they've faced so far and very little in terms of weakness. A tougher schedule and rough weather may help in seeing which one is mentally prepared for a deep Sunday run.
The Middle of the Pack Looks Like Just Another Year At Nationals
None of the next ten contenders make their way to Fremont without some serious early season questions. Wisconsin and Pittsburgh pulled top seats for their pools (B and D respectively), but haven't been able to hide some early season blemishes still fresh from Warm Up. Both teams dropped three games in Tampa, with Wisconsin owning the head to head after an 11-9 win.
The Hodags are another team that could make hay from the foul weather. Madison ain't exactly balmy this time of year, and this team has already proven themselves gritty enough to win games without consistent offense and relying on defensive toughness. They have their work cut out for them in the pool, with two other teams that want to put their defenses on the field and keep them there: Stanford and Colorado.
Stanford's defense was excellent at the Santa Barbara Invite, though they left without a definitive test. Still, they've proven themselves through already through rain and high wind. Since then, the team has had nearly a month to practice, with a sunny trip to Hawaii's Kaimana Klassik to break up the monotony, while others slogged it out at Warm Up and President's Day. It'll be an interesting test of patience for the Bloodthirsty offense, as Wisconsin will probably look for the knockout punch on defense as soon as possible. It'll be interesting to see if Stanford rookie Nick Hirning can continue his strong campaign, and help Stanford to the breaks they need for a pass to quarters on Sunday.
For Colorado, whose season has been marred early by major injuries to starters, reclaiming their defensive fire from San Diego will be critical. Mark Rauls will be one of the fastest players on hand this weekend and his athleticism allows him to hang with larger defensive assignments. With many of his veteran teammates still question marks, Mamabird will need even more converted breaks to make this weekend a good one.
*
Pittsburgh has so far looked a ways off from the team that won this tournament a year ago. Keen eyes will watch closely, as Pat Earles should return to the field this weekend to anchor the offense. The team has yet to send out its top seven to close games, but Washington is the sort of possession oriented team that could frustrate a traditional Pitt D-line into bringing players over to generate the turn.
That's not to knock the program out of the conversation. Pittsburgh has the talent and the pedigree to make an impression this weekend, especially if Earles can bring some much-needed flare back to the offense and take the pressure off Max Thorne and Trent Dillon to run the show. For a team that already doesn't seem to rely on blocks as much as perhaps Wisconsin or Colorado, Pittsburgh's defense could catch a few breaks (literally) with more discs pushed into the air or ground by unpredictable wind.
Their matchup with Washington on Saturday afternoon may be one of the more interesting clashes in pool play. The Sundodgers already have a unique, do-it-all talent in Khalif El-Salaam, who can make his mark just about anywhere on the field, but they also bring a squad that has been steadily polishing itself over two tournaments and numerous rainy, windy Seattle practices to Fremont. This team is excited for another crack at Pittsburgh, who bested them in the semifinals of this tournament in 2015. It's not particularly clear what the ceiling is for either team, and both bring observant and dedicated leadership to steady themselves in the weather.
*
Harvard, Central Florida, Carleton, Texas A&M, and Texas are all teams headed to Stanford with enough talent to beat just about anyone at this tournament, but it's not clear if any one contender from this group has shown the kind of polish it takes to bring home hardware in a two-day format.
Red Line needs a big weekend from their entire team, including top performances from John Stubbs and Mark Vanderburg. Harvard has a chance to lock in the patented Boston-style, reset-heavy vert to stay patient in the weather this weekend, win a few big games, and push themselves into a safe spot in the bid conversation for a New England region that could use it after last year. Going through Washington and Pittsburgh to do it isn't out of the question, but it won't be easy either.
Central Florida needs to make up for a very rocky start at Warm Up. Injuries and sickness marred that outing for this perennial Southeast standout and they need wins now to build confidence and improve a precarious Southeast bid situation before the series. As always, the Dogs of War will bring intense physicality to their matchups — expect them to try and take a bite out of Oregon before the Eugene offense gets too far out in front in the opening round of Saturday play.
It's impossible to talk about Texas A&M success without talking about the phenomenal play the team has had from their leader Dalton Smith. Smith has shown an incredible offensive ability this season; he'll need his whole arsenal and best play to get the disc to his guys as the weather sets in. Expect to see top defenders from Ego key into Smith's movements early, while UCF might look to give him a few lumps along the way.
Can The Southwest Overcome The Weather?
Cal-Poly SLO, UC San Diego, and UC Santa Barbara have tall orders this weekend. If any of these teams can battle into prequarters or quarters, they'll have done it with wins over other teams that are almost-certainly bound for Raleigh at the end of May. SLO arrives with the best buzz of the three, recently winning the Stanford Open to secure the final spot at this weekend's Invite. This will also be the fourth contest in a month for Slocore, and it won't be all sunshine and smiles. Hopefuly the rain won't bring back memories of their 6-13 quarterfinal loss to Victoria in a downpour back at Santa Barbara.
The Air Squids and Black Tide aren't far behind in terms of talent, but Slocore put them both away by three-point margins at President's Day to assert themselves as second in the region. Regardless, what the Southwest teams want is abundantly clear: beat teams outside the region and avoid continuing to bang their heads against the one-bid wall.
Western Washington (Northwest) is the only team in the bottom four not out of the embattled Southwest region. With Oregon, British Columbia, Washington, and Victoria all on pace to bring in strength bids for that region, Dirt could still play spoiler at Regionals the way they did in 2015 if results don't pan out well for them in this incredibly competitive field.
Nothing Is Certain
The field is wide open, and the best case scenario would be for the El Niño to punch the clock a little early this weekend to give these teams a chance to compete without making this look like a wetter version of the 2015 Pro Flight Finale.
The reality seems more likely to test the rain gear and morale of all in attendance, and keep in mind that since the tournament is being played on grass, that means the schedule could get weird. If you're one of the many who are excited to see how the 2016 Stanford Invite pans out, but won't be in attendance, stay tuned to @ulti_world and @ultiworldlive. And be sure to check in for our free livestreaming coverage (weather dependent).
---
Pittsburgh and UCF were scheduled for Carolina Kickoff, which was cancelled in mid-January. ↩