It's been a wild weekend so far in La Jolla.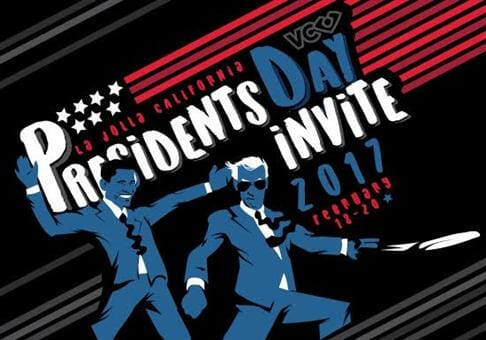 Ultiworld's reporting on Presidents' Day 2017 is presented by VC Ultimate; all opinions are those of the author. Please support the brands that make Ultiworld possible and shop at VC Ultimate!
LA JOLLA, CA — Despite the hectic reshuffling of pools to create equitable play on Sunday, power pools delivered challenging games for all teams involved, and the bracket that emerged doesn't look markedly different than it may have been under sunnier skies.
Here's a look at how the top teams in each division have performed over the past two days, and what they'll face on Monday:
News & Notes (Women's)
– We thought #1 Stanford Superfly would be great, and instead they were incredible. They have a combined score of 51-9 so far this weekend, and they have yet to look even flustered. This small, efficient squad systematically took apart Carleton and Oregon during power pool play like the teams were appetizers. Some are calling them the greatest college women's team of all time, and it's only February.
– #16 UCLA BLU wasn't perfect this weekend. Their reliance on Han Chen and Camille Wilson showed when these seniors weren't on a line. But their roster has a high floor, and they played full-roster defense to outlast Texas 8-6 on Saturday and Colorado 8-6 Sunday. Their top eight players are enough to push them through semifinals, but it won't be an easy game no matter who they see.
– In-your-shorts defense has long been #8 Colorado Kali's style of choice, but a little more offensive polish has paid dividends this weekend. Colorado breezed past USC and UC Davis in pool play on Saturday. They lost to UCLA yesterday but given a full-length second half, they'd walk away with the win more often than not. Carleton alum Megan Chavez is playing her last year of eligibility with Kali, and her presence was felt on Kali's D-line. That said, Kirstin Johnson is still the heart of their game. She made an impact during every point she played, and she made plays nobody has business making when they're 5'4″.
– #4 Texas Melee's deceptively mediocre 1-1 Saturday was put to rest Sunday when they upset Oregon in power pools, 10-7. It was a good win, too. Texas took control early and refused to let Oregon launch a long enough break run to recover. The game showed Melee at their best: aggressive, skilled, and ready to run. Teams still underestimate Julia Schmaltz' skill deep, and Shiru Liu doesn't mind sending dimes south to her from morning to sundown. The scariest part? They aren't peaking yet.
– #6 Oregon Fugue was upset by Cal 10-9 in pool play, upset again yesterday by Texas 10-7, and they were TKO'ed by Stanford 12-3 to end the day. They look like the Oregon we've seen in seasons past… except this year they're missing a player like Jesse Shofner to run down ambitious hucks, or a Bethany Kaylor to shut down the toughest matchup. As a result, Oregon is throwing more turns than they can recover from. Hayley Wahlroos is still one of the best players in the division, but even her highlight reel plays can't save Fugue from themselves.
– The #15 California Pie Queens are 2-2 so far this weekend, but their two wins are an upset over the 2-seed Oregon and a 10-7 victory over Western Washington in power pools. Anna Wysen was a fierce competitor in the backfield on Sunday, and Mackensie Smith has had a breakout weekend for California. The Pie Queens were rarely outplayed, but their execution errors gave opponents like Colorado a few too many opportunities to convert.
– #23 Carleton Syzygy has been the tournament's biggest surprise. A new batch of experienced rookies has taken the pressure off Syzygy's veteran players and it's acted like a release valve for their offense. They outlasted Cal 9-8 during pool play, and they nearly took out Texas in the final round of power pools. It wasn't quite enough to earn them a spot in Monday's bracket, but they'll likely feel good about their effort this weekend.
– #5 Western Washington's vices from Saturday followed them into the power pools, where they went winless. Chaos failed to consistently make space for their own vert stack on the field, and their trigger-happy handlers threw a lot of high-risk options when easy resets were available. Maddie Gilbert and Tiffany Phan bore the burden of playmaking during long points, and they played a lot of long points. WWU has a lot of potential — they're young and very skilled — but they have a lot of bad habits to break if they're going to reach it.
Looking Ahead
Quarterfinals
Colorado vs. Oregon
Both teams love to play at a run-and-gun pace, but offensive efficiency will be the key to a win. Colorado can challenge Oregon's handlers and apply pressure downfield, but they'll have to work hard to keep Oregon from stealing back possessions. If Oregon can calibrate their throws and their timing, they stand a much better chance at earning a trip to the semifinals.
Texas vs. Cal
The two teams to upset Oregon this weekend will meet in the other quarterfinal. Cal has a deep playbook of defensive looks, and they'll likely try a few to hamper Shiru Liu and Domenica Sutherland's big throws deep. Texas' high-pressure downfield defense could push Cal into more errors, and Melee is far from a one-trick pony on offense.
Semifinals
UCLA vs. Q1 Winner
Stanford vs. Q2 Winner
News & Notes: Men's
– It's been all business this weekend for the #15 Washington Sundodgers. They are one of two undefeated teams left in La Jolla and they're riding a +27 point differential through four games. On Sunday, Tomás Delgado and Cooper Schumacher cleated up for some minutes — they've been on minutes restrictions alongside Khalif El-Salaam. Delgado caught fire against Utah and was untouchable while cutting. Washington looked solid at Santa Barbara even with their stars absent or limited. With El-Salaam back, Steven Benaloh can get away with firing hanging flick hucks out over a pile of defenders and letting his acrobatic teammate make the play. Clicking like this, no one should want Washington as a semis matchup.
– Three words have defined #5 Colorado Mamabird so far this weekend: strong, fast, and resilient. Top to bottom, Mamabird looks fit, and they have won many matchups in the open field this weekend. Teams that have tried to out-shoot them have not fared well. Much like in the early season last year, they've been susceptible to breaks due to their own poor decisions, but the athleticism and demeanor of this team have never left them out of a game. Mark Rauls has been nigh untouchable. Whoever gets Mamabird in the semifinal tomorrow — Chicago or Utah — will need to build more than a one- or two-point buffer early on, and the legs to maintain it.
– #14 Cal Poly-SLO, who have good reason to think highly of their deep game, entered a shooting war with Colorado and made some mistakes. The slip-ups accounted for an 11-7 loss, their only one of the weekend so far. SLOCORE still plays loose, but they blend their athleticism and their gameplans well. Strong handler defense has been the answer for SLO so far at Prez Day, with Cameron "Wheaties" Wariner highlighting the defensive effort. After their slip up against Colorado, they promptly took a 10-2 lead over Chicago, starting the game with five straight breaks. For SLO, the fire needs to burn throughout the game if they'd like to move beyond their quarterfinal tomorrow.
– Previously unheralded Chicago powered into a 3-0 record before falling apart against Cal Poly-SLO, notching a beauty of a win against a grinding Western Washington on double game point in Sunday's first round of power pool play. Breaks in that game were sparse, but Chicago was repeatedly able to isolate their big targets downfield and work in some good deep attempts. At the same time, they could also sit back and rely on their main backfield cogs to streak up line for scores. Solid athleticism and smart play puts Chicago into a quarterfinal matchup with Utah.
– Relying on a stable full of athletes is a time-tested tradition in college ultimate and Utah made hay so far with energy, height, and length. The towering Josh Zdrodowski accounts for a goal or two per game that would be out of reach of most any other player. Zion Curtain picked up a big win late against Illinois on double game point yesterday to stay alive. Monday morning's quarterfinal against Chicago should be an interesting one: will Utah be able to create defensive pressure against a deliberate Great Lakes contender who can score deep or win backfield battles?
– It's been a dramatic weekend for #21 Western Washington. A coin flip landed them in the top power pools after a 1-1 Saturday and then Dirt lost a tough one to a gritty Chicago team. Western has the discipline to hang with top teams — they stuck around with Colorado until late in their second game on Sunday. Dennis Casio and Zhi Chen have slung their fair share of beautiful passes goals for Western Washington this weekend. Unfortunately, two losses in Sunday play drops Dirt down to consolation play today.
– Speaking of dramatic, #1 Oregon Ego made relatively quick work of their later three games, after taking their gut punch loss yesterday to UCSB and subsequent drop out of power pools. It was a huge wakeup call for Ego, who have bulldozed their way into bracket play in the past at this tournament. Overconfidence sank the O-line on Saturday (and at times Sunday as well), while out-of-position defenders let too many cutters leak into the endzone while trying to bait long throws. Oregon also needs work generating defensive pressure in the open field — the losses of Chris Strub and Will Watkins are in stark relief this weekend. They forge on through consolation play on Monday.
– Credit to UCSB — while Ego's vaunted O-line was busy taking ill-advised shots and just assuming they'd earn breaks back, Black Tide made the statement of the weekend so far by staying efficient and cashing in on almost every opportunity presented by Oregon to earn a four point win over the tournament favorites. It was good enough to get UCSB into power pools, but they went on to lose three straight games since the exciting upset win.
Looking Ahead
Quarterfinals
Cal Poly-SLO vs. Illinois
Illinois might have their hands full trying to limit the talented defending Southwest champs. SLO needs to make sure that they don't create too much work for themselves. Relying on getting the disc back after tough shots downfield isn't always the best strategy against another contending team.
Utah vs. Chicago
Who has the stronger veteran core? Who has more discipline? Both of these teams have displayed moments of excellent poise and hard work thanks to the former this weekend, while in other moments they've lacked the latter. Utah couldn't hang with Washington and Chicago was overwhelmed by SLO on Sunday. Both need their best stuff to push on Monday.
Semifinals
Washington vs. Q1 Winner
Colorado vs. Q2 Winner