The college season begins in earnest!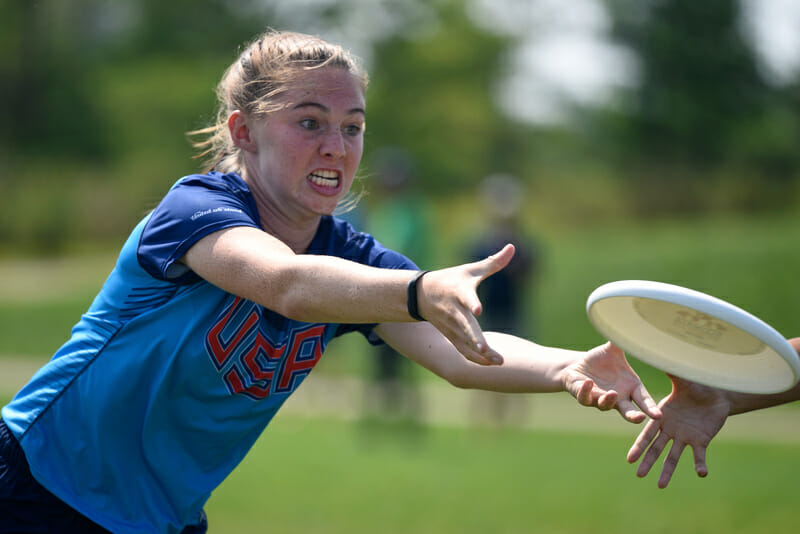 College Update during the 2019 season is presented by Spin Ultimate. Please support the brands that make Ultiworld possible and shop at Spin Ultimate!
During the spring season, we will publish a bite-sized weekly recap of the action across the College Division. This will serve as a supplement to our standard tournament reporting and will offer a high-level look at the latest happenings and the biggest stories of the week.
Want your tournament listed here? Submit a recap of what happened right here.
Women's
Dartmouth and Ohio State Clash at FWC
#1 Dartmouth came out on top at the Florida Winter Classic, going undefeated in pool play and then comfortably winning bracket play all the way up to the final. No. 2 seed at FWC #5 Ohio State forced double game point against the defending national champions in the final game, but lost by a final score of 14-13. Dartmouth went up 5-1 early in the game, but Ohio State marched back into it. After being tied 11-11, the teams went back and forth until Dartmouth came out on top via hard cap.
There were no upsets in bracket play, as all four of the top seeds – Dartmouth, Ohio State, no. 3 Florida, and no. 4 Georgia – made it to the semifinals. However, strong showings by Florida State, UNC Wilmington, and Georgia Tech kept things interesting during bracket play. In particular, Florida State nearly pulled off the upset over #25 Georgia in the quarterfinals, but Athena dug out of an 11-7 hole to win on double game point.
The biggest takeaway from the weekend: Dartmouth showed why they are the back to back national champions, but against elite competition like Ohio State, they are not invincible.
For full coverage of Florida Winter Classic, check out our tournament recap!
Bellingham Invite Closes Northwest Preseason
While unsanctioned, Bellingham Invite still gave us a chance to see the final preparations of some top Northwest squads. The biggest result? #6 British Columbia's emphatic 10-5 victory over #7 Oregon. In fact, #12 Western Washington gave UBC a better game in a 12-10 loss, and fell just short of a comeback versus Oregon, as hardcap stopped game at 11-10. #25 Whitman looked a step below those squads, but dominated UVic 15-4.
D-III Update: Southeast Starters
We're only one week1 and one tournament into the college season, and two D-III women's team have already played each other. Score one for connectivity, even if it's just in-region.
Both North Georgia Aurea and newcomer Florida Tech Flux were in Gainesville for Florida Winter Classic. UNG put together a solid 4-3 record, including a 9-2 victory over Flux and a 9-8 win against South Florida. For their part, Florida Tech did get a victory over Florida B. With some teams in the Women's Startup Project, the Southeast could be on their way to their first ever D-III women's postseason event.
Men's
T-Town Throwdown was moved to this coming weekend, so there were no men's division events this week, so stay tuned for next week!
D-III Update: No competition as of yet.
Looking Ahead
The college season really busts through the gates, with ranked teams in every division taking the field at seven events.
---
Technically, it's more, but nobody played before this past weekend. ↩