For many teams, it was the last chance at earning a bid to Nationals, with the last weekend of the regular season coming up.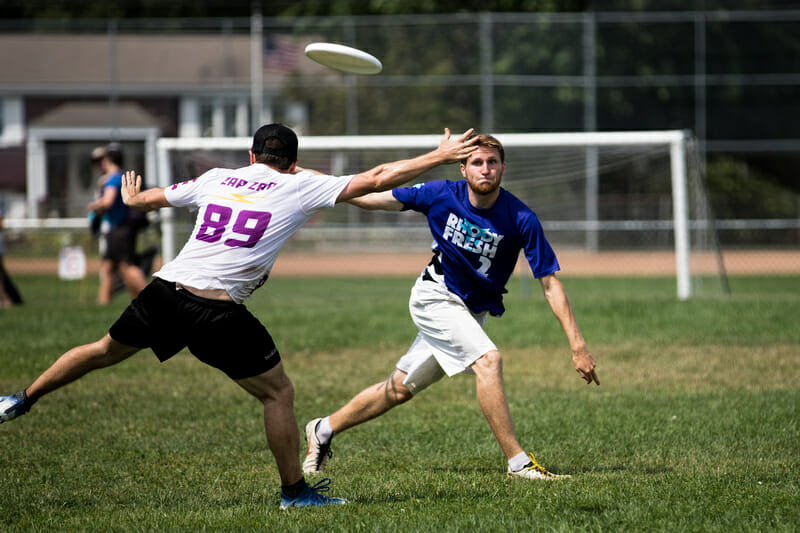 During the 2019 summer and fall season, we will publish a bite-sized weekly recap of the action across the Club Division. This will serve as a supplement to our standard tournament reporting and will offer a high-level look at the latest happenings and the biggest stories of the week. We go through the annals of score reporter so you don't have to!
Want your tournament listed here? Submit a recap of what happened right here. 
—
If this were an email from your club captain, it would contain a 18-point font warning, in bold and highlighter yellow: "READ ME ALL THE WAY THROUGH". Baffling outcomes of high stakes matchups this weekend came at the rankings lists like a wrecking ball. Over the weekend, we had results that moved bids and exploded expectations throughout divisions.
The main highlight of this weekend was a Triple Crown Tour event, the Elite-Select Challenge. It assembled teams in each division who had either finished bottom eight at Nationals last year or came close to earning a trip to San Diego. But  we also had an eye on the successes and failures of our polite, frozen, healthcare-rich northern neighbors. Edmonton hosted Canada's Ultimate Championships, which showcased several top-tier ranked Canadian men's and women's teams; though the event doesn't factor into USAU rankings, gave us some fresh foreshadowing for Canada's potential impact on the USAU series.
Women's Division
Close Games and Upsets Rule Rockford
The team who took home the title didn't go to Nationals last year. They didn't even make a game-to-go to earn Top Select status. But on the Sunday of Elite-Select Challenge, #18 Boston Siege proved they belong in the conversation this season, taking the tournament by storm. They worked their way through #14 Atlanta Ozone, #20 New York BENT, and eventually besting #17 San Diego Wildfire in a narrow 11-10 final.
And though the no. 3 seed taking the tournament made a splash, their competitor deserves some serious credit as well. Wildfire has struggled to establish themselves this season, dropping a game to #8 Raleigh Phoenix by a large margin and losing tight ones to #16 Washington  DC Grit and Ozone at Pro-Elite Challenge in July. But at Elite-Select, they turned that story around. Beyond quick disc movement and athleticism, they won their pool undefeated, exacting revenge against Ozone and beating #13 Texas Showdown decisively. And on Sunday, they beat top seed Phoenix in semis by a hefty three-point margin.
The final between Wildfire and Siege felt like a story of stars versus system. Dena Elimelech continued to be a force for Wildfire, proving her dominance isn't just a college phenomenon. Alexandra Diaz made waves for the San Diego team as well, moving the disc well and opening up the field with opportunistic cuts. But a tight zone by Siege in windy conditions pressured Wildfire to distribute, forcing a fair amount of turns from the quick-moving San Diego team. Eventually, the faceless Boston army managed to start converting on defense, and a few late game breaks forced a double game point finale. Siege started on offense, and marched their army down the field to seal the final 11-10.
Read our full tournament recap here.
6ixers Claim Canadian Ultimate Championships
Some of the most exciting women's teams in the USAU circuit made it to the top of the Canadian Ultimate Championships. We had Quebec Iris, Vancouver Traffic, and Toronto 6ixers running the show. An unexpected win by Iris over Traffic in pool play forced Traffic into 6ixers' side of the bracket, a position no one wants. 6ixers bumped out the Vancouver team, and met Iris in the final. Iris unexpectedly took half, but the 6ixers' D-line, undeterred, came back strong in the second half. Toronto established their momentum and pulled away with two breaks. A 15-11 victory crowned 6ixers as the number one Canadian team and the right to serve as the core of Canada's 2020 WUGC squad.
Read more from the Canadian Ultimate Championships here.
Quick Hits:

At Cooler Classic, Indy Rogue went home with the tournament honors, besting St. Louis Stellar by one point in the final. The nine-team mega-pool on Saturday hinted at those same results, with Indy and Stellar finishing 1-2. Fort Collins Trainwreck won the third-place game, beating out Minneapolis Crackle.
Bid Watch: The Northeast were the big winners of the weekend, with Siege all but cementing a third bid for the region and Iris well within range to hop into the Top 16 should Brute Squad perform to expectations at the Pro Flight Finale. On the other end of the spectrum, Showdown looks like they may end up on the outside looking in for the second year in a row, meaning another win-or-go-home regionals in the South Central.
Men's Division
Condors' Late Run Wins Elite-Select Over Johnny Bravo
The only no. 1 seed at Elite-Select Challenge to win their division was #13 SoCal Condors, who defeated #14 Denver Johnny Bravo in the final on double game point, 11-10. Bravo seized the early advantage, but the relentless Condors kept coming at Bravo until their offense relented. Then their defense rattled off a string of breaks that shifted all of the momentum in Condors' favor. They eventually held on the sudden death point.
#21 Pittsburgh Temper and #12 Portland Rhino Slam! also reached the semifinals with solid runs, winning all of their games prior to losing to Bravo and Condors, respectively. All four sit in comfortable bid positions now, while #16 Atlanta Chain Lightning also did themselves some favors, reaching quarterfinals.
Read our full tournament recap here.
Furious George Claim Canadian Title with Epic Comeback
The three top 20 teams in the Candian Ultimate Championship field finished 1-2-3, as #7 Vancouver Furious George, #8 Toronto GOAT, and #20 Winnipeg General Strike all performed to expectations in Edmonton. With control over the team that will represent Canada at the World Ultimate and Guts Championships on the line, Furious and GOAT place a heavy priority on this tournament, finding themselves squaring off head-to-head in the final. Cross-country teams who rarely get the chance to compete, a big game with so much on the line made for an exciting final. GOAT broke for half, and looked like the likely winner when they managed to break twice to make score 14-12. But Furious George turned up the heat, and scored two consecutive breaks to bring it to double game point. GOAT went risky and overthrew a huck to star Mark Lloyd, then an Andre Gailitis sky helped Furious George take the title over their long-time rivals.
Read more from the Canadian Ultimate Championships here.
Quick Hits
At the Cooler Classic, the St. Paul Swans had a great weekend, winning their pool and beating Madison Mad Men 7-6 to advance to the final. But the Swans fell short once there when Milwaukee MKE thoroughly trounced them 11-2. MKE, who came into the tournament arguably underseeded at no. 7, finished third in their pool on point differential but still marched through the bracket and pulled off the victory with embarrassing ease.
Houston Clutch persisted over Birmingham Ironmen to win the Hoover, Alabama Mudbowl. Clutch moved to 16-3 this season, with just five opponents reaching double digits against them.
On the first of two days of round robin at Hootie on the Hill in Fayetteville, Dallas Glycerine took the top of the pool over no.1 seed Fayetteville Dreadnaught on Saturday. But Sunday flipped those results on their heads, with Dreadnought going undefeated in their second attempt while Glycerine slid to the bottom of the pool.
Bid Watch: The Condors ESC win should finally end the Southwest's multi-year stretch as a one-bid region and give teams beyond Revolver something to play for at Regionals. Just as odd is seeing preseason darling Chicago Machine currently sitting outside the bid window, though they'll have a chance to rectify that situation at the Pro Championships over Labor Day weekend. Chain Lightning currently occupies that spot for the Southeast, in a virtual dead heat with Great Lakes auto-bid earner Cleveland Smokestack; second-order effects from the final two weekends of the regular season could decide who ends up with the bid.
Mixed Division
Meteoric Low-Seed Runs at Elite-Select Challenge Somehow Result in Boston Playing Boston in the Final Anyway
It's not like the mixed division to make things predictable for us, but Elite-Select Challenge was still a real head-scratcher. Early signs of chaos and serious re-organization happened on the first day of the tournament. Only #5 Boston Slow White maintained their top seed in the pool. #4 Denver Love Tractor, seeded first after their decisive Pro-Elite performance, had the worst drop, losing games to New York XIST and #18 Florida Weird. But #11 San Francisco Mischief, the no. 3 seed after a great U.S. Open appearance, also shocked the field by dropping a game to #20 West Chester Loco, 13-10. #14 Boston Wild Card took their pool decisively, going 3-0 in a group where every other competitor put up a 1-2 record.
Loco, Weird, and #12 Durham Toro rose to the top of the 'teams to watch' list this weekend. Weird found their rhythm early in the tournament, playing fast and energetically. As the no. 12 seed, they had nothing to lose, and their breakside risks and deep shots were all lining up perfectly. They made their way to the semis before falling to the eventual winner, Wild Card, 10-6. Loco has been showing glimmers of promise all summer, but this tournament soundly boosted them into the Nationals qualifier conversation. Taking down Mischief and #13 Columbus Cocktails in pool play suggests a high ceiling for this Mid-Atlantic team. It took Toro until the second day to find their energy, but they put up a decisive win against Loco in the bracket before falling to Slow White in their semifinal.
Despite all the runs and the upsets, we got what we didn't really want and didn't really deserve: a final showdown between two great houses of the Boston royalty, Wild Card and Slow White. In a windy contest full of turnovers and missed chances, Wild Card managed to convert more of those Slow White turns into scores. Eventually, their greater persistence and chemistry won them the game. Weather caused shortened rounds, resulting in a low 9-7 final score.
Read our full tournament recap here.
Fruit Bowl Brings Big Names To Seattle
While Rockford hosted the largest crop of ranked teams on the weekend, Northwest Fruit Bowl showcased the Northwest's abundance of mixed wealth, with #2 Seattle Mixtape and #9 Seattle BFG in attendance along with many other regional contenders. The final unsurprisingly came down to another battle between these two big names. Just when we thought Mixtape had proven themselves the better team (having bested BFG 15-10 at U.S. Open), the 2018 WUCC champs pulled off a 13-11 upset win and took home the fruity crown. Seattle Birdfruit, who won the tournament in 2018, lost out early in a close prequarters contest with Los Angeles Lotus. Former national powerhouse Ames' The Chad Larson Experience made a surprise run to semifinals and gave Mixtape an impressive test in a 13-11 loss. Dallas Public Enemy made an impact as well, reaching the semis with wins over Denver Mesteno and #19 Montana Moondog.
Quick Hits:
In an unusually tame mixed tournament, Omaha Woodwork and  Ann Arbor Hybrid fought their way to the final at Cooler Classic. The third seed Hybrid (who had been cleaning the floor with their quarters and semis matchups all day) managed a 9-7 win over no.2 seed Woodwork. Top seed #21 St. Louis Chalice lost out to Omaha in semis, though by a narrow one-point margin.
At the Mudbowl, Charlotte Seoulmates won 13-8 against Nashville Hairy Otter to take home the title.
Mansfield Darkwing dominated Chowdafest with a 13-9 win against surprise finalist New York City Eat Lightning. Montclair's The Bandits took third in a closely contested battle against NYC's The Feminists. Shout out to Chowdafests' unconventional field names, "Road", "Middle", "Tree", and "Fence". The people want to know: was it better than numbers?
The final of Hootie on the Hill between Tulsa Boomtown and Memphis STAX never actually came to fruition. After working their way through the bracket, the final was canceled due to a thunderstorm. The matchup had happened once in pool play, and Boomtown came away with the win 13-10. But who knows what would have happened if given the chance for a rematch
Despite coming in seeded fifth, the Los Gatos Gatos went 4-0 in the Sanctionals round-robin in Fremont, California. Berkeley DR gave them their closest game, with a final score of 7-6.
Bid Watch: As discussed in the recap, Love Tractor's horrendous weekend in Rockford was enough to drop them all the way from the top 5 to outside the bid cutoff. They'll have a chance to make amends at the Pro Championships, with plenty of bid points available to them against the nation's top teams. The current beneficiaries are the Southeast who sit at an improbable three bids, thanks to the heroics of Weird and Toro at ESC. It seems likely they will fall down to two — even still a boon after several years with just one.
Looking Ahead
Where did the summer go? The last weekend of classic competition is coming in hot, and we have a slew of last-minute tournaments coming up that could have serious impacts for lower-ranked teams' regionals bids.