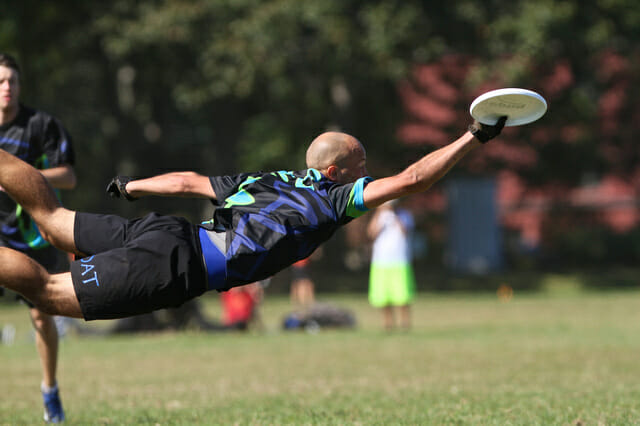 Here's a chance to talk Regionals, present and past. We've got a huge slate of games this weekend — be sure to check out all of the previews below to get up to speed on the games from this weekend. But we also wanted to create place for general discussion, including sharing some great stories from Regionals past. There are so many classic games, even in just the past five years. Tell us your stories! What are some of the great moments you watched (or played in) at Regionals? And what are you looking forward to this weekend?
Here are some stories I have:
– The 2012 Northeast Regional final between Ironside and GOAT was such a superb game. GOAT led for much of the game, and was up 14-12 with the disc to win on offense. An offensive foul against GOAT's Jeff Lindquist was upheld by the observer (turnover!) on what looked like the game-winning catch. Ironside got the break. Then another. Boston closed out a 16-14 win with a 5-0 to finish it. Epic.
– I only caught the second half of the 2013 Northeast game-to-go between PoNY and Garuda. I planned to just watch, as I anticipated a comfortable PoNY win, but I was compelled to turn on the camera midway through the half, because Garuda was on fire. If you haven't watched this tape, you must check it out. Both teams just played their hearts out. Garuda received on double game point and had a perfect shot to their at-the-time relative unknown big man, Jeff Babbitt, in the endzone. He dropped it. PoNY worked it down for the breathtaking win and bid to Nationals. Babbitt is again on an underdog team this year — Dark or Light. Can you imagine the epic redemption story??
– The entire 2012 Mid-Atlantic Regional was wild. But the final between Philadelphia Southpaw and Washington DC Truck Stop, two incredibly balanced teams, was really something. From a bizarre moment in which a Truck player came in on stall 7 to a Southpaw ejection to a shocking no call late in the game, drama was everywhere.
– I wasn't at this game, but the 2007 Mid-Atlantic game between Philadelphia's Pike and North Carolina's Los was an instant classic. Los had a 14-9 lead, and, well, you can watch what happened in its grainy glory. Pike just broke, then broke, then broke again on their way to a 16-15 double game point win.
Please share some of your own below!
Previews
Men's
Women's
Mixed