See who lands at #1!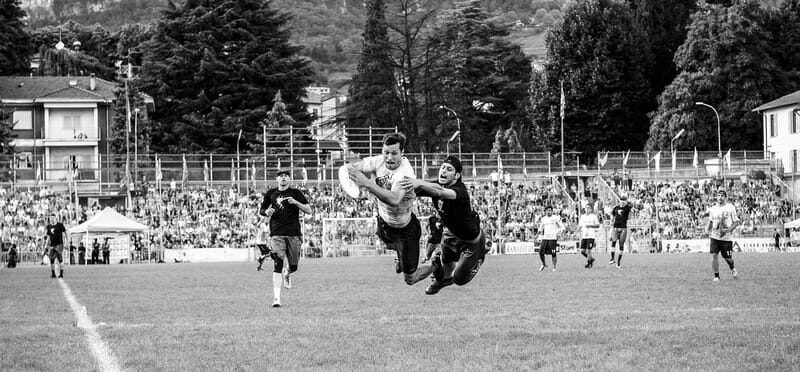 With the US Open beginning today it's time to take a look at the preseason power rankings for the 2016 club season. Considering the roster movements, up and coming teams, and sleepers waiting in the shadows, this season is looking like one of the best in years. Here's our first look at the competition.
You can always see the latest Club Power Rankings right here.
Men's Division
1. San Francisco Revolver: The perennial powerhouse Revolver remains the team to beat and the class of the men's division. San Francisco will sit at the number one spot until another team can knock them off. With their elite returners and stellar incoming class headlined by George Stubbs, will anyone be able to?
2. Seattle Sockeye: Seattle had arguably the best offseason by picking up Trent Dillon, Nick Stuart, Simon Montague, and Husayn Carnegie. Adding their athleticism and skill sets to a national finalist from the year before and Sockeye is instantly a legitimate challenger for the crown.
3. Boston Ironside: Saying this almost seems like a cliché at this point but Ironside is bringing a revamped roster into the season with high hopes and will be a contender come October. The return of Kurt Gibson, Jeff Graham, and Russell Wallack add real punch to last year's semis-level team. But no amount of wins at the US Open or any other tournament will mean anything to the crew if they can't capture the elusive title in Rockford.
4. Washington D.C. Truck Stop: While a quarterfinals finish at Nationals may have looked disappointing on paper, Truck Stop was one of the best teams in the country last year and nearly knocked off Revolver in that quarters matchup. D.C. looks to build off their that performance this season. Alan Kolick, Tom Doi, and Peter Prial are fresh off winning gold in London and are looking to continue their winning streak with Truck.
5. Chicago Machine: After breaking into the semifinals for the first time in club history, Machine comes into this season with sky high expectations. They'll have major competition to return to that level but look for familiar names like Jonathan "Goose" Helton, AJ Nelson, and Alex Evangelides (back to the team in 2016) to make plays.
6. Raleigh Ring of Fire: A mix of young talent and superior coaching makes Ring of Fire a very dangerous team going into the 2016 campaign. A fiery team with plenty of talent and passion to compete with anyone in the country, this team, bolstered by an extended season with the AUDL's Raleigh Flyers, is ready to take on all challengers.
7. Madison Club: Madison has been waiting to break into the top tier for years. With an exceptionally strong AUDL franchise to build a team around this year could prove to be the breakout season for Mad Club. With a plethora of athletes, Madison will push all but the most elite teams to their limit.
8. Denver Johnny Bravo: Bravo is losing many of its stars from last season and may be hard pressed to perform up its mile high expectations. With the departure of Ryan Farrell, Nick Lance, and Ben Snell (among many others), it will fall to Jimmy Mickle and Henry Konker to carry the team.
9. Toronto GOAT: Since making the semifinals in 2014, GOAT fell back down to Earth last year after Mark Lloyd tore his ACL and missed the full season. Lloyd was not his former self at Worlds earlier this month and will need to return to form if GOAT is to challenge for a title again.
10. Portland Rhino: Rhino fell short of expectations last year after clinching the Northwest regional championship over Seattle. Rhino found themselves on the outside looking in after falling to the same Sockeye team in prequarters. If Rhino mainstays like Dylan Freechild can come together with the large Portland Stags contingent, this team has the athleticism and dynamic play making ability to be a contender.
11. Michigan High Five: Coming off their most successful season ever, High Five has a chance to continue to grow as they return much of the same roster as last year. Led by the jaw dropping throwing talent of Johnny Bansfield, this team is ready to take a crack at the competition.
12. Philadelphia Patrol: Patrol is looking to build off of an MLU season that finds the Spinners in the MLU Championship for the first time. Having Nationals experience from last season will be a huge asset for them down the stretch.
13. Austin Doublewide: Austin's elite club team has been in a state of flux with every year bringing new faces and new talent to Texas. But with just as much talent leaving, it is hard to get an early season read on this team. Unfortunately for Doublewide, the top end talent amassed for the Dallas Roughnecks has not translated into extensive talent pickup for Doublewide.
14. New York PoNY: New York's top team missed Nationals last year after GOAT stole their bid, but they are prepared to get back to Nationals this year. Hometown heroes Jack Marsh and Billy Katz hold the reins with additions Isaac Saul and Ryan Drost looking to make an immediate impact.
15. Florida United: Bringing a small roster to the US Open, Florida United will need to earn a bid to be considered a contender. But come Regionals this fiery team would love to play spoiler and has the potential to get hot at anytime.
16. Kansas City Prairie Fire: Jay Froude and Abe Coffin led Prairie Fire to the Pro Flight at Nationals after the team went 0-4 in pool play and then prequarters. But can they stack up with the top talent at the elite tournaments?
17. San Francisco Guerrilla: An intriguing new team from the Bay Area is attempting to consolidate the talent outside of Revolver. It will be telling how they perform this weekend at the US Open.
18. Minneapolis Sub Zero: With the departure of offensive line studs Nick Stuart and Simon Montague, Sub will be in desperate need of direction and consistency on their O line.
19. Atlanta Chain Lightning: This legendary program has continued to lose some of their most dynamic playmakers after Jay Clark left this offseason. Chain will need to rely on their young guys to get them back to Nationals.
20. Vancouver Furious George: The legendary Vancouver program has disappointed in recent years but with a young team and eyes to the future, it may soon be time for those investments to start yielding returns. Furious looks to rebuild towards Nationals in 2016.
21. Pittsburgh Temper
22. Montreal Mockingbird
23. Boston Dig
24. Durham Turbine
25. Houston H.I.P.
Women's Division
Editor's Note: A previous version of this article excluded San Diego Wildfire do to oversight, which has since been adjusted.
1. Boston Brute Squad: The reigning champions still look like a dominant force with a balance of stars, strong role players, leadership, and a good system. They are very dangerous on both sides of the disc. How will exceptional rookie defenders like Lauren Sadler and Julianna Werffeli slot in? Probably just fine.
2. Seattle Riot: After an insane rookie class last season, Riot continues to bring in only the best. This time, it's only former Callahan winner Cassie Swafford and others with plenty of elite club experience already to their name. There hasn't been a lot of turnover, so expect a refined and focused team that matches their talent.
3. San Francisco Fury: Unsurprisingly, Fury's new additions and lack of major turnover will keep them in title contention once again. Anna Nazarov and Claire Desmond can take over games, and some of their teammates have nearly as many tools. Brute Squad's Magon Liu is one of a few great rookies joining the team this season.
4. Denver Molly Brown: Recruiting seemed to have been done mostly in house for Molly Brown, whose rookies are mostly former players and practice players. The exception is former Fury Lisa Pitcaithley, adding another tall downfield threat to pair with Tina Snodgrass, Sally Lambert, and Lindsey Cross. Denver is highly talented and energetic.
5. Vancouver Traffic: While their roster hasn't been announced, you can't count out a perennial challenger with the likes of Catherine Hui, Kira Frew, and Rachel Moens. The development of Vancouver women's in the stages prior to Traffic is infusing them with more up and coming talent.
6. Bay Area Nightlock: Some of the splashy acquisitions of the offseason landed with Nightlock this season. Bethany Kaylor (Schwa) looks likely to join, and Sabrina Fong (Fury) has already come aboard, along with a slew of Bay Area mixed contributors. Coupled with minimal attrition and constant growth, expect another strong year from Nightlock.
7. Washington D.C. Scandal: Falling just a goal short of another semifinals appearance, this year's Scandal team faces many of the same challenges as last year's. They have a lot of turnover, including some key players like Alika Johnston and Allison Maddux. That likely means more weight on their stars and a regular season of developing their supporting cast.
8. Raleigh Phoenix: While losing Cassie Swafford definitely hurts, Phoenix had a nice recruiting season, garnering throwers like Erynn Schroeder and Kate Cobelens. Their young core has been getting stronger and they look like the top team in the Southeast.
9. Madison Heist: Losing a star like Robyn Wiseman would devastate most teams, but Heist was fortunate enough to have get an old star back when Georgia Bosscher returned. They lost some of their other offensive firepower and will need to develop new roles over the course of the season.
10. Atlanta Ozone: The youth movement in Atlanta continues, as legends Kate Wilson and Angela Lin retire, but new youth athletes step up. There isn't a shortage of targets for Katherine Wooten and Sophie Darch, but it'll be interesting to see how this team comes together.
11. Texas Showdown: The Forth twins and the rest of Showdown's core are back again for another round, and they'll be joined by a crop composed mostly of Texas Melee's top end. There's potential for Showdown to move up, starting with the US Open.
12. San Diego Wildfire: They will look a little different this year after a lot of turnover – 11 additions and 14 players leaving – and that means they should need an adjustment period. Of course, they did surprise in early season play at Eugene Solstice and added a lot of young talent with quality club experience.
13. Toronto 6ixers: The closest thing to a replacement for Capitals, 6ixers has plenty of talent and would love to start out their new tenure with a great showing. Sarah Bobak and Jordan Meron will likely lead the way.
14. Seattle Underground: There's a lot of turnover for the youthful Underground roster, but their strong rookie class definitely outweighs their losses. They are adding some experience and a lot of athleticism, making them a dangerous threat in the Northwest.
15. Quebec Iris: Not a ton of turnover for Iris, meaning their offense, focused heavily on Marie Genest connecting with Sophie Dagenais, is likely to be cohesive from early on.
16. Portland Schwa: A lot of Schwa's top throwers won't be rejoining them this year, leaving a pretty large hole in their backfield. While their incoming class is solid, including Adrienne Bovee and Chelsea Twohig, the team will need to invest a lot of time into building chemistry.
17. New York Bent: Losing some of their most experienced all around threats will hurt Bent. That means they'll need players like Sophie Hulbert and Allison Kahn to continue to develop on their strong seasons in 2015.
18. Philly Green Means Go: It'll be a challenge for GMG to bounce back from losing their best deep thrower, Nikki Ross, and veteran cutting threat Katie Ryan in the same season. This could be a bit of a rebuild in Philly.
19. Chicago Nemesis: A lot of the central players for Nemesis return, including Sara Miller and Jaqueline Jarik. Turnover reduction will likely be a central focus.
20. Boston Siege: There was surprisingly little roster churn for Siege, an advantage they'll be keen to lean on early. They are a sleeper in the Northeast.
21. Columbus Rival: While their roster isn't official, the combination of Michigan and Ohio players has the potential to deliver impressive results if it can come together.
22. Vancouver Sneaky House Hippos
23. Los Angeles Viva
24. Minneapolis Pop
25. Birmingham Steel
Mixed Division
1. Minneapolis Drag'n Thrust: The three-time defending champs are returning most of last year's squad, sport three players and a coach who represented the US at Worlds this June, and have won every meaningful mixed club title for the past three years. No question on where they stand. They retain the top spot until someone takes it from them.
2. Boston Slow White: Slow may not have consistently looked like a title threat last year, but showed an impressive top-gear in their run to last year's national semifinal and look even stronger headed into 2016, having bolstered their attack with Ultiworld FOTY Tannor Johnson. India Stubbs is a big loss, but tempered by the return of Vicki Chang and Lexi Zalk. In last weekend's Boston Invite, they mostly dominated their northeast regional competition to kick off their regular season.
3. Seattle Mixtape: After two straight finals appearances, Mixtape are hoping their third season will finally end in gold. The Seattle squad had multiple teammates making impact statements in the college ranks this past spring, as both Claire Revere and Khalif El-Salaam just keep getting better and they add Carleton standout Jesse Bolton. Mixtape is bringing a small squad to Rhode Island this weekend so a strong showing would be extra impressive.
4. San Francisco Blackbird: Blackbird was a Jay Drescher endzone layout D away from knocking off the champs in last season's prequarters, then rolled through the consolation bracket to retain their Pro Flight status. Mac Taylor remains perhaps the biggest asset in the division and new cornerstones like Lauren Casey make for a hugely talented and experienced team with realistic aspirations of returning to their title-winning ways.
5. Iowa Chad Larson Experience: In February, it was unclear if CLX would even exists this season. But the indomitable Kevin Seiler was able to coax some folks out of retirement and convince a few others to trade alliances — like snagging Mike Peterson from Drag'N. Now CLX looks like they may have their strongest roster in years, with a loads of experienced firepower sending hucks up the field to a stable of young athletes ready to chase them down.
6. San Francisco Polar Bears: While they may have lost some top-end male talent to new Bay Area men's team Guerrilla, the Polar Bears have only strengthened their already deep female roster for 2016, adding All Star Tour alum Margot "Radar" Stert and Marlena Hartman-Filson from American BBQ. Last year's semifinalists are always among the most professional and prepared teams in the division, helping them stay near the top of the perpetually dominant Bay Area mixed scene.
7. New York Metro North: After surprising some people with their performance at last year's Club Nationals, Metro North have a very good chance of solidifying their Pro Flight status with another strong showing this season. This squad has consolidated the talent of defunct Nationals qualifiers District 5 and Bashing Piñatas, putting together a deep and experienced roster that knows how to win together. Bringing back WUGC competitor Chris Mazur and leader John Korber only raises their ceiling.
8. Chicago UPA: Last year's Nationals cinderella story, The UPA will be more than just a Series team this year, their hands forced by the Triple Crown Tour guidelines. This team is loaded with veteran talent, so while they may not travel or compete much during the regular season, they are a threat to win any tournament they play in. Anyone who writes them off as a one-year fluke does so at their peril.
9. Boston Wild Card: Wild Card has seen a good amount of roster turnover heading into 2016, but still have talent and a scrappy, hard-working personality. While rarely standing out, Ian Engler quietly goes about his job as one of the most complete players in the division. They came up short against Slow White and Metro North at last weekend's Boston Invite as they learn how to work in their new teammates.
10. Los Angeles 7 Figures: Good roster continuity and a dominant performance at Cal States sets up a strong potential season for 7 Figures. UCLA star Han "Heist" Chen should be a takeover player this season.
11. Philadelphia AMP: The faces may change, but AMP just never goes away. A mainstay in the division with a streak of ten straight Nationals appearances, the Philadelphia squad continues to get it done with tough, hard-nosed defense. Raha Mozaffari got the recognition she deserved by earning her spot on the US National Mixed team this summer.
12. Washington DC Ambiguous Grey: Ambiguous Grey loses their 2nd Team All Club Performer Sam McClellan back to Scandal, but they were far more than a one person team. Their women remain a strength.
13. Atlanta Bucket: Another perpetual Nationals-qualifier, Bucket is always able to scrap together a strong roster based on the talent available in Atlanta. This year they added Auburn superstar Ryan Landry to the mix and rolled through a hometown tournament earlier this month.
14. Toronto Union: While they did not compete in last year's USAU Series, the 2015 Canadian runners-up spent much of last season ranked inside the Top 10 and would almost certainly have earned a bid to Nationals had they chosen to compete. They will be headed to Rhode Island looking to improve on last year's 5th place finish at the US Open.
15. San Francisco Mischief: Mischief were hit hard by player losses this offseason, with several men opting to move to Guerrilla and defensive weapon Sharon Lin heading to Fury. After heartbreakingly missing out on Nationals last year when the region only earned two bids, the 2006 champs will be looking to get back to the Big Show.
16. Boulder Love Tractor: Love Tractor finally made the push to Nationals last season out of the South Central and will look to keep that momentum going this season. They won Summer Solstice two weeks back.
17. Madison NOISE: NOISE made a surprise push to Nationals last year and were competitive there despite winning just one game. Sitting in the Elite Flight this year could help ensure long term success for them as they get quality competition all season, starting at the US Open.
18. Austin Cosa Nostra: Cosa had a disappointing 2015 when they failed to make Nationals. Cosa got off to a strong start to this season, though, with a dominant performance at Texas 2 Finger.
19. San Diego Dorado: Dorado loses their best player Tommy Li (also a cofounder) after he moved to Seattle. But expect their stop-it-if-you-can deep game to keep cooking in 2016.
20. Pittsburgh Alloy: Formerly known as Muff'N Men, Alloy earned a bid last year but couldn't get to Nationals. Can they make the push this season with new branding?
21. Asheville Cahoots
22. Missoula Mental Toss Flycoons
23. Cincinnati Steamboat
24. Seattle Birdfruit
25. San Francisco American BBQ