Almost into the top 10!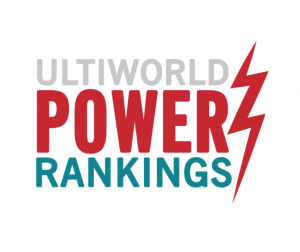 We are excited to present the 2018 preseason College Power Rankings! These rankings are based holistically on a number of factors: last year's performance, roster changes, conversations with coaches and captains, fall results, and assorted other factors.
For this years's rankings, we'll be publishing five teams a day until we hit the top five teams in each division continuing today with teams #15-11; see teams #25-21 here, teams #20-16 here, and come back tomorrow for teams #10-6!
Men's Division I
15. Colorado Mamabird (2017 results: 2nd in South Central, T-17th at Nationals)
If you could invest in the college team stock market, everyone would want to own some Colorado stock. Consistent dividends, almost guaranteed growth — a real blue chip option. Sure, it's not Bitcoin–skyrocketing returns aren't likely–but you know the team will continue to play high quality ultimate year in and year out. This year is no different. While they lose some key playmakers like Mark Rauls, Wes Chow, Jeremy Harker, and Erik Hotaling, they will restock the pond from one of the best B-teams in the country. Alex Tatum is back and sophomore Quinn Finer should continue to improve into one of the team's top players.
14. Brigham Young CHI (2017 results: Did not compete in the Series)
On paper, BYU looked like a team that was poised to drop off. After a very strong 2017 season, CHI graduated a huge portion of their most productive players, including Jason McKeen and Bob Bodily. But a strong showing at MLC — wins over Texas and Colorado and a competitive game against Carleton — suggests that the team may be resilient to its turnover. Seokhee Burningham is back alongside Matt Ricks and Sean Connole, but the team is much younger and doesn't have quite the same ceiling as it did a year ago.
13. Stanford Bloodthirsty (2017 results: 1st in Southwest, T-13th at Nationals)
After a peak year, Stanford has some holes to fill as they lose the talented Elliott Chartock and Nolan Walsh. Luckily, they have some of the region's best players to step up in 2017 Breakout Player of the Year Gabe Hernandez and junior Nick Hirning. The team may lack some of the throwing skill it had last year, particularly down the bench. But expect continued strong defense and smart playmaking from one of the Southwest's best.
12. Cal Poly SLO (2017 results: 2nd in Southwest, T-9th at Nationals)
While Cal Poly lost to Stanford in the Sean Ryan final, we expect a big season from the team after a solid Nationals performance. Although the team loses 2017 Defensive Player of the Year Cameron Wariner, they bring back Nate Pettyjohn, Ian Sweeney, and Dillon Whited, among others. SLO ran fully open lines at Sean Ryan and still performed well, foreshadowing a big upcoming year. How will the coaching change affect them? Peter Raines leaves the team and is the new assistant coach for Colorado State as Kristie Merkousko and Cody Mills take over in San Luis Obispo.
11. Pittsburgh En Sabah Nur (2017 results: 1st in Ohio Valley, T-5th at Nationals)
Last season, we overlooked just how good the Pittsburgh D-line was going to be, anchored by Sam VanDusen and Carl Morgenstern. But with those two — and some key O-line handlers — departing this year, there are some big shoes to fill. Relative to their pedigree, Pitt struggled at CCC, finishing fourth in their pool with losses to Emory and NC State. They bounced back with a 3-0 Sunday but didn't leave with any resounding wins. Expect them to improve a lot. Mike Ing is going to be one of the country's best players this season, and Dylan Best and Jonah Wisch are back.
Women's Division I
15. Virginia Hydra (2017 results: 1st in Atlantic Coast, T-5th at Nationals)
Change is afoot in Charlottesville. A lot of the team's veteran presence is gone, as is head coach David Allison, who has guided the program to be one of the steadiest in the game. But we have doubted UVA before and they've demonstrated their resilience. Laura Landis is back to anchor the top end, and she'll turn to teammates like Jianna Torre and Ellie Wood to step up into bigger roles. But this will be the first time in a long time they won't be the favorites to win the Atlantic Coast, where they enjoy a six year streak as regional champions.
14. Western Washington Chaos (2017 results: Did not compete in the Series)
It'll be great to see WWU return to the field after the team missed competition last season due to a violation of school policies. Back on the field, Maddie Gilbert is a potential Player of the Year, and Samiya Ismail is becoming a more polished handler every season. Chaos benefits from a continuous stream of young talent, and they will add a few quality youth players again this year. That depth may be the difference-maker.
13. Tufts Ewo (2017 results: 2nd in New England, T-17th at Nationals)
Tufts finally returned to Nationals in 2017. They may have graduated their star duo of Jojo Emerson and Rachel Kramer, but there's plenty left in the cupboard in Somerville. Megan Wilson, Maeve O'Sullivan, and Valerie Willocq give them handling options, while a developing sophomore class will give them quality downfield players and defensive depth. EWo is a well-coached outfit, and their experience as a Nationals team will likely only fortify their tactical complexity and execution.
12. Ohio State Fever (2017 results: 2nd in Ohio Valley, T-13th at Nationals)
It was another solid season for Fever in 2017, culminating in another trip to Nationals. This year's team could take a step forward, battling for the team's first quarterfinal appearance since their 2014 National Championship. Sadie Jezierski is a bonafide playmaker, and she'll have Alora Reiff behind the disc with her, and Cara Sieber and Emily Barrett to target downfield. Expect an effective group of athletic cutters down the roster.
11. UC San Diego Psychos (2017 results: 4th in Southwest, T-13th at Nationals)
One of the outfits drawing then most buzz this preseason is UCSD, fresh off getting back to Nationals for the first time in 10 years. Dena Elimelech is ready to be a star in the division, and the Psychcos have a returner-heavy roster that isn't intimidated by any team. They looked great in the fall, dominating nearly everyone they faced. Keep an eye on the early west coast events, where we'll get a real sense of UCSD's potential this season.
Men's Division III
15. Army West Point (2017 finish: 1st in Metro East, 10th at Nationals)
Last year, the Metro East was wide open, and Army West Point rose out of the chaos to make Nationals. Army didn't make it out of pool play, but they were more competitive than expected and picked up a couple of strong wins. The loss of Ian Betzel will hurt, but Army return 17 of the 20 players who made the trip to Lexington last spring, and Montana Bilger and Zachary Riemer should be ready to replace Betzel's production.
14. UNC Asheville Bulldogs (2017 finish: 3rd in Atlantic Coast, T-11th at Nationals)
Two years ago, the Bulldogs made their first trip to Nationals, and we expected them to struggle in 2017 after losing star handler Clint McSherry. After UNCA made the trip to Lexington last year, we're not going to make the same mistake again. Despite losing key players Chad Gerber and Charlie Bridger III in 2017, the Bulldogs should be right back in contention for a return to Nationals yet again. Coach Kyle Silva has established a program at this point, and sophomore Dean Merritt and senior Jacob Warshauer will keep the Bulldogs' success going.
13. John Brown Ironfist (2017 finish: 3rd in South Central, T-5th at Nationals)
Last year was a banner year for John Brown, notching a signature regular season win over Texas and making the quarterfinals of Nationals for the first time in program history. While Ironfirst will certainly miss 2017 1st Team All-American Ethan Penner, they were far from a one-man show and should be back in contention for another quarterfinals birth. If he can become more efficient with the disc, look for senior Grant Bruner to emerge as a potential dark horse for POTY.
12. Shippensburg Scapegoats (2017 Finish: 3rd in Ohio Valley)
Last year, Shippensburg made the decision to take the D-III route for the first time and immediately became big time players in the division. A poor early season showing at Easterns Qualifier ruined their chances of earning a strength bid, and they came up just short against Franciscan at Regionals. With little turnover from last season, the Scapegoats enter 2018 as the favorites to win the Ohio Valley. Senior handler Zach Sands is quietly one of the best throwers in the division, and a trip to Nationals could serve as his coming out party to the rest of the country.
11. Wheaton Mastodons (2017 Finish: 1st in Great Lakes, T-7th at Nationals)
In 2016, Wheaton came completely out of nowhere to earn a strength bid for the Great Lakes and retain that bid to earn a trip to Nationals. In 2017, the Mastodons proved that the previous year wasn't a fluke, qualifying for Nationals again and earning a trip to the quarterfinals. Wheaton enters 2018 looking like the class of the Great Lakes, and should be in contention for another run to quarters. Laramie Aspegren made some of the most spectacular blocks of the tournament at Nationals; if he takes on a larger load offensively this year, he could work his way into the POTY conversation.
Women's Division III
15. John Brown Savage Skies (2017 finish: 2nd in South Central)
Savage Skies began the 2017-2018 season by going 4-2 at Just Plain Nasty, showing some grit in the number of close wins they were able secure in pool play. While they did not qualify for Nationals last season, falling short behind Truman State in a one bid region, they could be in a strong position to earn another bid for the region and make their way to Rockford in 2018.
14. Valparaiso Chicks Hucking Discs (2017 finish: 3rd (Tied) at Nationals)
Since the inaugural D-III Nationals championship in 2010, Valparaiso's Chicks Hucking Discs has earned the bid each year for the Great Lakes. Given the program's consistent performance, they seem likely to overcome high turnover from last season in order to keep their bid streak alive, especially with the return of 2017's rookie class, the largest ever seen by the program.
13. Wesleyan Vicious Circles (2017 finish: 2nd at Nationals)
After their first Nationals appearance in 2016, Vicious Circles earned a second place finish in 2017, losing a hard-fought game against Carleton Eclipse. 2018 sees Wesleyan returning approximately half of their Nationals roster, with it still too early to tell if their losses this fall–including one to regional rival Skidmore–are indicative of this program's potential for 2018, or if the Vicious Circles will prove they are here to stay as a top team in the Metro East.
12. SUNY-Geneseo Escargot (2017 finish: 2nd in Metro East)
As Wesleyan played for the National championship in Lexington, back home SUNY-Geneseo players were reminded that they had missed out on the lone Metro East berth by one point in the regional final. For those players, remembering the dream of "what if" could turn into a Nationals reality in 2018, benefited by a weaker Wesleyan team and the active "hypeline" sideline SUNY-Geneseo is becoming known for in the division.
11. Skidmore Wombats (2017 finish: 5th in Metro East)
Although the Wombats didn't end the 2017 season with the best of results, falling behind Wesleyan, SUNY-Geneseo, SUNY-Oneonta, and Rensselaer Polytech at Regionals, this fall has been an entirely different story. Starting out red hot, Skidmore has taken home fall wins against Bentley, Connecticut College, and most importantly, Wesleyan. Although fall is certainly a time for improvement for players of all skill levels in the college game (especially in D-III), this trio of wins puts Skidmore on the map as serious regional and national contenders to watch in the spring.
Five more teams will be revealed each day this week!