We're into the top 10!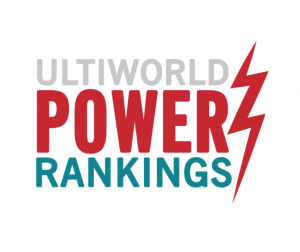 We are excited to present the 2018 preseason College Power Rankings! These rankings are based holistically on a number of factors: last year's performance, roster changes, conversations with coaches and captains, fall results, and assorted other factors.
For this years's rankings, we'll be publishing five teams a day until we hit the top five teams in each division continuing today with teams #15-11; see teams #25-21 here, teams #20-16 here, teams #15-11 here, and come back tomorrow for the final five teams in each division!
Men's Division I
10. Auburn Aetos (2017 results: 1st in Southeast, T-9th at Nationals)
You think Hank Womble is going to let this team's energy drop in 2018? Hell no. Auburn was clearly among the best teams at CCC, led by Marty Newman, Eric Sjostrom, and Michael Strobel. With strong recruits (the Paideia twins, Luke and Sam Smith) and only a couple of key departures, the team's ceiling looks higher than ever. Can they thrive without a coach?
9. Colorado State Hibida (2017 results: 1st in South Central, T-17th at Nationals)
Cody Spicer is back, baby! With almost no turnover and an early POTY shortlister in Spicer, Colorado State is poised for a big season. Their fall results weren't exactly inspiring (they lost to Minnesota, Wisconsin, Texas A&M, and Iowa at MLC), but they were spreading out the PT and focusing purely on development. But when lines tighten up in the Spring, expect to see a dangerous team. Jake Marrapode and Jake Servaty will be key contributors. How much the team will have learned from their disappointing 2017 Nationals appearance remains to be seen.
8. UNC Wilmington Seamen (2017 results: 3rd in Atlantic Coast, 2nd at Nationals)
It's fair to say that UNC Wilmington's ceiling is a lot lower this season as they lose two huge talents in Jack Williams and JD Hastings. But Wilmington has always done a great job of bringing up the next batch of superstar athletes. This year, look for Willie Stewart, fresh off a club season with Dig, to be a rock in the backfield as Kevin Mateer and Kyle Warfel step into even bigger roles. The superb sophomores Matt Ellis and Connor Russell are also players to watch.
7. Wisconsin Hodags (2017 results: 3rd in North Central, T-5th at Nationals)
Wisconsin loses their two biggest contributors in 2018, Avery Johnson and Ross Barker, but retains plenty of firepower, including Nick Vogt, Tommy Gallagher, Chris Wilen, and David Yu. Last year, the team was fifth-year heavy, though, so they will have lots of roles to fill. Things got off to a good start at MLC, where they beat Minnesota, Texas A&M, and Colorado State in pool play before taking a surprise loss to LSU in prequarters. Where will Wisco measure up in the stacked North Central?
6. UMass ZooDisc (2017 results: 1st in New England, T-3rd at Nationals)
It's not easy to replace the Player of the Year, and UMass found that out the hard way at CCC. With Ben Sadok departed, the team looked uncomfortable on offense at times, especially against the smart, switchy Michigan defense. It will take some time for the team to gel, but they should get there: they're too talented not to. Tannor Johnson is coming off of a tremendous club season, Brett Gramann will be a steady backfield steward, and Chris Bartoli and Pat Barron can rule the skies.
Women's Division I
10. Pittsburgh Danger (2017 results: 1st in Ohio Valley, T-17th at Nationals)
Last season was supposed to be Pitt's year. When they fumbled a few times during the regular season, we said they just needed more time. When they were upset by West Chester at their Conference Championships, we said they just needed more urgency. But when they struggled at Nationals, it was finally just a disappointment. While they lose Linda Morse and some other key vets, they bring back Carolyn Normile, a game-changing thrower who will be in the POTY conversation, for a 5th year. Caterina Pagano, Abby Bomberger, and Jessie Sun will take on bigger roles, and Danger continues to recruit well. But the questions about whether or not they can deliver remain.
9. North Carolina Pleiades (2017 results: 3rd in Atlantic Coast, T-13th at Nationals)
UNC finally made it back to Nationals last year, mostly without star Jenny Wei, who is back for another turn and will be one of the best players in the country if she can stay healthy. Handler Elisabeth Parker returns too, so Pleaides has a strong top end. With Virginia looking like they may take a step back, UNC is the early favorite to win the Atlantic Coast region. If their depth can develop, Pleiades can aim even higher.
8. Carleton Syzygy (2017 results: 1st in North Central, T-9th at Nationals)
It seems wild to think of a team that lost double digit seniors, including second team All-American Katie Ciaglo, as a major contender. But Carleton's previous recruiting class and this year's rookie crop will be ready to pick up the mantle. Seniors Naomi Price-Lazarus and Madeleine Preiss will provide the leadership and backfield presence. Nariah Belle-Sims and Isabel Arevalo, two of the best recruits in this year's rookie class, will be instant impact additions. It's likely Carleton's performance this season will be a tone-setter for the ones to come.
7. Oregon Fugue (2017 results: 2nd in Northwest, T-5th at Nationals)
It's tough to keep Fugue down. The only team to beat Dartmouth at Nationals last year, Fugue returns POTY candidate Ella Hansen and 2017 ROTY Maddie Boyle. Rookie Rachel Hess will help fill some of the missing contributions from a large outgoing class. The rest will be from further development from Emily Fagan, Morgan Caldwell, and whatever athletic newcomers Fugue brings into their fold. Still, it will be Hansen's ability to dominate a game that will carry Oregon.
6. California Pie Queens (2017 results: 3rd in Southwest, T-9th at Nationals)
If you thought the Southwest was going to fall off, you're sorely mistaken. Jackelyne "Kobe" Nguyen's a known playmaker, but there's a case to be made that junior handler Anna Wysen is really the straw that stirs the drink. Cal's handler depth, which features a number of returners, will be one of their strengths. Cutters like Sydney Horanic and Hannah Ellis will have to step up for them to challenge Stanford and stay ahead of UCSD in the competitive Southwest region.
Men's Division III
10. Dartmouth Pain Train (2017 results: 2nd in New England, T-7th at Nationals)
A program that was qualifying for D-I Nationals as recently as 2014, it sent shockwaves through the division when Dartmouth announced they were competing in D-III in 2017. As expected, Pain Train qualified and performed well at Nationals, losing to eventual champions Richmond in the quarterfinals. Losing 1st Team All-American Nicky Golini and a strong senior class is tough, but Dartmouth is an established program, and a solid performance at Lobster Pot points towards Pain Train being back at Nationals in 2018.
9. Mary Washington Mother of George (2017 results: 4th in Atlantic Coast)
Mary Washington came about as close to Nationals as you can get last year, losing by one in the game-to-go in hard cap. With very little turnover and a loaded roster, MOG should break out on the national scene in 2018. The importance of Zac Norrbom returning for a 5th year can't be overstated; he and deep threat Joe Richards form one of the best one-two punches in the division. A strong regular season will be important for Mary Washington to get the big game reps they need in order to win the important games at Regionals.
8. Carleton GoP (2017 results: 2nd in North Central)
For the first time since 2011, Carleton GoP failed to qualify for Nationals, losing to St. Johns on DGP of the Regional finals. The North Central was a toss up in 2017, with GoP and St. Johns failing to secure a strength bid to ensure both teams could qualify for Nationals. In 2018, GoP are the firm favorites. Senior handler Abe Eichner leads a strong senior class that's supplemented by Saul Wildavsky and a talented junior class. Carleton is just too talented and experienced to miss out on Nationals again.
7. Amherst Army of Darkness (2017 results: 3rd in New Engalnd, 16th at Nationals)
Completely off our radar entering 2017, Amherst came out of an undefeated showing at Layout Pigout with a strength bid for their region and rode that momentum through the series to claim a bid to Nationals. The absence of their seniors led to a disappointing performance in Lexington, but that experience should pay off this year for a loaded junior class. Led by Fawzi Itani and Borun Sun, AoD should return to Nationals; hopefully graduation won't prevent us from seeing their full capabilities again once they get there.
6. Bryant Craze (2017 results: 1st in New England, T-3rd at Nationals)
Bryant steamrolled through the division last year, going undefeated and never giving up more than seven goals in a game until Nationals. Even in Lexington, their only two losses were to eventual finalists Richmond and Davidson. The graduation of a strong senior class, led by 1st Team All-American and DPOTY Jacob Garfinkel, has created doubt over what 2018's iteration of Craze would look like. However, an impressive performance at Lobster Pot points towards Bryant having reloaded this season. Led by Alex Kenworthy, Bryant should be back near the top of the division once again.
Women's Division III
10. Georgia College Lynx Rufus (2017 results: 11th at Nationals)
While the Southeast region has only a handful of D-III Women's teams, Georgia College hasn't let that stop their efforts to develop a nationally competitive program; after tying for 15th in 2015 and 2016, they pleasantly surprised with an 11th place finish in 2017. Keep an eye on 2017 All American Second Team player Katherine Yost and the rest of Lynx Rufus in 2018, who have already started off the fall season with a nice undefeated run at Gulf Coast Warm Up.
9. Portland UPRoar (2017 results: T-5th at Nationals)
A first time Nationals contender in 2017, Portland looks to help their home region of the Northwest rival New England in strength (and bids) in 2018. While a serious chunk of their Nationals roster has graduated, captains and returning veterans Maddy Otto and Celina Li will lead a squad dedicated to remaining competitive through the player talent and coaching resources they have available to them in the ultimate scene of Portland.
8. Mount Holyoke Daisy Chain (2017 results: 12th at Nationals)
Daisy Chain is a team whose upper-bound for success can only be guessed at: last year's Nationals finish was earned by a roster of largely first and second year students due to the weekend conflicting with graduation. For senior trio of captains Katrina Meserve, Abby Cough, and Sophey Dong, developing that young talent even further for this rising New England program will bring them another highly competitive season within the region and the division at large.
7. Truman State TSUnami (2017 results: T-7th at Nationals)
When one thinks of Truman State, they think of Emilie Willingham, 2017 D-III Women's Offensive Player of the Year and All American First Team player known for both her talent and spirit. While Willingham is still determining if she will be on the field this spring for TSUnami–which will have a much tougher time earning a spot to Nationals, let alone performing at Nationals should she not be cleating up with them–expect to see and hear her on the sideline coaching this 52-strong program into competitive shape.
6. Puget Sound Clearcut (2017 results: T-3rd at Nationals)
A tried and tested Northwest team losing only a handful of their Nationals roster from 2017, Puget Sound has all of the necessary ingredients to cook up another great season for their program in 2018. Watch for 2017 All-American Second Team player Sarah Davidson and offensive star Jane Marie Gunn to bring the physicality and athleticism alongside a huge senior class ready to put their name on a National title.
The final five teams from each Division will be revealed tomorrow at 1 PM Eastern!