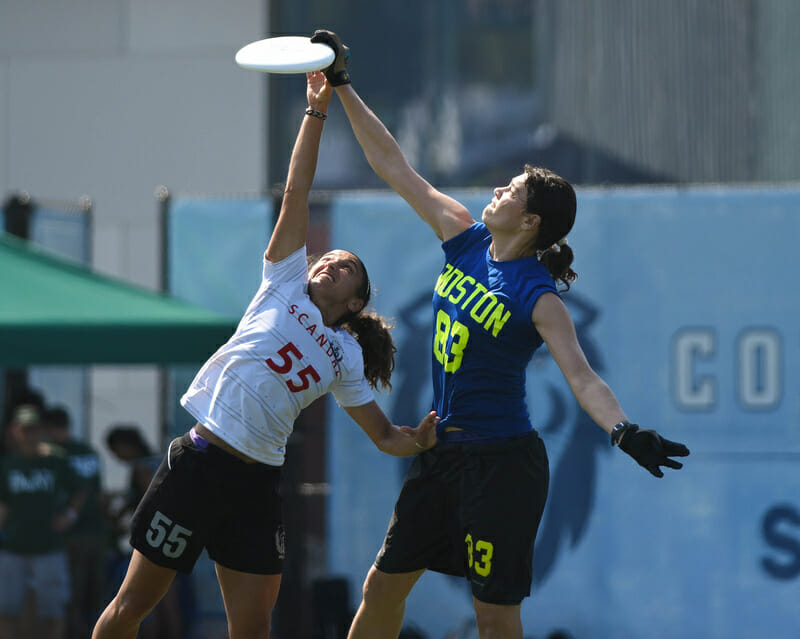 During the 2018 summer and fall season, we will publish a bite-sized weekly recap of the action across the Club Division. This will serve as a supplement to our standard tournament reporting and will offer a high-level look at the latest happenings and the biggest stories of the week.
I go through the annals of score reporter so you don't have to!
Want your tournament listed here? Submit a recap of what happened right here. 
—
This year's Pro Championships felt slightly subdued without the top competitors from the women's division in attendance after many elected to attend a west coast round robin last weekend but nonetheless, top teams cross all divisions battled in what are likely Nationals previews and games that will play greatly into the tournament seeding out in San Diego. Here's a rundown of what happened at the final tournament of the 2018 regular season.
Women's Division
Without their usual top competition in attendance at the Pro Championships, Boston Brute Squad showed their dominance over the rest of the division's best. Over the course of the weekend, they amassed a total scoreline of 90-41, with their closest game coming against Washington D.C. Grit who surprised Boston in their final pool play matchup and put up 11 against the division's juggernaut. In the final, Washington D.C. Scandal was neck and neck with Brute, on serve down 10-9 but then Boston's patented defensive pressure finally cracked the Scandal O-line and ran away with a comfortable 15-10 win.
It was a disappointing weekend for Atlanta Ozone who have consistently shown that they are on the outside of the top echelon of teams in the women's division this season. They easily handled most of their pool play competition but were walloped by Scandal and again by Brute Squad in the semifinals. It was a similar story for Toronto 6ixers who fell to Brute in pool play and then to Scandal in the semifinals.
Check out our Saturday, Sunday, and final recaps here.
Men's Division
For the second tournament in a row, San Francisco Revolver was knocked off in bracket play by the hometown team. After winning the Pro Championships this past weekend, New York PoNY is now just a National Championship away from sweeping the 2018 Triple Crown Tour. In the sweltering heat of a New York City summer day, PoNY rode the hometown crowd and their superior defensive gameplan to a 15-12 win in the final.
PoNY was unbeaten heading into the bracket with a universe point win over Raleigh Ring of Fire in pool play, before capturing a 14-10 win in the semifinal over surging Washington D.C. Truck Stop who was 4-2 on the weekend and secured themselves a second bid for the Mid Atlantic. Revolver was similarly unbeaten until championship Monday notching two wins over Boston DiG, the first in pool play and the second in the semifinals.
Check out our Saturday, Sunday, and final recaps here.
Mixed Division
In a somewhat surprising final that served as a rematch of the 2014 and 2015 National title games, Minneapolis Drag'n Thrust took down Seattle Mixtape in the mixed final at the Pro Championships. Mixtape played one of their best games of the season the day before to knock off heavy favorite Philadelphia AMP 15-11 while Drag'n Thrust rode an 8-1 run to overcome Boston Wild Card in a sloppy semifinal.
The real losers of the weekend were the defending WUCC champions Seattle BFG, whose roster upheaval showed as they suffered two losses in pool play and then lost in pre-semis to their crosstown rivals. Their offense looked out of sorts without arguably their best male and female players and their defense lost some of its bite. It remains to be seen whether or not they will be able to re-establish themselves as contenders or if this season will be remembered for what could have been if things had shaken out differently.
Check out our Saturday, Sunday final, and full tournament recaps here.
Looking Ahead
With the regular season completed, we're onto the Series. The bid picture looks to be solidly set, but teams across the country wait anxiously for USAU to confirm and finalize the predicted rankings.
In the meantime, the first step in the 2018 postseason kicks off with Sectional event around the country. This weekend, more club ultimate teams will be in competition than any other weekend of the year. Teams ranging from college reunion pickup teams, to regional-level competitors, to national qualifying hopefuls will be facing off for spots at Regionals. For many teams, this is the pinnacle of their season and they'll be putting it all on the line. It's win or go home from here on out, and I, for one, am excited. Find out what's happening in your area here.
The end of summer isn't all bad!