Your guide to the biggest players, teams, and stories of the 2023 D-I college season!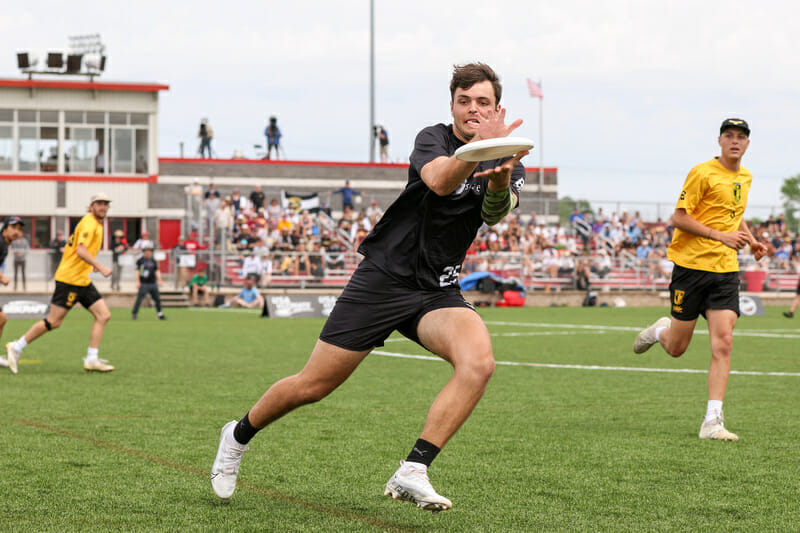 Ultiworld's coverage of the 2023 college ultimate season are presented by Spin Ultimate; all opinions are those of the author(s). Find out how Spin can get you, and your team, looking your best this season.
For the first time since 2019, we are poised to have a full college season with normal rankings, a normal bid process, and a normal Series. Well, as normal as college ultimate can be, anyway.
College season is back, and it brings with it all the things that make these next few months so fun. Whether it's title chases, regional rivalries, new stars, unbelievable rookies, or unexpected storylines, each year we find college ultimate delivers entertainment and plenty to talk about. We've gathered up the stories and names you need to know before the college season kicks off.
Major Storylines
Threepeat on Tap?
How hard is it to win back-to-back-to-back in the college game? That all depends on who you ask. If you're talking the '80s and '90s UC Santa Barbara men's teams or the '90s Stanford women's teams, it's a piece of cake.1. But for anyone else – in fact, for everyone else during the last almost quarter century – it's been an impossible task. The legendary Dartmouth women's and Pittsburgh men's teams of the last decade, as great as they were, couldn't manage it. So it has to be completely unreasonable to think that North Carolina Darkside could pull it off. Right? Well…
Look, you don't want to just go out on a limb and hand it to them in January or forget to acknowledge that the competition is going to be stiff, but they have all the hallmarks of a championship team once again. It's almost – and I'm speaking here on behalf of the entire college men's division – exhausting how good they have been for the last 10 years. They haven't missed semifinals since they first got there in 2014. Or, it would be exhausting if it weren't so incredible how adept the program has been at developing line after line of star-quality players. It was already staggering when Darkside shed Alex Davis, Elijah Long, Suraj Madiraju, and Anders Juengst after their 2021 winter title and came back for another six months later. In 2023, they find themselves without the reigning Player of the Year Liam Searles-Bohs, and it isn't clear that they are terribly worse off for it. How is it possible for a team to wear the clichéd hydra metaphor – cut off one head and another grows in its place – so well that it feels fresh?
Whatever the magic formula, they have an embarrassment of top-line talent this spring. Ben Dameron and Josh Singleton have both taken turns as superb offensive weapons, grad transfer Dylan Hawkins is a two-way player every coach dreams of getting to scheme with, Matthew McKnight and John McDonnell could form the best 1-2 markbusting punch in the country – and I haven't even mentioned a couple of their Team USA U24 selections in Kevin Pignone and Rutledge Smith. They have size, systems, disc skills, quickness, experience, the whole suite of features that should come pre-installed in a championship squad. And while the field will certainly have their sights set on breaking UNC's dominance, it's hard to take an honest look from season's start and bet against them.
– Edward Stephens
In Contention
Though UNC are widely accepted as the preseason favorite, the historic difficulty of winning three titles in a row begs the question: if not UNC, then who?
First on the list needs to be Colorado. Danny Landesman and Calvin Stoughton will start the season on Player of the Year shortlist. With them and others on the Mamabird roster coming off a club championship with Denver Johnny Bravo, confidence for the South Central powerhouse should be through the roof. Colorado lost only two games last season–to Brown in the Smoky Mountain Invite final and to UNC in the semifinal of the College Championships. Though talismanic leader Alex Atkins has graduated, Colorado has enough firepower to exceed even last season's heights.
Similarly, Pittsburgh has what it takes certainly to return to the semifinals and to contend once again for a championship. Henry Ing will be the best player in every single game he plays this season. Tristan Yarter may be the second best defender on his team (to Ing), but he's also maybe the second best defender in the country. Marcel Oliart looked like he leveled up playing for Pittsburgh Temper in the club division over the summer. There is no program in the country that has sustained the level of success that Pitt has regardless of which players are on the roster other than UNC. A fiery, athletic, perpetually underrated team (if you ask them!), Pitt plays with a chip on its shoulder, even if that chip is blue. Expect players who are relatively anonymous now to step into important roles as En Sabah Nur strives for another title on the 10th anniversary of their most recent triumph.
A recent staple in the final four, Brown still has enough left in the tank to make another title run, despite the graduation of last season's Callahan Award winner John Randolph. Jacques Nissen will find himself atop awards shortlists, and Leo Gordon has rounded into the kind of player who can carry a team far nearly on his own. Both had stellar club seasons as well playing for Washington DC Truck Stop and Boston Dig, respectively. Nissen in particular can weave his way through any defense with a full arsenal of throws that other top handlers wouldn't bother attempting. Brown also has a history of getting the most out of its depth players, and returners like Cal Nightingale and Noah Ball-Burack will likely step into incrementally larger roles.
Finally, Brown's regional rival Vermont should also be in the conversation. No, I'm not kidding. Vermont could conceivably contend for a championship after impressing last season and bringing back a core of important contributors. Sure, they needed to stave off a furious Wisconsin comeback to avoid getting booted from pool play before succumbing to a more experienced Minnesota team in the bracket to cap a less-impressive-than-expected tournament, but Team Chill made it out of the most competitive region in the division and picked up some much needed experience to ready their real title push this season. Sound familiar? It's not too dissimilar from the path Brown took in 2018 on the way to their 2019 title.
Johnny Sickles, Eli Standard, and Turner Allen each return for their fifth seasons and will be expected to take on much of the offensive workload. On the other side of the disc, recent U20 national team star Declan Kervick takes the reins as a total playmaker; he will also cross over occasionally to boost the offense. With more talent coming up through the budding Vermont public school pipeline and a whole offseason to build expectations, Vermont has what it takes to nudge its way into the title conversation.
– Alex Rubin
The Quest for Four Bids
A main storyline of the 2022 season was the artificially exciting and sad fate of the New England region. With six top 25 teams fighting for a USA Ultimate-assigned two bids, Regionals was full of drama. Vermont and Brown are all but assured bids again given their success and returning talent, but with the return of meaningful rankings and the strength bid process, suddenly the region could be looking at 4+ bids. The hopefuls at UMass, Northeastern, Tufts, and McGill have to like that.
Bids are not assigned for spots in our power rankings or for passing the eye test. These teams will have to play a tough enough schedule and churn out enough wins without cannibalizing each other to earn their spots through the all-important USA Ultimate algorithm. With their histories of success (UMass and Northeastern both made the finals of major tournaments last season), it would be a shock to see New England end up with a paltry two bids again, and it is possible that they could earn as many as four.
There is a similar situation in the Northwest. Oregon and Washington feel like locks with the talent and histories that they have (though Oregon did miss out on the big dance last season–a transitioning, rebuilding year for them). BYU will almost certainly earn a bid for the region given their talent and the high-quality cross-regional matchups they typically take on. Bubble teams like Oregon State, UBC, and UVic are eager to get (back in some cases) to the promised land that is the USAU College Championships and could make their own push for an extra bid. Like New England, this region could end up with two bids to scrap and claw over, or they could earn closer to four. Either way, Regionals will be exciting given the likelihood that at least one talented-enough team misses out.
– Alex Rubin
Dark Horses, New & Old
Last year's Nationals revealed clear stratification in the men's division. Georgia's 14-12 win over Texas in the prequarters was the only knockout round closer than five goals on the way to the top four seeds squaring off in the semifinals. That much chalk is rarely the case. Each year, there is a team that makes a run from down the bracket to surprise people in May. We've identified two squads that could be the dark horse of 2022.
First up, Cal Poly SLO. What's been established through the fall and by the earliest of early spring results is that Cal Poly SLO are again set to be the best in the Southwest. They rolled the competition at Sean Ryan, including taking down #23 Cal in the semifinals, and rode that momentum after the holiday break to start off their competitive spring season with a strong tournament win at SBI (albeit with a loss to BYU). Calvin Brown is primed to lead this team, but still in question is how they stack up against the elite tier. After a clear quarterfinals ceiling last year, SLO look like a team that could catapult themselves to match, or even improve upon, their Ian Sweeney-led 2019 run to the semifinals.
Next, Georgia. Jojah has surpassed expectations once before (see: 2021 Nationals), and there is no reason they can't do it again. Their more than respectable second place finish on home turf at Classic City Classic featured two wins over Brown, setting up Jojah to be competitive with anyone in the country this year. While they lose a few key players from 2022 — most notably Hayden Austin-Knab, Drew Di Francesco, and Matt Cook — they return Adam Miller and the pantalooned-phenom himself, Aidan Downey. With Miller and Downey leading the way as captains and clear elite-level talents, it will be on the rest of Jojah's top-end to step up. If Jack Krugler and Ryan Flick give depth behind Downey on O and Cole Chanler and Cole Krucke create pressure on D in the right moments, Georgia can take down anyone.
– Jesse Strod
Changing of the Guard of the Elite Programs?
Let's say you've only been paying attention to men's college ultimate for the past four years. You've been doing this because your son has been playing for the past four years, and you're a good parent. You want to share in their interests. Let's say your name is Steve "Buck" Maclin and your son is named Lance Maclin and he plays for Michigan and you are damn proud of him, even if in the back of your head you still think that, maybe, if he had just stuck with baseball in high school, things could have been different.
The question: Who do you, Lance Maclin's dad, think the premier programs are in men's college ultimate? Well, you've got UNC. No question. Then there is Brown. Won the championship in 2019, semis the two Nationals after that. Colorado, sure. Also in semis a bunch. After that…well that Cal Poly SLO team has seemed pretty good. And Minnesota is consistently the best team in the North Central it would seem. And Pitt sure seem to act like they are real important, so that probably means something.
All astute observations by Mr. Maclin.
We're well into the 2020s at this point, and this season it may be worth reflecting on who the real blue chip programs are in this decade. Carleton haven't won a game at Nationals since 2018. Wisconsin are keeping their string of Nationals appearances together with newspaper, twine, and a collective belief that when push comes to shove they will always beat CUT in the game-to-go (and so far they have!). When's the last time you took Stanford seriously as a title contender? Or Harvard as a team to even care about? Remember Florida?
Over the past decade, there have been plenty of forces exerting themselves on the fabric of the sport, and collectively they've gotten the men's college division to a place where a new hierarchy is forming, if it hasn't already. 2023 is the first traditional season since the COVID pandemic began, and it's a great time to take stock of where the power in the sport lies, whether your memories of CUT, Wisconsin, or UNC Wilmington mean anything in this new decade, or if Buck Maclin actually has the pecking order figured out.
– Patrick Stegemoeller
Who will Dominate the Dominator?
The ball is getting small. It's obvious to anyone watching the college game these days that a well-rehearsed reset system in the red zone or even a full-field dominator can be a nightmare for opposing defenses. Brown famously employed the strategy with their D-line offense at the windy Texas Nationals in 2019; knowing the red zone set is practically a prerequisite for getting accepted to North Carolina these days. As the two most successful programs of the last few seasons, they have set the model for the division. Many of their rivals have imitated and adapted the weave, so that at times it seems like the whole division plays the same small-spaces game.2
And the crazy thing is that virtually every recruit with high school experience comes in with a grasp of the system: they know exactly what space to go to or what space to throw to in order to be undefendable – ad infinitum. Is it really so undefendable, though? That's the question that will keep a college coach up at night. While you can count on some turnovers from a team without enough reps at the proper level, you don't want to bet a game in the bracket on the potential for a slapdash off-hand break. With skilled offenses finding peak efficiency, it's up to defenses to disrupt it. UNC (in last year's final against Brown) and the club division's New York PoNY (whenever the time came last season) flashed extra defenders in the box on whatever side of the field the disc was on. Club's Denver Johnny Bravo often conceded shallow open-side strikes in a way that put their defenders in position to guard against more dangerous continues.
College squads might take cues from these club counterparts, or they might find their own way. The main point here is that necessity is the mother of innovation, and we as a culture – as a culture desperate for just a little bit of drama in our silly sports – need to find a way to break up the inevitability of so many of these possessions. Someone, anyone: innovate!
– Edward Stephens
Players to Watch
Some of the players we think will define the 2023 college season.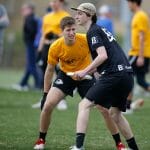 John McDonnell (UNC)
Really, you could highlight any of Darkside's O-line handlers, as they seem to work as a unit and play pretty unselfishly. But McDonnell is a super-veteran at this point, and he showed perhaps the most versatility during the Carolina Kickoff, playing a lot of different roles (center handler, front-of-stack reset, etc.) and showing some solid athleticism with layout grabs to maintain possession and slashing for late-stall goals. McDonnell (along with Rutledge Smith) will control the fate of the Darkside offense in big games down the stretch.
– Brad Ward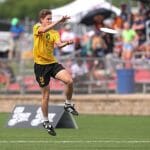 Danny Landesman (Colorado)
Danny Landesman is a player who just seems… correct. Want to know the secret to analyzing ultimate? Watch Landesman do something on the field and then say that it was the right thing to do. It is really that easy. Landesman has demonstrated a polish and versatility that allows him to seamlessly fill whatever hole a team has. It's a quality that made him a crucial piece of Colorado's run to the semis last season and a rock on Johnny Bravo's national champion O-line this past fall. But with the departure of Alex Atkins, the hole in Mamabird's roster this season is for a high volume superstar, and carrying that burden is one of the few things we haven't seen Landesman do so far in his young career. Whether he can pull it off will go a long way towards defining Mamabird's season, and perhaps the destination of the championship come May.
– Patrick Stegemoeller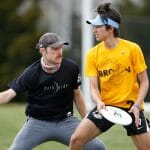 Leo Gordon (Brown)
You know who defines a season? The player who does the most. This year that could end up being Brown's Leo Gordon. The senior has been on a mission to put the entire division on his poster, and so far it's working out pretty well for him. Gordon has great vision and scoring throws, but because he has the luxury of Jacques Nissen in the backfield he can make a dash for the end zone basically whenever he wants – which, if CCC was any indication, is often. He's aggressive, he's got enough talent surrounding him to fully engage in being a star, and he's coming at 2023 like a raging bull.
– Edward Stephens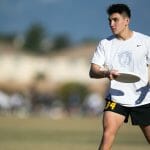 Henry Ing (Pittsburgh)
To state the obvious, the Player of the Year award is Henry's to lose. With an argument as the best downfield cutter and defender in the division, and with a motor to play nearly every point in important games, Ing is undoubtedly the most dominant player in the division. While Pitt likes to spread the wealth and rely on a tried-and-true system to build sustainable success, Ing elevates the system play to levels that are nigh unstoppable–a term we do not use lightly on this website. Ing is a big reason why Pitt looked like the best team in the division at times last season. With some of 2022's supporting cast now part of the alumni listserv, Ing has more room to step up and take over what is expected to be another top-five team in Pitt's illustrious history.
– Alex Rubin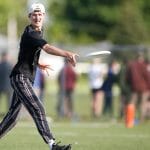 Aidan Downey (Georgia)
Let's hear it for the throwers! The few players who can truly make the disc do their bidding while they are still in college are always going to turn heads. You probably already know about Calvin Brown and Jacques Nissen (and you can read about them on this list), but Aidan Downey ranks right there with them. He has an easy full-field huck from both sides that holds the kind of edge to make a freshman swoon – and maybe the division's sauciest array of short throws. The lack of a full spring season during his pandemicked first two years at Georgia hid him a little. 2023 is going to make up for that, as he's front and center for a Jojah squad with title ambitions.
– Edward Stephens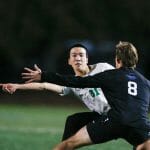 Calvin Brown (Cal Poly SLO)
Some players have a green light. Some players have one of those airport runway dudes with the light up batons signaling them to go careening into the atmosphere. Calvin Brown is clearly in the latter category.
Brown makes his dramatic return to SLOCORE after seemingly ending his career with a tragic knee injury at 2021 Fall Nationals. The resurrection of Brown's college career is well timed for Cal Poly, as their roster full of young brash talent needed an offensive center of gravity who can spread the disc all over the field and punish defenses that try to slow down the team's athletes with switchy coverages. Brown is for sure going to be one of the most fun players in the division this season no matter how Cal Poly's results turn out. But if he can use his incredible range of throws to push SLO to the ceiling of their talent, he could be one of the most important players as well.
– Patrick Stegemoeller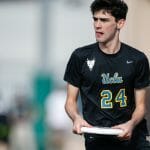 Riley Kirkman-Davis (UCLA)
An injury-riddled 2022 season ended a few points short of the elusive bid to Nationals that Kirkman-Davis and his UCLA team will be favored to take. While Matthew Barcellos, Marshall Wildmann, Brandon Van Duesen (!), and the rest of the Smaug crew will certainly be helpful, this is clearly RKD's team. They literally call him 'dio,' Italian for God (though I am assured that is not the source of his team-issued nickname, it fits). Kirkman-Davis will be the center of Smaug's pull plays, will take on the toughest throws, and will play his heart out on crossover defensive points. At full strengh, UCLA should be favored to make Nationals, which is basically a prerequisite for awards watch, and RKD is a perfect candidate to find a place on the OPOTY shortlist. With more college division livestreams than ever before, this is your official invitation to turn in to the RKD show.
– Alex Rubin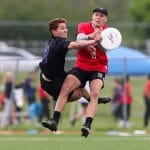 Tony Venneri (Washington)
Tony Venneri spent last club season making the toughest upwind throws for a stacked Seattle Sockeye offense. With the bevy of talented grad students UW rostered the past few seasons out of the picture, Venneri is going to see an unprecedented volume of offensive opportunities with which he could dazzle. No thrower since the days of Xavier Maxstadt plays with a higher combination of skill and swagger every single time they step on the field. Look for Venneri to launch pinpoint hucks no matter the wind or coverage, criss-cross his way through zone defenses, and propel the Sundodgers as far as their thinner-than-typical talent will go. And oh, by the way, his defense is still top class in the college division.
– Alex Rubin
Rising Stars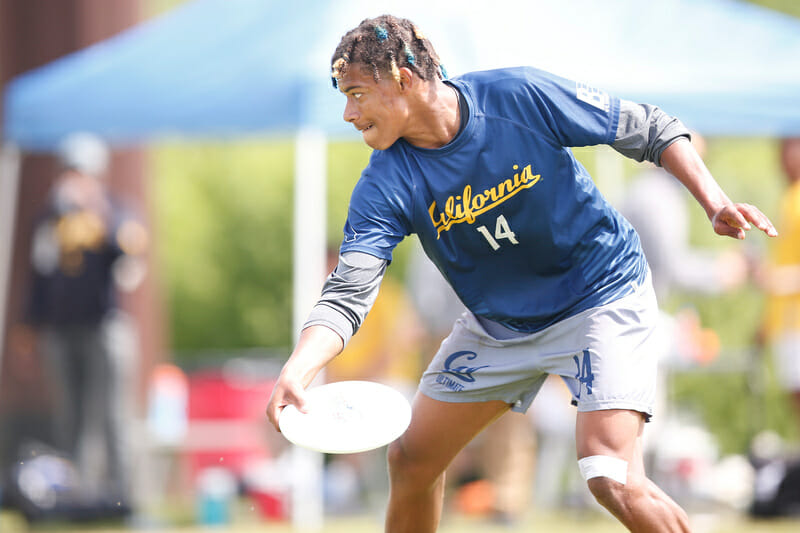 Jonny Hoffmann (Utah State)
With brother and goal-scorer extraordinaire Ben sidelined, Jonny Hoffman has big shoes to fill for a Utah State team looking to turn the success of 2021-2022 into a program-defining era. All Jonny did last nationals was put up a 7-goal 15-assist turnover free weekend. Second on the team in the scoring statistics, Hoffman will almost certainly be first this time around, potentially in both categories as the Aggies hope to prove last season's success was not a fluke.
Zack Watson-Stevens (Vermont)
We've hyped some of the top names on Vermont Chill already, but the bigger story on the team is the depth, where they might have an advantage on every team in the country outside of UNC. Part of that depth comes in the form of some plus athleticism: you're going to see big plays out of guys like Chase Drinkwater and Carl Crawford this season. But slight-of-build sophomore Zack Watson-Stevens could outshine them all, especially if his heroics at CCC were any indication. Keep an eye out for him.
Dexter Clyburn (California)
Any follower of the 2022 college season should be familiar with Dexter Clyburn already: he was a runner-up for Rookie of the Year after a freshman campaign that saw him fit brilliantly into key offensive and defensive roles for a Cal side that pushed into quarters at Nationals. That's impressive enough, but what's really exciting is thinking about what he'll do with a year's worth of experience under his belt and a lot more opportunity to make an impact with Cal's best players from 2022 having graduated.
Paul Krenik (Minnesota)
In a typical year, Minnesota fans might be worried about the loss of a top-level talent like Cole Jurek. Of course, he leaves a big hole to fill but Paul Krenik is the same kind of do-it-all player that will keep Minnesota firmly in the nationals picture all season long. Just look at last season's nationals performance: 8 goals, 7 assists, and just 3 turnovers. Krenik's play style lends itself to a high-volume role, and for Minnesota to keep its spot in the top ten, he'll need to play his best.
Sean Wiles (NC State)
There's a sort of archetypal progression for some stars of the college game. It goes something like 1) Eager underclassman; 2) Defensive playmaker; 3) Gifted receiver; 4) Takeover guy. That's the path NC State's Sean Wiles has taken, and all signs point to the idea that he is well into that fourth phase. He slings the long ball, he skies your best player, he gets the disc back for the offense with a wild play after a turnover – it's like having Trevor Lynch all over again.
Chander Boyd-Fliegel (Oregon)
Oregon experienced a down year in 2022, but Ego is poised to bounce back in 2023 given the added experience their young players took in during last season's rebuilding year. A day one starter on offense, Boyd-Fliegel just has a knack for getting open in the right space at the right time. Despite his status as a rookie, there were games where Boyd-Fliegel was Ego's most consistent and reliable player last season. For Ego to make it back to nationals, look for Boyd-Fliegel to become the undisputed WR1 and to make multiple impact plays every game.
Declan Miller (Carleton)
We've seen him play for the youth national team at the U20 world championships, for Seattle Sockeye in the club division, for the Seattle Cascades in the AUDL, and of course for a championship at the High School National Invite. More than any other rookie, it feels like we know Declan Miller, the blond quarterback rekindling the Seattle-to-Carleton pipeline. Of course, we haven't seen him in college yet and we haven't seen what this edition of CUT looks like given the rocky post-championship years for the premier D-III sized school in the D-I division. We do know that Miller has the talent to throw his way out of trouble and shouldn't be phased by the moment. Expect to see CUT back at Nationals and Miller on the Rookie of the Year ballot.
You're All Underrating…
Michigan: We are just over a year removed from #20 Michigan Magnum busting into semis of Nationals, they've got one of the college game's most explosive all-around players in Theo Shapinsky, another great one in sophomore Aaron Bartlett coming off of a killer season for Truck Stop, and lots of sneaky-good returners. A ranking in the 20s? Uh-uh. Nope. This team is borderline top-10 – and maybe better. (Edward)
UCLA: UCLA was already a bubble team before we knew that they added Brandon "Lotto" Van Deusen to their team as a transfer player. The pride of Long Beach and a main distributor for the Los Angeles Aviators and SoCal Condors is just the kind of veteran addition a team on the cusp needs to push over the top. Sure, Smaug has had chances before and failed, but with many key players about to graduate, this is UCLA's best shot to make Nationals: expect them to go all in and finally earn the right to play on Memorial Day Weekend. (Alex)
UC Santa Cruz: Nationals bias is rampant in analysis of college ultimate. When a team has not made it in recent memory, it is almost too easy to write them off as short-lived would-be's, a talented group that has gotten the better of the division for a few months but will fall short in the end to a more established program. After knocking off four Top 20 teams at Santa Barbara Invite (#18 Utah State, #15 UCLA, #16 Oregon, and #10 Washington), UC Santa Cruz is looking like a perfect candidate to be this year's Cinderella story. Don't count out the Slugs just because they haven't done it in the last 10 years. (Jesse)
Carleton: Yes, it is objectively funny that CUT hasn't won a game at Nationals since the quarterfinals of 2018 Nationals. Yes, CUT as a program has underperformed relative to its talent more than anyone over the past decade. Yes, they don't have the "five dudes who were just playing in the semis of club nationals" O-line from a few years ago. But also, yes, they have had two straight seasons of immense recruiting classes, and have the talent to make a push for semis if their underclassmen are as good as advertised. (Patrick)
Washington: Ultimate's poster city finally completed its pipeline over the past few years, a developmental track from the city's famed camps and middle school leagues to its top club programs. I will skip the metaphors about fish and streams to say that the growing Sockeye-UW core (smartly cultivated by the team) has reached maturity and a few athletic players with elite disc skills can still take over a college field. The Sundodgers have always been a faceless army with some standouts – that bench of role players is much more firm in 2023. Santa Barbara doesn't mean anything. Washington will end the season just outside the top 5. (Eli Motycka)
The Current Power Rankings
College D-I Men's Power Rankings:
---
1997-1999 for Stanford W; 1988-1990 and 1996-1998 for USCB M ↩

Author's note: this isn't actually the case. ↩