The second leg of the Southwest Triple Crown features Colorado at the top in both divisions.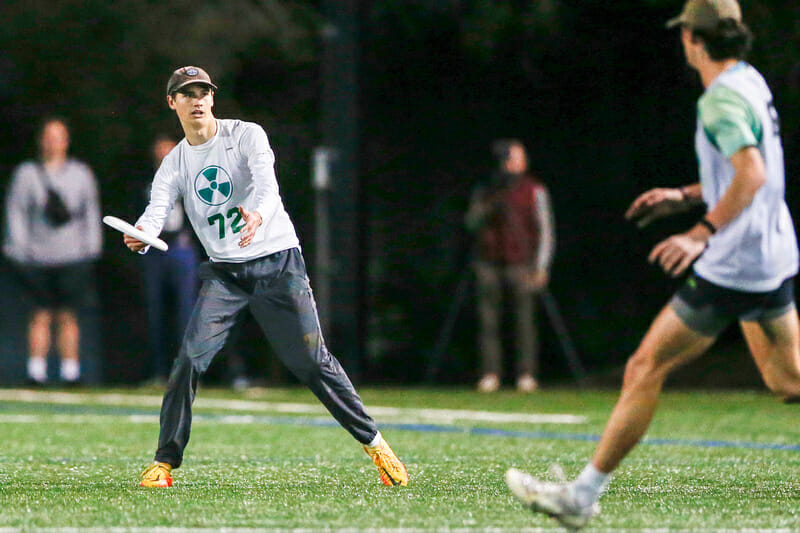 Ultiworld's coverage of the 2023 college ultimate season are presented by Spin Ultimate; all opinions are those of the author(s). Find out how Spin can get you, and your team, looking your best this season.
Welcome back to sunny San Diego, folks! While there have been many iterations of the tournament in the past, this year's high profile teams from the west of the Rockies have put the spotlight back on the well-maintained UCSD fields. Both Colorado teams are in contention as early favorites for the national championship, which will paint a target on their backs, especially with the Northwest needing a strong showing at this tournament to swing some bids in their favor before they're out of reach. Thanks to the power pools and the unusual tournament format in the women's division, we're guaranteed to see some high quality matchups all throughout the weekend.
Tournament Profile
Date: February 18-20
Location: San Diego, CA
Weather: Highs in the low 60s, 5-10 mph winds
Women's Top 25 teams: #2 Colorado, #8 Stanford, #9 UC Santa Barbara, #11 UC San Diego, #14 Oregon, #16 UC Davis, #17 California
Men's Top 25 Teams: #2 Colorado, #9 Cal Poly SLO, #12 UC Santa Cruz, #16 California, #17 Oregon, #19 UCLA, #25 Utah State
Competition Schedule
Streaming Schedule
All times Pacific. Schedule subject to change. These games feature natural sound only, no commentary. Available for Full & Plus subscribers and those with 2023 College Team Packs.
For the first time ever, Ultiworld Full and Plus subscribers can watch live action from Presidents' Day Invite! All games can be found on our PDI event page and will be available both live and immediately following the games on-demand.
Sunday, February 19
Monday, February 20
Women's
Does Three Pools Triple the Competition Level?
Once is an anomaly, twice is a trend. This is now the second of the Southwest Triple Crown tournaments to have had a late subtraction to their team list, causing a disturbance in the seeding and tournament schedule. At the Santa Barbara Invite, the tournament directors opted to run the tournament as usual, with Pool D seeing one fewer game than the others. The minds behind Presidents' Day have another day of competition to work with, so they went another route: three pools of five teams. This means that we'll see some potential semis or final matchups on the first day of the tournament, and the second day of the tournament. There's no 'easy' schedule for any team, and results have a pretty severe implication on the seeding when the dust settles. Throw out all your expectations for a regular tournament schedule! Monday will skip out on the pleasantries of prequarters and quarters to give us semis action immediately based off the top four teams from Sunday's power pools!
For every team at this tournament, the margins have tightened considerably. One bad game could be the difference between making the bracket or playing for 7th. This matters the most for the second seeds in each pool. UC Davis, Oregon, and UCSD have to be eyeing each other for that final semis spot, and only one of them can claim it.
The South Central's Bringing the Firepower
At the Santa Barbara Invite, it was the North Central and the Northwest that came south to challenge their Californian competition. The South Central called next. The best teams from Colorado and Texas are all coming to San Diego with the hopes of matching the same success that Carleton saw when they traveled to SoCal. Most of these programs are coming from a particularly brutal winter, so getting reps in at one of the nicest field sites in California is a big plus. When it comes to tournament success, though, there is a clear pecking order with the three teams.
#2 Colorado Quandary was one point shy of a national title in 2022, and there's every chance that Presidents' Day is just a rung on the ladder of their climb back to the top. Bailey Shigley has returned to help steady the loss of other handlers from their 2022 core, and she's flanked by Saioa Lostra and Clil Philips on offense. Their defense is still headlined by Stacy Gaskill, and they have too many other stars to list that round out this roster. They're not just the favorite to win the tournament; they might not let any other team reach double digits.
If there's any knock against Colorado, it's that they regularly treat Prez Day as a warm-up to their season, and are testing out lines and schemes all throughout the weekend. Without being in kill mode, there's a chance they could get outplayed by a team that's had more time to build into their season.
Texas and Colorado State don't really have the luxury to build slowly into 2023. The opportunity to earn a bid is crucial for both of them, so a successful Presidents' Day is almost a requirement. Currently, Texas Melee holds the slight edge over Colorado State, having beaten them in the fall, but the team is still finding their rhythm after losing Mindy Radike, their central handler from 2022. Based on some of the whispers coming out of the Lone Star state, Olympia Walker and Julia O'Connell have stepped up in her absence, and Karina Kumar is making some noise as a rising talent. Melee knows they'll have a lot to prove, but the team has had a history of elite athleticism and that could carry them in these early season tournaments.
Texas may have lost a few veterans, but CSU had a particularly tough offseason after making Nationals in 2022. Missing Megan Kiefer, Elyse Bartucci, and Hannah Renstrom has meant the team hasn't had the post-Nationals boost that often awaits a program that make it to the big stage. Granted, retaining Grace Brown and Grace Goldenberg has kept them dangerous, but it's their defense that will be retooling the most, and as every dad on the sideline will tell you, defense wins games. Still, it would not be out of the question to see Texas or CSU in quarters, and if they get a good matchup, there's potential to take it even further. This will be a good litmus test for the region regardless, making them worth following all tournament long.
The Southwest Food Chain Still Has No Apex Predator
Despite Stanford making it all the way to the final at the Santa Barbara Invite, it's still not entirely clear which team in the Southwest reigns supreme. In most regions around the country, the established hierarchy normally plays out in a predictable fashion: one or two teams are the top tier and everyone else is fighting for a chance at a bid outside of those juggernaut programs. That's… not really the case in the Southwest. For a start, Stanford only beat UCSB by a single point to make it to the final at all, and neither team faced UCSD in an elimination game1. Beyond that, California doesn't seem that far away from UCSD, and UC Davis also could coalesce as the season goes on to keep challenging for a top spot. For now, it appears that UCSB and Stanford are the best that California has to offer, but that could all change by the end of the weekend.
How Ready is Oregon For The Pool B Gauntlet?
It's easy to forget it when looking back on the season, but Oregon Fugue had a really solid 2022 season. Aside from one out-of-character loss, they only dropped games to teams that made the bracket at Nationals. It was largely thanks to the unfortunate bid allocation system of 2022 that kept Fugue from showing their stuff in Milwaukee, as they were definitely worthy of competing at the tournament. All that's to say, don't sleep on this Oregon team.
Let's start with the disclaimers. Yes, the team did lose one of the most capable throwers in all of college ultimate when Rachel Hess graduated alongside a handful of impactful seniors, but their junior class from that squad are now seniors, and they were the bulwark of that team. Ava Jones, Eliana Norton, and Yausi Khajavei are going to be a problem for any team they face, and they're far from the only ones. It's almost too early to say it, but Oregon may have sneakily built themselves back into a Nationals contender.
Of course, a lot of this will come down to the performance of their rookies. The team is boasting 13 new players in 2023, and when there's an incoming class that large, a competitive outfit requires at least a few that don't need too much development before they can start trading blows with the best of them. Thankfully, Oregon has that. Close to half their rookies have high school ultimate experience, and it will be surprising if the likes of Elizabeth Heare, Trout Weybright, Zoey Hughes, Keira Lanegraff, and Syris Linkfield don't have an immediate impact. If that seems like a lot of names to list, that's not even the last of it. Beyond their true rookies, they're also adding Georgia Van der Linden as a grad student who'll be a steadying presence on the team. We can't yet say that Oregon is scary good, but they are spooky good, and sometimes that's what you need at this point in the season.
Quick Hits
Calling it now: Pool B will be the Pool of Death. Stanford and Oregon are going to battle it out for the top of the pool, but Colorado State is coming off a Nationals appearance and is a feisty third seed. Add a D-III Carleton team that's good enough to compete in D-I tournaments, and the best fifth seed at the tournament in UCLA? Yeah, that's a tough pool.
California vs. UC Davis will be a game to watch in Pool A, especially as it will have severe Sunday implications and the last time the two teams played, it ended on double game point.
Duke is a wild card team that is traveling far enough afield for it to affect national standings in a significant way. It's rare that a Mid-Atlantic team crosses over this early in the season, and if they perform well, the algorithm will reward the East Coast earlier in the season than normal. Their results are worth keeping your eyes on.
Men's
First Look at Colorado
Colorado Mamabird is back in action making their season debut at Presidents' Day this weekend. Being that it's Mamabird's first tournament, I do not expect them to look perfect but their roster talent and depth is undeniable. Although the departures of Alex Atkins and Saeed Semrin may affect the team culture and Colorado's gameplan, this team is too loaded for it to affect their performance.
This senior class is brimming with talent, highlighted by 2022 Men's Club BPOTY Calvin Stoughton and wonderkid Danny Landesman. These two are arguably both top 5 players in the college division this season and should be able to dominate most college defenders attempting to guard them. With Nate Bucholz, Seth Wells, Aylen Learned, and Atkin Arnstein as leading veterans on this team, it's hard to imagine many teams in the division being able to deal with this kind of firepower.
Their defense got better, too. They return Walt Johnson and Max Van Sickle, who are both lockdown defenders with solid disc skills that showed a lot of promise last year. With a higher usage role, I would expect these two to blossom and level up into integral pieces for Mamabird. They also return sixth year Conor Tabor, whose role we'll observe this weekend, but I'd expect he'll be quarterbacking the D-line. With his strong arsenal of break throws, he should provide a nice calming presence for the young guys on the defense.
Their stars and veterans will certainly keep them well within the title conversation, but it's their rookies that might allow them to ascend past their semifinals run at Nationals last year. They added four big-impact rookies in Tucker Kalmus, Nanda Min-Fink, Ryan Shigley, and Carter Halstrom, who are all already at the level of good college players. Kalmus has a rocket forehand huck and will likely be used as a throwing initiating cutter. Shigley is a big frame that can make plays downfield. He looked like one of the best players at the HSNI last year and it will be interesting to see if he can translate his throwing dynamism to the college game. Fink is an explosive cutter with big throws that couple nicely with his quick first step. Halstrom is confident with the disc in his hands and will likely be a big part of their defensive scheme this year.
In summary, Colorado is still poised to be one of the best in the country and have the talent to be even better than last year.
SLOCORE Going Up
Although they won the Santa Barbara Invite, Cal Poly SLO definitely had a bitter taste in their mouth from the thrashing they received at the hands of BYU CHI. It will be interesting to see what the coaching staff and captains decided to focus on in practice these past few weeks. Did they address their zone offense deficiencies or did they focus more on matchup defense? Whatever facet of the game they chose to improve, they will need it if they end up matching up with Mamabird this tournament.
Prez Day is a chance for Slocore to prove that they are in control of the southwest and that they can dispatch teams like Oregon, Oregon State, and Washington. A strong tournament will likely result in a matchup with Colorado that will give Cal Poly the opportunity to display that they belong amongst the top five teams, or if they're more of a top 10-15 quality this season.
Oregon State's Identity
In their first competitive tournament of the year, we should get a good idea of what this team is made of. They've been getting a lot of buzz this year, mostly because of star cutter Felix Moren and his high-level supporting cast. The rumors I keep hearing about the Oregon State Beavers is that they have 9 or 10 really solid contributors. Will that be enough to carry them against a strong PDI field, or are they too shallow to separate themselves from the rest?
They picked up Rhino's Antonio Rueda as a grad student, who should immediately be a high usage guy for them. Rueda has wheels and can high point the disc effectively so force deep on him at your own risk. They also added Nikolas Elsaesser who was one of Santa Clara SCAB's best players for the past four years. These grad students are nice, but Oregon State should also benefit from the booming Oregon youth scene as well. If their stars perform well and their depth can prove to be serviceable, they could earn some good wins and make a deep run.
The main question for this team is do they have what it takes to be a bid earner or will they be another Northwest team around the bubble? They are the last Northwest power school yet to play meaningful competition so a strong performance from them this weekend would be huge for the region. A poor performance could tip the Northwest to an unpleasant bid fate that leaves everyone fighting for scraps.
Oregon Ego Back for Revenge
This Oregon Ego team certainly passed the eye test for an elite team, but two disappointing universe losses at SBI may forecast what's to be expected from this year. Their inexperience and lack of consistent coaching may prove too much to overcome when playing in tight games and the margins are thin. I still think this Ego team can be great this year, and they've got the chance to prove it this weekend.
Although they are still without Gabe Nobis and Ben Horrisberger, Ke'ali McCarter makes his debut, coming off a very strong AUDL season for the Portland Nitro. McCarter's power, speed, and disc skills are all elite for the college division. There's likely not more than 3-4 guys at the tournament who can make it difficult for him in matchup defense. He is coming off injury, though, which might mean he's eased in a bit. But when big moments come, he will be out there. Alongside Adam McNicols, this cutting duo will force opposing teams to shift their defensive gameplan to avoid getting housed deep every point.
A little more discipline from their stars than what we saw at SBI, and Ego could easily blast past their no.6 tournament seeding.
Quick Hits
It's unlikely, but there is certainly a range of outcomes where Stanford Bloodthirsty secures the second seed in their pool. They are the last seed in their group filled with Colorado, Oregon State, and UCSD. Assuming they get blown out by Colorado, they just have to beat OSU who are solid but definitely beatable for a team of Blood's caliber. Simon Covington and Max Vandervelen will have to play at a high level to get some wins in this pool.
Utah State could also outperform their seed in the pool of death with UCLA, CAL, and Western Washington. Tony Mounga, Johnny Hoffman, DJ Sorensen, and Brock Hyatt are plenty to shake up Pool D, especially if CAL and UCLA are not at full strength.
Emory Juice makes the trip to the west coast and they look to be a fun team this year. Justin Burnett will definitely be flying around making plays all weekend. Harrison Coorey will also be involved as a thrower that takes aggressive shots downfield.
A tough start to the season for Washington Sundodgers might continue to trend that way with Assaf Golan and Tony Venneri expected to miss this weekend, making for a prolonged portion of the season. Having Jordan Smith back on the field should add some juice to the defense, which looked a bit lackluster at SBI. Their top end is still great, but I doubt we see the UW we expected until the Series.
UC Santa Cruz Slugs looks to expand on their breakout performance at SBI. Unfortunately, Aidan Curry popped up on their injury report with a shoulder issue. As their best handler, this could cause trouble for the Slugs if he is limited or out for the tournament altogether. However, they do boast some solid depth so even if they are without Curry they should be able to put up a decent showing, but their upside is capped.
The Cal club sports department has been a headache for California Ursa Major all year and has resulted in them not being able to practice consistently this season. I would expect this team to look a little unpolished on early in the event and for their systems to not have progressed as much as other teams. If they can work through the rust, expect Cal to be a difficult opponent for any challenger.
UCLA Smaug will have to continue to play without star Riley Kirkman-Davis, who hurt his wrist at SBI. It's unclear how serious the injury is, his status is questionable going into the weekend. Without RKD, UCLA's outlook is a bit diminished and it'll take a lot from Marshall Wildmann, Matt Barcellos, and Brandon Van Deusen, who was awesome in his debut, to fill his role.
---
UCSD & UCSB did play in the third place game, but the stakes were much lower. ↩