The early stories in the College Men's Division.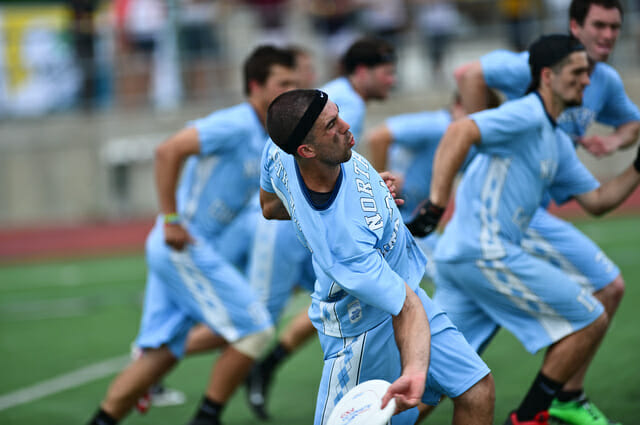 It's fall, the college preseason. As is the tradition of all preseasons of all sports everywhere, it's the time for optimism. In this magical world of what could be, all we see is everything breaking our way, the stars aligning, and everyone reaching to their ceiling and beyond. Nobody gets injured, no one underperforms, and, most importantly, nobody is eliminated. Everyone gets their shot.
Permit us to cut through the clutter (or, depending on your perspective, amass more of it) and show you the things people will be talking about this college season. We didn't cover it all. We're not clairvoyants, and the show of the season is that it's bound to bring surprises.
This time last year, who was Ben Snell? UNC Wilmington wasn't on your radar, but Central Florida was. Who saw Brown claiming New England a bid to Nationals?
But that's last year. This year is a fresh new blank canvas. Let's add some color to the emptiness. Here are the first strokes.
UNC Starting The Season On Top
It was not so long ago that the University of North Carolina – Chapel Hill didn't even make it to Regionals. In 2011, a combination of extremely windy weather at Conferences, an injury to Noah Saul, and a deep field left UNC sitting stunned on Sunday. Three years later, they were playing in the National title game after dominating the regular season. That's a testament to the strength of the area youth programs that feed into UNC as well as a renewed focus on learning to win rather than developing the rookies.
Colorado proved to be the better team just a few short months ago, but UNC is hungry for another chance at the crown. They'll have a good shot to get one. Although they graduate Callahan nominee deep cutter Christian Johnson, they return many of their most important players, including center offensive handler Jon Nethercutt, elite defender Ben Snell (who is still recovering from a torn ACL suffered at Easterns back in March), and Aaron Warshauer.
Nethercutt Highlights 2013 Nationals
While Johnson was a critical part of UNC's offense last year, anyone who followed the team saw that they truly lived and breathed through Nethercutt and Snell. Snell's injury before the Series was a big blow; he had put a challenging mark on Colorado's Jimmy Mickle in their high profile matchup at the 2014 Stanford Invite. UNC couldn't find a suitable mark for Mickle in the national final, and he tore them up.
UNC also loses some key role players, including big deep defender Charlie Shaffner, Jacob Mouw, and Drew Chandler. But Darkside's depth should enable them to ably fill in those slots. There were sophomores on last year's team that hardly saw the field and some top rising sophomores, like Norman Archer, will get meaningful run.
In many ways, the UNC defense should be in the best shape, with Tim McCallister and Snell there to anchor an already athletic group. If the team can build the right set of cutters around Nethercutt on offense, they will have to be considered the team to beat in 2015.
Oregon's Final — And Best — Chance For A Title
You can't ever count out a team that returns a Callahan winner, the way Oregon did with Dylan Freechild last season, but with some heavy personnel losses, Oregon wasn't supposed to be the juggernaut they were in 2013. Despite a lackluster regular season, Freechild and Brian Penner led the team back to the semifinals at Nationals with a strong pool play performance and thorough defeat of Texas in the quarterfinals. If they could get back to semis in a year where they graduated top talent including Camden Allison-Hall and Topher Davis and played without big deep Aaron Honn (study abroad), what can they do when they don't face such losses?
Freechild returns for his fifth year. Honn is back from study abroad. Talented handler Trevor Smith is in his fifth year and just had something of a breakout season playing for Rhino. If you followed last year's team, you'll know that Connor Matthews — a freshman last year — is going to be a force as an improved sophomore.
The defense is also well-stocked. Chris Strub, an excellent handler defender, is back. Many of Ego's role player defenders from last year are also back in the mix.
The team does lose some big weapons like Gabe Fruchter, Brian Penner, and Charlie Wilson-Moses, all of whom played big roles in the team's run last season. But there are very talented guys behind them that look ready to fill into their shoes.
The wild card? You may have heard the rumors: Simon Higgins (formerly of Las Positas and a breakout rookie for Revolver during this club season) may be joining the team. He has moved to Oregon, but has yet to make an official decision about playing with Ego in 2015. Let's put it this way: if he plays, Oregon probably moves to preseason #1. He would immediately be one of the top two or three deep cutters in the college game.
With playmakers at nearly every position, Oregon will be thinking about the title regardless of what Higgins does. There's no question they have the personnel. There may be no more richly talented and experienced team (remember: three straight semis!) in the Division this year. It's been the mental game that seems to let Oregon down in the big games. If they can sort that out, you've got a juggernaut.
How Will Colorado Handle The Post-Mickle World?
Colorado was the most talented team in the country last year. And when they finally put all the pieces together at Nationals, they rolled through the bracket to a National Championship.
But times they are a-changin'.
An elite crop of fifth years — headlined by Callahan winner and 2014 Ultiworld Player of the Year Jimmy Mickle — has left the roost. Tim Morrissy, Hidde Sneider, and Dennison Bechis are among the departed. Mamabird also loses its head coach Jim Schoettler after a six year stint.
But a team that had no rookies last year has such an embarrassment of riches that they may have the same luxury again this season as they pull up players from the deep B team to join the squad. And there are plenty of quality returners. Pawel Janas comes back as a captain and was an underrated part of last year's success. 2014 Ultiworld Defensive Player of the Year Stanley Peterson is back after an outstanding season with Johnny Bravo. Mark Rauls was a role player handler that played exceedingly well at Nationals and will be asked to do more this year.
Stanley Peterson block on Dylan Freechild
Star-studded, Mamabird is not. But they will again be very deep — something the team says was a key to last year's success.
"Although Mickle-Snieder-Morrissy are irreplaceable, it was not until the roster and the playing time opened up to a larger set of players that we began to peak last season," new head coach and former assistant coach Brent Zionic told Ultiworld. "We look to continue the trend. With the exception of Morrissy, we are returning our top defensive players."
It's hard to assess just how this team will come together this season. They aren't going to have the same offensive firepower they did last season, but they might have the best defense in the country. Could that be enough to carry them back to the semifinals and beyond?
Longtime Underdog UNC Wilmington Has Something To Prove
UNC Wilmington wasn't supposed to beat UNC at Regionals. They weren't supposed to beat Pittsburgh in an elimination game at Nationals. They certainly weren't supposed to make the semifinals at Nationals. But the team defied the odds all year.
What's scary is that they might be even better this season. The team just announced their 2015 roster today, giving us a look at just what they'll be working with. It looks good.
UNCW returns nearly all of their best players. Some will point to the loss of Robert Goode as a big one, but calling him basically a non-factor at Nationals last year is not a stretch. This team was led by its superior handling from Xavier Maxstadt and Luke Hancock, who come back as one of the best backfields in college. Jack Williams, who exploded at Nationals and got an honorable mention as one of the Ultiworld breakout players of the year, is poised for a huge year.
The losses of Trueman Nottingham and Nick Jackson will be felt, but are likely not to cause major headaches as the team slots in younger players in their wake. Charlie Lian has improved every year and is now one of the captains; expect him to anchor the defensive line and provide strong handling after the turn.
The Seamen have quietly been growing towards this year. In 2013, they upset Colorado in prequarters in a spectacular game. In 2014, they stunned Pittsburgh in quarters. Can they follow the trend in 2015?
They aren't likely to be overlooked this year as they were last year when they had a slow start and many expected the loss of Tommy Lamar and some other key veterans to be too much to overcome. But the fine coaching from Greg Vassar (2014 Ultiworld Coach of the Year runner-up), Brian Casey, and Tully Beatty have kept the team in the mix and they're now loaded with talent. Can they play the part of the favorite?
Talent Pipeline Reloading Carleton CUT
Here is the simple truth about Carleton: the program gets an absurd amount of the country's most talented high school players. They are the Alabama football program of college ultimate. They recruit on name brand alone. That's what makes it possible for them to reach the prequarters in 2014, an obvious rebuilding year after graduating the likes of Simon Montague, Nick Stuart, and Justin Norden.
They won't be rebuilding for much longer.
The team brings in, among others, two premier high school handlers: Sol Yanuck and Alex Olson, both of this year's Junior Worlds team. They return a plethora of rising stars, including Justin Lim and John Raynolds (both of Sockeye '14 and both captains), Alex Trautman (Sub Zero '14 and captain), Jesse Bolton, and Natan Lee-Engel.
Raynolds missed Nationals last year with an injury, but will be a huge contributor for CUT this season. Jesse Bolton is already one of the team's star players and is poised to have a potentially Callahan-buzzworthy year. Justin Lim is going to be the insanely consistent center handler that Carleton always seems to have.
Many of these players were superstars in high school and are on the precipice of becoming college stars. The team was extremely young last year and had a difficult season because of the terrible car accident that took three of their teammates' lives. Carleton will be sniffing the semis this year and will no doubt have title aspirations in the coming year or two.
Pitt Talented, But May Need 5th Years To Compete For A Title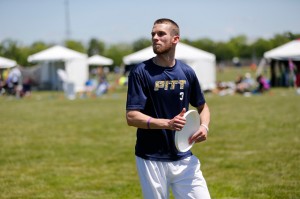 Most of what there is to say about Pitt is contained over at the recap of this past weekend's Steel City Showdown. They have some very talented players in Max Thorne, Pat Earles, and Trent Dillon, but question marks remain about their defense (especially considering their lack of height that also plagued them last season). They are unquestionably a top ten team, but can they be semis material?
A big question mark is the possible return of Marcus Ranii-Dropcho (Ultiworld's 2014 Player of the Year runner-up) and Aaron Watson. Both have graduated, but have fifth year eligibility and are rumored to be considering a return for the Spring. If they got one or both back, their chances improve quite a bit. Both play well in the air and would add significant skill to either offense or defense.
Those two are the team's only losses from last season. They have a lot of capable sophomores and juniors who will be more battle-tested at Nationals. They did look a bit more mature and polished to start this year, and we'll get a better read on them at CCC in a couple of weeks.
It really is possible that Thorne and Earles could take this team deep in the tournament on their own, with Dillon assisting as the defensive star. But they may not be quite talented enough just to ride those guys to the final.
The Shifting Southeast
Last year, most of the discussion in the Southeast region centered on the three powerhouse Florida programs — Florida, Florida State, and Central Florida. It was UCF that was supposed to dominate and head back to the final with a chance to win a title. They couldn't put their talented pieces together and bowed out early at Nationals. Florida State was the shining star during the regular season, but Florida took the reigns at Regionals. Both teams finished fourth in their pool at Nationals.
UCF, graduating some top players including Mike Ogren and John Best, won't be the favorite this year. That title probably falls to FSU. They played at Nationals without Chris LaRocque, their outstanding captain, who was away at a wedding. He returns for a fifth year. Star cutter Andrew Roney, Connor Holcombe, and Drew LaRocque (Chris' brother) all return as well, leaving FSU with most of their top talent intact.  They do lose some big defensive players, including Clark Cofer and Morgan Stanley, but have proven to fill in their D line with plenty of talented athletes in the past.
You also have to be on the lookout for Georgia this year. Georgia was a surprise finalist at Southeast Regionals last year before losing three straight games to miss Nationals. But they bring back Elliott Erickson, Sam Little (both of Chain Lightning), and have a boatload of quality YCC freshmen, including U19 studs Sebastian di Francesco and Nathan Haskell — they are likely to earn a bid this year.
And Florida will still be in the mix. Bobby Ley and James Dahl are back, the team is full of athletes now with another year of experience, and coach Cyle van Auken always gets the best out of his talent.
There's a very real chance the Southeast could get four bids.
Great Lakes Looking For Another Multi-Bid Year
Again, I'll point you to the Steel City recap where Michigan and Eastern Michigan — last year's GL qualifiers — get plenty of words.
Michigan is going to be one of this season's darkhorse semis contenders, with a bevy of returners, including the quietly excellent Sam Greenwood, Eli Leonard, and 6'9″ Jesse Buchsbaum. The team is already looking more comfortable with the disc early in the year; they struggled to find offensive consistency last season because of a lack of quality throwers. Leonard, though, was an exception, a fearless handler that made quality throws in key spots all season.
With a sizeable group of good young role players, Michigan has the pieces to have a big season and will be the prohibitive favorite to win the Region again this season.
EMU brings back James Highsmith and Johnny Bansfield — that's about all you need to know. With two of the country's most talented players and a crop of deeply experienced veterans with great chemistry, the Hellfish will have a good chance to get back to Nationals.
Northwestern remains the question mark: can they again find some early season magic to shore up a bid like they did last year? They're still a very good team, but they don't have the experience they did a year ago. It will come down to how well they can develop their sophomores and juniors by mid-Spring.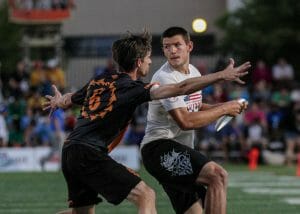 Top Heavy New England Eyeing A Big Season
UMass, Harvard, Tufts, and Dartmouth all made it to Nationals last year, much to the rest of the country's chagrin. There were plenty of calls for the region getting at least one bid too many, thanks to Brown's early season success against weaker competition.
That's understandable, considering that not a single one of the teams made the quarterfinals. But this year, the region might reasonable expect to get four bids, with three at a minimum.
UMass came out hot at Huck A Hunk, the big fall NE tournament this past weekend, and dominated the competition, outscoring their opponents 90-25 to win the tournament. Jeff Babbitt, fresh off of a season with Ironside, is already in the Callahan conversation, and the team is stocked with quality throwers and unsung talent.
Harvard brings back Jeremy Nixon, Mark Vandenberg, and John Stubbs, who know just how close they came to reaching the quarters last year. That's as good a top three as you'll find around the division this year.
Tufts brings back Tyler Chan and Carter Thallon in their always successful team system. Chan hasn't been talked about much nationally, but will be a major headache for opponents this year.
Dartmouth may have a bit of a down year, as they lose top playmaker Spencer Diamond, but they return Andrew Pillsbury and a crop of other experienced players.
New England Regionals is always a battle and should be again this season. The question is: how can these teams impact nationally? UMass has the talent and now the coaching (Tiina Booth is all in this season), but hasn't really been there before. Harvard may have their best shot for quite a while to go deep in the tournament. Tufts is a bit of an unknown, but they played into prequarters at Nationals last year with a no-doubt weaker roster than they have this season.
Southwest: One Bid Again?
Answer: Probably. It's a big mess out West, especially with Stanford looking like they'll be down (Cody Mills, Kellen Asercion, and Jordan Marcy are all departed). UC Davis loses Nathan White (who's playing for Georgia Tech this year) and Eli Kerns, who were far and away the most important players on that roster. UC San Diego is losing a boatload of experienced talent, including Trevor Purdy and Nick Smith.
Cal and UC Santa Barbara may be on the rise this year; both programs had a lot of quality sophomores who have a year of additional experience plus some club playing time. UC Santa Cruz picks up UNC's Callahan nominee Christian Johnson, so they have a cutter to build around. And, despite Stanford's relative lack of top end talent, they have been the historically strongest program and will always be competitive. From outside California, Arizona State looks like the most competitive team from the Desert Conference, with Arizona losing a ton of veterans including Brice Dixon.
What this means is another year where a big number of teams have a realistic shot at the title, but not one that looks — on paper — like it will stand out at the national level. We'll see if the Southwest teams avoid cannibalizing their rankings again this year with an early season slugfest, but, either way, two bids seems like a long shot.