A look back at the US Open.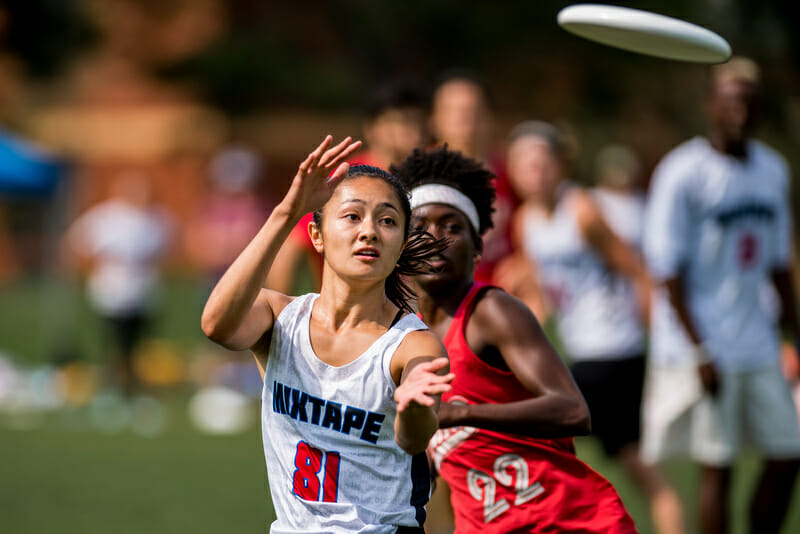 During this 2017 summer and fall season, we will publish a bite-sized weekly recap of the action across the Club Division. This will serve as a supplement to our standard tournament reporting and will offer a high-level look at the latest happenings and the biggest stories of the week.
Want your tournament listed here? Submit a recap of what happened right here.
Mixed Division
Mixtape Wins First US Open
#1 Seattle Mixtape overcame a pool play loss to Slow White to convincingly take down Philadelphia AMP in semis and then Minneapolis Drag'N Thrust in the final to claim their first-ever US Open crown. It's also the first major tournament victory for Mixtape, despite many finals appearances over the last three years.
The tournament win catapulted Mixtape to the top of the Mixed Division Power Rankings, supplanting their fellow Seattleites, BFG.
Elsewhere, Slow White's undefeated pool play performance fizzled out in the bracket, where they took thumping losses from both Drag'N Thrust in the semis and AMP in the third place game.
AMP moved into the #2 in the Power Rankings after going 6-1 at the US Open with wins over Drag'N and Slow and their only loss coming to Mixtape.
For more coverage of the mixed division at the US Open, check out our Day 1 recap, semis recaps, tournament final recap, and scores.
Quick Hits
Portland Titan NE went 7-0 en route to a title at Philly Open in Allentown, PA, taking down New York Powermove 13-8 in the tournament final.
Top-seeded Burlington Heartless took down a slew of Classic Flight rivals from throughout New England to win White Mountain Mixed, edging Rochester Garbage Plates in the final.
Women's Division
Revolution Are Story Of The Weekend In Blaine
Medellín Club Deportivo Revolution proved themselves as one of the top club teams in the world by winning the US Open in impressive fashion against the best the US had to offer.
After taking down then-#1 ranked Boston Brute Squad in pool play, they managed to claim a spot in the bracket despite losses to Molly Brown and MUD. There, they played fantastic ultimate to take down Seattle Riot 15-10 in semis and Molly Brown 15-13 in a rematch in the final.
Despite falling in the final, Molly Brown had a great tournament, knocking off Brute Squad in pool play and Fury in the semifinals to take over the #1 spot in the Power Rankings.
Fury finished the weekend 1-1 against Riot after beating their Seattle rivals in the third place game.
For more coverage of the women's division at the US Open, check out our Day 1 recap, semis recaps, tournament final recap, and scores.
Quick Hits
In the only other sanctioned action in the division on the weekend, #21 Philadelphia Green ran away from all competition at the Philly Open, not letting a single opponent get closer than six points all weekend.
Men's Division
Sockeye Claims Top Spot With Two Wins Over Revolver
Now-#1 ranked Seattle Sockeye made clear that their pool play win over San Francisco Revolver was no fluke with a 15-10 blowout win in the US Open final. It was Revolver's worst loss since 2014.
Sockeye's combination of sharp offense and suffocating defense was no match for either Truck Stop or Revolver in the bracket.
Sockeye did lose once — 15-13 to Raleigh Ring of Fire — but they had already locked up the top spot in Pool A.
Notably, Ring of Fire went undefeated once they had their full team on hand. They were missing nearly half of the roster (and most of the offensive line) for the first two rounds of the tournament due to travel cancellations and delays. They lost to Revolver and then Sub Zero before beating Sockeye, High Five (twice), CUSB, and Clapham. They also did so largely without center O-line handler Jon Nethercutt, who was coaching the YCC U20 Boys team Triangle Triforce to a Championship for most of the weekend.
For more coverage of the men's division at the US Open, check out our Day 1 recap, semis recaps, tournament final recap, and scores.
Quick Hits
In a tournament rife with upsets, New York Blueprint escaped a crowded field of Northeast and Mid-Atlantic squads at Philly Open.
Athens Cerberus won their hometown tournament Trestlemania, taking down Orlando Omen in the final 13-11.
Looking Ahead
Chesapeake Open (M/X/W) is set for Boyds, MD, this weekend. While not as deep with top teams as in some years, it remains an important stop on the path to the Series for many Select teams looking to crack through to Nationals.
The Kleinman Eruption (X) in Corvallis, OR, offers a similar opportunity for Mixed teams on the West Coast.