Action on both coasts!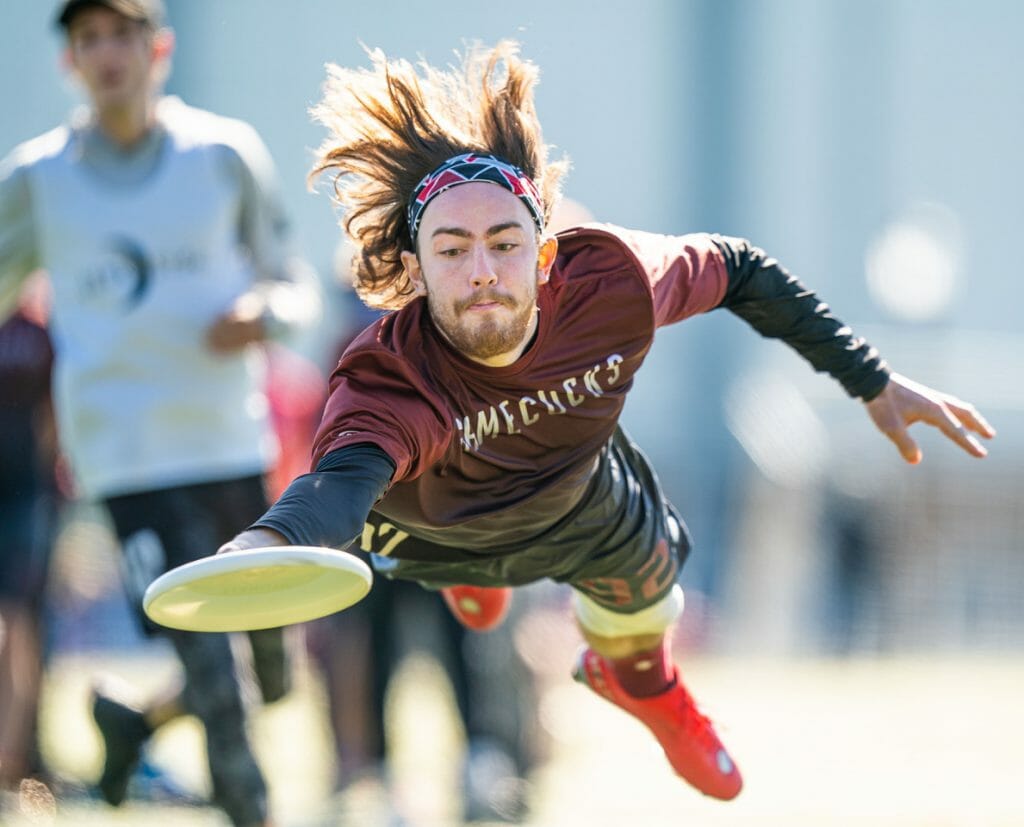 College Update is presented by Spin Ultimate. Please support the brands that make Ultiworld possible and shop at Spin Ultimate!
Throughout the spring season, we will publish a bite-sized weekly recap of all the action across the college division. This will serve as a supplement to our standard tournament reporting and will offer a high-level look at the latest happenings and the biggest stories of the week.
Want your tournament listed here? Submit a recap of what happened right here.
D-I Men's
Defense Leads Washington to SBI Win Over SLO
#7 Washington closed out a fantastic opening weekend in Santa Barbara with a 13-11 victory against #17 Cal Poly SLO in the final. No other team at the Santa Barbara Invite came anywhere within striking distance of the Sundodgers, who pummeled third-place team UCLA 13-5 in semifinals and cruised past Colorado State 13-7 the round prior. Their rookies were impressive, especially as parts of a suffocating and deep defense. They couldn't ask for a better start to the 2020 campaign. Fellow Northwest team #2 Brigham Young joined Washington as the tournament's two undefeated clubs and clearly the top pair at the tournament; it's a shame we didn't get to see them match up.
Meanwhile, the Southwest represented itself well at a home tournament. Of course, that crop was led by regional favorite, #17 Cal Poly SLO, whose young core appears very ready to keep the team in the division's top tiers. Calvin Brown and Conor Schofield were impressive, and SLO looks plenty talented, albeit understandably raw after losing so much experience from last year's semifinal outfit. UCLA and #23 California both played well on the way to third- and fourth-place finishes, respectively.
For more on Santa Barbara Invite, check out our Tournament Recap. Our subscribers can also check out Charlie Eisenhood's new Tournament Talk column.
North Carolina Wins Hometown Kickoff Mostly Unchallenged
#3 North Carolina thrashed the mostly-regional competition on the way to an undefeated 6-0 victory at Carolina Kickoff. Their toughest match was predictably in the final, where they met #10 NC State. Most of the match was close, and was as tight as 9-8 before a 5-2 run in favor of Darkside put the game away with a 14-10 final score. Liam Searles-Bohs and Anders Juengst were in fine form for the UNC offense, and their freshman crop looked far improved from their fall showing.
Much of the anticipation coming into the tournament was about the potential clash between NC State and #15 UNC Wilmington. It came to fruition, but the start was anything but the thriller fans had hoped for: NC State jumped out to an emphatic 6-1 lead that grew to 9-3. UNCW's high-risk deep game came up empty over and over and they had few answers for the Alpha offense. The Seamen showed some fight getting back within three, but couldn't really recover, falling 13-10.
The last semifinalist, #24 South Carolina, looked solid, handling lower-tier competition comfortably before being handily dispatched by UNC 15-8 in their bracket contest. The Gamecocks look the part of an Atlantic Coast threat.
For more on Carolina Kickoff, check out our Tournament Recap.
Vermont Ends on Top at Mid-Atlantic Warmup
Submitted by Lucas Reichert.
A regionally diverse group of teams gathered in Richmond, VA, for the fifth annual Mid-Atlantic Warmup. Ranging from teams who could surprise in the postseason to teams hoping to qualify for Regionals, there were several upsets throughout the tournament. The final was not one of them, as top-seed Vermont took down no. 2 seed James Madison 15-13. The game was a back-and-forth battle, with James Madison jumping out to a 5-3 lead. However, Vermont broke several times out of half and went up 10-7. JMU stayed in the fight, tying the game at 11-11, before dropping several long points towards the end and losing 15-13. James Madison looked the part of another potential darkhorse in the deep Atlantic Coast, while Vermont could be a threat to steal a bid to Nationals in the New England region.
Elsewhere in the tournament, no. 14 seed Virginia Commonwealth was the biggest mover, upsetting their entire pool on Saturday (including no. 3 Liberty). No. 12 Boston University also broke seed, finishing third at the tournament. Both teams missed out on regionals in 2019, but look like promising contenders for qualifying in 2020.
Elsewhere in the Division
While many of the West Coast powers were lacing up at Santa Barbara Invite, #8 Oregon stayed in state at the Pacific Confrontational Invite, where they went undefeated. They bookended the weekend with their only contested games: 15-11 over Humboldt State to start and 15-10 over Oregon State in the final.
Utah State went 2-0 against Denver, including 12-8 in the final, to hold the no. 1 seed and win New Year Fest. It's the first time Utah State has gone undefeated at a sanctioned event since 2016, the last time they attended this same tournament to open their season.
Looking Ahead
The forecast calls for a light weekend, one of the last we may see during this regular season.
Presidents' Day Qualifier culls the Southwest hopefuls, with Santa Clara University as the no. 1 seed following an impressive Santa Barbara Invite. They will be the favorite against a sizable 25-team field.
Down in Texas at Big D in little d, several South Central clubs will get their first chance to do battle in what should be a competitive region. This is a good tone-setter for their season, topped off by no. 1 seed Texas Tech and no. 2 Oklahoma.
D-III Men's
Inauspicious Start for D-III Clubs at Mid-Atlantic Warmup
For the D-III teams at the Mid-Atlantic Warmup, there were mixed results. Traditional powerhouse Mary Washington struggled on Saturday, going 1-3. They were able to turn it around on Sunday, winning two DGP games to finish tenth. No. 6 seed Williams also struggled, going 1-6 on the weekend and finishing sixteenth. Navy had a promising weekend, finishing ninth and rolling through the consolation bracket.
D-III Teams Outmatched at Carolina Kickoff
Despite three of the 2019 semifinalists being part of the four-team D-III contingent at Carolina Kickoff, the cohort was only able to earn one win over a D-I team. Carleton GoP's solid 10-5 victory over Florida State was the lone cross-division victory. GoP also defeated UNC Asheville, who edged Richmond, who topped Air Force, forming a clear D-III hierarchy from the weekend. Some missing pieces for both UNCA and Richmond could mean that their Kickoff results are actually a good starting point for the two AC clubs.
Elsewhere in the Division
Whitman finished third at Pacific Confrontational Invite, going 4-2, earning a dominant win over Lewis & Clark. For their part, L&C split close matchups with Montana — a win to start the tournament and a loss to end it — to finish in eighth place.
After taking a loss to a key D-III rival, North Georgia, to open their season, Georgia College bounced back and won a number of close games on their way to taking home the title from Clutch Classic, defeating top seed Kennesaw State 9-6 in the final. Disconnected held off Berry in semifinals by just one goal; Berry went on to finish fourth as teams played a rain-shortened Sunday schedule.
Looking Ahead
Only a pair of tournaments are on the schedule, but there are D-III teams at both. A lot of South Central clubs are gathered at Big D in little D: Rice, Colorado College, and John Brown headline, but Tulsa, Sul Ross State, Abilene Christian, and Dallas Baptist are also in the field. We'll get an early sense of the region! In California, Occidental is a high seed at Presidents' Day Qualifier, with CalTech also in the field. Could Occidental go from no. 5 seed to earning a spot at the Presidents' Day Invite?
D-I Women's
UC San Diego Demonstrates They are Still a Contender by Earning SBI Crown
While it was understandable to write off #8 UC San Diego given their roster attrition in the offseason, the early returns indicate that was short-sighted. Alex Diaz's dynamic downfield play electrified in the starring role for D-Co, while the team as a whole proved they could adjust into bigger roles at Santa Barbara Invite. They repeat as the tournament's champions, conquering #10 UCLA 12-10 in the final. None of their other opponents could even stay close, as evidenced by a sound defeat of #16 Vermont 12-3 in semifinals. Until we see otherwise, consider D-Co the class of the West Coast.
The other semifinalists all have plenty to feel good about from their first tournaments of the season. UCLA was the lone team to compete for two halves with UCSD, and held a lead over San Diego before being overcome. BLU suffered a Saturday loss to #13 Northeastern, but recovered to beat UCSB and Wisconsin in bracket play. Meanwhile, Vermont handled regional rival Northeastern 12-7 in quarterfinals, a great sign for them. #17 UC Santa Barbara earned quality wins over Vermont1 and #9 Washington.
With such a deep field, there were plenty more takeaways from Santa Barbara Invite. For more on the weekend, check out our Tournament Recap. Our subscribers can also check out Charlie Eisenhood's new Tournament Talk column.
Elsewhere In The Division
Four Oregon teams gathered for a two-day round-robin at Pacific Confrontational Invite, with Portland State dropping out Sunday. That left Oregon and Whitman to battle for the unofficial championship. The two split their matchups: Oregon won 13-12 on Saturday, but Whitman prevailed Sunday 11-5.
Georgia Tech Wreck lived up to their name, doing exactly that at Clutch Classic in a 6-0 weekend. No team managed more than five goals against them; three only evaded getting bageled by a single goal. Alabama reached the final before falling 11-1 to GT.
There's something wholesome about the classic eight-team, two-pool, everybody-makes-the-bracket format, which was in play at Winta Binta Vinta Fest. Tournament standings were fairly orderly, as well, with no. 1 Virginia defeating no. 2 James Madison 13-4 in the final. It's the second straight year UVA has gone undefeated through their home tournament. The only team to break seed was no. 5 Liberty, who upset no. 4 Georgetown in quarterfinals.
New Year Fest played out as a seven-team round-robin, with the top two finishers by record clashing in the final. The turned out to be no. 6 seed New Mexico, who beat Denver comfortably 10-5 to earn the tourney win. It could be an up year for the Bombshells, who look like they could push for Southwest Regionals after failing to win a game at Conferences in 2019.
Looking Ahead
The forecast calls for a light weekend, one of the last we may see during this regular season.
Presidents' Day Qualifier offers a prized position in the field for the Presidents' Day Invite to a slew of Southwest teams. Some squads are already playing their second tournament! Can that give Arizona or Arizona State an advantage? No. 3 seed UC Santa Cruz had some competitive SBI games, but don't count out Southern California either.
Winston-Salem, NC plays host to Castle Classic, which appears to be taking the place of Hucking and Shucking. That means it'll be a gathering of Carolina and AC teams with hopes of reaching Regionals, looking to get early season reps.
D-III Women's
Around The Division
Much of the Southeast has now already played a tournament (lucky them!) as Georgia College and Belmont started their 2020 campaign's at Clutch Classic. Both got off to rough starts, going 0-3 in pool play and struggling to generate offensive momentum. But Sunday saw improvements, particularly from Georgia College, who beat Georgia State in consolation play.
Looking Ahead
There's not a lot of tournaments this weekend, but those happening should feature some D-III clubs. Occidental starts their season against some tough Southwest D-I competition at Presidents' Day Qualifier. Meanwhile, expect some Atlantic Coast competition at Castle Classic in Winston-Salem, NC.
---
who they split with in consolation play ↩