From audio documentaries to crossword puzzles, Ultiworld's editors select their favorite works we ran on the site last year.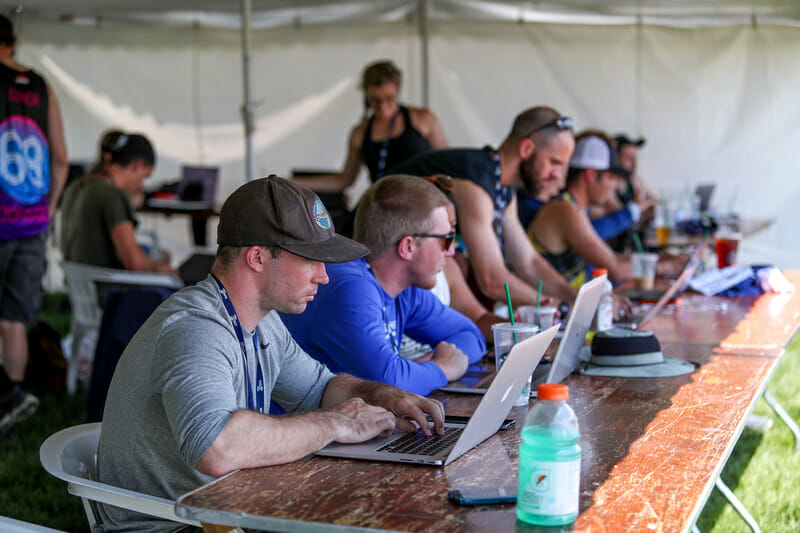 Every year at Ultiworld is special, but 2021 was a singular time for ultimate coverage. At the beginning, the last months of the bad old pre-vaccine days had writers reaching deep within their creative resources to explore the magic of a game we weren't sure we'd watch or play again anytime soon; by the end, of course, we'd see joyful returns for American, Canadian, and European club, semi-pro play in both the AUDL and the PUL, and even a much-delayed college capstone, as well as a smashing debut for the new WUL ahead of their first full season this spring.
The most-read articles of 2021 paint a picture of a varied, exciting year for a sport in flux after the pandemic's many disruptions. But clicks are just one part of the story. It's hard to pick favorites, but here are a few of the pieces, features, and episodes Ultiworld editors Charlie Eisenhood, Keith Raynor, Steve Sullivan, and Mags Colvett were proudest to publish, most excited to hear, or just can't stop thinking about.
"Ha! Look at you, wearing a visor to practice. Very funny. Where did you even get a visor? So very funny. In your daydreams, no one can get enough of the joke." It's an open secret that some of ultimate's most devoted keepers of the flame have sort of an unstably ironic relationship with the sport that they somehow — nevertheless — come to measure their lives by. Edward Stephens's autobiography in vignettes follows one such life in the game via a certain item of self-consciously quirky (or is it just practical?) headgear, but also the yin and yang of that joking-but-not-joking, pointless-but-purposeful, every-time-I-think-I'm-out-it-pulls-me-back-in dance that many of us know by heart. — Mags Colvett
Paul Würtztack's development of the new ultimate statistic EDGE has pioneered a new way of looking at ultimate that captures the critical missing piece from traditional box scores: yardage. Using the AUDL's rich data set from the 2021 season, Würtztack laid out not just weekly and season-long top players but also a mental framework for evaluating player performance in ultimate. — Charlie Eisenhood
I've never been to Nationals except to hole up in the media tent, but for those competing there for the first time, the experience can be as disorienting as it is momentous: if making it here was the lodestar that pulled you through so many throwing sessions and ass-in-the-morning track workouts, what guides you now? No matter how new it is to those players, though, they walk in the cleat-prints of many who came before. Tiina Booth has coached a fair number of those teams and players over time, and finding herself with "a lot to say and no one to say it to" before last year's Club Championships, distilled some of that wisdom into these twelve tips. — Mags Colvett
I really appreciate projects that expand storytelling within the sport to media beyond the written word. Especially as we have sought ways to bring new voices to the forefront in ultimate, utilizing an audio diary and interviews to share the perspectives of Black players and their experience with the amazing Con10ent Tour made too much sense. Katiana Hutchinson did incredible work to wrangle many hours worth of interviews and on-site soundbites into a coherent script that was then fastidiously edited by emerging media polymath Lindsay Soo to produce an engaging hour of audio that amplified the stories of often-marginalized community members. — Steve Sullivan
Mike Kaylor and the Cincinnati Ultimate Players Association put together an amazing resource for organizers interested in running a tournament. With guidance on timelines, key staff positions, how to do a site visit, and more, they have created a blueprint for running a successful ultimate event. — Charlie Eisenhood
This one turned out to be a bit personal for me, although obviously it was personal for its author. Kelsey Hayden did a wonderful job honestly expressing how ultimate has gone from a subject of dismissive derision to a core part of her life. Part of it is that I've seen the joy and passion Kelsey herself has for the game. But I've also watched other athletes who may have never thought the game could be serious discover it and more about themselves through it, particularly the young women I've coached. And once upon a time, that was me. I joined the ultimate team because I thought it'd be a fun way to stay in shape for basketball season. Now it's what I do. — Keith Raynor
If the traditional version of ultimate — one based around bringing players from all over the country together for a weekend-long tournament and social gathering — has any prayer of remaining relevant moving forward, we as a community are going to have the adjust our calculations on the economics of that model. While expectations and prices rise for hosting safe, fun, well-amenitied field-sport events, we are still tethered to the shoestring budgeting and strained volunteer-base we had more than a decade ago. Anyone who has hosted an event knows this to be true, but Charlie's work in collecting those stories from veteran organizers and laying them out for all to consider should be a wake-up call for the community. If we don't find a way to fix this problem — and fast — we'll see the experiences of the elite and recreational players continue to diverge and push out most of the best organizers in the sport precisely when there's a growing appetite for well-run local events. — Steve Sullivan
Interview content can, particularly to me, be very boring. But sometimes you get a great marriage of interviewer and subject. Cody Mills's conversation spans topics from life-changing injuries to tryout regrets to brutal season-ending losses, and Charlie's insightful questioning is informed by a strong understanding of who is he talking to. It's one of the best interviews in the history of the site. — Keith Raynor
I've always really liked our Feature layout on the site and Mags has done an incredible job exploring new formatting options and pushing the visual elements further than we ever have before. The Davide's Doctrines: Horizontal Stack series is awesome for how it embeds video and other visual flourishes to enhance the content, but in terms of pure aesthetics, I think the interview with the ladies behind Contested Strip and One More Year makes the best use of the various formatting options available to us to produce maybe the most beautiful layout we've ever seen on the site. That it also shares the fun story of a pair of incredibly talented members of our community is just icing on the oh-so-delicious cake. — Steve Sullivan
I can't keep a straight face while picking a piece of content I've co-created, but I can point to this as the patient zero for Ultibucks and a clairvoyant call for Ultimate 4s. There are some interesting concepts in this episode from listeners, and it gives me hope to know people are putting serious thought into ways to better our community. — Keith Raynor
Ultimate has its share of "slice of life" writing, but nothing hit the intersection of "lol so relatable!" and insightful as Mags Colvett's deep dive on the ultimate community's thirst for validation. We spend a lot of time differentiating ourselves from, and in that process, denigrating, the mainstream sports and entertainment spaces, while simultaneously wishing they would stop what they are doing to give us a standing O. I, too, can't picture James Comey skying someone without him wearing a suit. — Keith Raynor
For all of the seriousness with which we approach our role as journalistic chroniclers for our sport, we do recognize that ultimate for many people is primarily a pleasant escape and source of fun in their lives. Finding out that among Edward Stephens's many skills was an affinity for creating crossword puzzles, we were immediately intrigued by the idea of him building one with ultimate as its theme to share with our readers. Whether it took you six minutes or six hours to complete, this puzzle was a unique piece of content for us that reflected some of the fun that the sport is meant to provide us. — Steve Sullivan
As you can see in this list, our Stall 9 column — which gave members of our staff the opportunity to sound off or write about whatever was on their mind — was a big hit last year in terms of producing great content. The flexibility of the exercise not only allowed writers to plumb some new subjects, but also to show off their own styles, freed from the strictures of straight news reporting or event coverage. Few of our contributors have as distinct a writing style as Patrick Stegemoeller — often, you can tell it's one of his pieces within a sentence or two. One common trope in his work is using a single quotidian ultimate moment to explore a much larger theme, far beyond the reaches of the sport. That was the case in this entry, using a single play from the 2017 World Games to expound on the generational predation of athletic pursuits and the merciless, inescapable passage of time. — Steve Sullivan
Ultimate's salespeople make much of our respect for our opponents and the spirit of camaraderie that unites players across teams. But sometimes what's just as important to the joy of competition is… having a nemesis! After their longtime rivals Ragnarok folded at the beginning of 2021, Danish team KFK appeared to have lost that focusing center: who were they if they weren't trying to knock off the perennial champions? In fact, their identity has a long history — not just also-rans at Danish Nationals, but a social club with roots as far back as the early 1980s — of which the Ragnarok rivalry was just one expression, not the gravity holding the whole thing together. It's been said that rivalry is one of the truest expressions of respect, but it's also an expression of self-respect: deciding that you, too, are a worthy opponent. KFK found that opponent in the best of Denmark's best. Now they've outlived them. — Mags Colvett