Results from Presidents' Day Invite, plus some D-III action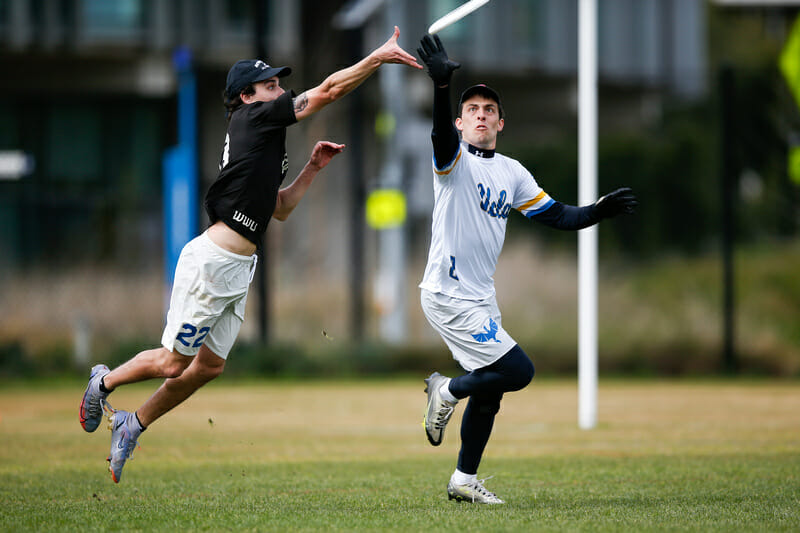 College Update, presented by Spin Ultimate, is back! Throughout the spring season, we will publish a bite-sized weekly recap of all the action across the college division. This will serve as a supplement to our standard tournament reporting and will offer a high-level look at the latest happenings and the biggest stories of the week. Please support the brands that make Ultiworld possible and shop at Spin Ultimate!
Want your tournament listed here? Submit a recap of what happened right here.
D-I Women's
Colorado Flash Elite Bona Fides
The second leg of the West Coast Triple Crown ended with a confident 12-8 Colorado Quandary victory over #8 Stanford Superfly. Their undefeated run was as promising a debut as could be for a team itching to get back to – and win – the national championship game. Stacy Gaskill was an unanswerable force deep, and the whole team did well to pick their way through a Stanford zone that gave every other team at the tournament fits. They have the hallmarks of a squad who could knock #1 UNC off their perch.
Speaking of Stanford, they are starting to look like the Superfly teams of old. As noted in Graham Gerhart's day two recap, their average margin of victory heading into Monday was eight goals. After a few years in the shadow of some of the UC schools, they may be the head of the class in the Southwest once again. The other top story from the three-day event is another resurgent program: #14 Oregon Fugue, hungry for glory again and aided on that journey by a few special first-years. For more impressions and notes, check out the forthcoming tournament recap.
For more on Presidents' Day Invite, check out our tournament preview and day one recap, or video of the games available for subscribers.
Elsewhere in the Division
James Madison Bitchmonkeys conquered the first weekend of Commonwealth Cup with victories over the play-above-their-weight youth team Triangle Tourists in both pool play and the final. Big wins over Virginia Tech and Liberty could be a favorable indication for their regional fortunes later this spring.
UC Santa Cruz Sol reached the final of Santa Clara Rage before falling to the tournament's eponymous hosts Santa Clara RAGE 7-6.
Looking Ahead
A typically strong women's division field will cleat up for the second weekend of Commonwealth Cup in Martinsville, Virginia. Top seed Virginia Hydra look to keep their momentum going against challengers from the Atlantic Coast, Ohio Valley, Metro East, Southeast, Great Lakes, and New England regions. Circle their pool play match against Northeastern Valkyries as a potential indicator of either team's potential.
D-I Men's
Ego Vault into the Spotlight
#17 Oregon Ego took down the pre-tournament favorites #2 Colorado Mamabird in a tight, break-free final to take the crown of the biggest West Coast tournament of the season. The win capped off a perfect 9-0 weekend that showcased the huge potential of this year's Ego squad – even shorthanded. Itay Chang was magnificent for an aggressive offense that put to bed any of the lingering concerns from last month's Santa Barbara Invite. The upset in the final was not a total surprise – our reporter Jake Thorne lowkey called for it in his Day 2 recap.
Colorado had a strong debut in spite of Monday's loss. Calvin Stoughton, Seth Wells, and Danny Landesman (among others) led a formidable O-line to plenty of easy scores. They'll try to build on that foundation in a few weeks, and hopefully earn a break in crunch time. #9 Cal Poly SLO (playing without star Seamus Robinson) continued their solid season, and Washington (playing without star Tony Venneri) mostly looked like a top-flight team again during a run to semis. Alex Nelson and Jack Brown filled in well for their respective missing teammates. Keep an eye out for a full recap later this week.
For more on Presidents' Day Invite, check out our tournament preview and tournament day one recap, or video of the games available for subscribers.
Elsewhere in the Division
SUNY-Binghamton Big Bear, Princeton Clockwork, and hosts Delaware Sideshow all put together strong weekends to reach the semifinals of the Blue Hen Open, but they could not overcome an even stronger showing by Lehigh, who took the crown in impressive fashion.
Alabama-Birmingham Inferno took down all challengers at the Ole Muddy Classic in Tuscaloosa, albeit not against particularly strong competition.
Looking Ahead
Easterns Qualifier is one of the more lowkey high-stakes events in the men's division every year. Which of the attending schools will scrap their way to a golden ticket and a chance to test their mettle against the top teams in the country in April? McGill MUT, making their 2023 debut after a big splash at Centex last year, are an interesting group to keep an eye on – but far from the only team who figure to compete for the title.
Mardi Gras and Dust Bowl, between them, will feature a heavy helping of action from men's and women's teams in the central part of the country in both D-I and D-III.
D-III Women's
Commonwealth Cup Weekend 1 indicated the start of the D-III season for a number of teams across the Atlantic Coast region. #18 Mary Washington had a strong showing in pool play, going 4-0 with decisive wins across the board. Cedarville is putting their name back on the to-watch list, going 3-0 on Saturday and only letting up a total of 16 points. The two teams both broke seed, finishing fourth and fifth respectively in a tournament dominated by D-I competition. In addition, a rebuilding Richmond Red Hots was in attendance alongside Wake Forest Ruckus.
Sno Melt saw Colorado College Zenith and Colorado School of Mines Enthalpy face off in round robin play. Zenith came out in second place following Whitman Sweets1 with only a two point differential to go 5-1 on the weekend.
Looking Ahead
While D-I competition has been ramping up quickly, the next few weekends are jam-packed with D-III action, and Vineland, NJ is sure to be a popular destination. Bring the Huckus expects a power pool consisting of Haverford/Bryn Mawr Sneetches, Lehigh Gravity, SUNY Geneseo and newly D-III Dartmouth Daybreak. At this time, pools are subject to change, but expect these four teams to dominate the weekend.
The first weekend of March has a number of upcoming, exciting tournaments with many teams sure to return to Vineland to attend Philly Special and some appearances at No Sleep Til Brooklyn, both of which have yet to announce the teams in attendance.
D-III Men's
Sno Melt saw Colorado College Wasabi and Colorado School of Mines Entropy finish atop their pools with decisive wins and face off in the final on Sunday. In the end, it was Colorado College who emerged victorious with a 13-6 win to start off their season undefeated.
Commonwealth Cup Weekend 1 was full of highlight plays with the charge led by Elon. Coming in as the 15 seed, Elon cruised their way through three decisive pool play wins to take Pool B and then continue their undefeated momentum to the final, where they eventually fell to D-I Wisconsin-Milwaukee. This is a big moment for Big Fat Bomb to put themselves on the map.
Looking Ahead
Bring the Huckus in Vineland, NJ will see Metro East's Ithaca and Rochester face off as the top seeds for the weekend, but Connecticut College and Army will not be far behind. Seedings are any team's opportunity to prove the TDs wrong and take the tournament just as Elon (nearly) took Commonwealth Cup Weekend 1.
The first weekend of March has a number of upcoming tournaments. Expect a strong showing of D-III men's teams at FCS D-III Tune Up, Philly Special, and No Sleep Til Brooklyn.
---
Who are also D-III this year after previously competing in D-I ↩