Our biggest update yet provides a full view of a massive weekend in college ultimate.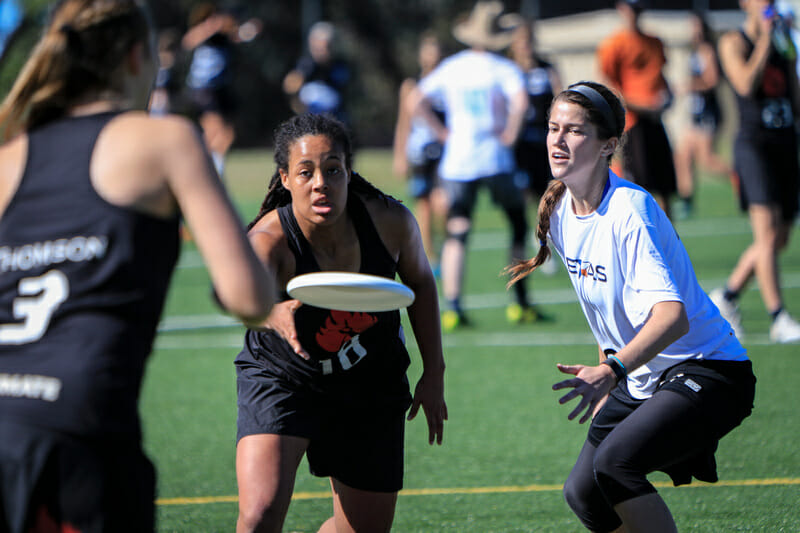 During the spring season, we will publish a bite-sized weekly recap of the action across the College Division. This will serve as a supplement to our standard tournament reporting and will offer a high-level look at the latest happenings and the biggest stories of the week.
Want your tournament listed here? Submit a recap of what happened right here.
Women's
UCLA Wins and Stanford Falls At Presidents' Day
#2 UCLA BLU emerged from a grueling three day tournament the undefeated victor at Presidents' Day, defeating #3 Texas 8-6 in the final. Led by Han Chen and Sylvia Liang, BLU was extremely impressive, fighting through the likes of Colorado, Oregon, and Western Washington on the way to the win.
Of course, perhaps the biggest news was the semifinals loss for #1 Stanford Superfly. Texas Melee roared to life in the second half to snatch the game away from the previously undefeated Stanford team, who had been throttling all manner of opponents and giving life to whispers of an undefeated season and a repeat championship. While the second is still in play, the former is no more.
For more coverage of Presidents' Day, check out our full tournament recap, Saturday/Sunday recap, and scores! Game video is available in Ultiworld's video store for subscribers and will continue to be updated.
Kansas Handles Competition at Dust Bowl
#22 Kansas Betty walloped every team they faced at Dust Bowl, with no team coming with 7 points of the top seeded team1. A win over D-III #1 Truman State in the final sealed the deal for Kansas, and all of the blowout wins can't hurt come USAU's first rankings.
Quick Hits
D-III Update: Mixed Performance for Rice, Strong Showing for Truman State
Seeded second going into Big D in Lil D, #3 Rice Torque struggled on Saturday going 0-4. However Torque found fresh energy Sunday and finished third overall, handily beating University of Texas's B team and edging out Marcus High School, who rolled them on Saturday. After playing mostly big Texan schools, Rice has work to do at Centex in March.
Hosted by the Tulsa Ultimate Federation, Dust Bowl hosted fifteen women's teams, including three ranked Division III squads. #1 Truman State TSUnami finished second overall; they only lost to D-I #22 Kansas in the final, 15-4. Bringing 25 out of their 31 (!) total players, TSUnami did work to develop younger players, but were focused on playing competitive and strategic lines.
#17 Grinnell Sticky Tongue Frogs jumped in the rankings this week after a strong showing and a sixth place finish. Their well-practiced zone proved effective in the Oklahoma wind.
#25 John Brown Savage Skies showed up strong to finish seventh. The team played several tight games, wearing them down for Sunday which included a universe loss to Grinnell. For perspective: with a roster nearly half the size of Truman State's, John Brown played 94 points Saturday versus Truman State's 73.
Men's
Surging Pittsburgh Wins Florida Warm-Up
If the outgoing class from last year's Pittsburgh team was supposed to mark the end of their elite run, it looks like Pittsburgh didn't get the memo. #2 Pittsburgh En Sabah Nur went 8-1, exploding for a 15-7 victory over #3 Minnesota in the final. That same Minnesota team was the only one to defeat Pitt over the three day event, as Pitt's impressive defense, led by Mike Ing, Carl Morgenstern, and Sam VanDusen created opportunities frequently and cashed them in greedily.
Minnesota Grey Duck was clearly the second strongest performer, reprising their role as reigning National Champions. But the field was highly competitive and no team emerged unscathed. #13 Northwestern NUT shocked everyone with a run to the semifinals behind fiery, deep, and athletic defense across the roster. #14 Texas A&M was the other semifinalist, while #6 Carleton and #10 Wisconsin missed the bracket altogether.
For more coverage of Florida Warm-Up, check out our full tournament recap, Friday recap, Saturday recap, and scores! Game video is available in Ultiworld's video store for subscribers and will continue to be updated.
Colorado Outmuscles Presidents' Day Competition, While Oregon Slips
A strong, athletic, and disciplined #4 Colorado Mamabird team claimed the Presidents' Day title, defeating #15 Cal Poly-SLOCORE in the final, 12-7. It was the second time Colorado beat Cal Poly at the tournament, whose weather-influenced format kept them from getting many chances to face other top ranked teams. But it was clear that they were the top outfit at the tournament.
#7 Oregon Ego was a victim of ill-timed mistakes and an unforgiving format2, suffering a shocking 12-8 upset at the hands of UC Santa Barbara to start their tournament. Formerly the top ranked team in the nation, Ego suddenly was on the outside looking in at making power pools and thus the final six team bracket. That meant they would not get a chance to face any of the other top seeded teams. They stepped it up and took care of business the rest of the way, but we'll have to wait until Stanford Invite to see them tested by other top squads.
For more coverage of Presidents' Day, check out our full tournament recap, Saturday/Sunday recap, and scores! Game video is available in Ultiworld's video store for subscribers and will continue to be updated.
NC State and Case Western Reserve Advance Through Easterns Qualifier
The top two seeds, #23 NC Sate Wolfpack and Case Western Fighting Gobies, both navigated a deep field of regional contenders to win the Easterns Qualifier and open the door to more elite competition at Easterns. NC State took down Case in the final, 15-11, pushing their record to 18-4 on the season, an 2-0 against Case Western. It's an impressive mark for a team making a push in the competitive Atlantic Coast region. Fellow AC squads Virginia and James Madison were the other semifinalists.
Quick Hits
Dust Bowl started with Texas Tech Tumbleweed as the No. 1 seed and ended with them as the champion. They took down D-III #7 John Brown in the final, and are 2-0 now against John Brown, making them the only team to beat them this year. Texas Tech moves to 15-0 and is likely to be high in the early USAU rankings.
West Chester won their four games, including two against Drexel, to claim the Jersey Devil Indoor.
Looking Ahead
After elite teams took advantage of the holiday weekend, this Saturday and Sunday feature a lot of tournaments, but few ranked D-I teams. It is, however, a big spot on the D-III calendar.
The exception to elite teams taking a weekend off is Commonwealth Cup (W), which features #9 Virginia, #13 Pittsburgh, and #17 North Carolina in a large field comprised mostly of Atlantic Coast and New England region teams. They'll be tested, however, in their Saturday power pools.
Music City Tune-Up (M) hosts D-III #11 UNC Asheville, #14 Alabama-Huntsville, and #18 High Point in a challenging 16 team field that will be key for the Atlantic Coast and Southeast at the Division III level.
An astounding 64 teams are scheduled to play3 at Bring the Huckus (M/W), replete with teams from the New England, Metro East, and Atlantic Coast regions. No. 1 seed New Hampshire is the men's favorite, but they face competition from teams like D-III #13 Williams. The women's side features D-III #4 Williams, #13 Haverford, and #15 Bowdoin, all trying to take down No. 1 seed West Chester.
D-III #6 Portland is faced with a Northwest field at PLU BBQ (W), but can continue to build on a surprisingly strong season.
The tradition of Mardi Gras (M/W) continues on the ultimate field. On the men's side, No. 1 seed LSU is 13-1 this season and won their last event without a loss. For the women's division, Alabama is the No. 1 seed, but it may be No. 2 seed Indiana who is the favorite.
Bryant's Winter Tournament (M) is a small affair, but means we'll get to see D-III #4 Bryant and #21 Bentley in action for the first time.
Charlotte, NC will play host to Market Crash (M), where primarily local teams will do battle, with UNC-Charlotte and Davidson at the top of the two pools.
Other events: Huckin' in the Hills (M), Joint Summit (W)
---
despite an erroneous report on Twitter by yours truly ↩

and bad luck, losing a tiebreaking coin flip ↩

Hosted by Ultiment ↩