Breaking down every region and all your contenders.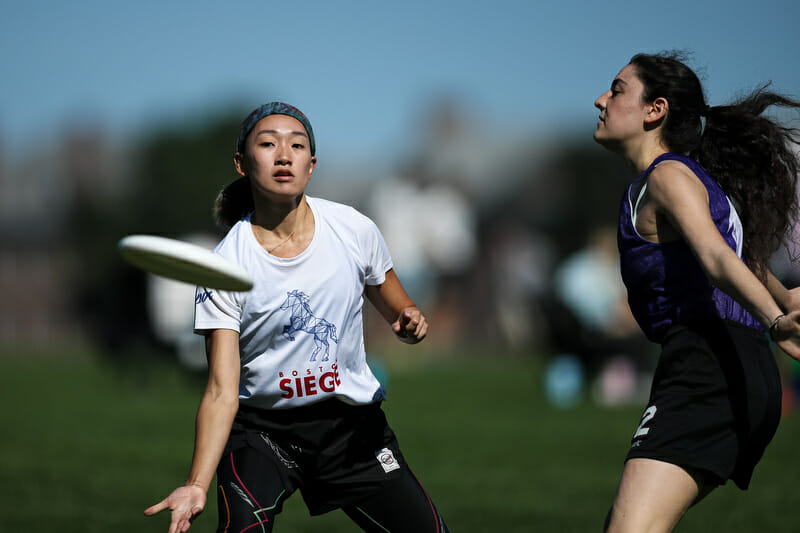 Ultiworld's 2021 coverage of the club women's division is presented by Spin Ultimate; all opinions are those of the author(s). Find out how Spin can get you, and your team, looking your best this season.
The regular season and Sectionals are now behind us. We can finally get down to business. After a regular season where incentives and motivations were constantly in flux, teams are at the point where their goals are on the line. After this weekend, labels will be slapped on their accomplishments, evaluating their season for better or for worse. We take a look at who is on track to get a good grade, and which teams could surpass expectations and upset the order.
Great Lakes
Competition Schedule
Dates: October 2-3
Location: Cincinnati, OH
Number of Bids: 2
Excitement Level: 🔥
#7 Columbus Rival and #8 Chicago Nemesis are clearly ahead of the rest of the region: both are top-ten caliber teams in a division with seven teams total. While each basically coasted through one-day round robin Sectionals events, Rival is likely to come into Regionals as the top seed on the strength of their one-point win over Nemesis at Elite-Select Challenge.
Rival's overall performance at Elite-Select was strong, with a 14-8 win over #9 Washington DC Grit in the finals to convincingly level out a 14-9 loss to the same team in Saturday crossover play. While losing pride-of-Ohio club stars Paige Soper and Sophie Knowles to teams in other regions — as well as program-anchoring captains Iris Javersak and Libby Lehman to emerging mixed power Cleveland Crocs — the chemistry and shared playing experience in the core of Rival veterans that powers the rest of the team may be a meaningful asset in a season marked by turnover and instability across the club scene. They're led by Caitlin Harley and Tracey Lo around the disc and Sara Scott and Theresa Zettner downfield, but watch 2018 Callahan nominees Laura Gerencser and Corinn Pruitt for big highlight plays and rock-solid reliable game-running respectively.
Nemesis is a little more battle-tested than Rival, having been to Elite-Select and also Pro Championships. Anna Thorn and Jennifer Corcoran anchor their backfield, with major red-zone contributions from Sarah Lipscomb and Jacqueline Jarik. A good chunk of the Nemesis roster also shone in the Milwaukee Monarchs' win at the PUL Midwest Championship. Nemesis has been up and down this season, with their best wins coming against Grit along with some close losses to strong teams like Schwa.
If there were only one bid, this tournament would have a few more fire emojis, as there's no telling how the showdown between Rival and Nemesis will turn out this time. Instead, that game will merely determine seeding at Nationals, as well as marking one more entry in a fun rivalry1 between these teams that's gone back and forth over the years. It would be the biggest surprise in ultimate if these two teams don't both make Nationals.
Mid-Atlantic
Competition Schedule
Dates: September 25-26
Location: Frederica, DE
Number of Bids: 1
Excitement Level: 🔥🔥🔥🔥🔥
With no one quite managing to draw an additional bid in time to factor into USA Ultimate's bid determinations for 2021, the Mid-Atlantic is a one-bid region once more. But with perennial champs Washington DC Scandal temporarily out of the picture and not a single program with previous Nationals experience to take their place, it's an open question which team will punch their first-ever ticket to the show this weekend — and more than one real contender to do it. Will this finally be #9 Washington DC Grit's year? Or can buzzy new west PA women's team #12 Pittsburgh Parcha save a spot at the top with a parking chair of their own?
The heat was high and margins of victory were slim at Elite-Select Challenge, but Grit eventually took down Parcha 10-8 in a tightly-fought quarterfinal. Grit's 11-9 semis win over #11 New York BENT — ending the much-vaunted NYC team's run for a tournament title at their only appearance at anything close to full strength before Regionals — is a good resume line, but their 14-8 loss in the final to Rival raises questions about their ability to execute consistently. Even so, it's worth noting that DC's defensive line had held every other matchup to fewer than ten goals, and even in the final, their persistent zone coverage was able to force many turns. Their showing at Pro Championships wasn't quite as dominant but continued to demonstrate they can push against ranked opposition, including a universe point finish against Chicago Nemesis.
Parcha's performance at at Elite-Select was a little less assured than Grit's: they racked up close losses to BENT, Grit, and #20 Florida Tabby Rosa, as well as a clean-but-not-definitive 13-11 win over their likely second-strongest opposition at Regionals, #18 Virginia Rebellion. Still, a closer look at those games reveals that the pieces for strong performances are there: in their first-ever outing as a team, they put up a 12-9 lead over BENT before a four-goal run from the opposition finished the game on universe — and unlike teams who went further in the bracket, stayed truly competitive in all their matchups that weekend. You'd expect nothing less from a roster studded with the likes of Erica Baken, Carolyn Normile, and a host of other Pittsburgh stars and area transplants who drove much of the hype around the new program earlier this year. One name less prominent in the previews but repeatedly big in the recaps — and likely to be a major factor at Regionals — is Shani Rosenthal, whose crisp throws and strong receiving alike made her a lethal weapon for both Parcha (she put up four goals and one assist in the first half of that BENT game alone) and her semi-pro team Indianapolis Red at the 2021 PUL Championship Series' Midwest tournament. The Pittsburgh team was largely unchallenged at Sectionals, but they're sure to be pulling out all the stops (and chairs — not kidding) in Delaware.
The other new Pennsylvania elite women's team at Regionals, Philadelphia Flight, has a lot of ground to cover after their 13-5 Sectionals loss to Parcha in order to make a serious challenge to either front-runner. But convincing wins over other Mid-Atlantic teams New Jersey Pine Baroness, Washington DC Agency, and Baltimore Wave on their way to a hometown win at Philly Open suggest they may be no. 3 seed Rebellion's best competition at the tournament. While there may be only one bid to go around, keep an eye on the whole bracket. At least one of the best teams not in San Diego next month is sure to end their season here, but all four top teams could be factors in the future for a region with — dare we say it? — real bid-earning potential going into 2022.
North Central
Competition Schedule
Dates: September 25-26
Location: Blaine, MN
Number of Bids: 1
Excitement Level: 🔥
No two ways about it: it will be a gargantuan shocker if any team besides #17 Minneapolis Pop takes the North Central's sole bid. With a total of six teams attending, this will be one of the smallest events in the country (though not the very smallest — that honor goes to South Central), and it's Pop's to lose. While the Minneapolis women didn't participate in the regular season, their 15-6 drubbing of #24 Madison Heist at Sectionals shows that they haven't missed a beat. Led by Makella Daley and Rebecca Enders in the backfield and Kayla Blanek and Biz Cook downfield, should Pop play to their potential, they'll easily be Nationals-bound come Sunday.
While Heist is still Wisconsin's premier women's team, they've bled some talent the last few years, chiefly to mixed teams like Madison NOISE. Picking up Erynn Schroeder is quite a boon, but they have their work cut out for them. #23 St. Louis Stellar, who defeated Heist 15-10 in the finals of Cooler Classic, is also capable of throwing a spanner in Pop's gears.
Northeast
Competition Schedule
Dates: September 25-26
Location: Devens, MA
Number of Bids: 3
Excitement Level: 🔥🔥
No single division will feel the absence of Canadian teams more than Northeast women's. With Toronto 6ixers and Montreal Iris — both Nationals teams in 2019 — unable to attend, two major competitors get swept off the board, leaving the top American teams with a much clearer path to San Diego.
#3 Boston Brute Squad, #10 Boston Siege, and #11 New York BENT were the pre-Series favorites for the region's three bids, but within the past month, two wrinkles have appeared that make that prediction a little less of a lock. The first is Boston Team of Friends, a collection of impressive names from Boston teams past including Emily Baecher, Leila Tunnell, and Laura Bitterman. With a shorthanded roster at Sectionals, they didn't cause Brute or Siege much trouble, but with their full complement of Boston legends, they could pose a much greater threat this weekend.
The second potential foil for the top three is #21 Albany Rebel Rebel. They upset BENT at Metro New York Sectionals on universe point, securing a no. 3 seed and the confidence to believe they can do it again in Devens this weekend. There were some mitigating factors, primarily that BENT were missing most of the handling core that propelled the team to a semis finish at Elite-Select Challenge in August. BENT should have way more firepower for the rematch, but Rebel's win at Sectionals should stop any of the three favorites short of taking them too lightly.
#3 in the nation Brute Squad should comfortably cruise to Nationals, and while the extent of BENT's upside is still to be seen, the sheer depth of talent when the entire team is assembled should overwhelm any upstart challengers. Despite making Nationals in 2019, Siege is the least experienced of the three favorites going in, having seen some roster turnover since their last trip to San Diego and returning for 2021 with a lot of youth on the squad. The talent runs deep here, too, but this weekend will test whether they can withstand the pressure at the business end of the postseason.
Northwest
Competition Schedule
Dates: September 25-26
Location: Olympia, WA
Number of Bids: 3
Excitement Level: 🔥🔥🔥
A week ago, Northwest women's would have rated just one flame emoji, with three bids for three historical powers: #13 Seattle Riot, #6 Vancouver Traffic, and #5 Portland Schwa. But how things change: #22 Seattle Underground's come-from-behind universe point win over Riot to take the Washington Sectionals crown shattered this picture — and even beyond Riot, there are big question marks associated with each of the Northwest favorites.
Coming off a 2019 semis appearance, Schwa has been touted as a top semis contender from before the season started. They mostly fulfilled that promise at the Eugene Re-Open — undefeated except for a loss to #1 San Francisco Fury — but struggled a bit through a 2-5 showing at Pro Championships that included lopsided losses to both Raleigh Phoenix and Denver Molly Brown, as well as a win over Nemesis that needed a grind-it-out comeback to make it to universe. Recent injuries to Mariel Hammond, Brenna Bailey, Dani Runzo, Georgina Tetlow, Lyudmila Likhonina, and Maddy Franz — on top of an already-sidelined Morgan Caldwell — further cloud their prospects and make their ascension to Nationals anything but assured.
Meanwhile, Traffic's roster looks strong on paper, as they loaded up with previous Team Canada representatives. But they haven't been seen in action south of the border since 2019 Nationals, where their only victories were over Nemesis and a winless-at-the-tournament Atlanta Ozone. As for Riot, concern has been simmering all year as they return only six players from their 2019 squad, with many more opting to join the loaded mixed division this season. They are still the favorite to take the third Northwest bid if they can figure out how to effectively incorporate all their new additions, including former Underground players Jess Spaulding, Steph Phillips, and Alyssa Kelly, Tufts standout Claire Dunn, and 16-year-old Lauren Goddu (seen here making noise as a seventh-grader).
With only seven teams total, the obvious underdog to contend for a Northwest bid is Underground. They underperformed at Eugene Re-Open, losing in quarters to Oregon YCC team Downpour. However, Underground didn't set their roster until August, and they looked much sharper at Sectionals, dominating Seattle END and Seattle Soul prior to facing Riot to take the section. They went up early in that game before giving up a string of breaks to Riot to go down 10-5, but ran off six straight points by taking advantage of Riot errors with clean offensive execution. If they can execute similarly at Regionals, they'll be a dangerous foe for any of the favorites.
The final darkhorse contender is AGE-UP based END (Empowered N Decolonized). They played open lines at Sectionals to give their full roster play, leading to big losses to Riot and Underground. However, they have a top-end with potential, featuring former Riot players Hana Kawai and Nora Landri (who wasn't with them at Sectionals) and Underground vet Tiff Phan, as well as USA U20 selections Gaby Payoyo, Laura To, Amy Nguyen, and PX Rong.
South Central
Competition Schedule
Dates: September 25-26
Location: Round Rock, TX
Number of Bids: 1
Excitement Level: 🔥
The Regionals location may change from year to year, but the top qualifier in the South Central women's division has remained the same for quite a while. 2021 will be no different, as #2 Denver Molly Brown is all but guaranteed their spot at Nationals this October. Denver has had a steady grip on their ticket to the championship for years, even in a region without a second bid since 2018. Texas Showdown is usually the only other major competitor — they are the sole team to have beaten Molly Brown at Regionals in recent history, although they haven't qualified for Nationals since 2017 — but with Showdown out of the picture for this year if not longer, Molly Brown's path should be all but unchallenged.
Even with the Nationals bid all but locked up, the weekend could have seen some tight matchups and exciting play amongst the other teams who are usually in attendance. But this year for the South Central women's division has been far from usual. For starters, the Ozarks didn't have any teams sign up for Sectionals in the women's division. And, even though seven teams in Colorado qualified for Regionals, all teams except Molly Brown — including #19 Denver Small Batch, a strong second team in the Colorado women's scene — declined their bids, with some expressing concerns about the COVID situation in the Austin area as well as hosting events in Texas given its newly-enacted abortion law.
This shakeup has reduced the South Central women's regional competition from a full tournament to one game between Houston Crush City and Molly Brown on Saturday. With a strong roster including PUL standout Anastasia Foster and a win at another one-game Series event in Texas Sectionals, Houston certainly has the potential to score points against Molly Brown. But it's doubtful they have a true shot at upsetting Denver, who look as strong as ever this season despite a late debut, with the Pro Championships title to prove it.
The field won't be as deep as in pre-pandemic years, but even if other teams had made the journey, the outcome of this tournament is all but set: Molly Brown advances to compete at Nationals.
Southeast
Competition Schedule
Dates: October 2-3
Location: Bermuda Run, NC
Number of Bids: 2
Excitement Level: 🔥🔥🔥🔥
It wouldn't matter if the Southeast only had one bid this year: #4 Raleigh Phoenix are going to San Diego. They are too good and too deep to lose. They probably won't say so, but with two bids for the taking, Regionals shouldn't be much more than an extra practice weekend for them. Playmakers Lindsay Soo, Keila Strick, Austin Prucha, and Dawn Culton have stepped up on both sides of the disc to make absolutely certain the team doesn't feel the loss of star cutter Anne Worth (out with an ACL injury) too much. Same story in the backfield, where the team is deep as a crevasse with handlers, even without Jessi Jones. They've honed their game against the likes of Schwa, Brute Squad, and Molly Brown. Now for one last tune-up before the big show.
So it's a good thing there's a second bid to spice things up. #25 Atlanta Ozone are not the same squad that have maintained a 33-year2 Nationals streak. For one thing, they were on a clear downswing by the end of the 2019 season, culminating in a winless campaign at the Club Championships. And even most of that talent has left, with only six players remaining from before the pandemic offseason. That's what you call a reboot. It isn't yet clear what the new-look Atlantans are capable of: they've played a couple of undefeated weekends against lower-tier competition in the last month, but even one leg into the Series, haven't come close to sniffing a real Nationals-caliber contender. Leah Tsinajinnie appears to be on the roster, though, with — if this is even possible — more power on her throws than last time she played for Ozone, so you know they won't be shy about the end zone.
The team likely to be lining opposite them in the game-to-go, #19 Florida Tabby Rosa, don't have anything like the history of their northern rivals, but they aren't working with a blank slate either.3 They have the most dynamic cutter on either squad in Kate Travaglini and, flanking her, a good flex pair in Lauren Bahng and Gabby Krajniak. They could be a little shallow on the handling end, but that may not matter this year. Tabby Rosa's best advantage in a matchup against Ozone comes not from their own roster, but from the work they've already put in to get ready for this moment. With games against Parcha (a signature win), Bent, Rival, Rebellion, and Small Batch behind them at Elite-Select Challenge, they have been able to remind themselves what it takes to break through to Nationals. All of that means we should be in for a tight, high-stakes contest to cap the weekend.
Southwest
Competition Schedule
Dates: October 2-3
Location: San Francisco, CA4
Number of Bids: 3
Excitement Level: 🔥🔥
In most years, the drama around the Southwest women's division is whether they'll earn a 3rd bid before the postseason. With three bids locked in for 2021, Regionals should be pretty cut-and-dried, right? Well, not so: thanks to a strong push from #14 Oakland LOL at Sectionals, there are four teams that could realistically make Nationals, and it wouldn't be so shocking for all three to come from the Bay Area.
Not much needs to be said about #1 San Francisco Fury. The eleven-time national champions are a lock to advance out of the region and a heavy favorite to win it. They're one of the few rosters in the nation made up predominantly of returners from their 2019 squad — plus Anna Thompson and Dena Elimelech for good measure. As a reminder, they already won a tournament this season with only 14 attendees, largely against teams that are perennial nationals contenders themselves. It would be truly shocking if they didn't make the final of Nationals, let alone Regionals.
#15 San Francisco Nightlock seemed poised to advance out of the Southwest region until a shaky Sectionals loss managed to stir in a little uncertainty. Ella Hansen, Malina Wiebe, Mei Bruist, and Nicole Canning are huge additions to a roster that already boasts the talents of Marisa Rafter, Natasha Won, and Jackelyne Nguyen. The new talent is less of a luxury and more of a necessity, though, as Nightlock has lost a few key contributors from 2019, including Hallie Dunham, Julia Kwasnick, and Audrey Lyman.
The team's absence from the regular season leaves little data to go off, but their loss to LOL earlier this month may ring some warning bells. Like all Sectionals results from teams fairly assured of making Regionals, it's not clear how seriously to count that game for or against either team, as Nightlock likely knew it wouldn't determine their season and was using that time to perfect their lines. They're still a safe bet to advance — there's a reason they have been ranked all season — and anything but a Nationals berth would be a shock.
Should those two advance, the last bid comes down to Oakland LOL and #16 San Diego Wildfire. Pre-pandemic history might favor San Diego, but this is not the Wildfire of 2019. The roster has retained very little of their core from last active season: gone are the likes of Kelli Iwamoto, Kristen Pojunis, Melissa Dunn, and Dena Elimelech, along with a number of star Santa Barbara players. In their place, Wildfire has brought in recruits including a wealth of mixed ultimate stars returning to the women's division, including Dena Slattery, Deanna Abrams, Julia Salvacion, and Lexa Stambaugh. In their brief on-field appearance this year, Slattery, Stambaugh, and Salvacion have been key to dominating the downfield space, but they have yet to be tested properly, as the two-game SoCal Sectionals provided little in the way of top-end competition.
If San Diego can't earn the bid, Oakland LOL will be happy to take it from them. LOL battled past Nightlock at Sectionals, led by notable names like Ness Fajardo, Julia Johnson, Chelsea Putnam, and Angela Lin. LOL have always been able to attract players from out of the woodwork, and this year have set themselves up with an opportunity to make their first real nationals run. The knock against LOL has always been their lack of cohesiveness and structure before the postseason. 2021 has provided a level playing field for LOL in this regard, and there's a real case that they have as fair a chance at Nationals as Nightlock or Wildfire.
---