Will the Pleiades stay undefeated with half the teams in the D-I women's top 25 in attendance?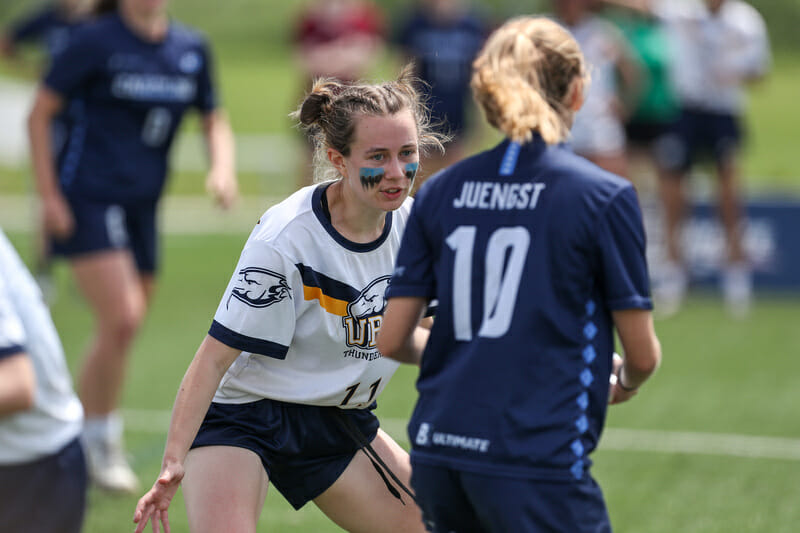 Ultiworld's coverage of the 2023 college ultimate season are presented by Spin Ultimate; all opinions are those of the author(s). Find out how Spin can get you, and your team, looking your best this season.
The Southwest Triple Crown has reached its climax and what a show it will be. 11 of the top 13 teams in the Power Rankings will be in attendance at Stanford Invite, including 6 of the top 7 teams in the division. With more rain in the forecast for now-waterlogged California, the tournament will be held in its now traditional place out in Stevinson, but that shouldn't prevent the best of the best from shining through the storm. Come for the season debuts of Northwest standouts British Columbia and Washington,1 stay for a possible 2022 Nationals final rematch between UNC and Colorado. It's bound to be a show-stopping weekend, so read on to learn all you need to know before it all goes down out at the fields of Stevinson.
Tournament Profile
Date: March 11-12
Location:

Central Valley Polo Club, Stevinson, CA

Weather:

50-65 degree temps, 50-70% chance of rain both days, 10-15 mph wind

Top 25 teams:

#1 North Carolina, #2 Colorado, #4 British Columbia, #5 BYU, #6 Stanford, #7 Tufts, #9 Oregon, #10 UC Santa Barbara, #11 Washington, #12 UC San Diego, #13 UC Davis, #17 Western Washington
Streaming Schedule
All times Pacific. Schedule subject to change. These games feature natural sound only, no commentary. Available for Full & Plus subscribers and those with 2023 College Team Packs.
All games can be found on our Stanford Invite event page and will be available both live and immediately following the games on-demand.
Saturday, March 11
Sunday, March 12
Storylines
Northwest Powerhouses Take the Stage
It's somehow already the middle of March and that means it's just over a month until the start of the college postseason. Remarkably, then, at this moment in time, we have not one, not two, but three contenders for Nationals bids making their first appearances in sanctioned play this season. The #4 UBC Thunderbirds, #11 Washington Element, and #17 Western Washington Chaos will all have their first sanctioned tests at Stanford Invite after the trio started their seasons in unsanctioned play at the Bellingham Invite. While we have a sense of where these teams might rate compared to the rest of the division, their performances this weekend will go a long way toward telling us whether or not the former "Evil Empire" is truly back.
The UBC Thunderbirds are perhaps the most intriguing team of the three, given their impressive quarterfinal showing last year and plethora of young Team Canada players. Mika Kurahashi might be the leading light amidst a field of stars for the Thunderbirds, the 2022 Mixed Division Breakout Player of the Year already among the best cutters in the division coming into only her second full college season. She'll be a frequent target for the UBC handlers alongside the other leading goal scorers for the Thunderbirds at last season's Nationals, Anna Goddu, Jessica Liu, and Helena Tremblay.
That quartet, which was responsible for nearly half of UBC's goals in Milwaukee last May, demonstrates the strength of this Thunderbirds roster that returns nearly all of its major contributors from 2022. This includes Madison Ong, who put up an astounding 21A/10B line at the 2022 Nationals, and Andrea Moir, UBC's second-leading block-getter in 2022 behind Ong. The only question for this Thunderbirds team is whether or not they're at the level of 2022 finalists UNC and Colorado, but with both the Pleiades and Quandary in the field, UBC may just get the chance to make a major first impression to officially open their season.
Despite making the national title game just fifteen months ago, the outlook for Washington Element is not quite as rosy as it is for UBC. Element do have a returning POTY in Abby Hecko, of course, but gone are three of Washington's top four assist throwers from the 2022 College Championships. 2022 Callahan finalist and Element's "QB1" Stephanie Phillips led the team with 15 assists last May, and Ikran Elmi and Amy Nguyen chimed in with 9 and 8 assists, respectively.
Their departures will likely lead to Hecko taking on an even larger role for this Washington team, though she'll still have the support of some key returners in Sophia Palmer and Megan Louie, among others. The longstanding pipeline of youth talent coming out of Seattle also means that Element's rookie class is deep and skilled with the likes of Jessica Luu and company, and they'll get to test their mettle against the best in the division this weekend.
With only seven returners from last season's squad, Western Washington Chaos come into Stanford Invite as the most uncertain quantity in the field. To their credit, Chaos have one of the best young players in the division in Acacia Hahn as well as an always great coaching staff led by Alyssa Weatherford. At the same time, though, with only the hometown Bellingham Invite under their belts so far this season and a host of fresh faces, WWU may still be putting their systems into place this weekend. Given the strength of the Northwest region this season, Chaos could well find themselves back at Nationals after a year away, but it feels improbable that we'll see a fully polished Western Washington team out in Stevinson.
East Meets West
Three teams from outside the Northwest and Southwest regions will be making the trip to Stanford Invite this weekend, with the aforementioned #1 UNC Pleiades and #2 Colorado Quandary joined by #7 Tufts Ewo. With both UNC and Tufts playing at the Queen City Tune Up, their presence out west this weekend will provide some critical connectivity for a division that has largely been split East and West so far this season. While the Pleiades and Quandary will obviously draw the most attention, don't discount Ewo, who could help those regions East of the Mississippi earn crucial Nationals bids with a solid performance in Stevinson.
The still-undefeated two-time reigning champions UNC will make a now-rare Stanford Invite appearance2 this weekend to contend with the strongest field in the division since last year's Nationals. However, even with their formidable opposition, it's hard not to consider the Pleiades as favorites. After all, they have a returning Callahan winner in Dawn Culton, a deep and talented roster with championship experience, and haven't dropped a single game in over three years. Add in one of the best coaching staffs in the division led by Jessi Jones, and even a juicy potential rematch with Colorado isn't likely to phase UNC. A win this weekend would further cement the Pleiades' place at the top of the pyramid, but a largely back-and-forth game against Vermont Ruckus in the QCTU final showed UNC aren't completely infallible either.
Last season's runner-up Colorado returns to California for a second time this season after taking down Presidents' Day Invite in mostly comprehensive fashion, an even 12-10 semifinal against Oregon Fugue the closest game Quandary played all weekend. This time around, though, the South Central champs have the Atlantic Coast champs in UNC to contend with out in the Southwest, and the pair seem destined for another showdown in this weekend's final. Most of Colorado's primary contributors from that incredible game will relish a second chance at taking the Pleiades down, with Stacy Gaskill, Clil Phillips, Saioa Lostra, and Emma Cortright just some of the stars that still dot this Quandary roster. Beating Oregon in pool play is first on the agenda for Colorado before they can start thinking ahead to the bracket,3 but once there Quandary have to be considered among the favorites to continue their undefeated season — even if a matchup against the Pleiades awaits.
Coming into the weekend, two things stand out when considering Ewo's place in the Stanford Invite field: connectivity and quality. With the D-I women's division sorely lacking in cross-region connectivity, especially east to west, having both Tufts and UNC involved is a real boon for helping clarify the Nationals bid picture. And while it's self-evident the quality that the Pleiades bring to the table, Ewo are no slouches either. Sophomore star Lia Schwartz has emerged as potentially Tufts' most important player, even as Hazel Ostrowski, Olivia Goss, and Leija Helling continue to shine as part of Ewo's veteran core. There's real quality on this Tufts team, and they shouldn't be taken lightly even in a pool with UBC and 2022 Nationals nemeses UC Davis. Given Ewo's success at QCTU, another favorable weekend could help boost the prospects of every region not named "west," but if Tufts can't manage their jet lag those same regions may come out of the weekend all the better for it.
Can Stanford Make Three Straight Finals?
After making Nationals for the first time in three seasons in 2022, #6 Stanford Superfly have once again established themselves as the team to beat in the Southwest. It's been a great start to the 2023 season for the division's winningest program as Stanford have made back-to-back finals at Santa Barbara Invite and Presidents' Day Invite. This weekend will provide an even tougher test for Superfly, however, as they host the deepest field of teams so far this season, and they'll have to be at the top of their game to make it to three straight tournament finals.
Stanford have plenty going for them coming into the weekend — top-end coaching, a cadre of zone looks ready for the likely wet and windy weather, and plenty of veteran nous. Robin Davis, Jamie Nuwer, and Shayla Harris will have their squad ready to go out at their second home in Stevinson, while yet another atmospheric river rolling through California promises prime zone defense conditions. Esther Filipek has garnered some early Player of the Year consideration,4 while Macy Vollbrecht, Elena Kamas, and U24 selection Hannah Huddleston continue to be an experienced core at the heart of this Superfly roster. They'll face an uphill climb to claim a spot in the final this weekend, but if there's any team that might find some magic out in those Central Valley fields, it's Stanford.
How Good Are ____ Actually?
Despite it already being mid-March, most of the top teams in the division have only played a single tournament so far this season. This can make it difficult to know exactly how good teams are with limited data, with key injuries also muddying the picture even for teams that have played multiple tournaments. Three teams in this weekend's field fit this uncertain mold, and the coming days will help inform where #5 BYU CHI, #9 Oregon Fugue, and the #10 UCSB Burning Skirts sit in the division's pecking order going forward.
Ever since their unbeaten and unbroken run at SBI, BYU have held on to a top-5 spot in the power rankings, with their 10-7 win over Stanford looking all the better in the ensuing weeks. CHI will get another chance to get one over Superfly with the two paired up at the top of Pool D, and a second win against an improved Stanford team would lend credence to BYU's place in the upper echelons of the division. Kate Barry, Sylvia Brown, and Abbie Davis are CHI's leading trio, and if they're at their best another undefeated outing isn't out of the question for BYU — even with a potential barn burner of a showcase game on the docket for Saturday afternoon.
It was a rough start to the season for Oregon at the unsanctioned Bellingham Invite, where they were demolished by UBC and took a 9-5 loss to Washington. Cut to less than a month later at Prez Day, though, and Fugue proceeded to give Colorado Quandary their best game of the weekend in a scintillating 12-10 semifinal before beating UCSB to finish 3rd. Which one is closest to Oregon's true level? Well, Fugue's pool play matchups are all rematches from Prez Day, and their game against Quandary in the last round may give us the clearest indication of where Oregon really rate. Rookie superstars Syris Linkfield and Trout Weybright will once again be the focuses for Fugue, and how the pair stand up to the conditions in Stevinson may well dictate how successful Oregon can be this weekend.
The past two seasons, UCSB led the way in the Southwest, making back-to-back national semifinals along with having the 2021 Callahan winner, Jasmine Childress. Two losses to Stanford in the semifinals of SBI and Prez Day, however, have knocked the Burning Skirts off their perch. In spite of those losses, UCSB still sit well within the bid picture and have the talents of Vienna Lee, Devin Quinn, and Laura Blume to rely on. Julia Hasbrook has typically been the lynchpin for the Burning Skirts, but an injury sidelined her for most of Prez Day and her capacity to contribute this weekend remains in question. UCSB's draw isn't particularly favorable, with a game against UNC looming in the final round of pool play, but the classic 8-9 matchup against Washington should be a great barometer for the state of both teams just one month out from the postseason.
#BidWatch
The season's first USAU college rankings were published earlier this week, and two notable Southwest teams currently sit outside of the Nationals bid picture: #12 UC San Diego Dragon Coalition and #13 UC Davis Rogue. Both of the long-standing California programs find themselves wanting for bids after respectable, but not particularly impressive, showings at SBI and Prez Day. They'll need strong performances over the weekend to earn their bids back, and alongside Western Washington, who come into the weekend as the field's lowest ranked top-25 team, will make for a key trio to watch as part of #BidWatch.
It's been written before and it'll be written again — this is not the same D.Co team as in seasons past. For a program that has had the likes of Kelli Iwamoto, Dena Elimelech, Alex Diaz, and Ava Hanna to rely on in seasons past, this version of UCSD is not what it once was. What it does have, however, is one Abbi Shilts, and even in a loaded Southwest region that feels like it should be enough for D.Co to make their sixth straight Nationals appearance. They'll have the chance to prove it this weekend with some good results against this jam-packed field.
As with UCSD, it feels as if UC Davis are in a rebuilding phase after the departures of Jules Madigan, Rani Shah, and Jenna Rickey, among others. Still, Margo Donahue is rightfully a U24 selection this year and with a developing but deep supporting cast around her, Rogue have real upside. The problem for Davis is that while they don't have any truly bad losses on the season, they also haven't picked up any signature wins, and that will need to change this weekend if they are to make a push back into the bid picture.
---