Some expected contenders and some surprising performers fill out the D-I rankings sets at the season's midpoint.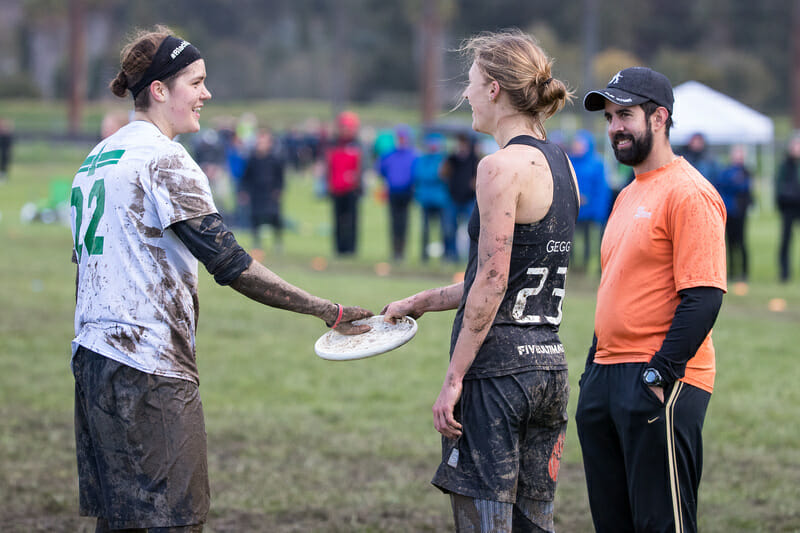 As we pass the midpoint of the college spring season schedule, it's time to check in with our ranked teams to see where they stand and how they're positioned heading into the last month of the regular season before the Series. Here's a closer look at the teams in our D-I Power Rankings.
Men's D-I
1. Pittsburgh En Sabah Nur
Record: 14-1
Notable Wins: Minnesota, Colorado, Oregon, Carleton, Wisconsin, Stanford, UBC, Texas A&M, Cal Poly-SLO, Texas
Pitt grinds their way to the top of the rankings. They solidify their #1 spot after winning the Stanford Invite, adding another set of notable wins to their record. The O-line is improving on schedule (or even perhaps a little ahead), while the D-line continues to get breaks against anyone. They take the top spot, with UNC slipping after losing to UMass in the final at Centex.
2. Massachusetts ZooDisc
Record: 11-3 including QCTU, 5-2 not including QCTU
Notable Wins: UNC, Minnesota, Wilmington, Colorado State, Virginia Tech
While their games from Queen City Tune Up (QCTU) have been thrown out of the rankings,1 UMass still won and lost in early February. Their performance at Centex, especially on Sunday, notched them statement wins against Minnesota and UNC, showing they remain among the truly elite again this season.
3. North Carolina Darkside
Record: 20-1
Notable Wins: Massachusetts, Georgia, BYU, Florida, Central Florida, Richmond
After three weeks in the top spot after going undefeated through their first two tournaments, North Carolina Darkside drops down after finally taking a loss to UMass at Centex. No other team in the division has offered the same kind of consistently brutal defense, or has demonstrated the same kind of offensive potential. Expect UNC to remain in contention for a one-seed at Nationals all spring.
4. Colorado Mamabird
Record: 11-1
Notable Wins: Georgia, UBC, Stanford, Cal Poly-SLO
Winning Presidents' Day Invite and being one point away from winning Stanford two weekends later lands Colorado unquestionably in the division's top four. A core of veterans with Johnny Bravo experience lead this team on both sides of the disc, while extraordinarily well-coached rookies are popping up during all games to get big blocks and score goals. The Mamabird vertical stack is one of the best in the division and the athleticism on their defense is staggering.
5. Minnesota Grey Duck
Record: 9-2
Notable Wins: Pittsburgh, UMass Texas A&M, Brigham Young, Central Florida, Colorado State
Minnesota slides afew spots after a bumpy Sunday at Centex, but there shouldn't be any doubt about what Grey Duck can do. Some injuries might have hampered performances in Austin, but wins over Pitt and UMass keep them solidly in the top five. With the confidence that comes from being reigning national champs, Grey Duck can keep their focus trained on building slowly toward the postseason, knowing they have the experience to win when it matters.
6. Oregon Ego
Record: 16-3
Notable Wins: Carleton, Oregon State
The early season #1, Oregon has rebounded nicely after a quiet debut at Flat Tail and a weird appearance at Presidents' Day. A big win in quarters at Stanford Invite and a just-missed loss to Pittsburgh a round later give a more accurate picture of what this team is building towards in the postseason. While the offense is still working out some communication-related turnovers, the defense came alive in the Bay Area and started converting breaks.
7. UNC Wilmington Seamen
Record: 6-3
Notable Wins: Michigan, Florida, Central Florida
Drama off the field doesn't always dictate results on it. Wilmington is still an excellent team. Jack Williams, a beast himself, is surrounded by veteran talent. After winning Tally Classic, Wilmington inches upwards this week. Now that their coaching situation appears to be under control, they have the potential to beat better teams at Easterns and keep pushing upwards.
8. Carleton CUT
Record: 11-4
Notable Wins: Minnesota, Georgia, Wisconsin, Stanford, Washington
Even as Carleton continues to slip a bit with weird losses, they put their incredible talent on display in most games. They pounded the competition in consolation play at Stanford Invite to take fifth and now have authoritative wins over their major North Central competitors. If they figure out how to spark more intensity in big games, they'll get even more dangerous heading into the Series.
9. Georgia Jojah
Record: 10-3
Notable Wins: Wilmington, Wisconsin, Washington, Texas, North Carolina State
If a team has the best player at a given tournament, there's no shame in using him. Parker Bray has been on fire since returning at full health to his team and he's got plenty solid talent around him to make Georgia's hero-ball approach to the 2017 season effective. Right now, they need Bray on the field to score most of their points, but as they recover from injury, they're going to get deeper.
10. Brigham Young CHI
Record: 12-6
Notable Wins: UMass, A&M, Texas
BYU CHI picked up a statement win over UMass at Centex, continuing their excellent turnaround after a lackluster performance to start the season in Santa Barbara. This team plays hard on both sides of the disc, they're big, they're athletic, and they're solidly beating all the teams ranked below them.
11. Wisconsin Hodags
Record: 8-7
Notable Wins: Oregon, BYU, UBC, Central Florida, Virginia Tech
Some nice wins and close losses float Wisconsin while they struggle to find consistency and regain a healthy roster. When they're locked in, Wisco's D-line is deadly, with lefty David Yu leading the charge after the turn. Not practicing hurts results, and as the North Central thaws out, Wisconsin should back up their ranking or inch upward.
12. Stanford Bloodthirsty
Record: 10-4
Notable Wins: BYU, UBC, SLO, Virginia Tech
A high chemistry offense and smart adjustments earned Stanford another early season tournament title in Santa Barbara and some tough, close losses to top teams at their prestigious home tournament in the Bay Area. Opponents need more than just a good baseline on defense to defend a practiced side stack off the pull, and the top O-line talents cross over well to snag breaks in tight games.
13. Michigan MagnUM
Record: 5-2
Notable Wins: Virginia Tech, North Carolina State
It's been over a month since Michigan saw competition back at Queen City Tune Up. But even then, this team is exactly what we expect them to be. Super solid up and down the roster, well coached, and capable of consistently beating teams they're supposed to, but without the top-end talent to take over a game or truly challenge the country's elite. They'll get back to action this week for some regional action at Indy Invite before going back up against the big dogs at Easterns in April.
14. British Columbia Thunderbirds
Record: 7-7
Notable Wins: BYU, Cal Poly-SLO
UBC hangs tough at #16 thanks to a big win over a talented BYU in Santa Barbara team and taking down a promising SLO team at Stanford. Additionally, Hugh Knapp and his teammates pushed Colorado all the way to 13-11, running and gunning their way into impressive holds while using their speed to make Mamabird work. Where this team finishes the regular season depends on how consistent a performance they can put together at Northwest Challenge.
15. Central Florida Dogs of War
Record: 16-7
Notable Wins: Carleton, Florida, North Carolina State
On the backs of Michael Fairley and Kyle Reedy, Central Florida has put away all regional-level contenders, but struggled against the top competition outside of one or two notable wins. Depth and consistency have often been issues for this program, but there have been flashes from the bench that suggest improvements and potential.
16. Washington Sundodgers
Record: 12-6
Notable Wins: Cal Poly-SLO
Despite losing important games in crunch time at Santa Barbara and Presidents' Day, Washington's potential on offense and defense floated them high in the rankings until their Stanford slide.2 Injuries have kept the team below full strength yet again this year, but their defense does look stronger. They'll have a chance to gain some redemption at Northwest Challenge in their backyard.
17. Texas A&M Dozen
Record: 11-6
Notable Wins: Florida, Colorado State
A&M hasn't been able to beat a Top 10 team yet and they might not have the depth to do it. But big game experience matters for a program, and Dozen certainly have that. They own their series with #20 Florida so far this season, and blew out a talented Colorado State team at Centex.
18. Cal Poly-SLO SLOCORE
Record: 14-7
Notable Wins: BYU, Washington, Colorado State, Oregon State
The hype train was picking up speed for SLO until Stanford Invite, when it almost derailed during a rough 0-3 pool play performance. SLOCORE still lead their season series with Washington 2-1. There's a lot of talent on this team, but they failed to stay consistent at their third tournament. They've got nice early season wins keep them afloat in the rankings while they try to get healthy and level up for Easterns to solidify a strength bid for the Southwest. It'll help if their impressive rookie group is finally at 100%.
19. Colorado State Hibida
Record: 11-5
Notable Wins: Oregon State
Colorado State might have more wins — and perhaps another additional signature win — if they had seen the field at Presidents Day, but overall the decision to drop from the weekend doesn't seem to have hurt them much. At Centex, they nearly toppled Minnesota and played UMass tight in the quarterfinals.
20. Florida Gators
Record: 18-6
Notable Wins: Carleton, Wisconsin
Florida looks like they've improved their depth in 2017. They kicked off the season with some nice early season wins over two of the North Central's best, and have since put together a solid run through regional-level competition. A beatdown from Wilmington and a late-Sunday loss to Cincinnati don't help Florida's ranking. This could be their rankings peak while the continue working out how to win against top teams.
21. Virginia Tech Burn
Record: 7-6
Notable Wins: Tufts, Richmond
Virginia Tech played their first tournament, Queen City Tune Up, without young star Joe Freund and got banged up by teams ranked above them. With Freund back at Stanford, the team still looked a little out of their depth, going 0-3 in pool play in spite of close losses to Stanford and Oregon. Tech might be lacking big game experience, but the grind of their trip West might have helped prepare them for their next big outing: Easterns.
22. NC State Wolfpack
Record: 18-4
Notable Wins: Florida, Richmond
This year, NC State can quietly build while Virginia Tech takes the brunt of the Atlantic Coast's hopes for a third bid. The Wolfpack didn't fare well against the top teams at QCTU, but they ran away with Easterns Qualifier and will get a critical progress report at Easterns. Consistency and knowing how to win in tight games have been a problem for State in the last few seasons.
23. Oregon State Beavers
Record: 19-8
Notable Wins: UBC, Stanford
While some top teams are just getting started with one or two tournaments on the record, Oregon State has already logged four competitive weekends and played 27 games. They ground their way into the rankings after winning the Stanford Open, and have picked up a pair of notable wins over UBC and Stanford to stay relevant. In the first game at Stanford Invite, they nearly hung an upset on Colorado, keeping the game tight with excellent cutting fundamentals on offense and some smart defensive looks.
24. Tufts E-Men
Record: 2-4
Notable Wins: Oregon State
Tufts, even after just one tournament, may have positioned themselves as the solid second team in New England — but that doesn't necessarily mean they're ready to be a major player on the national stage. They beat a fundamentally sound Oregon State at Stanford, but struggled the rest of the weekend. They barely grabbed a win over Texas, playing without star Dillon Larberg.
25. LSU
Record: 23-5
Notable Wins: Texas, Harvard
New to the rankings this week, LSU sneaks in off an impressive run so far in 2017. They've been cleaning up at second tier tournaments across the South, going 18-3 at their first three tournaments and taking their first consecutive losses to the top teams at Centex this past weekend.
Women's D-I
1. Dartmouth Princess Layout
Record: 13-0
Notable Wins: Stanford, Texas, British Columbia
The Stanford Invite final left no question about whether Dartmouth Princess Layout should be moved up to the No. 1 spot. Behind forceful play from Jaclyn Verzuh, Angela Zhu, Julianna Werffeli, and Caitlyn Lee, this team blazed through Stanford, UBC, and Texas on the way to victory. They'll have to defend the top spot against a strong field at Northwest Challenge in a couple weeks.
2. Texas Melee
Record: 10-3
Notable Wins: Stanford, British Columbia, Oregon x2
Texas Melee shifts into the No. 2 spot after back-to-back finals appearances at President's Day and Stanford Invite, proving they're capable of winning tough games against elite competition. Their smart person defense, coupled with shooters in the backfield and Julia Schmaltz deep, make Texas a tricky team to outlast. The lone top five squad not headed to Seattle, Melee instead will look to dominate their home tournament, Centex, this weekend.
3. British Columbia Thunderbirds
Record: 5-2
Notable Wins: Stanford, Colorado, UCLA
UBC roared out of the gates at their first tournament, the Stanford Invite, by going 5-2 and making it to the semifinals. A victory over Stanford in the third place game puts them ahead of the reigning national champions. Not much has changed for the T-Birds this season: they are still deep, skilled, and have blazing team speed.
4. Stanford Superfly
Record: 15-3
Notable Wins: Oregon x3, Colorado, California
Stanford has dropped from the No. 1 spot for the first time in almost a year. After an absolutely dominant start to their spring, they were upset badly by Dartmouth in Fremont and then lost a close game to UBC, but so far their only losses are to the three teams ranked above them. For many, however, Stanford's talent, experience, and versatility still makes them the title favorite.
5. UCLA BLU
Record: 15-3
Notable Wins: Texas x2, Colorado, Oregon
Led by Player of the Year candidate Han Chen, UCLA shot up in the rankings after winning Presidents' Day and compiling an 11-1 record through their first two events. They were upset twice at Stanford Invite, losing to Oregon and UBC, but remain a strong defensive team with an explosive offense.
6. California Pie Queens
Record: 13-7
Notable Wins: UCLA, Oregon x2, Colorado
While Cal's win percentage isn't ideal and reveals some inconsistency, the quality of Cal's victories also proves how dangerous they are. They've got a strong, athletic roster that has helped them notch wins over higher ranked teams and reach the final of Santa Barbara Invite. They'll get another shot at in-state rival UCLA during pool play at Northwest Challenege.
7. Oregon Fugue
Record: 13-8
Notable Wins: UCLA, Colorado, Ohio State
Don't let those eight losses fool you — five of them came from Texas and Stanford. Oregon looked their best yet at Stanford Invite, a big rebound a 2-5 Presidents' Day. They were one point away from toppling Stanford, but their UCLA win is their strongest thus far. Hayley Wahlroos, Ella Hanson, and Lillian Weaver lead the way for new look Fugue.
8. Colorado Kali
Record: 6-6
Notable Wins: California, Ohio State, Whitman
Colorado's .500 record has come against 12 ranked opponents. A testament to their scrappiness, none of Colorado's losses have come by more than three goals and all but one were to higher ranked teams. Kirstin Johnson is back after a severe injury, and she's got a strong cast around her that all seem to know their roles well.
9. Tufts Ewo
Record: 6-1
Notable Wins: Ohio State, Michigan, Carleton College
While they only have one tournament under their belts so far, Tufts' strong run through the bracket at Queen City Tune-Up keeps them in the top ten through the season's midpoint. They could have another chance against Ohio State this weekend at Centex, and another finals appearance could boost them further late in the season.
10. Ohio State Fever
Record: 12-8
Notable Wins: Florida, Pittsburgh, Washington
Ohio State moved up a spot last week despite leaving Stanford Invite with only two wins to their name. Deep runs at Florida Winter Classic and at Queen City Tune-Up speak to this crew's potential, but they're on the edge of bid-earning territory in USAU's rankings at #20.
11. USC Hellions of Troy
Record: 11-7
Notable Wins: Carleton, Washington, Whitman
USC has been all over the map in our rankings so far this season, and they get to the halfway pole at No. 11.  This ranking feels fitting for their season so far — they've played such close games against elite teams, but they don't have the wins to show for it yet.
12. Virginia Hyrda
Record: 18-2
Notable Wins: Florida, North Carolina
Virginia moved up one spot this week, mostly because several Northwest teams moved down in the rankings after Stanford Invite. Virginia remains in the top 15 after tidy QCTU and Commonwealth Cup performances, but they haven't faced any of the top ten teams yet, and most of their wins are against local teams.
13. Michigan Flywheel
Record: 6-8
Notable Wins: Colorado, Wisconsin, North Carolina
Michigan is on the rise after they reached the quarterfinals at Stanford Invite and nearly took down Texas. Michigan isn't trading for bids this season, but tougher games at Northwest Challenge next week could help them peak at the right time.
14. North Carolina Pleiades
Record: 11-3
Notable Wins: Virginia, Minnesota, Florida
North Carolina has hung steady at the No. 14 spot for basically all of the past two months. They won against a lot of lower-Top 25 teams at Queen City Tune-Up in February and their win over Virginia at Commonwealth Cup has kept them in the top 15.
15. Carleton Syzygy
Record: 9-4
Notable Wins: Pittsburgh, California, UC San Diego
Carleton shot up the ranks several weeks ago after their upset at Stanford Invite over Cal and since then they haven't moved much. Their results so far this season are inconsistent, hanging tight with a number of top teams but also suffering a few total blowouts. They'll look to work on their consistency at Northwest Challenge, as they may need it if the North Central finishes as a one-bid region.
16. Pittsburgh Danger
Record: 11-3
Notable Wins: Tufts, Virginia, Michigan
Pittsburgh hasn't moved much in the rankings since Queen City Tune-Up because they haven't played against any top elite teams yet. They'll get the chance at NW Challenge next week, and we'll have a better sense of where Linda Morse, Carolyn Normile, and company stand.
17. Whitman Sweets
Record: 7-6
Notable Wins: UC Davis, Michigan
Given their preseason hype, Whitman is nowhere near where we expected them at this point in the season. The squad from Walla Walla had a tidy 3-3 weekend at Stanford Invite with challenging games against Colorado and USC, but they've slowly descended down the rankings this spring from their lofty preseason spot. The talent is still there to be a contender in Cincinnati, but they have a lot of kinks to iron out before then — and a tough road through a suddenly bid-impoverished Northwest region just to get there.
18. UC Davis Rogue
Record: 16-10
Notable Wins: Colorado College, Western Washington
UC Davis Rogue has been busy this season. Stanford Invite was their fourth tournament since January — they've already played 26 games. This scrappy team fought their way into the Top 25 this spring, and their wins over Western Washington and Colorado College at Stanford Invite were enough to see them continue to rise.
19. Florida FUEL
Record: 12-8
Notable Wins: Michigan
Florida dropped two spots this week after a 10-15 loss to the then-unranked Notre Dame squad at Tally Classic in the semifinals. Luckily, they'll have the chance to quickly redeem themselves this weekend at Centex.
20. Washington Element
Record: 5-8
Notable Wins: Western Washington
Washington dropped to the no. 20 spot a few weeks ago after an uninspired Presidents' Day Invite and their nearly winless Stanford Invite has them desperately treading water at the same spot. They'll have another shot at high-level teams at NW Challenge next week and could really use a marquee win or two to prove they can remain in the Nationals picture ahead of Northwest Regionals.
21. UC San Diego Psycho
Record: 13-6
Notable Wins: Whitman, UC Davis, Colorado College
UC San Diego rounds out the quintet of California teams who are making the case for the Southwest's strength this season. While they haven't been able to break out of the bottom five spots in the rankings yet this spring, their consistency has kept them in the conversation to potentially pick up a strength bid for the region.
22. Colorado College Strata
Record: 3-9
Notable Wins: USC, Washington
They may have only pick up one win at Stanford Invite — an upset over USC — but they played a number of ranked foes close. The upset is only their third win of the season so far, but if the South Central keeps four bids until the Series starts, Colorado College is in great shape to be playing for a spot in Cincinnati.
23. Vermont Ruckus
Record: 11-3
Notable Wins: Ohio State
Vermont beat Ohio State early in the season at Florida Winter Classic and have hung around the fringes of the Top 25 since — they re-entered the rankings after winning Music City Mash-Up this past weekend. They have stayed local to the East Coast for most of the season, but they're making the trip west to NW Challenge next weekend to test themselves against bigger fish.
24. Notre Dame Womb
Record: 11-3
Notable Wins: Florida
Notre Dame re-enters the Top 25 for the first time since January. Their 15-10 win over Florida at Tally Classic was enough to bring them back to the table. They have a winning record and only one of their three losses came to a team outside the Top 15 in the country.
25. Victoria Vixens
Record: 4-3
Notable Wins: UC San Diego
In classic Victoria fashion, the Vixens haven't traveled for a tournament since Santa Barbara Invite in January. Their expected radio silence has kept them flirting with the edge of the Top 25 ever since, and Western Washington's disqualification kept them in yet again this week — and boosts their chances come Regionals.
---
They were competing with a player who was academically ineligible. ↩

This is the second year in a row that Washington went 0-3 on Saturday at Stanford and missed the bracket, despite being seeded well enough to make prequarters. ↩